Welcome to the September 2019 edition of the Curious Tea subscription! Here's a closer look at the four exciting new teas that we are sharing with our subscribers this month.
The first light tea this month is a Chinese White Monkey green tea from Fujian that has unusually distinct woody notes.
The second light tea is a particularly fine Japanese green tea, a Yabukita Sencha from the upper reaches of Tenryu River in Shizuoka.
For the dark side of the selection we have a handmade semi-oxidised Darjeeling Mandal Gaon First Flush, a tea that has an intriguingly uncommon Darjeeling character.
Finally, the last tea we are featuring this month is a popular classic: a smooth and flavoursome Golden Monkey King black tea from Fujian.
Our Discovery subscription boxes contain 10g taster pouches of all of the above mentioned teas. If you are a subscriber you will benefit from a 10% discount on all teas from our tea shop!
Let's get into further detail on the products featured in our September tea subscription boxes.
Bai Mao Hou White Monkey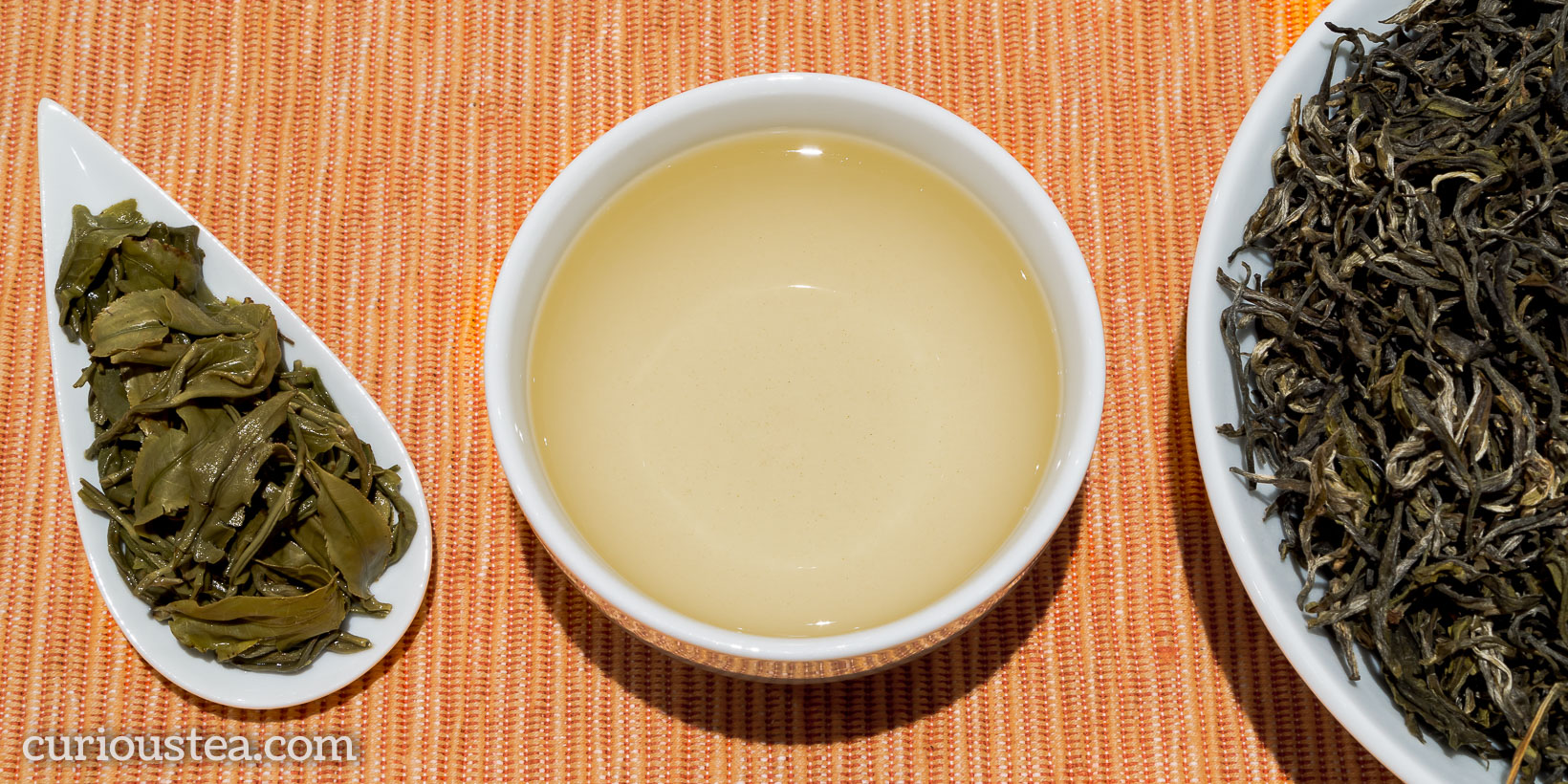 Bai Mao Hou White Monkey (白毛猴) is an unusual green tea that finely balances the characteristics of a light green tea with a flavoursome white tea. Grown at an altitude of 800-900 metres at a fully organic tea garden in Fuding, Fujian Province, it is made from a cultivar that is normally used for white tea. This results in a distinctive flavour with a pronounced woody edge. Sourced directly from the producer, this White Monkey green tea is from April 2018 harvest.
Bai Mao Hou White Monkey is made from a white tea cultivar – Fuding Da Hao (福鼎大毫 'Fuding Large Sprout'), but is processed like a green tea. This is very similar to our popular Xue Long Snow Dragon green tea, however this White Monkey utilises larger leaves that are not as tippy as those of Snow Dragon. This leads to a much bolder and more pronounced flavour. The white tea cultivar heritage is also much more apparent here; the flavours have a stronger woodier edge to them.
In terms of leaf processing and quality, this Bai Mao Hou White Monkey green tea is definitely the closest green counterpart to our Golden Monkey King black tea from Fuding. The large wiry leaves are mixed with plenty of smaller tippy leaves that have white downy 'hairs', reminiscent of the hair of white monkeys. This similarity is the probable inspiration for the name for this tea.
Bai Mao Hou White Monkey green tea produces a lightly golden yellow liquor with a sweetly floral aroma. The taste has a pronounced woody profile that is most similar to white tea in flavour. The character is lightly woody and a little sweet. At the base there are sweet candy notes with top honey and herbaceous peppery notes that make these flavours a bit more exciting! Overall this tea has a light and accessible, smooth woody taste with a clean aftertaste that is not astringent or drying.
We suggest brewing parameters of 80°C for 2-3 minutes according to your taste, brewing 2 or more times.
You can also buy Bai Mao Hou White Monkey green tea in our online shop.
Tenryu Yabukita Sencha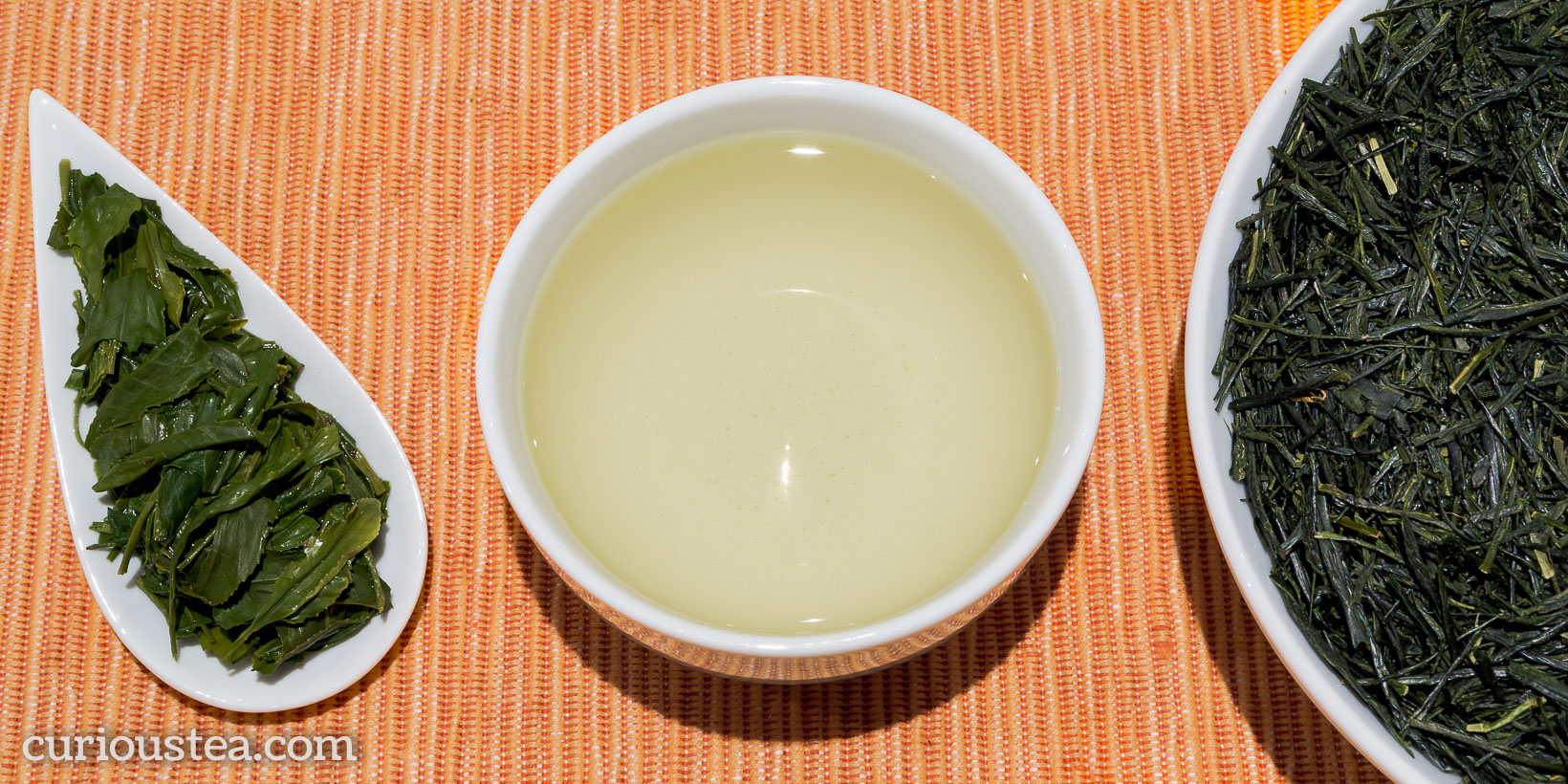 Tenryu Yabukita Sencha (天竜やぶきた) is a high grade sencha green tea made from the popular Yabukita (やぶきた) cultivar grown on the upper reaches of the Tenryū River in Shizuoka Prefecture. It was harvested in mid May 2019 and underwent careful, light steaming and medium heat processing to create an exemplary high grade sencha. It has a satisfyingly savoury and herbaceous flavour with a creamy mouthfeel and a fresh, zesty aftertaste.
This Tenryu Yabukita Sencha is made from the leaves of Yabukita cultivar plants. This cultivar is the most popular and widespread tea plant in Japan and Yabukita plants cover about 75% of Japanese tea fields. It was developed by a tea breeder from Shizuoka in the early 1900's called Hikosaburo Sugiyama, but it was officially registered only in 1956. The name originated from Hikosaburo Sugiyama, who named it after the bamboo grove (yabu) that surrounded the location of where the plants were grown and the northern location of the selected plant (kita). At the time he also selected a tea plant from the southern location of the tea field (minami) but that plant did not fare as well.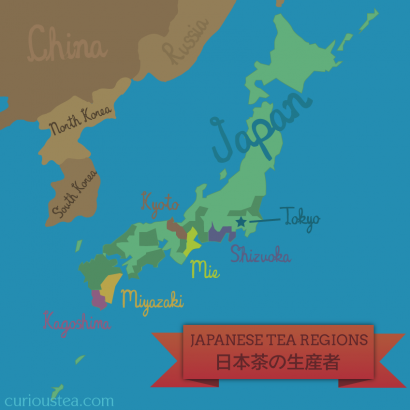 The well-performing Yabukita plants quickly proved popular due to their hardiness, ease of cultivation and tea flavours; with time becoming the mainstay of Japanese green tea production. One of the main factors for the popularity of the Yabukita cultivar has been the flavours that they are known for. These plants produce teas with typical savoury and umami grassy flavours and strong aromas that are particularly sought after in Japanese green teas.
This Tenryu Yabukita Sencha has very neat, long and thin dark green leaves that are very neatly rolled and have a particularly fragrant fresh green aroma that also has a savoury aspect. The green-yellow liquor has medium clarity and a light vegetal aroma. The taste is vegetal, with a savoury profile and mineral, umami and herbaceous notes. This tea has a creamy smooth mouthfeel that is satisfying and is reminiscent of a matcha latte flavour. The aftertaste is lasting, with zesty citrus notes. This Yabukita Sencha has all the classic Japanese green tea aspects but its fine quality adds a layer of complex refinement.
We suggest brewing at 80°C for 2 minutes according to your taste. It can be brewed around 3+ times depending on your taste preferences. This tea will perform at its best if brewed using a good traditional side-handled kyūsu (急須) tea pot specifically designed for brewing sencha tea. In such case, adjust the amount of leaves to 2.5g per 100ml of 80°C water, brewing 40-60 seconds per infusion, repeatedly increasing brewing time until there is no flavour left.
You can also buy Tenryu Yabukita Sencha green tea in our online shop.
Darjeeling Mandal Gaon First Flush
Darjeeling Mandal Gaon First Flush is a very fine, handmade Darjeeling from a small tea estate run by Mr Buddhasingh and his family to organic standards. Picked at the end of April 2019 (batch #003), this tea has a beautifully neat, tippy, semi-oxidised, large leaf. It produces a balanced yet complex liqour that is both typical of Darjeeling while being quite different!
Mr Buddhasingh has a tea plantation that produces small amounts of organically grown tea from some 8,000 bushes. It is located at an altitude of around 1,650m (5,500 ft) above sea level, in the Himalayan mountain slopes. As common with many local small farmers, the leaves from this tea garden would originally have been sold to larger tea factories. Mr Buddhasingh has recently built a micro tea factory in 2016 and has started producing fine artisanal Darjeeling teas. While an organic certification is financially out of reach for the time being, the teas grown at Mandal Gaon are grown and produced to organic standards.
We work together with a specialist wholesaler in India who only works with small scale farmers like Mr Buddhasingh. Their main focus area is in Assam, but they also work with Mandal Gaon in Darjeeling. They do not just resell the farmers' teas but also provide support and financial help to small scale farmers to enable them to produce great quality tea – such as investing into machinery and providing them with knowhow. This guarantees small scale farmers a fair price for their tea and provides investment into their farm to support their family's future.
This Darjeeling Mandal Gaon First Flush has very neat, hand-processed leaves that exhibit medium oxidation. The character created is very Darjeeling, yet different. The leaves look rather beautiful when brewed, with a wide gamut of mostly green, yellow and bronze colours. The leaves are rather large for Darjeeling and are the result of careful hand processing. The bright golden orange liquor has a lightly fruity aroma. The flavours are particularly smooth, with a citrus profile featuring tangy, fruity notes that are lightly creamy, sweet and floral. There is a pleasant amount of dryness on the aftertaste but no astringency. It is rather finely balanced, with no overpowering mineral or floral perfumed notes that many First Flush Darjeeling teas are known for. This is an expertly crafted tea that will appeal to both fans and sceptics of classic First Flush Darjeeling teas.
We suggest brewing parameters of 90°C for 3-5 minutes according to your taste, brewing multiple times.
You can also buy Darjeeling Mandal Gaon First Flush black tea in our online shop.
Golden Monkey King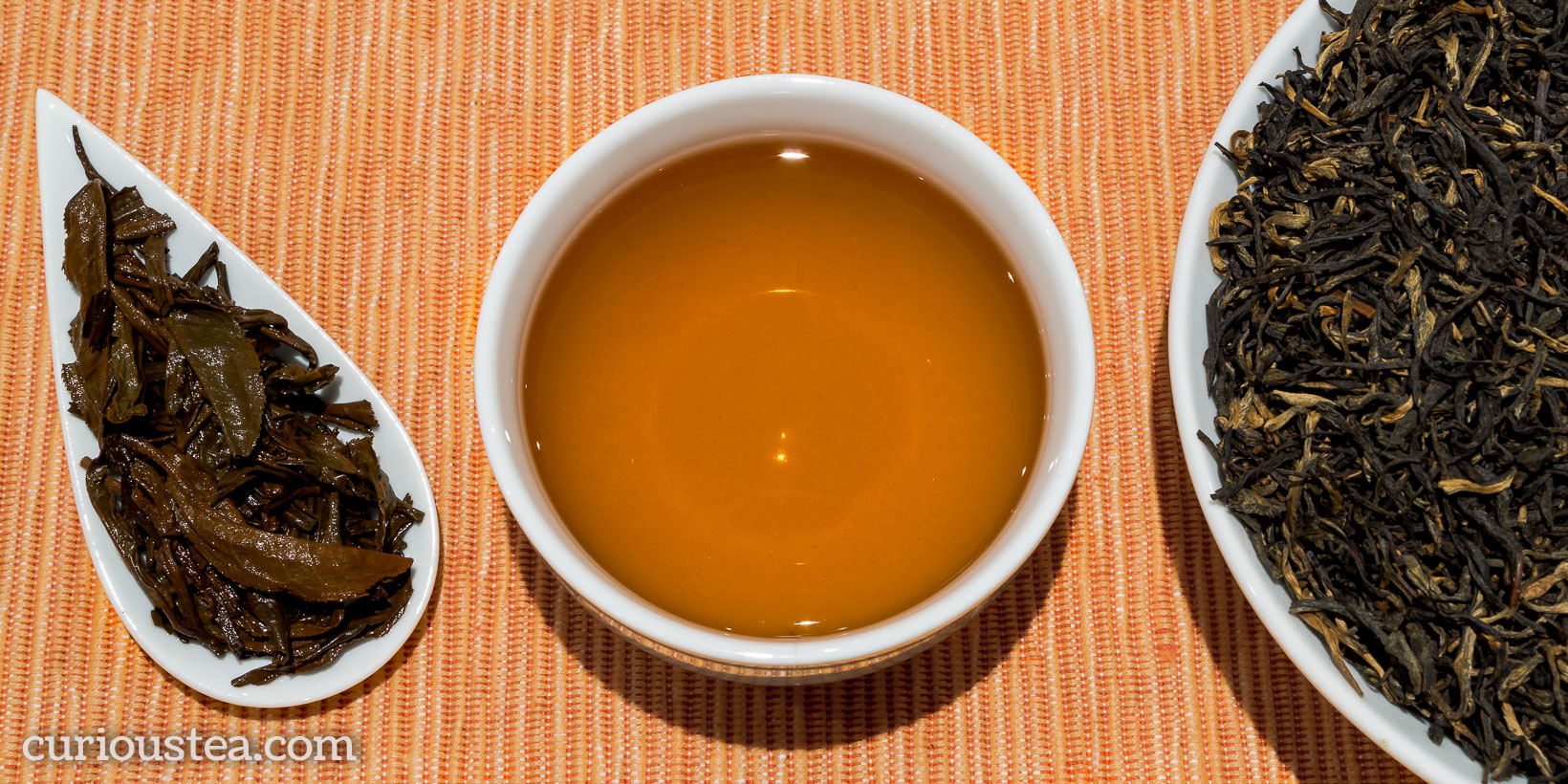 Golden Monkey King or Jin Hou Wang (金猴王) black tea originates from Fujian and Yunnan provinces of China. This particular crop is from the famous Fuding tea growing area of Fujian Province and was picked in early May 2019. It is produced from Da Bai Hao 'Large White' tea plants typically used for white tea production, hence it is considered to be a black counterpart to the white Yin Zhen Silver Needle. Only the bud and the first two leaves are picked during harvest. The leaves are then rolled and put through a carefully controlled oxidation process. This results in a distinctive golden tip appearance and gives it great flavour that is mellow and low on tannins.
There are different theories and legends as to why this tea is named after golden monkeys; it could be that the dry leaves resemble golden monkey paws. In local folklore it is also said to have been picked by golden monkeys from tall tea trees. It is also said that his black tea was very popular with local Chinese landlords and Taipans, who believed that the tea gave them the strength and virility attributed to male golden monkeys.
This Golden Monkey King black tea has a neat, twisted leaf with a good amount of golden tip. When brewed it produces a floral, malty fragrance and a rich but mellow liquor. It has a classic black tea character with satisfying notes of fruits, cocoa and malt. The aftertaste is refreshing, with a mineral edge and minimal astringency. This is a rich, smooth and flavoursome black tea with a good degree of sweetness.
It is best brewed at around 90°C for 3-4 minutes. Golden Monkey King is a complex black tea that can be enjoyed in multiple infusions.
You can also buy Golden Monkey King black tea in our online shop.
We really do hope that you enjoy the tea selection for September and are looking forward to the selection in our next box! Our October box will feature both green and black Assam teas, a Shou Mei white tea from Fujian and a Taiwanese aged oolong!
If reading this has made you curious about our teas, but you don't yet subscribe to a monthly tea selection, you can sign up for our tea boxes in just a few clicks. We ship worldwide from London, UK.
We always love to hear from you, so if you have any questions, suggestions or just want to chat about tea, email us at contact@curioustea.com, via our Facebook page or via Twitter.
You can also follow us on Instagram for pretty tea photos.
Happy tea discoveries!