Welcome to the October 2019 edition of the Curious Tea subscription! Here's a closer look at the four exciting new teas that we are sharing with our subscribers this month.
The first light tea this month is a handmade Koliapani 'Xuwola' green tea from Assam that is surprisingly light and refreshing.
The second light tea is a classic Shou Mei white tea from Fujian that comes pressed into small wafer-thin squares.
For the dark side of the selection we have a handmade Koliapani 'Signature' black, a tea that has a smooth and satisfying typical Assam character.
Finally, the last tea we are featuring this month is an expertly roasted Vintage 2011 Aged Oolong from Taiwan.
Our Discovery subscription boxes contain 10g taster pouches of all of the above mentioned teas. If you are a subscriber you will benefit from a 10% discount on all teas from our tea shop!
Let's get into further detail on the products featured in our October tea subscription boxes.
Assam Koliapani Xuwola Green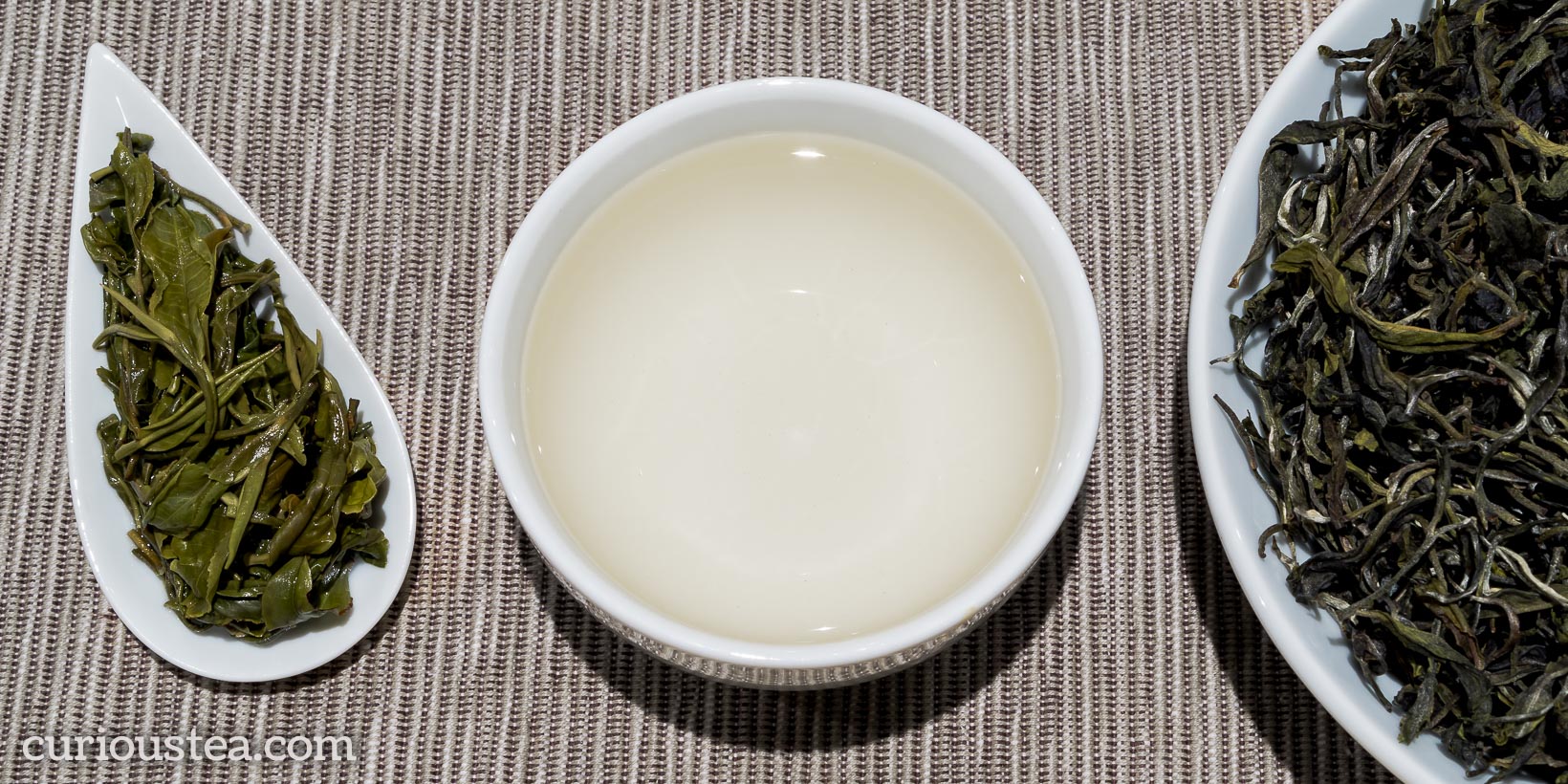 Assam Koliapani Xuwola Green is a handmade Second Flush Summer Green Assam from a small tea estate run by Mr Rebo and his family. Teas are grown here to organic standards and are carefully hand processed in order to achieve fine quality and flavour. Picked at the end of May 2019, the large wiry leaves of this tea produce a surprisingly light and refreshing cup!
Mr Rebo has a small tea plantation that is located in the village of Koliapani at a low altitude of around 100 metres. This growing environment is typical for Assam teas. The plants used in the garden are seed plants from mostly wild Assamica trees. These were sourced by Mr Rebo from an abandoned tea garden in Nagaland. The small garden was originally planted by Mr Rebo in the 90's and he originally sold the fresh tea leaves to the local big garden factories. Often their tea was not accepted by the factories for various reason, so it would just had to be thrown away as the family had no skills or machinery to process the tea themselves. With declining prices for the fresh leaves, the Mr Rebo, now aided by his two sons, decided to start a micro tea factory in 2015.
We work together with a specialist wholesaler in India who only works with small scale farmers like Mr Rebo. They do not just resell the farmers' teas but also provide support and financial help to small scale farmers to enable them to produce great quality tea – such as investing into machinery and providing them with knowhow. In this case they were instrumental with helping Mr Rebo and his family in making their micro tea factory a great success.
The small garden is surrounded by small forests of trees and other plants. These are left undisturbed on purpose to protect the tea plants and biodiversity in this garden. This does provide a form of natural pest control for the family. While a complete organic certification is financially out of reach for a small garden like this, the teas here are grown and produced to organic standards, without the use of any artificial pesticides or fertilisers.
This Assam Koliapani Xuwola Green tea has long, large and wiry dark green leaves that feature some silver tips. The aroma from the leaves is green, freshly vegetal with just a hint of tobacco. This tea is very far removed from other green Assam teas flavour-wise. A typical flavour of an Indian green tea, especially one from Assam, would have a strong profile, with plenty of tobacco notes and a varying degree of harshness and astringency. This Xuwola green tea, however, is surprisingly different. The very bright and clear liquor has a fresh aroma that is lightly vegetal and reminiscent of a lightly pan-roasted Chinese green tea. The flavours are light, refreshing and bright. There are milky, tangy, lightly vegetal and herbaceous notes. There are further top notes that are sweet and fruity. This tea has a sparkling quality to its flavour and a lasting smoothness. There is no particularly discernible astringency, bitterness or dryness, just a little chalkiness on the aftertaste. It is a really exciting tea that may just change the way many perceive Indian green teas!
We suggest brewing parameters of 80°C for 3-4 minutes according to your taste, brewing 3 or more times.
You can also buy Assam Koliapani Xuwola Green tea in our online shop.
Shou Mei Squares
Shou Mei Squares (寿眉白茶) is a white tea from the famous Fuding tea growing area of Fujian Province in China. Picked later in the year and using a larger leaf, this tea comes pressed into convenient small wafer squares. Compared to other white teas, Shou Mei produces a somewhat stronger liquor with a more robust character. This particular tea was picked from trees of Fuding Da Bai Hao (福鼎大白毫) cultivar plants in May 2019.
Shou Mei is considered to be the 4th grade tea to come from these plants. The first grade is Yin Zhen Silver Needle that consists solely of fine tips. The second grade is Bai Mu Dan White Peony that consists of some tips plus smaller leaves. The third grade is called Gong Mei, although often this tea is combined under the more famous Shou Mei name. The fourth final grade that consists of coarser and larger leaves and fewer tips is called Shou Mei. The name Shou Mei (sometimes also Sow Mee) is often translated as 'Longevity Eyebrow'.
Shou Mei is a type of tea of which very many grades exist and the flavour profile changes from one producer to the next greatly. The main driving factor behind that is how late the picking of the leaves is in the year and also by the proportion of larger coarser leaves. Such darker leaves normally signify lower quality and they produce a darker liquor, albeit with a more full-bodied flavour. This tea can come in loose form but is also commonly sold in pressed form, with large cakes being a particularly popular form. In our case this Shou Mei white has been pressed into small wafer-thin squares that weight approximately 4-6 grams each. This makes them extremely convenient for brewing – just use one per pot for western brewing. As with other similar teas it has a good potential for being aged before drinking.
Shou Mei Squares come in handy small wafers that highlight the quality of the leaf quite nicely. The neat squares are compressed quite lightly so the leaves start taking water and separating in the pot quite quickly. The liquor produced is very clean and clear with a smooth and light taste. As the leaves used here are of high quality, this tea is on the lighter side. The taste is mellow, with a distinctive sweet honey edge. There are also light fruity, woody and floral notes that complete the flavour. Aftertaste is clean and lightly tangy.
We suggest brewing at 90°C for 3-4 minutes according to your taste. It can be brewed around 3+ times depending on your taste preferences.
You can also buy Shou Mei Squares white tea in our online shop.
Assam Koliapani Signature Black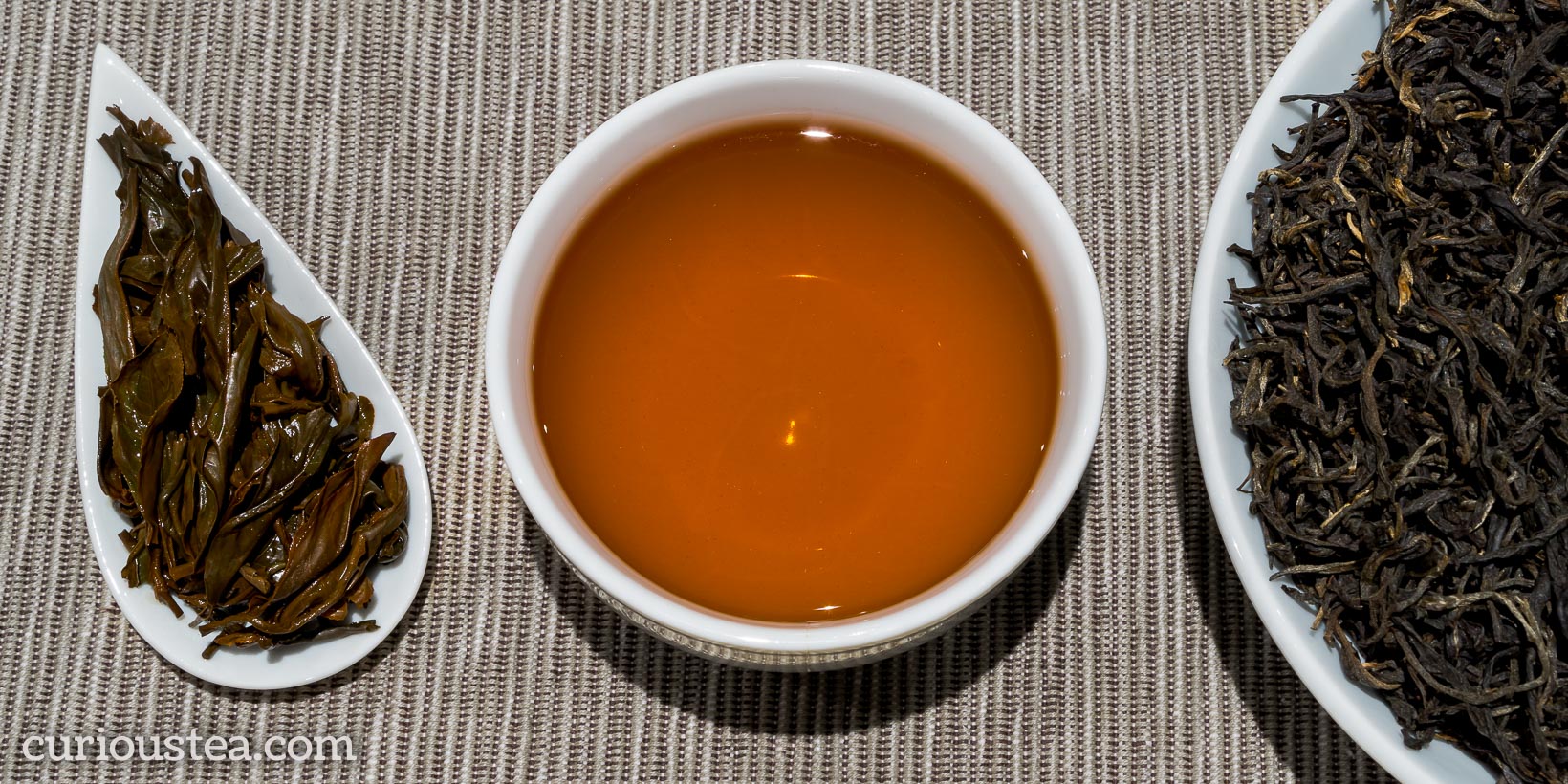 Assam Koliapani Signature Black is a very fine, handmade Second Flush Summer Assam from a small tea estate run by Mr Rebo and his family. Teas are grown here to organic standards and are carefully hand processed in order to achieve fine quality and flavour. Picked at the end of May 2019, this tea produces a well balanced cup that delivers on typical Assam flavour yet has no unpleasant bitterness or astringency.
There is a little more backstory about this small tea garden in the description of the Koliapani Xuwola Green tea above!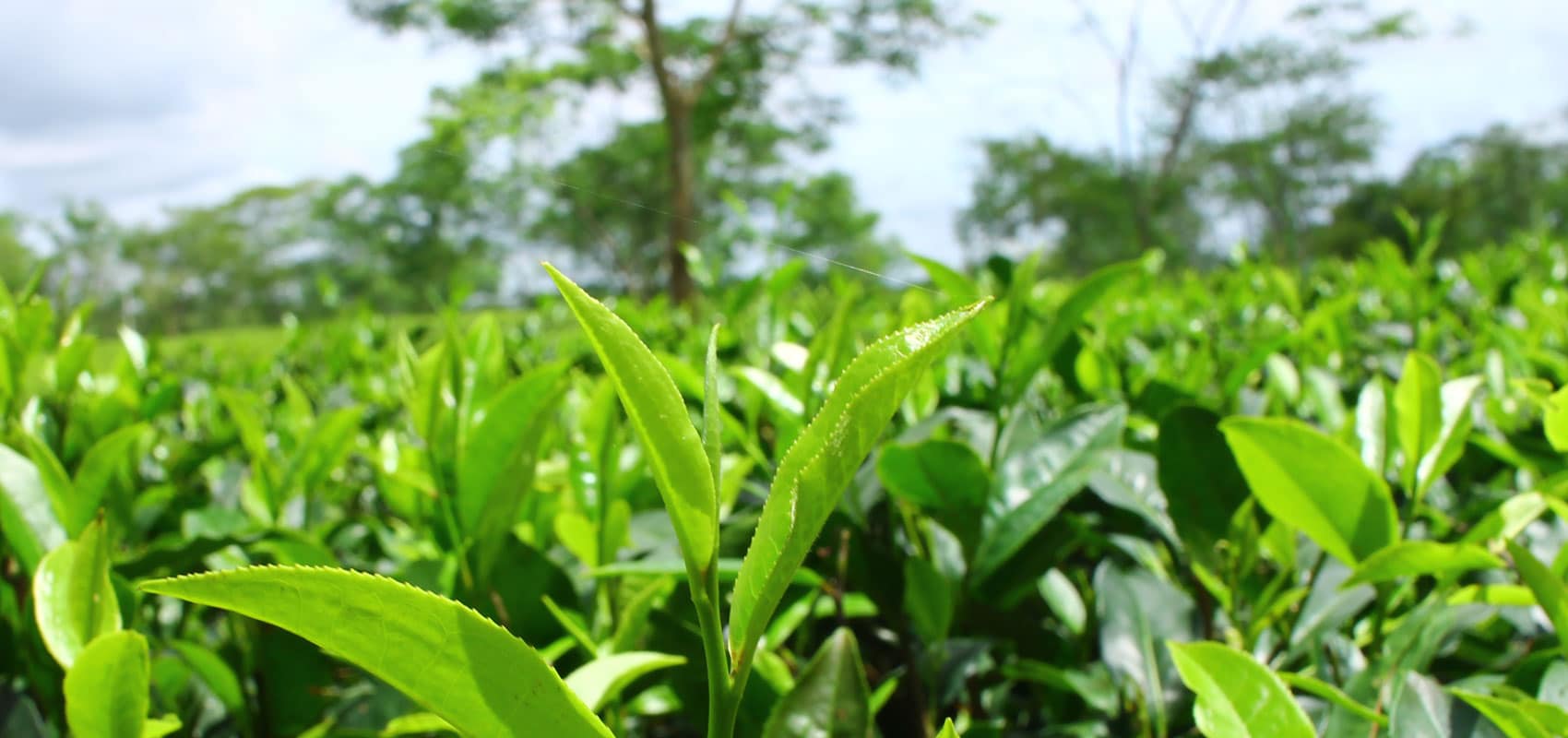 This Assam Koliapani Signature Black has large, twisted leaf with a tangy aroma of raw cocoa. The bright liquor produced has a good depth of colour and a comforting black tea aroma. The taste is typical malty Assam black tea, but somewhat elevated and refined in flavour. It is not as strong as most Assam black teas can be, but that enables it to showcase some more intriguing flavours. The sweet, malty profile has lovely notes of caramel, molasses and plums. The smooth aftertaste has mineral notes and is a little drying but not astringent. This tea delivers a classic Assam black tea flavour but in a more sophisticated manner!
We suggest brewing parameters of 90°C for 3-5 minutes according to your taste, brewing multiple times. Definitely best drunk without milk, although you could always experiment with brewing it stronger and adding just a little dash of milk.
You can also buy Assam Koliapani Signature Black tea in our online shop.
Aged Oolong
This Aged Oolong (烏龍老茶) is a unique aged oolong from Taiwan. It has a roasted profile that is smooth, with warming, fruity notes. This tea is a collection of leaves of different cultivars and from different growers, mixed and aged by our Tea Master in Taiwan. This batch is from 2011 harvests, purchased by us in 2019 direct from the Tea Master. We also stock a Vintage 2001 Aged Oolong of the same provenance that had much more time to develop a very complex profile.
Aged oolong teas are somewhat rare as they are not fashionable and not many farmers produce them. However it is common practice in some tea producing families to save some batches of tea from each year's harvest for ageing. This forms a kind of saving for the family that can be realised in times of need. In many cases, these teas do pass on as inheritance.
Aged oolong teas are also different to other aged teas, such as pu-erh and other dark teas. Other dark and pu-erh kind of teas are generally produced in a specific way from the outset to enable future ageing process. They are then left to age on their own, without any other labour input required. As long as the storage conditions are correct, this ageing process greatly improves the flavours and the value of these teas. Aged oolong teas however are initially produced the same way any other oolong tea would be. They are then left to age for a number of years. However in order to prevent the tea from spoiling, the teas have to undergo mixing and baking at least once a year. This can be a laborious process requiring great skill on part of the tea master. It is up to the tea master to judge correctly how the tea is developing and the required input to facilitate the ageing process correctly.
This particular Aged Oolong was made from lightly oxidised leaves of various cultivars collected from different tea growers. It has been mixed by our Tea Master in 2011. As with many aged oolongs due to mixed nature of the batch and the passing of time, we do not know the exact cultivars used as well as exact growing locations. This tea has then been aged and roasted over the years to create a rather complex liquor with dominating roasted notes.
The dry leaves are tightly rolled and have a dark appearance, the result of prolonged ageing and numerous baking procedures. The dry leaves have a distinct roasted aroma. If you are a fan of traditional 'charcoal' roasted oolong teas, this one will surely appeal to your taste buds. The clear amber liquor produced has good clarity and brightness with a sweet, roasted aroma. The subtle, smooth profile of this tea develops roasted and fruity notes and a warming character. The main flavours definitely have a roasted, charcoal, campfire edge. The aftertaste is clean, with tangy and lightly metallic top notes. We also think that this tea would age even further quite nicely, with the roasted flavours evening out with time and giving way to other more subtle flavours.
We suggest brewing at 90°C for 3-4 minutes according to your taste and brewing multiple times.
You can also buy Aged Oolong tea in our online shop.
We really do hope that you enjoy the tea selection for October and are looking forward to the selection in our next box. Our November box will feature a light Golden Osmanthus Oolong, a Gunagxi Silver Needle white tea, a top grade Darjeeling First Flush Rohini 'Delight' and finally an Assamica Golden Needle black tea from Yunnan!
If reading this has made you curious about our teas, but you don't yet subscribe to a monthly tea selection, you can sign up for our tea boxes in just a few clicks. We ship worldwide from London, UK.
We always love to hear from you, so if you have any questions, suggestions or just want to chat about tea, email us at contact@curioustea.com, via our Facebook page or via Twitter.
You can also follow us on Instagram for pretty tea photos.
Happy tea discoveries!