It's time for another month of Curious Tea subscriptions! We have a wonderful Chinese selection for October for you to try. We have selected the following four teas for you this month: a hand rolled white tea from Fuding, Bai Long Zhu White Dragon Pearls; a real classic Wuyi Rock oolong, roasted Da Hong Pao Big Red Robe; a yellow tea from the famous Mount Huo, Huo Shan Huang Ya; and finally a super smooth and very distinctive Dian Hong from Jing Mai Mountain.
Our Discovery tea taster subscription boxes contain 10g taster pouches of all of the above teas. Don't forget that all subscribers also benefit from a 10% discount on all teas from our tea shop!
To help you along with the tasting, here is some further information on all teas featured in our October boxes.
Bai Long Zhu White Dragon Pearls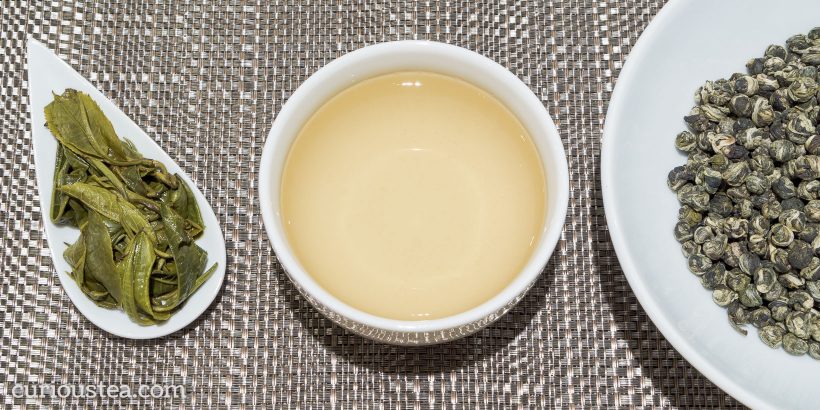 Bai Long Zhu White Dragon Pearls (白龙珠) is an exquisite white tea from our producer in Fuding, Fujian Province. It is grown in a fully organic tea garden at an altitude of 800-900m. This tea was hand plucked from the choicest buds, plus one to two leaves, in April 2016 after which it was hand rolled and finished.
Bai Long Zhu White Dragon Pearls are made from a white tea cultivar Fuding Da Bai (福鼎大白 – Fuding Large White). This is the same cultivar that is used to make the famous and highly regarded Yin Zhen Silver Needle white tea from Fuding. Unlike Silver Needle white tea, which utilises only the buds or the tips of the tea plant, these White Dragon Pearls consist of one bud plus one to two leaves, hand chosen during the picking process. The inclusion of additional leaves results in a slightly stronger and more pronounced flavour when compared to many other white teas made exclusively from buds.
The rolled silver pearls of this tea have a lovely fruity and floral aroma, producing a pale liquor with a faint fruity fragrance. This tea has a very comforting and pleasing character that is smooth and light with fruity edge. The sweet peachy taste is perfectly balanced by top citrus notes of yuzu. The overall flavours of Bai Long Zhu White Dragon Pearls make us think of a peachy custard tart – perfect as a drink on its own or paired with sweets.
We suggest brewing at 75°C for 3-4 minutes according to your taste. Bai Long Zhu White Dragon Pearls can be brewed 3 or more times depending on your taste preferences. As with all white teas, you can brew this one for a longer amount of time at lower temperature, as we suggest, or alternatively you can brew it for a shorter period of time of around 1 minute at 90°C, also brewing multiple times.
You can buy Bai Long Zhu White Dragon Pearls white tea in our online shop.
Huo Shan Huang Ya
Huo Shan Huang Ya (霍山黃芽) is a high grade and rare yellow tea from Huo Shan County, located in Anhui Province of China. A balanced and mellow tea, it has very smooth vegetal notes with no astringency. Grown from Jin Ji cultivar at an altitude of 800 meters, this particular batch was hand plucked in early April 2016.
The name of this yellow tea translates as Mount Huo Yellow Bud and refers to the origin of this tea (Mount Huo) as well as to the fact that tender buds of this tea are processed using the yellow tea production method. Yellow tea production method is distinct from other teas. While some may find this tea similar to other gently processed greens, all yellow teas undergo a special separate procedure after pan frying. The laborious process that requires great skill on tea master's part results in yellow teas having a much milder and smoother taste.
Huo Shan Huang Ya is a very gently processed yellow tea and does not undergo the heavy roasting process that Huang Da Cha yellow tea is famous for. Instead the tender green buds are hand plucked and gently processed by hand creating long slender green leaves covered in fine silver hairs. The delicate nature of this tea means that the whole of processing has to be completed in just one day. During processing this tea is pan fried, after which it undergoes the extra step that is required for all yellow tea. It is spread out in a warm indoor environment, being turned frequently. This results in slight oxidation through a process of light non-enzymic fermentation.
This Huo Shan Huang Ya yellow tea was selected by us for the beautifully mellow nature that is so typical of high grade yellow teas. The dark green leaves have a slightly waxy appearance with plenty of silver hairs evident on the straight tippy leaves. When brewed this tea produces a liquor that is light in colour and taste. At the same time the flavours are quite full – more so than with similar light green or heavier white teas. The processing of this tea really balances the flavours and mellows this tea out. While it still has some vegetal flavours similar to other green teas, the profile is very smooth and lacking in any grassy astringency of green tea. This tea has umami vegetal notes that are a little sweet and a little savoury at the same time with just a hint of roasted and nutty notes.
This yellow tea is best brewed at 80°C for 2-3 minutes according to your taste and can be brewed 3-4 times, increasing steeping time with each next brew if desired.
You can buy Huo Shan Huang Ya yellow tea in our online shop.
Da Hong Pao Big Red Robe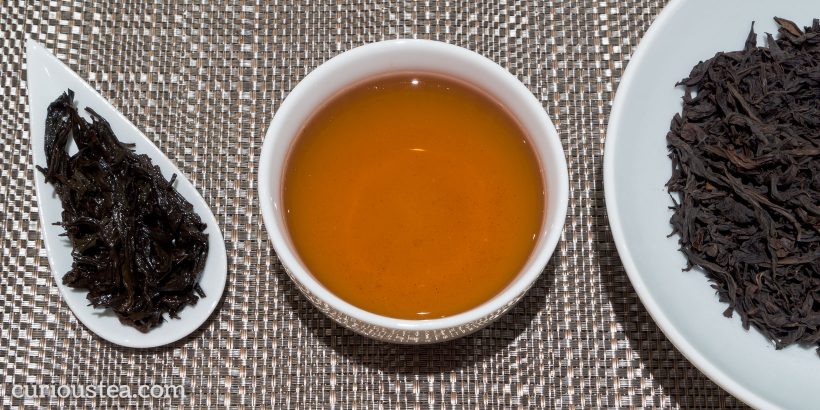 Da Hong Pao (大紅袍) is a classic Wuyi Rock oolong from Fujian Province in China. Da Hong Pao is also commonly known as Big Red Robe in English. It is bursting with traditional roasted flavours yet it has subtle sweet notes of exotic flowers complimenting the roasted stony character of this high quality Da Hong Pao Big Red Robe oolong.
This oolong is amongst the most popular and recognised Wuyi Rock teas, which are also often referred to by their English name 'Bohea'. As historically the term Bohea used to apply to lower grades of tea, the preferred term for teas coming out of this terroir is Wuyi tea or Wuyi Rock tea. Wuyi teas are grown on rocky mountainsides where the soil is high in mineral content and the growth of the tea trees is much slower. This terroir results in a distinctive 'rock' taste that is prized amongst tea lovers for the characteristic profile that is stony and mineral in taste but featuring a long lasting sweet aftertaste.
There is also a wonderful legend that is associated with Da Hong Pao Big Red Robe. It is said that the mother of one of the Chinese Emperors was very ill one day. The Emperor was sent some of this tea, which cured his mother's illness and restored her to full health. The Emperor then ordered Big Red Robes to be sent to cover the tea bushes that the healing tea originated from in a grand gesture of gratitude. Whether this legend has any bearing on reality, there are still six tea bushes, which are regarded as the original tea plants from the legend and are highly venerated. Of course these six bushes are highly guarded and Da Hong Pao is no longer plucked from these. Instead most of modern and authentic Da Hong Pao Big Red Robe tends to come from bushes that are cuttings (effectively clones) of the original mother trees.
Our Da Hong Pao Big Red Robe is a wonderfully articulate tea that has a distinctive profile with a classic 'Wuyi Rock' character. The leaves are slowly baked during processing resulting in a 'roasted' or 'charcoal' character. This quality does diminish with time so some people prefer to slightly age their Da Hong Pao before brewing it. The dark leaves are twisted rather than rolled, which is a technique most commonly employed in Wuyi. The liquor has a roasted aroma with floral hints. The taste is very long lasting and very comforting. The character is stony and mineral with a sweet aftertaste that has exotic floral notes running through it. A beautifully satisfying drink!
We suggest brewing parameters of 90°C for 3-4 minutes according to your taste, brewing 4 or more times.
You can buy Da Hong Pao Big Red Robe oolong tea in our online shop.
Dian Hong Jing Mai Mountain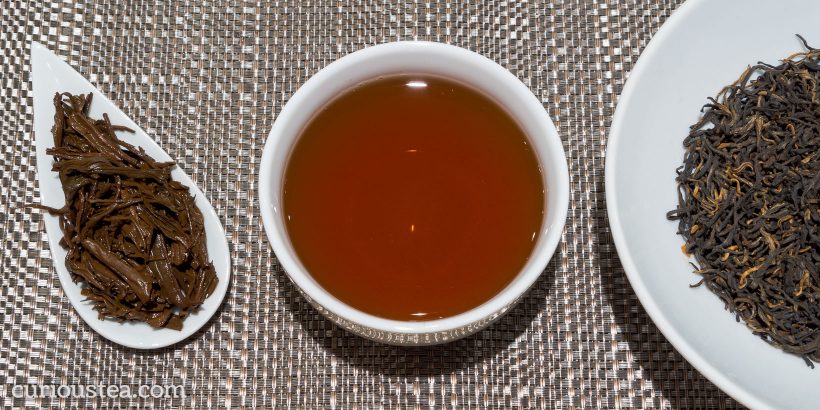 Dian Hong Jing Mai Mountain (滇红景迈山) is another characteristic Yunnan Red tea that is so popular with us at Curious Tea and our customers. Featuring a distinctive character that is smooth and sweet, it has lovely notes of malt, chocolate and, somewhat unusually, rose!
Dian Hong, literally Yunnan Red, refers to the origin and type of tea (red according to Chinese tea classification). Jing Mai Mountain refers to the location of this tea's origin. Jing Mai Mountain area (Jing Mai Shan) is located in Lancang Lahu Autonomous County under the jurisdiction of Pu'er City of Yunnan Province. Lancang Lahu Autonomous County has a large population of Lahu people. Communities of Lahu people can also be found in Myanmar and Thailand. There are a large number of villages in the Jing Mai Mountain area and most of the villagers are involved in tea production.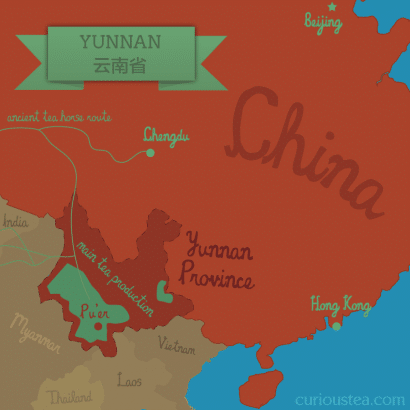 This Dian Hong Jing Mai Mountain is a 'Wild Arbor' tea, which means that the cultivar that is used in making this tea is the naturally occurring Jing Mai assamica varietal. It is a naturally hybridised cultivar that is prevalent in this area but is smaller in size than most of Yunnan assamica varietals. It is a very popular choice when making various pu-erh teas that this region is famous for. But it also produces a wonderful black tea.
The deep amber liquor that is produced when brewing the leaves of this Dian Hong Jing Mai Mountain black tea is very smooth and supremely balanced, which is a characterising trait amongst most Dian Hong teas. The tea is medium in strength but has a full flavour that has a sweet and malty character. There are plenty of chocolate notes and a most unusual and pleasing hint of roses. We get really strong flavour associations with a chocolate and rose Turkish delight or chocolate glazed dried fruits.
Dian Hong Jing Mai Mountain black tea is best brewed at 90°C for 3-4 minutes according to your taste. It should also be brewed multiple times, slowly increasing the steeping time with each subsequent brew.
You can buy Dian Hong Jing Mai Mountain black tea in our online shop.
We really hope that you enjoy the tea club selection for October and are looking forward to what we have in store for your selections in November!
If reading this has piqued your interest, but you don't yet subscribe to our monthly tea selections and would like to receive them in the future, you can set up your tea subscription in just a few clicks. We ship worldwide from London, UK.
We always love to hear from you, so if you have any questions, suggestions or just want to chat about tea, email us at contact@curioustea.com, via our Facebook page or via Twitter.
You can also follow us on Instagram for pretty tea photos.
Happy tea tasting!