Here is another month of Curious Tea subscriptions! This November we have an exciting selection from around the world for you to try. We have selected the following four teas this month: a bold Fish Hook Vietnamese green tea from the renowned Tan Cuong growing area; a unique Zhang Ping Shui Xian oolong from Fujian that comes pressed into square cakes; a supreme green tea from the famous Yellow Mountain, Huang Shan Mao Feng; and finally a superbly smooth black tea from an unusual tea growing country, the Brazilian Chá da Vovó.
Our Discovery tea taster subscription boxes contain 10g taster pouches of all of the above teas. Don't forget that all subscribers also benefit from a 10% discount on all teas from our tea shop!
To help you along with the tasting, here is some further information on all teas featured in our November boxes.
Tan Cuong Fish Hook
Tan Cuong Fish Hook green tea is a wonderfully bold and distinctive green tea that is grown around the renowned tea growing area of Tan Cuong in Thái Nguyên Province of Vietnam. It is grown at an altitude of 300m, by a tea growing community nestled between the Red River delta and the mountainous region to the north. This area is highly regarded for the quality of teas produced here and is well-known in Vietnam for their grassy and sweet nature. They would definitely appeal to fans of Japanese and Korean styles of green tea!
This tea is produced using traditional hand processing methods from estate grown tea trees. It is processed on a small community farm of 8 hectares by Mr Thien with the help from his family. The tea master really does require high levels of skill and attention to produce such characteristic tea.
Tan Cuong Fish Hook green tea is made from the finest bud and youngest leaf on the tea plant, which were hand plucked from the trees in spring 2016. The leaves are then hand rolled into the characteristic fish hook shape and processed in wood fired ovens. It is the shape of the dry leaf that gives this tea the 'Fish Hook' name.
The dark green leaves produce a light green liquor with a grassy and slightly vegetal aroma. The flavours of this tea are quite bold, with clean, grassy and vegetal (spinach, asparagus) notes. It does not have the dry mouthfeel that can be often found in green teas; the slight savoury astringency leads to a pleasant sweetness on the aftertaste.
We suggest brewing at 80°C for around 2 minutes according to your taste. The leaves of this tea can be brewed multiple times, at least 4 or maybe more depending on the strength of your preferred brew. If you are finding the flavours too strong you can decrease the brewing time to yield a lighter tasting cup of tea.
You can buy Tan Cuong Fish Hook green tea in our online shop.
Huang Shan Mao Feng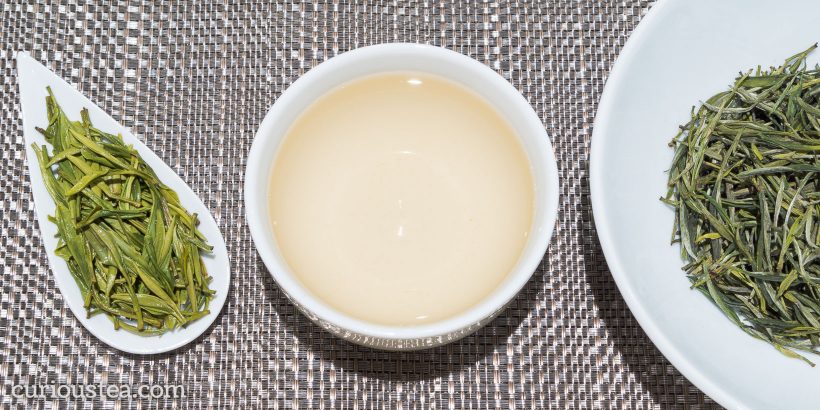 Huang Shan Mao Feng (黃山毛峯) green tea is a supreme tea produced in south-eastern part of Anhui Province of China. It is a highly regarded tea that can almost always be found on the most famous tea lists of China.
This tea is grown at the foot of Huang Shan (Yellow Mountain), an area that is very famous for green tea production. Mao Feng translates into English as 'Fur Peak', referring to the small white hairs that cover the young dry leaves. So the full name of Huang Shan Mao Feng green tea can be translated into English as 'Yellow Mountain Fur Peak'.
This Huang Shan Mao Feng green tea, grown at an elevation of over 800 meters, was hand picked in April 2016, using only carefully selected young leaves. This tea then undergoes careful processing. The finished dry leaves are mostly whole, exhibiting a bud plus one or two young leaves. The appearance of them is very straight and pointed, the result of the skilful processing of this tea. It is of a very high grade and this is evident from the dry tea leaves.
The long green leaves of Huang Shan Mao Feng tea produce a pale liquor with a slight floral aroma. A brilliantly light tea, it is also smooth and balanced. It is very mild with no astringency or aftertaste. It is a little grassy and vegetal, but also exhibits wonderful sweet fruity notes of apricots.
This green tea is best brewed at 80°C for 2-3 minutes according to your taste and can be brewed more than 3 times, increasing steeping time with each next brew if desired.
You can buy Huang Shan Mao Feng green tea in our online shop.
Roasted Zhang Ping Shui Xian
Roasted Zhang Ping Shui Xian (漳平水仙) is an unusual and rare oolong that comes pressed into square-shaped cakes. Each cake is individually wrapped in paper for storage and then further wrapped into a vacuum sealed foil pouch to preserve the flavours. We have left each cake wrapped as they are in order for them to reach you in their optimum condition.
Zhang Ping is a city in the southern part of Fujian Province and it is around this city that this tea is grown. Shui Xian (sometimes Shui Hsien) is a type of oolong tea that comes from Fujian Province. Shui Xian translates as 'narcissus' or 'water sprite' in English and is a type of oolong that is famous for the honey aroma and flavour.
This Roasted Zhang Ping Shui Xian was plucked in late summer 2016, after which it has undergone careful hand processing. The large leaves are pressed into square cakes, each cake being 8-11 grams in weight. This tea is about half oxidised (something you can clearly see on the wet leaves). It has also undergone a baking or roasting process. This processing imparts a baked character (which can also be described as toasted, roasted or charcoal) that results in a mellow, distinctive and complex flavour.
To make this tea, unwrap the cake from the foil and paper, and break off an amount of tea required. If using the whole cake, it can be agitated once in water, so the leaves start coming apart in order to brew properly. The mixed coloured leaves produce a light mouth-watering liquor with a slight floral and toasted aroma. This Roasted Zhang Ping Shui Xian has a smooth complex flavour that is roasted and mineral in character. The wonderful creamy, honeyed floral and nutty notes complete the profile.
We suggest brewing parameters of 90°C for 4-5 minutes according to your taste, brewing 4 or more times. You can increase the temperature to 95°C and up the brewing time for subsequent steepings. The weight on our tea packets for this tea is only indicative due to varying weights of the cakes: our 10g sample packs of this tea contain one cake for you to try while the full sized 50g pouches have 5 cakes.
You can buy Roasted Zhang Ping Shui Xian oolong tea in our online shop.
Chá da Vovó Brazilian Black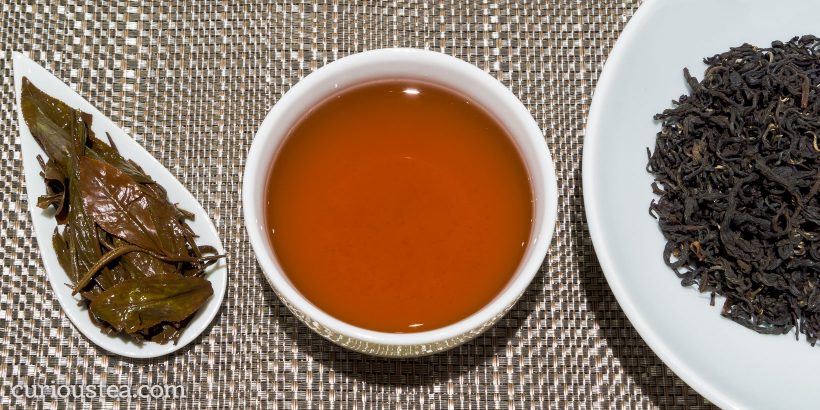 Chá da Vovó by Obaatian is an unusual black tea from São Paulo state, Brazil. Most tea in Brazil is grown in this state as the climate and landscape provide excellent tea growing conditions. Most Brazilian-grown teas are destined for the tea bag and tea extract markets and therefore are not of very good quality. Chá da Vovó grown by the Shimada family is an exception to this as they produce a true artisanal style tea of highest quality.
Here is a small video about Obaatian's Chá da Vovó:
Chá da Vovó (or Grandmother's Tea) is produced on a family tea plantation that is managed by Dona Ume Shimada. She is 89 years old and with the help of her family has resurrected the tea garden in Registro in 2014. Utilising some unique tea processing machinery, they have managed to produce a truly spectacular black tea of highest quality and most unusual terroir.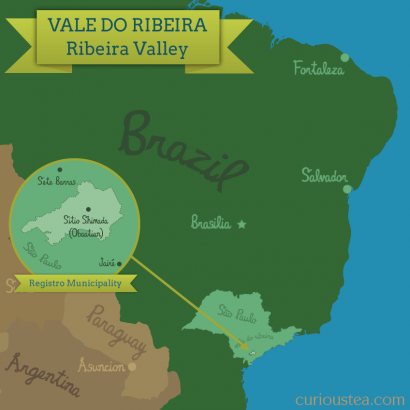 The bud and two leaves of this tea are hand plucked from tea plants of the Assamica varietal and carefully hand processed. The character of this tea is strong as dictated by the plants that are used for it. However the dark leaves produce a liquor that lacks any astringency that can be often found in other teas made from the Assamica varietal. The liquor is medium strength with a malty and balanced flavour. Lack of astringency brings out some sweetness in this tea. There are fruity notes evident, such as of sweet citrus, that complete the flavour.
Chá da Vovó Brazilian Black tea is best brewed at 90°C for 3-4 minutes according to your taste. It should also be brewed multiple times, slowly increasing the steeping time with each subsequent brew.
You can buy Chá da Vovó Brazilian Black tea in our online shop.
We really hope that you enjoy the tea club selection for November and are looking forward to what we have in store for your selections in December!
If reading this has piqued your interest, but you don't yet subscribe to our monthly tea selections and would like to receive them in the future, you can set up your tea subscription in just a few clicks. We ship worldwide from London, UK.
We always love to hear from you, so if you have any questions, suggestions or just want to chat about tea, email us at contact@curioustea.com, via our Facebook page or via Twitter.
You can also follow us on Instagram for pretty tea photos.
Happy tea tasting!