It's time for another month of Curious Tea subscriptions! We have a stellar selection for September for you to try. We have selected the following four teas for you this month: a truly spectacular High Mountain Oolong from Taiwan, the Shan Lin Xi Long Feng Xia; a lower altitude light Taiwanese Oolong, which is quickly becoming a modern classic, the Four Seasons Oolong; another tea from an unusual tea growing region, Bitaco Colombian Black tea; and finally a supreme and rare Dian Hong Jin Ya Golden Buds black tea from Yunnan Province in China.
Our Discovery tea taster subscription boxes contain 10g taster pouches of all of the above teas. Don't forget that all subscribers also benefit from a 10% discount on all teas from our tea shop!
To help you along with the tasting, here is some further information on all teas featured in our September boxes.
Shan Lin Xi Long Feng Xia Oolong
Shan Lin Xi Long Feng Xia Oolong (杉林溪龍鳳峽烏龍茶) is a truly exceptional oolong from Nantou County of Taiwan. It is grown around Shan Lin Xi mountainous area of the county. Shan Lin Xi literally translates as Pine Forest Stream but the most commonly accepted translation is Sun Link Sea when referring to this particular location. Situated high up in the mountains, at an altitude of over 2,000m, this area is renowned for producing some of the best oolongs in the world.
The name Long Feng Xia translates roughly as Dragon Phoenix Gorge and refers to the best and highest location of the Shan Lin Xi growing area. The tea is made from Qing Xin Green Heart (青心) cultivar that is a very popular choice for High Mountain Oolongs of Taiwan. It is hand picked and processed by the Chen family, who have been growing tea in the mountains of Taiwan for two generations.
This Shan Lin Xi Long Feng Xia Oolong is definitely an addictive and captivating tea. It is very lightly processed, with a zero baking level and low (about 20%) oxidation. The tightly rolled green leaves have a lovely fresh floral and green smell that is a great sign of things to come!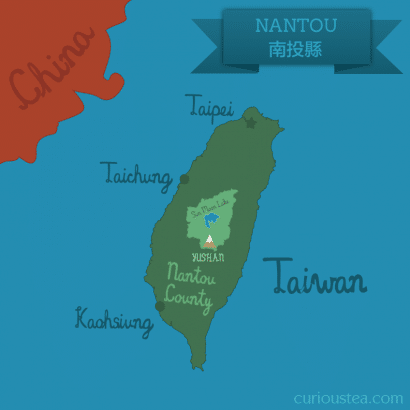 When brewed, the lovely large leaves start unfurling, releasing an aroma of wild flowers. The liquor is a pale green colour and very bright. It is easy to tell that it is a High Mountain Oolong, the taste is extremely clean, fresh and crisp. The flavours predominantly are of wild exotic flowers, with hints of greener flowers such as dandelions on the top notes. As expected, this Shan Lin Xi Long Feng Xia Oolong is not in the slightest astringent, with a delicate aftertaste and a citrus and slightly tangy edge. There is a lingering and very pleasing aftertaste that makes you want to have more of this beautiful tea.
We suggest brewing Shan Lin Xi Long Feng Xia Oolong at 90°C for 3-5 minutes according to your taste. It can be brewed 5 or more times depending on your taste preferences. To get the most out this tea, consider using a gaiwan or a traditional clay pot to benefit from the complexity of flavours from repeated multiple infusions.
You can buy Shan Lin Xi Long Feng Xia Oolong tea in our online shop.
Four Seasons Oolong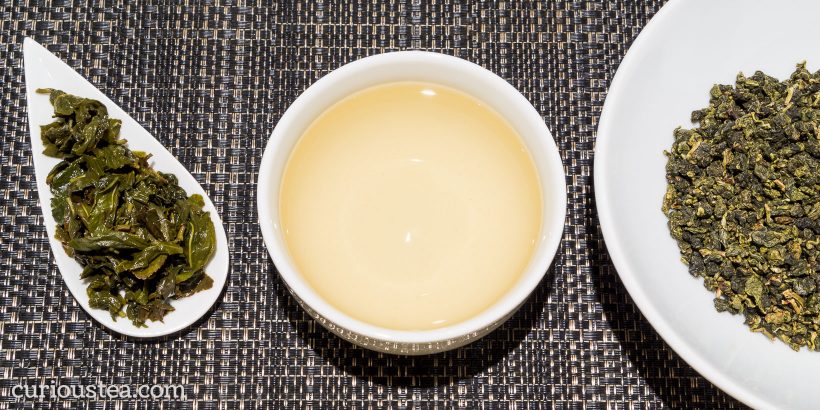 This Four Seasons Oolong (Si Ji Chun) is a wonderfully aromatic lightly oxidised oolong grown at a lower altitude of 400m around Mingjian Township in Nantou County, Taiwan. It is an expressive tea, yet it makes a very refreshing drink.
Four Seasons Oolong is named after the cultivar that is used to make this aromatic tea, Si Ji Chun (四季春), which started appearing in Taiwan in 1980's. It is said that one farmer near Taipei noticed a tea bush in his garden growing much quicker than others. He planted that particular tea bush more systematically and could harvest leaves from it throughout the year, including during winter time when the bushes are normally dormant.
Si Ji Chun has become very popular in Taiwan, as well as other countries, such as Thailand and Vietnam. It favours low altitude conditions but also provides farmers with a consistent crop throughout the whole year. The leaves that are plucked from Si Ji Chun plants have a fresh and light flowery aroma year round, hence it is often referred to as Four Seasons Spring. Even though some prefer to call it 'Four Seasons Spring', we find it can create some confusion as to when the actual tea was plucked.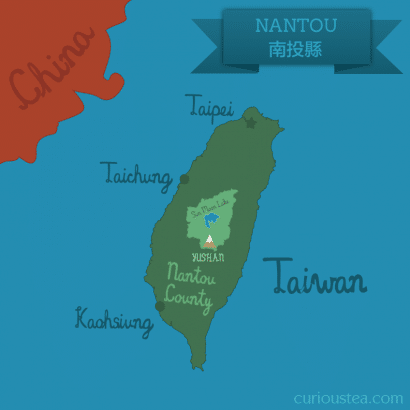 We source this Four Seasons Oolong direct from our farmer in Taiwan. The family of the farmer has been producing oolong teas for generations now, and the skill and care taken to produce this excellent Four Seasons Oolong is very much evident. The leaves are tightly rolled bright green pearls that unfurl further in your teapot with each steep. This tea possesses a strong aroma that is most reminiscent of honeysuckle (jasmine or lily of the valley according to others). The liquor is smooth and light, with a taste that is floral and sweet with a slightly creamy finish.
This Taiwanese Four Seasons Oolong tea is best brewed at 90°C for 3-5 minutes according to your taste and can be brewed multiple times, increasing steeping time with each next brew if desired.
You can buy Si Ji Chun Four Seasons Oolong tea in our online shop.
Bitaco Colombian Black
Bitaco Colombian Black tea comes from Colombia, a region that is not really known for growing tea. Colombian coffee is well known and regarded around the world but this unique tea is a perfect example of what can be achieved in terms of tea production in the mountainous regions of Colombia.
This tea is grown near the town of La Cumbre, situated high up in the West Andes. The altitude of the tea plantation is between 1,800 and 2,050 metres, making the growing conditions perfect for high grade tea. The prevalent weather, consistent rainfall, rich soil and mountainous slopes all combine to make a perfect but unique terroir. The area is also remote and surrounded by unspoilt natural terrain. This tea is certified as organic under USDA, EU and Colombian regulations.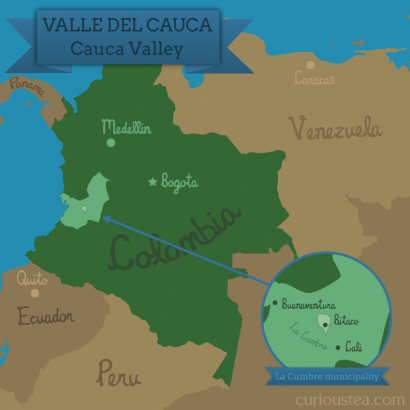 Bitaco Tea Estate is run by Agricola Himalayas S.A. and they have extensive social responsibility programmes run in the area. These focus especially on education of children in the local area but also provide extensive support for other rural projects.
This Bitaco Colombian Black tea is from the January 2016 harvest. The neat dark leaves produce a medium strength amber liquor with a slightly malty aroma. This tea is superbly smooth and flavoursome. The character is sweet yet a little savoury with malty, stony and fruity notes. The fruity notes are reminiscent of pomegranate and mixed wild berries!
We suggest brewing parameters of 100°C for 3-5 minutes according to your taste, brewing 2 or more times.
You can buy Bitaco Colombian Black tea in our online shop.
Dian Hong Jin Ya Golden Buds
Dian Hong Jin Ya Golden Buds (滇红金芽) is a rare and extraordinary black tea from Mojiang Hani Autonomous County, Pu'er Prefecture, Yunnan Province. Dian Hong, literally Yunnan Red, refers to the origin and type of tea (red according to Chinese tea classification). Jin Ya (金芽), literally Golden Buds, refers to the appearance of this tea and the fact that it is made exclusively from the buds of the tea plant. This unique golden tea is truly one of the best black teas from Yunnan!
Mojiang Hani Autonomous County is located in Pu'er Prefecture of Yunnan Province. Mojiang Hani Autonomous County has a large population of Hani native people, who also inhabit areas in Vietnam, Laos and Thailand. While tea making traditions go back hundreds of years (it is estimated that tea cultivation started 2,000-2,200 years ago in this area and tea use predates that period), black tea production is a comparatively new phenomenon in Yunnan. The first commercial black teas were produced in Feng Qing County around 1938. These proved quite popular so the production of black tea quickly spread throughout this part of China. The rise in popularity was largely attributed to the balanced and smooth flavours of Yunnan Red – fully bodied sweet maltiness without any of the astringency of many other black teas.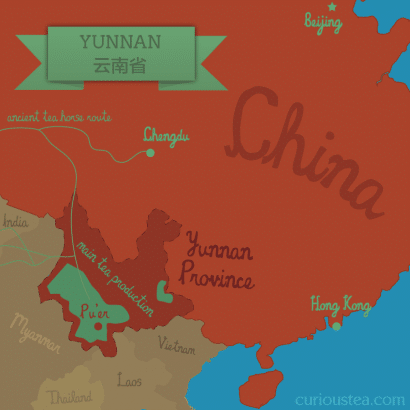 Dian Hong Jin Ya Golden Buds is processed from hand plucked buds or tips of the Yunnan Large Leaf cultivar that is also used to make the numerous pu-erhs of the region. This is a type of tea that is often marketed as a 'pure gold' black tea – and you can see why from the appearance of the dry leaf. The small tippy leaves consist solely of buds and have a striking and attractive gold colour. Like other Dian Hong teas, this Dian Hong Jin Ya Golden Buds can benefit from short term storage and maturation to further develop the flavours. Or you can enjoy it straight away!
This tea was plucked and processed in spring 2016 (late March). The dry leaves consist solely of buds and have a bright gold colour to them with a lovely malty and sweet aroma. When brewed, you can see the dry leaves turn into most attractive full buds. The bright amber liquor produces a light to medium strength liquor with an attractive sweet malty fragrance. The flavour of this Dian Hong Jin Ya Golden Buds black tea is also sweet and malty, with complex notes of raisins, red fruits and chocolate.
Another perfect black tea to have without milk as it's very smooth and does not have any astringency. Dian Hong Jin Ya Golden Buds black tea is best brewed at 90°C for 3-4 minutes according to your taste. It should also be brewed multiple times to get the best out this rare tea!
You can buy Dian Hong Jin Ya Golden Buds black tea in our online shop.
We really hope that you enjoy the tea club selection for September and are looking forward to what we have in store for your selections in October!
If reading this has piqued your interest, but you don't yet subscribe to our monthly tea selections and would like to receive them in the future, you can set up your tea subscription in just a few clicks. We ship worldwide from London, UK.
We always love to hear from you, so if you have any questions, suggestions or just want to chat about tea, email us at contact@curioustea.com, via our Facebook page or via Twitter.
You can also follow us on Instagram for pretty tea photos.
Happy tea tasting!