Welcome to the May 2021 edition of the Curious Tea subscription! Here's a closer look at the four exciting new teas that we are sharing with our subscribers this month.
The first light tea this month is a unique floral Shui Xian Oolong from Zhang Ping in Fujian Province of China that comes loosely pressed into small squares.
The second light tea is a famous Tai Ping Hou Kui green tea from Huang Shan that has a mellow liquor with a soft vegetal profile.
For the dark side of the selection we selected a black tea from San Xia in Taiwan that is specially grown and processed for a lovely 'Mi Xiang' honey character.
Finally, the last tea we are featuring this month is another very light black tea from Taiwan, this time from Mingjian Township that is made from the popular Four Seasons cultivar.
Our Discovery subscription boxes contain 10g taster pouches of all of the above mentioned teas. If you are a subscriber you will benefit from a 10% discount on all teas from our tea shop!
Let's get into further detail on these teas featured in our May tea subscription boxes.
Zhang Ping Shui Xian Oolong
Zhang Ping Shui Xian (漳平水仙) is an unusual and rare oolong that comes pressed into square-shaped cakes. It is grown around Zhang Ping city in the southern part of Fujian Province. Each cake is individually wrapped in paper for storage and then further wrapped into a vacuum sealed foil pouch to preserve the flavours. We have left each cake wrapped as they are in order for them to reach you in their optimum condition. This particular lot is from the Summer 2020 harvest.
Traditionally, Shui Xian (水仙), sometimes also Shui Hsien, is a type of oolong that originates from Fujian Province and refers to the cultivar used to make this tea. Shui Xian translates as 'narcissus', 'water sprite' or 'water lily' in English and is known for distinctive flowery honey aroma and flavour. However some Shui Xian oolong teas are also produced in Guangdong Province. While there are may references to Shui Xian originating in Wu Yi Shan in Fujian Province, there are a few others who think that this plant was brought over to Fujian from Guangdong a long time ago. There doesn't seem to be a particular consensus on the exact origin of Shui Xian cultivar and on whether the two cultivars grown in Fujian and Guangdong Provinces are actually the same plant. However, there is definitely a certain degree of similarity between Shui Xian oolong teas from both of these tea regions. You may be interested in trying the traditional more oxidised and roasted Dan Cong Shui Xian and Wu Yi Lao Cong Shui Xian teas available in our shop.
This Zhang Ping Shui Xian is made from large leaves, mostly still on stalks. These have been pressed into square cakes, each cake being around 8-12 grams in weight. This tea is lightly oxidised and it has also undergone a baking or roasting process. The baking imparts a lightly toasted character that brings out the more complex notes and results in a mellow flavour and soft mouthfeel.
To make this tea, unwrap the cake from the foil and paper, and break off an amount of tea required. If using the whole cake, it can be agitated once in water, so the leaves start coming apart in order to brew properly. These cakes make a perfect single serve size for a larger gaiwan or a traditional clay tea pot for an enjoyable gong fu brewing session. When the leaves start unfurling, you can see the lovely mixed patterned colours that are the result of the light oxidation. The bright and clear aromatic liquor produced has a lovely floral and lightly baked scent. The dominant floral profile has creamy and baked notes with a soft and sweet mouthfeel. The aftertaste is clean and delicately roasted with a lasting floral impression.
We suggest brewing parameters of 90°C for 3-4 minutes according to your taste, brewing 3+ times. We generally find that either briefly washing the leaves in hot water to open them up or a longer first infusion to be a good way of balancing the flavour from the first round. Subsequent infusions can be shorter as the leaves open fully.
You can also buy Zhang Ping Shui Xian Oolong tea in our online shop.
Tai Ping Hou Kui Peaceful Monkey King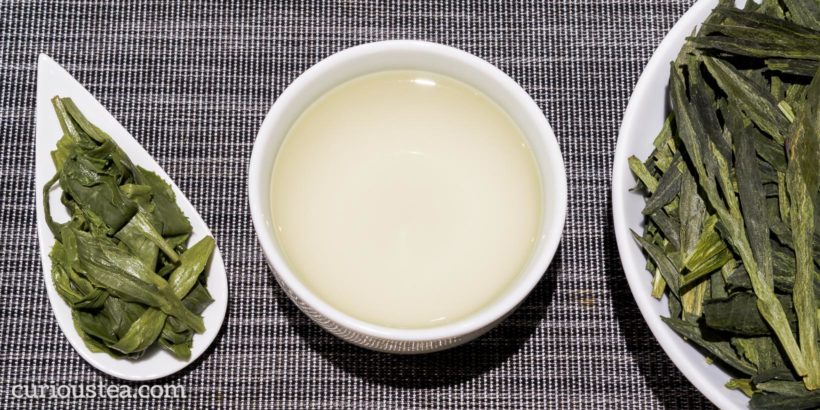 Tai Ping Hou Kui (太平猴魁) is our classic version of this green tea produced in south-eastern part of Anhui Province of China. A very famous Chinese green tea, it traces the rise to fame back to the early 20th century. It is renowned for the unique shape of the leaves after processing. They can be described as 'two knives and one pole', where two straight leaves surround one large bud. Tai Ping Hou Kui is normally translated into English as Peaceful Monkey Leader or Peaceful Monkey King.
This tea is grown at an altitude of about 700m around the Xinming Township, Taiping County of Anhui Province. The tea gardens are scattered around this township, mostly in the mountainous areas, interspersed with ancient forests and rocks. This is the area that produces the authentic Tai Ping Hou Kui green tea. It also lies at the foot of Huang Shan (Yellow Mountain) mountain range, itself famous for production of green tea. The harvest season for the best tea lasts only 14 days in the year and is normally at the end of spring. This particular crop was plucked in late April 2020.
Tai Ping Hou Kui green tea undergoes a complex processing that results in these unique shaped leaves. After plucking the tea leaves are pan fried to denature enzymes present in them in order to stop the leaves from oxidising, a process that is known as kill-green. After pan-frying the leaves are transferred onto bamboo plates and heated 3 times, during which the leaves are also shaped by hand into these unique pressed long leaves.
The very long and very flat light to dark green leaves of this Tai Ping Hou Kui green tea have a slightly waxy appearance. You can clearly see the bud plus two leaves on most of the dried leaves. The liquor produced is a pale green colour with a very light pleasant vegetal aroma. The wet leaves have a brilliant green colour to them and they remain whole while brewed. The taste is light, very mellow, vegetal and a little floral. There are notes of fresh green crisp vegetables such as courgettes and spinach. However, there is also a sweet aftertaste that balances nicely with the greener flavours and there is no astringency on the finish. Overall a very balanced, refreshing yet smooth cup!
This green tea is best brewed at 80°C for 2-3 minutes according to your taste and can be brewed more than 3 times, increasing steeping time with each next brew if desired. As the leaves are so large in size, we do recommend weighing this tea out in order to get the perfect measure when brewing. Commonly this type of tea can be brewed in heat resistant tall glasses to enjoy the appearance of the leaves.
You can also buy Tai Ping Hou Kui green tea in our online shop.
San Xia Mi Xiang Hong Cha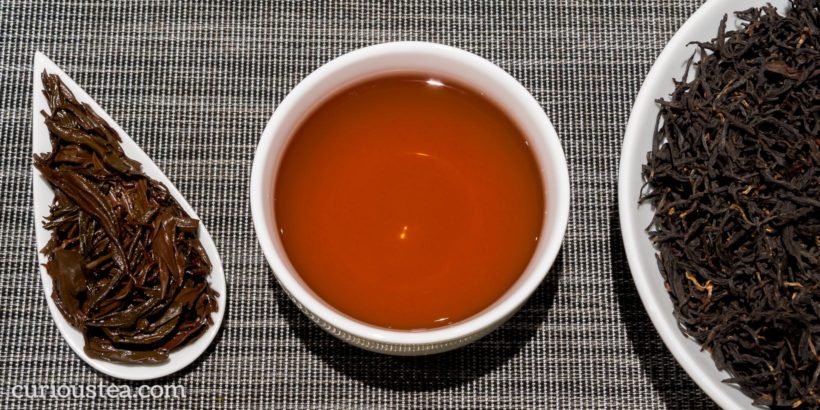 San Xia Mi Xiang Hong Cha (三峽蜜香紅茶) is a distinctive premium grade black tea from Sanxia District of New Taipei City in northern Taiwan. Carefully handpicked leaves of the Qing Xin Gan Zi varietal are specially selected and processed for a lovely Mi Xiang character with smooth notes of acacia honeycomb. It has a wonderfully expressive flavour profile that delivers a taste that is a cross between a light Dian Hong and a well-executed Gui Fei Oolong. Grown at an altitude of between 300m and 600m, it was harvested and processed in June 2020.
The Mi Xiang flavour found here is similar to other 'Beauty' teas. These are unique teas favoured for their honey-like profile that occurs due to presence of little green leaf hoppers (Jacobiasca formosana) that nibble the tea leaves during growth. The tea plants react to this attack by producing more polyphenols, which during processing give the unique 'beauty tea' flavour. These tea jassids are an essential aspect in production of some Taiwanese teas. However as the presence and effect of the tea jassid in each harvest cannot be replicated by humans, each harvest is different from one to the next. In this instance, the tea was made into a Hong Cha to better compliment the Mi Xiang flavours that occurred in this batch of picked tea.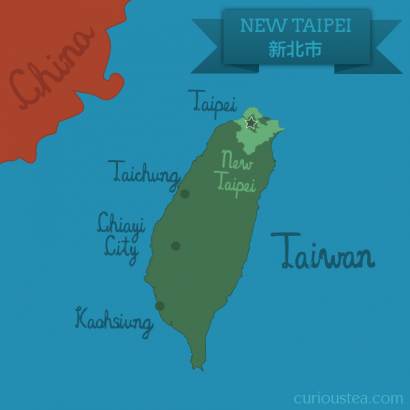 The teas from Sanxia District are largely outliers from other Taiwanese teas in terms of picking standard and production. Unlike many other regions of Taiwan that have distinct harvest seasons and where the leaves are harvested with stalks, utilising the top 2-4 leaves and the bud, the harvest in Sanxia occurs when the leaves are picked every 10-14 days. Only the top leaves and buds are harvested, so the leaves are picked without stalk, in a style that is more common with the Mainland Chinese standard of picking. Furthermore, this tea comes from a small cooperative factory of Mr Lee. They work with about 200 very small scale growers in the area who sell their tea leaves to the factory. Depending on the quality and characteristics of each harvest the factory then decides on the best tea to make from each harvest, varying between styles such as Bi Luo Chun or Long Jing for green tea, various types of oolong or by making Hong Cha (red/black tea).
Mr Lee's factory decided to make a Mi Xiang style Hong Cha from this batch as it already possessed an attractive honey character. Processing it as a black tea rather than a Gui Fei Oolong adds complexity and some unusual flavours. This San Xia Mi Xiang Hong Cha consists of neat dark twisted leaves that produce a honey and malty aroma. The taste is malty and mineral with light tannins at the start. The flavours develop to a more sweet edge which also brings our the honey profile. The honey is not overwhelmingly sweet, instead delivering a flavour that is more akin to acacia honeycomb. The overall impression is very smooth, without astringency and with just a touch of dryness at the end of the flavour. The aftertaste is a little tannic, yet soft and mouthwatering. The honey flavour really starts to stand out once the tea is cooling down.
This tea is best brewed with water at 90°C for 2-3 minutes and the leaves can be brewed 3+ times. For best results brew gong fu style.
You can also buy San Xia Mi Xiang Hong Cha black tea in our online shop.
Four Seasons Black Pearl
Four Seasons Black Pearl (四季春黑珠紅茶) is a light and fruity black tea from Mingjian Township in Nantou County of Taiwan. Made from a cultivar normally used for making a light and floral Four Seasons Oolong, this tea is following the modern trend for development of new and exciting black teas in Taiwan. It was grown and plucked from the same plants that are used to make our own Four Seasons Oolong in October 2020.
This tea is named after the cultivar that is used to make it, Si Ji Chun (四季春), or Four Seasons Spring, as well as the shape of the finished tea, which resembles small black pearls. The leaves that are plucked from Si Ji Chun plants have a fresh and light flowery 'spring-like' aroma year round, hence it is referred to as Four Seasons Spring. This floral cultivar has become very popular in Taiwan, where it first appeared in the 1980's. Recently it has also been extensively planted in other countries, such as Thailand and Vietnam. It favours low altitude conditions, produces a flavoursome tea and is rather hardy and easy growing while providing farmers with a consistent crop throughout the whole year. It is easy to see why this cultivar is popular with the farmers!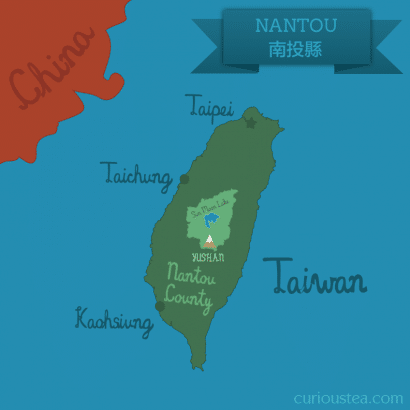 Unlike our classic lightly oxidised Four Seasons Oolong, this tea undergoes heavy oxidation at around 90%. This means that it falls into a category of black teas that tread a fine line between an oolong and a light black tea. It is always difficult to classify such teas and to decide whether they should be included in black or oolong tea categories. However, based on the flavours of this tea, we felt that it can be just about pushed into the 'black' tea category. Of course the most correct classification would be just Hong Cha (紅茶) or Red Tea as is used in China and Taiwan.
This Four Seasons Black Pearl has tightly rolled dark leaves that unfurl when brewed. It is very light for a black tea, with no bitterness, astringency or dryness. The character is very smooth and quite light, with slightly thin crisp flavours. There are floral notes, notes of fruits such as raisins and plums as well a lightly spiced edge. The finish is clean and pleasant with a tart and lightly mineral taste.
We suggest brewing at 90°C for 3-4 minutes according to your taste. It can be brewed around 3 times depending on your preference.
You can also buy Four Seasons Black Pearl black tea in our online shop.
We really do hope that you enjoy the tea selection for May and are looking forward to the selection in our next box. Our June box will feature a light organic Jade Oolong from Taiwan, a handmade white tea from Malawi, a classic Shui Xian Oolong from Wu Yi Shan and a smooth Dian Hong from Ai Lao Shan in Yunnan Province!
If reading this has made you curious about our teas, but you don't yet subscribe to a monthly tea selection, you can sign up for our tea boxes in just a few clicks. We ship worldwide from London, UK.
We always love to hear from you, so if you have any questions, suggestions or just want to chat about tea, email us at contact@curioustea.com, via our Facebook page or via Twitter.
You can also follow us on Instagram for pretty tea photos.
Happy tea discoveries!