Welcome to the June 2021 edition of the Curious Tea subscription! Here's a closer look at the four exciting new teas that we are sharing with our subscribers this month.
The first light tea this month is a light and balanced Jade Oolong from Taiwan that is grown and processed to organic and biodynamic standards.
The second light tea is an unusual and complex white tea from Malawi that comes rolled into large pearls.
For the dark side of the selection we have a dark, roasted Chinese oolong from the famous Wuyi Shan terroir, made from the Shui Xian cultivar.
Finally, the last tea we are featuring this month is a light and fruity Dian Hong from Ailao Mountian in Yunnan Province of China that is processed similarly to a Taiwanese black tea.
Our Discovery subscription boxes contain 10g taster pouches of all of the above mentioned teas. If you are a subscriber you will benefit from a 10% discount on all teas from our tea shop!
Let's get into further detail on these teas featured in our June tea subscription boxes.
Organic Jade Oolong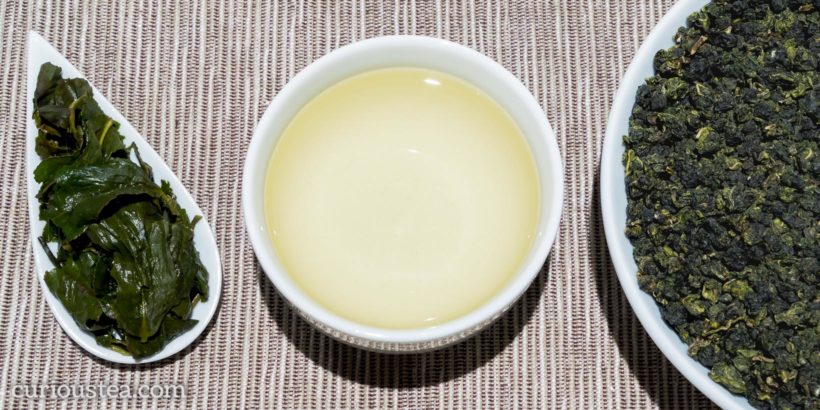 Organic Jade Oolong (有機翠玉烏龍茶) is a refreshing and balanced light oolong grown in Mingjian Township in Nantou County of central Taiwan. It has a wonderfully characteristic profile that showcases the best of both worlds when it comes to Taiwanese oolong, combining the creamy smoothness of Milk Oolong with the more floral flavours of teas such as Four Seasons Oolong. Made from the leaves of the Cui Yu 'Green Jade' (翠玉) cultivar plants that are grown to organic standards, it was picked and finished in late October 2020.
This Organic Jade Oolong comes from a tea garden that is run to organic standards and according to natural farming principles. While the garden is not certified organic, this tea undergoes pesticide and fertiliser residue testing to confirm that no artificial substances are used during growth. Organic certification is a costly and lengthy process and many smaller farmers are unable to afford this procedure. Furthermore if their market is mostly internal or in Asia where the emphasis is more on flavour, then the organic certification adds little to the ability of the farmer to sell their tea on the internal market.
While organic certification is seen by many as an important indication that a tea is free of any artificial substances, unfortunately this is by no means an ironclad guarantee. This is down to various reasons. For example if an organic tea garden has a particularly bad outbreak or infestation of insects that threaten the survival of the tea plants, the farmers may make a decision to apply pesticides in order to save the tea plants and their livelihood. In most cases it will result in the loss of organic certification but the unscrupulous ones may chance it in the hope that the next organic inspection does not pick up on this. Similarly, an organic certification does not guarantee that the plants have not been cross-contaminated from spraying of pesticides or from soil transfer and water run-off of fertilisers from nearby gardens. Neither does it guarantee that the plants are free from other external pollutants.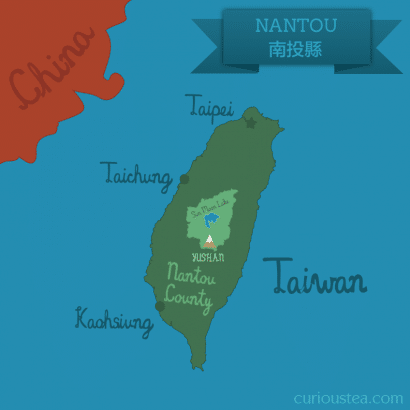 While there is no easy and clearcut solution to guaranteeing that a tea is 100% free of artificial fertilisers, pesticides or external pollutants, generally laboratory testing comes closest to that. As the tea is tested for specific substances, the laboratory tests will confirm (or disprove) the organic nature of the tea as well as non-existence of other external substances. Of course the best solution is both certification and testing but the costs involved mean that it is unlikely to be undertaken. All our Taiwanese oolong teas that are listed as organic undergo such labaratory testing to confirm that they are free of any artificial pesticides or fertilisers.
Talking about Jade Oolong specifically, the name has become somewhat of a generic term for light green oolongs from Taiwan. So it is common to see Jade Oolong being marketed without any reference to cultivars used in making it. Our Organic Jade Oolong, however, is made only using plants of the Cui Yu 'Green Jade' (翠玉) cultivar, also known as TRES #13. Arguably this is the only cultivar that should be used in a Jade Oolong tea.
Cui Yu cultivar was created in 1981 by the Tea Research and Extension Station of Taiwan (TRES) at the same time as the famous Jin Xuan TRES #12 cultivar that is used to make the very popular Milk Oolong. Both of these cultivars were well received and are credited with the revival and subsequent rise in popularity of Taiwanese oolong tea in the 1980's and 1990's. Unlike the Jin Xuan cultivar with its unique milky flavours and a strong consumer following and demand, Cui Yu has been recently losing popularity amongst farmers. As Cui Yu is not as easy to care for and grow for the farmers, it is being surpassed by plants of other cultivars, most notably the much hardier Si Ji Chun 'Four Seasons' (四季春). While Si Ji Chun may be more exuberantly floral in taste for consumers and easier to grow for farmers, it does lack some of the refinement and balance of flavours that can be found in a great Jade Oolong from a Cui Yu cultivar plants.
The leaves of this Organic Jade Oolong are small, rolled, dark green pearls that have a light verdant floral fragrance. The clear liquor is a light yellow green colour with a gentle floral aroma. The flavour is bright, clean and crisp with a verdant profile. The smooth taste has notes that are floral, subtly creamy and herbaceous. The aftertaste is clean, a little mineral and lasting with a sweet aspect coming through. This is an excellent version of Jade Oolong and the organic nature of this tea makes the flavours even brighter and more refreshing.
It is best brewed at 90°C for 2-3 minutes and should definitely be brewed multiple times to enjoy the different flavours from each brew.
You can also buy Organic Jade Oolong tea in our online shop.
Satemwa Zomba Pearls
Satemwa Zomba Pearls is a lovely and rare white tea from the Shire Highlands of Malawi that is completely handmade. The large leaves are picked and rolled by hand into large pearls that resemble cocoons. It produces a complex flavour with fruity notes and a creamy mouthfeel. As the leaves unfurl slowly, this tea can stand many repeated infusions. We source Satemwa Zomba Pearls white tea directly from Satemwa Tea Estate. The current batch is from the September 2020 harvest.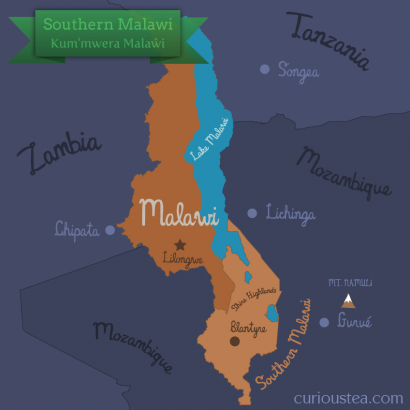 Malawi is the second largest tea producing region of Africa after Kenya. Most of it, however, does end up destined for the tea bag industry of the UK and South Africa, being grown on large plantations owned by big multinational corporations. The Satemwa Tea Estate by contrast is family owned and operated. It was founded in 1923 and has stayed in the same family since inception. They have very strong social and environmental responsibility programmes that provide a fair wage to their workers and support to the local communities.
While also producing CTC teas for tea bags and similar applications, Satemwa Tea Estate are also pioneering high end orthodox tea production. For this they are utilising and experimenting with various cultivars found in Malawi, fusing the local plants and terroir with production methods and ideas they collated from visiting tea estates and farmers in other countries. Thanks to these innovative methods, their selection now encapsulates a whole range of teas: unique whites, unusual greens processed using Japanese production methods, oolongs, orthodox blacks as well as dark tea! The current range of their premium white teas includes some rare handmade tea, of which this Satemwa Zomba Pearls white tea is a fine example.
This Satemwa Zomba Pearls white tea comes in loosely rolled pearls that resemble cocoons in shape. The pearls are made from hand picked neat top leaves of the plants. When brewed the pearls unfurl, slowly releasing their flavours with each infusion. This tea is particularly smooth when brewed at around 80°C. The complex flavour starts with more sweet, creamy and fruity notes. This progresses to savoury hints and herbaceous, dry hay and lightly woody notes. It has a wonderfully soft, creamy mouthfeel throughout with the flavours still staying more on the fruity side. The light aftertaste has a tangy note and a fresh feel. This is an excellent and highly unusual white tea – it is a real 'must try'!
The pearls are best brewed at 80°C for around 2-4 minutes according to your taste. As the tea unfurls slowly, you can brew it many times over. The first few infusions can be longer to allow the pearls to start opening. Once they are opening up, you can reduce the infusion time, but increase it again when brewing the last infusions. This tea performs extremely well brewed gong fu style in a gaiwan or similar smaller vessel. If you prefer a bolder flavour, increasing the water temperature will result in a slightly more astringent infusion.
You can also buy Satemwa Zomba Pearls white tea in our online shop.
Wu Yi Shui Xian Oolong
Wu Yi Shui Xian Oolong (武夷山水仙) is a traditional oolong from Wuyi Shan in Fujian Province of China, an area that is renowned for producing some of the best and most characterful oolongs. This 'half rock' tea is made from the leaves of Shui Xian cultivar plants that are grown around Zhuli Village (竹沥), outside of the core Zhengyan tea growing area of Wuyi Shan. It has an attractive classic roasted oolong flavour with lovely mineral and floral notes. This particular lot was made in April 2020. As with other similar oolong teas that undergo roasting, it benefits from a period of rest after production.
Traditionally, Shui Xian (水仙), sometimes also Shui Hsien, is a type of oolong that originates from Fujian Province and refers to the cultivar used to make this tea. Shui Xian translates as 'narcissus', 'water sprite' or 'water lily' in English and is known for distinctive flowery honey aroma and flavour. There are also oolong teas produced from the same cultivar in Guangdong Province, our Dan Cong Shui Xian being the prime example. While there are many references to Shui Xian originating in Wu Yi Shan in Fujian Province, there are a few others who think that this plant was brought over to Fujian from Guangdong a long time ago. There doesn't seem to be a particular consensus on the exact origin of Shui Xian cultivar and on whether the two cultivars grown in Fujian and Guangdong Provinces are actually the same plant. However, there is definitely a certain degree of similarity between Shui Xian oolong teas from both of these tea regions.
Shui Xian cultivar is used extensively in Fujian Province to produce the famous Da Hong Pao Oolong. In fact, alongside Rou Gui, it forms the base for a good blended Da Hong Pao tea. In most cases these blended teas consist of a Shui Xian and/or Rou Gui base with other cultivars such as Qi Dan, Bei Dou and others blended in to increase the aromatics of the finished tea. We recommend trying our Classic and Special versions of Da Hong Pao to compare with this 'straight' version of Shui Xian Oolong.
This oolong originates from Zhuli Village, located outside of the core Zhengyan tea growing area of Wuyi Shan. Wuyi Shan has three main areas of tea production. The main core area is known as Zhengyan (正岩), while the two peripheral areas are known as Banyan (半岩) and Zhoucha (洲茶). This lot comes from tea plants grown on the periphery of Wuyi Shan, classed at Zhoucha, rather than in the core production area. The Banyan and Zhoucha teas are also known as half-rock teas and they closely match the quality of the core area Zhengyan teas. They represent a great combination of value and tradition; they utilise the correct cultivars and processing as well as a terroir that is closely matched to the core production area while still providing excellent value.
Wu Yi Shui Xian Oolong consists of dark twisted leaves that have a fruity mineral aroma. The dark amber liquor has a traditional roasted flavour with distinct mineral notes. This 'rock' charm is what makes teas from Wuyi Shan famous and particularly sought after. The mineral profile has a savoury and toasted taste with notes of exotic fruits. The lingering aftertaste has more of the roasted and stony flavour that is combined with floral notes of lightly bitter flower petals. It is not as sweet as other teas from the area can be, instead delivering a more mineral taste.
We suggest brewing at 90°C for 3-4 minutes according to your taste. It should be brewed 3 or more times depending on your taste preferences as each infusion brings out slightly different aspects of this tea. For best results, brew gong fu style.
You can also buy Wu Yi Shui Xian Oolong tea in our online shop.
Dian Hong Ai Lao Mountain
Dian Hong Ai Lao Mountain (滇紅哀牢山) is a Gao Shan Dian Hong, or High Mountain Yunnan Red, a black tea from Ailao Shan in Zhenyuan Yi, Hani and Lahu Autonomous County of Yunnan Province, China. Grown high up in the remote and unspoilt Ailao Mountains at an altitude of 2,000 metres, it is a fine example of a high mountain tea that is processed similarly to Taiwanese and Wu Yi Rock black teas. It is a First Flush tea, plucked and processed in early March 2020.
This Dian Hong Ai Lao Mountain is quite different to most Dian Hong teas, being less malty, lighter and fruitier. The farmer has a background in Taiwanese teas which is evident in the style of this unique tea. The levels of oxidation are somewhat lower, resulting in a light, sweet and fruity style of tea. Like with other Dian Hong teas, this one gets better with a bit of ageing!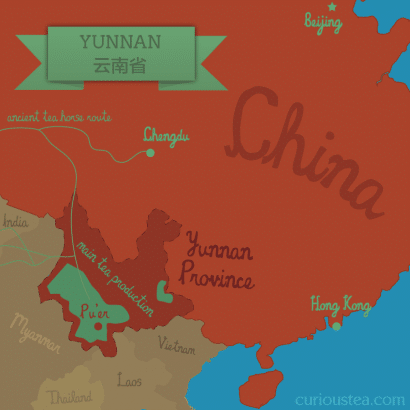 It is always intriguing to see exchange of information, ideas and styles between tea growing regions. Needless to say that China is the dominant force in traditional ways of tea, however some farmers in China are starting to experiment with producing teas following ideas and techniques from other growing regions, such as Japan and Taiwan, with quite interesting results. This particular tea definitely reminds us of a Taiwanese style black tea so it would appeal to those wanting to try a new different sort of Chinese black tea!
The wiry dark brown leaves of this Dian Hong Ai Lao Mountain black tea have a bit of gold colour to them and a slightly malty and fruity aroma. It produces an amber liquor with a very light malty scent of eucalyptus and pine. You can see the lighter levels of oxidation on the brewed tea leaves – they still have a little bit of dark green colour in places. The light and balanced liquor has a slightly malty taste with a woody eucalyptus note. The flavours have fruity and stony notes with a sweet brisk aftertaste. The clean finish means this tea goes well with food and sweets.
We suggest brewing at 90°C for 3-4 minutes according to your taste. It can be brewed around 3 times depending on your preference.
You can also buy Dian Hong Ai Lao Mountain black tea in our online shop.
We really do hope that you enjoy the tea selection for June and are looking forward to the selection in our next box. Our July box will be a China special. Featuring a classic Yun Wu green tea from Huang Shan, a steamed green tea En Shi Yu Lu, a fragrant Dan Cong Oolong and a Dian Hong black tea made according to a classic 1938 recipe!
If reading this has made you curious about our teas, but you don't yet subscribe to a monthly tea selection, you can sign up for our tea boxes in just a few clicks. We ship worldwide from London, UK.
We always love to hear from you, so if you have any questions, suggestions or just want to chat about tea, email us at contact@curioustea.com, via our Facebook page or via Twitter.
You can also follow us on Instagram for pretty tea photos.
Happy tea discoveries!