Welcome to the April 2021 edition of the Curious Tea subscription! Here's a closer look at the four exciting new teas that we are sharing with our subscribers this month.
The first light tea this month is a Yabukita Sencha from Shimada in Shizuoka Prefecture of Japan that features a classic herbaceous profile and umami notes.
The second light tea is a unique white tea from Taiwan that is made from the Qing Xin Gan Zi cultivar, the leaves of which are simply withered after picking.
For the dark side of the selection we selected a rare top grade Keemun Golden Needle from China that produces a delicate, yet complex profile.
Finally, the last tea we are featuring this month is an Autumnal Flush Darjeeling from Gopaldhara Tea Estate that has a lovely muscatel character.
Our Discovery subscription boxes contain 10g taster pouches of all of the above mentioned teas. If you are a subscriber you will benefit from a 10% discount on all teas from our tea shop!
Let's get into further detail on these teas featured in our April tea subscription boxes.
Shimada Yabukita Sencha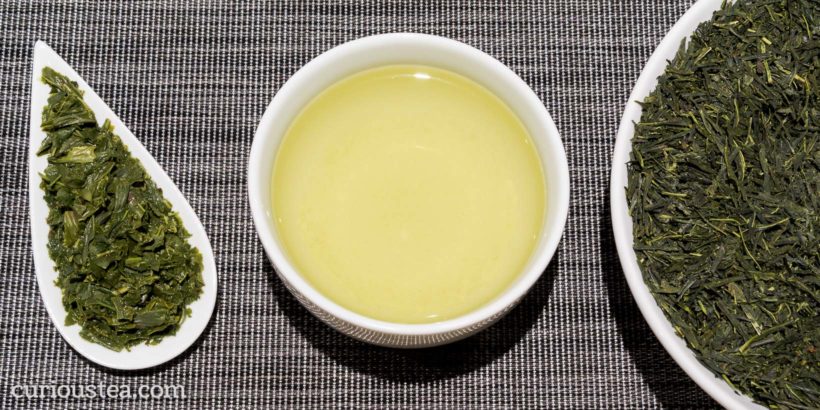 Shimada Yabukita Sencha (島田やぶきた煎茶) is a classic sencha green tea made from the popular Yabukita (やぶきた) cultivar. This tea is grown at low altitude in Shimada (島田) in Shizuoka Prefecture, a region famous for tea production. This Sencha undergoes a slightly higher degree of roasting to produce a more balanced and approachable flavour to suit a wider palate of tea tastes. However it still delivers the famous Japanese green tea character, with a herbaceous and vegetal profile. This current lot was harvested in May 2020.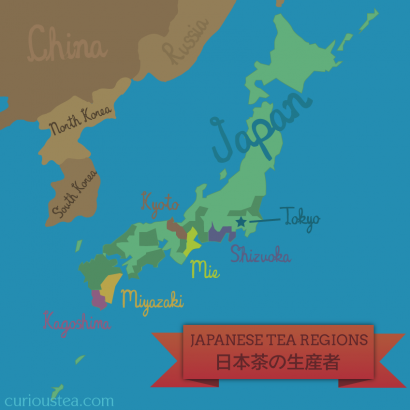 This Shimada Yabukita Sencha is made from the leaves of Yabukita cultivar plants. This cultivar is the most popular and widespread tea plant in Japan and Yabukita plants cover about 75% of Japanese tea fields. It was developed by a tea breeder from Shizuoka in the early 1900's called Hikosaburo Sugiyama, but it was officially registered only in 1956. The well-performing Yabukita plants quickly proved popular due to their hardiness, ease of cultivation and tea flavours; with time becoming the mainstay of Japanese green tea production. One of the main factors for the popularity of the Yabukita cultivar has been the flavours that they are known for. These plants produce teas with typical savoury and umami grassy flavours and strong aromas that are particularly sought after in Japanese green teas.
Shimada Yabukita Sencha is processed like any other Japanese green tea: by steaming the leaves. The process is referred to as kill-green or fixation. After rolling and shaping, the tea undergoes a finishing, or drying process. This can be done in various ways but often involves baking or roasting the tea. With most sencha teas this process is done very quickly in order to preserve the green grassy nature of the tea. However this tea undergoes additional roasting during the finishing process to impart a lightly toasted character and to further balance the flavours. The roasting level is stronger than on most sencha green teas, however it is nowhere as strong as the popular roasted Hojicha green tea.
This Shimada Yabukita Sencha has a dark mixed leaf – a classic sencha in appearance. The lengthier roasting is apparent in the diminished grassy features of the aroma and flavour. It produces an opaque green-yellow liquor with a vegetal aroma. The light taste delivers a vegetal profile that is nicely balanced and not particularly grassy. The herbaceous umami notes provide some pleasant complexity and the hints of roasted flavour translate to notes of roasted nori seaweed. The aftertaste has a pleasant vegetal dryness and just a touch of stringency.
We suggest brewing at 80°C for around 2 minutes. It can be brewed multiple times depending on your taste preferences.
You can also buy Shimada Yabukita Sencha green tea in our online shop.
Qing Xin Gan Zi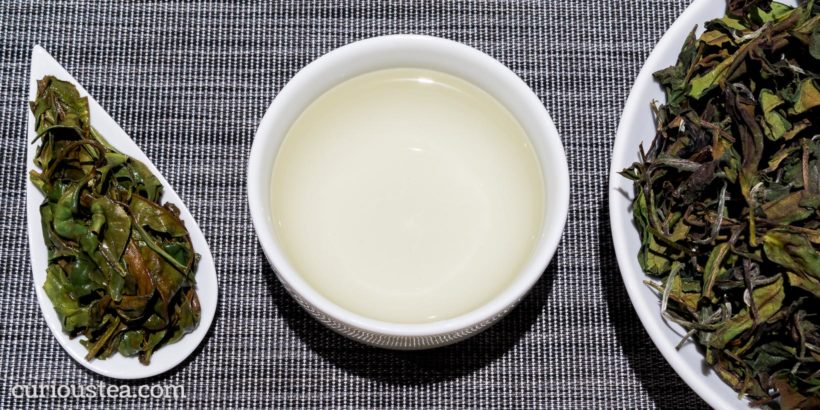 Qing Xin Gan Zi (青心柑仔) is a top grade early spring white tea from Taiwan. Made from the Qing Xin (青心), or Green Heart cultivar that is normally reserved for oolong teas, it produces a sweet and floral liquor with a clean finish. Qing Xin Gan Zi White tea is grown to organic standards around Mingjian Township of Nantou County by Mr Yu and was hand picked from the fine early spring leaves in February 2021.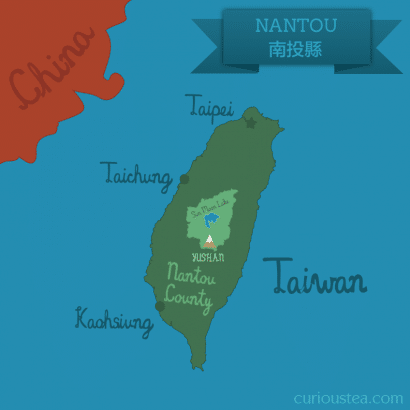 The Qing Xin Gan Zi name actually refers to the varietal used for this green tea. It is a sub-varietal of the widespread and popular Qing Xin cultivar known for a particularly floral character. The Gan Zi sub-varietal is extensively used for high grade Oriental Beauty Oolong teas due to large amount of buds that these plants tend to produce. This results in finer and more characterful profiles and translates extremely well to this fine, particularly sweetly floral, Taiwanese white tea.
While Qing Xin cultivars are a popular choice for fine floral teas from Taiwan, these plants are not as popular with the farmers. It is generally thought that this particular cultivar naturally evolved and developed over time from ancestor plants from Fujian. Unlike the many scientifically selected and developed cultivars from Taiwan that are hardier, more resistant and featuring increased output, the Qing Xin cultivar does not have such characteristics. As such, the farmers are unable to produce as much tea from these plants, leading to higher prices. However the unique character of this cultivar makes the challenge all the more worthwhile for the farmers!
This Qing Xin Gan Zi white tea has a very bright and clear liquor with a light yellow-green colour. The captivating aroma is floral and fresh. It produces a light cup that nevertheless delivers nicely balanced and complex flavours. The floral profile has sweet and creamy notes of fruits and hops. The clean and lasting aftertaste delivers a tangy finish. This is not a typical white tea and makes an interesting comparison to our richer and bolder Taiwanese Red Jade White tea.
It is best brewed at 80°C for 2-3 minutes according to your taste and should be brewed multiple times, increasing steeping time with each brew if desired.
You can also buy Qing Xin Gan Zi white tea in our online shop.
Keemun Jin Zhen Golden Needle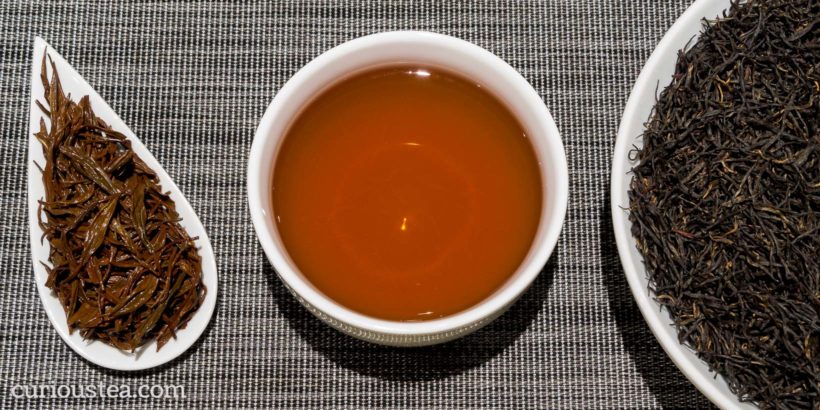 Keemun Golden Needle is a fantastic top grade Qimen Jin Zhen Hong Cha (祁门金针红茶) produced in Qimen County of Anhui Province, China. Made entirely by hand from young tender buds, it has a complex, yet delicate profile. This particular lot was harvested in Spring 2020 from tea trees grown at higher altitude.
The origin of Qimen Hong Cha (祁门紅茶) or 'Keemun Red Tea' only dates back to the late 19th century. The Keemun name comes from an older Western spelling of the town of Qimen in Anhui Province, which is the birthplace of this tea. Keemun quickly become a popular and famous black tea, especially in the West, due to an appealing, fragrantly sweet and fruity character that it develops. Many other sub-types of this tea exist: Mao Feng, Hao Ya and Congou (Gong Fu) being the most common and popular ones. Lower grade Keemun black teas are also commonly used in tea blends.
This particular Keemun is a Golden Needle (Jin Zhen) style of tea, the name referring to the appearance of the dry leaf that resembles small thin needles with a golden colour. While not as well-known as the more famous Mao Feng type, this is a fantastic top tier tea that is quite rare due to limited production. When compared to other styles, this Keemun is made from smaller, younger leaves that are picked earlier in spring. In contrast, the Mao Feng style generally utilises larger leaf that is picked towards the end of spring, resulting in a fuller and bolder flavour that definitely misses out on complexity and delicate nuances.
This Keemun Jin Zhen Golden Needle has neat thin leaves that are mostly dark in appearance, with an attractive golden colour. It brews up a lightly coloured liquor that is highly aromatic with a fruity and malty scent. The soft and delicate character of this tea nicely combines with a complex fruity and malty profile. The taste starts on a more mineral edge, slowly progressing to malty and sweet notes of red stone fruits and additional lightly roasted, sweet tobacco notes. There is a hint of tangy passionfruit just before the taste reaches a more mineral and tangy aftertaste that is lasting, yet clean. It is a delicate tea that showcases the famous Keemun aromatics and sweetness, delivering them in a sophisticated manner.
We suggest brewing at 90°C for 2-3 minutes according to your taste, brewing multiple times. This is a rare and top end tea that is to be enjoyed without anything added and best brewed gong fu style.
You can also buy Keemun Jin Zhen Golden Needle black tea in our online shop.
Darjeeling Gopaldhara Autumn Dew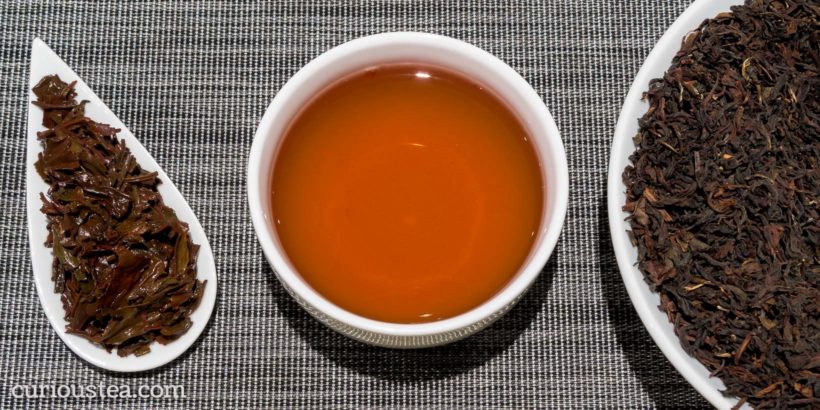 Darjeeling Gopaldhara Autumn Dew is a traditional Autumnal Flush Darjeeling tea from Gopaldhara Tea Estate that is made from leaves harvested from old China bushes, grown at high altitude between 1,700 and 2,100 metres. Picked in late October and early November when the temperatures in the higher elevations start drastically declining, it produces a smooth liquor with a lovely muscatel character. This batch is FTGFOP1 'China Muscatel' grade picked in October 2020.
Like all our Gopaldhara teas, we source this tea directly from Rishi Saria, the owner and director of Gopaldhara and Rohini Tea Estates. Gopaldhara Tea Estate is nestled in the Mirik Valley, in the Himalayan foothills, and is one of the highest tea estates in Darjeeling with elevations of up to 2,100m. It is renowned for producing teas of exceptional quality and very often quite unusual character. The Estate is also known for innovation, with new types of tea that utilise new and traditional production methods being developed every season.
The high altitude location of the estate means that in late autumn the weather turns cold quite quickly. Perhaps the best and most well-known Autumnal tea from Gopaldhara is the Red Thunder Oolong that is picked later in season when the tea leaves already start being frosted by low nighttime temperatures and start withering on the plants. By contrast, this Autumn Dew is picked earlier in the Autumnal Flush season and is processed in a more traditional fashion. This results in a smooth character that is a little bolder and perhaps a little less refined when compared directly to Red Thunder Oolong.
Darjeeling Gopaldhara Autumn Dew tea has a dark leaf with heavier oxidation that is quite neat in appearance. It produces an amber coloured liquor with a light aroma of fruity raw tobacco. The taste is light, with a lovely and inviting fruity and muscatel profile and a lasting lingering sweetness that comes from the Autumnal nature of this tea. There is plenty of smoothness in the character with notes of prunes and grapes. The flavours then move on to a more mineral and slightly earthy aspect that leads to a lightly tannic base note that is present throughout. The overall flavour impression is clean, balanced and refreshing and quite a stark contrast to a First Flush Darjeeling.
We suggest brewing parameters of 90°C for 3-4 minutes according to your taste, brewing multiple times.
You can also buy Darjeeling Gopaldhara Autumn Dew black tea in our online shop.
We really do hope that you enjoy the tea selection for April and are looking forward to the selection in our next box. Our May box will feature an unusual compressed Zhang Ping Shui Xian Oolong from China, a classic Chinese Tai Ping Hou Kui green tea, a Mi Xiang black tea from San Xia in Taiwan and a light Taiwanese Four Seasons black tea!
If reading this has made you curious about our teas, but you don't yet subscribe to a monthly tea selection, you can sign up for our tea boxes in just a few clicks. We ship worldwide from London, UK.
We always love to hear from you, so if you have any questions, suggestions or just want to chat about tea, email us at contact@curioustea.com, via our Facebook page or via Twitter.
You can also follow us on Instagram for pretty tea photos.
Happy tea discoveries!