Welcome to the January 2022 edition of the Curious Tea subscription! Here's a closer look at the four exciting new teas that we are sharing with our subscribers this month.
The first light tea this month is a light and floral Ruan Zhi Oolong from the highlands of Doi Mae Salong in northern Thailand.
The second light tea is a Yin Zhen Silver Needle white tea from Yunnan Province that has a distinct flavour commonly found in this terroir.
For the dark side of the selection we have an unusual Hong Cha from Yixing in China, a locality more often associated with the famous Yixing tea ware.
Finally, the last tea we are featuring this month is an early spring Darjeeling Jethikupi from Rohini tea estate that represents the very first pick of the season.
Our Discovery subscription boxes contain 10g taster pouches of all of the above mentioned teas. If you are a subscriber you will benefit from a 10% discount on all teas from our tea shop!
Let's get into further detail on these teas featured in our January tea subscription boxes.
Yin Zhen Yunnan Silver Needle
Yin Zhen Yunnan Silver Needle (雲南銀針) white tea is a light and delicate white tea grown in Yangta Village located in Jinggu Dai and Yi Autonomous County in Pu'er, Yunnan Province. Made from Camellia taliensis, it is a little more unusual when compared to classic Silver Needle white teas from Fujian Province. Grown at a plantation of 40-60 year old trees at an altitude of around 1,700m, it was harvested in March 2021.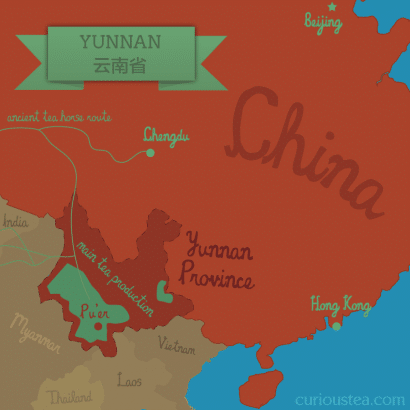 This Yin Zhen Yunnan Silver Needle is made from fine young buds of Camellia taliensis. The taliensis species is a wild relative of Camellia sinensis and is closer related to Camellia sinensis var. assamica than to Camellia sinensis var. sinensis. Given the closer relation to assamica, it is perhaps not surprising that it is mostly found in the wild in Yunnan Province and surrounding areas in Thailand and Burma. In Yunnan Province taliensis is used to make white, black and pu-erh teas. We currently stock a black version of this tea, Dian Hong Da Li Cha in our shop.
The tender leaves of this Yin Zhen Yunnan Silver Needle have been carefully hand processed to create neat silver needles. There are plenty of white 'hairs' on the leaves, indicating a very high quality of both the leaf and processing. The pale liquor is very clear and bright, lightly darkening as the tea cools. It has a slight vegetal and woody aroma. The clean taste has a herbaceous profile with vegetal and sweet notes of spinach, salad leaves and cucumber. The aftertaste is crisp, with lightly sweet, fruity and woody notes. This tea is extremely easy-going with a fresh, cleansing taste.
This tea is best brewed at 90°C for 3-4 minutes according to your taste, brewing multiple times. Like with all white teas, you can experiment with lower temperature and longer steeping time as an alternative way of brewing.
You can also buy Yin Zhen Yunnan Silver Needle white tea in our online shop.
Santikhiri Ruan Zhi Oolong
Santikhiri Ruan Zhi Oolong is a lovely light and floral oolong made from a 'Ruan Zhi' cultivar. It is a high mountain oolong grown at an altitude of around 1,200-1,600 metres and was plucked in Summer 2021. This is an oolong counterpart to our Santikhiri Ruby Ruan Zhi black tea.
This Santikhiri Ruan Zhi Oolong is made from the Taiwanese Ruan Zhi or 'Soft Stem' (軟枝) cultivar that is favoured for lighter floral oolongs. Confusingly, this is the same cultivar as the highly prized Qing Xin or 'Green Heart' (青心) cultivar. The difference in the name for this cultivar comes from the fact that the Ruan Zhi cultivar was originally brought over from mainland China to Taiwan. Over time it went through a selection and propagation process that has significantly altered the plant. There then seems to have occurred a split in the naming convention of this cultivar. Our tea master in Taiwan confirmed to us that the Ruan Zhi and Qing Xin are one and the same (and different from the Bai Lu TRES #17). Farmers and people that work with the leaf tend to refer to it as Qing Xin, while tea writers and people around Taipei tend to stick to the older name of Ruan Zhi. The grower of our Thai teas refers to this oolong as being from a 'Ruan Zhi' cultivar, so we decided to adopt the same name on this occasion.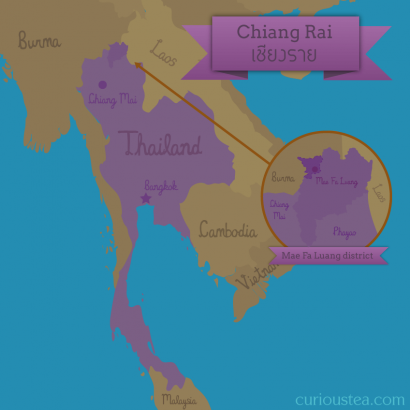 This Santikhiri Ruan Zhi Oolong comes from around Santikhiri village (formerly Mae Salong) that is located in Mae Fa Luang District and around the highlands of Doi Mae Salong mountain, close to the border with Burma and Laos. When this area of Thailand went from growing opium poppies to sustainable tea growing, many tea cultivars were imported from Taiwan in order to quickly establish a booming tea industry. Taiwanese cultivars were particularly attractive since they matched well the growing conditions of northern Thailand. Furthermore, many consider Taiwanese teas to be of fantastic quality hence fetching a premium price, something Thai tea growers were understandably attracted to. It is safe to say that while teas grown in Thailand still have some way to go in matching the top tier Taiwanese teas, the offerings from Thailand are certainly of very solid quality and generally are at an attractive price point for tea lovers.
Santikhiri Ruan Zhi Oolong comes in tightly rolled leaves that have the appearance of a classic green oolong. It produces a medium golden liquor with a light fresh aroma and a hint of creaminess. The well balanced flavours are light and floral with a defined citrus edge. A very balanced yet floral oolong with a refreshing and comforting character.
It is best brewed at 90°C for 3-4 minutes and should be brewed multiple times.
You can also buy Santikhiri Ruan Zhi Oolong tea in our online shop.
Yixing Hong Cha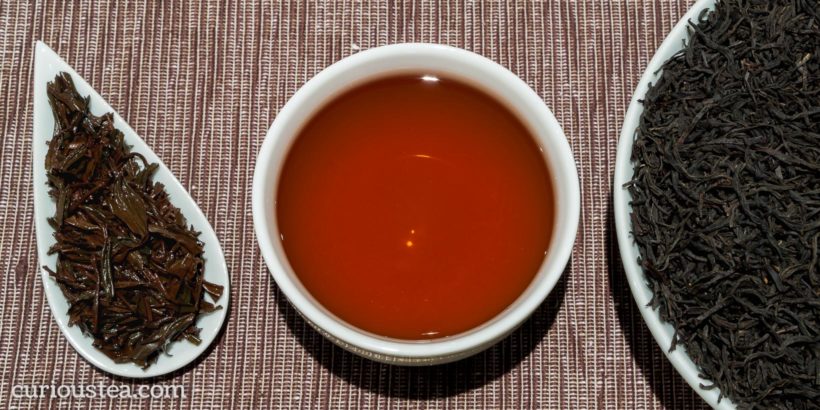 Yixing Hong Cha (单宜兴红茶) is a red/black tea that comes from an area that is world-known for the numerous local clays and the masterful Yixing teaware made crafted here. This tea is grown just outside of Yixing Town in Jiangsu Province of China at low altitude. Made from the local Jiukeng (鸠坑) cultivar that is also often used to make Long Jing Dragon Well green tea. It has a classic Chinese black tea profile, somewhat similar to black teas from Fujian Province. This lot was harvested in Spring 2021.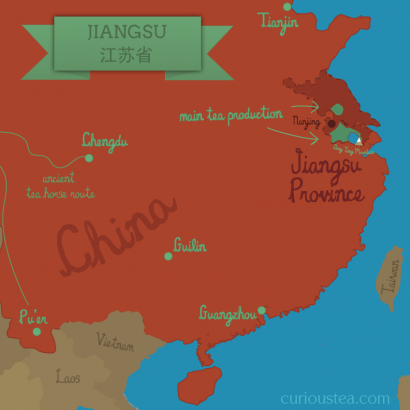 Yixing Town is world-famous for producing what is arguably some of the best teaware. There are different clays that are mined here, each with a distinct look and characteristics of the finished teaware piece. Not only is the used clay important, but also the mastership of the maker. Yixing teapots are highly sought after by tea enthusiasts as having the right teapot for the right tea greatly contributes to bringing out the best in different tea types. We carry a selection of Yixing teapots that is constantly changed and updated. All our teapots are either completely handmade or half-handmade. The latter process is when the body of the pot is made using a mould but the lid, spout, handle, filter and any decorative elements are still crafted by hand.
So with this location being so famous for tea lovers, it was particularly interesting for us to purchase this Yixing Hong Cha. It is very much created as a very classic Chinese tea, similar to other Gong Fu style of teas. As such, many regional variations of Gong Fu teas exist and this is just one of them. True to this nature, you will find this tea to be similar to black tea from Fujian Province (for example Bai Lin Gong Fu) or Anhui Province (for example Keemun Mao Feng).
This Yixing Hong Cha consists of smaller leaves. It produces a bright amber liquor that has a malty aroma. The taste is predominately smooth and is largely malty. It also adds some notes of sour fruits, fresh raw tobacco and cocoa. There is pleasant minerality present throughout the taste and this continues to the aftertaste. The finish has some pleasant tannins and is lightly drying.
It is best brewed at 90°C for 3-4 minutes and can be re-brewed multiple times.
You can also buy Yixing Hong Cha black tea in our online shop.
Darjeeling Rohini Jethikupi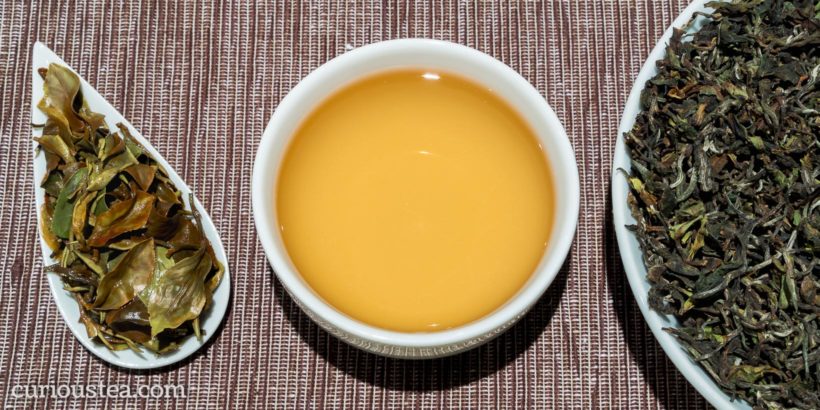 Darjeeling Rohini Jethikupi First Pick 2021 is a fine First Flush Darjeeling tea from Rohini Tea Estate. Like all our Rohini and Gopaldhara teas, we source it directly from Rishi Saria, the owner and director of Gopaldhara and Rohini Tea Estates. This is a rare opportunity to try the very first pick of the season. Consisting solely of fine young leaves and buds of the renowned P-157 clonal plants, this tea is lightly oxidised to produce a bright verdant liquor with complex flavours and minimal astringency. This lot is a 'FTGFOP1 Jethikupi First Pick' pick from the late February 2021 harvest.
You may also be interested in our other 2021 harvest teas from Gopaldhara and Rohini Tea Estates, especially the First Pick 'Moondrop' from Gopaldhara.
Rohini Tea Estate is located along the route that connects the towns of Siliguri and Kurseong. Surrounded by a beautiful natural environment, this estate produces tea from relatively young trees. The estate has had a chequered past, not actually producing any tea for a long period of time. Recently it has been replanted with young tea trees, so sometimes it is referred to as the youngest tea estate in Darjeeling. It is now going from strength to strength and is producing more and more interesting and higher quality teas. Most recently Rohini have been elevating the quality and flavours by focusing on smaller hand processed batches and more unusual types of tea.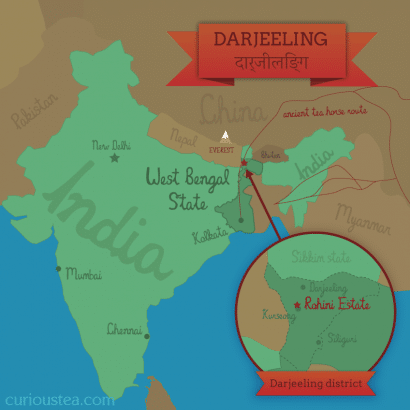 First Flush Darjeeling tea is particularly prized, however the First Flush moniker does encompass a longer growing season during which the plants undergo a number of rounds of leaf picking. This Rohini Jethikupi is the very first pick of the season, a period during which the leaf growth is slow. The slow growth of the leaves results in a higher concentration of nutrients after the long winter hibernation, itself translating into unique flavours and charm of the finished tea. It is made from the young leaves and tips that are plucked whole by hand from the best specially selected P-157 bushes. The leaves are then delicately processed by hand to retain the full leaf. The natural very light oxidation is done briefly overnight to retain the fresh character as well as to keep the leaves of this fine tea intact.
This Darjeeling Rohini Jethikupi First Pick tea consists of neat, hand picked and hand processed tippy leaves that have undergone careful minimal oxidation. When brewed it produces a bright golden-yellow aromatic liquor with a light floral scent and a smooth verdant profile. The complex flavours have notes of underripe fruits, wild flowers and fresh savoury herbs. There is a touch of woodiness that is reminiscent of a white tea. The aftertaste is long lasting with more verdant florals, light wood notes and just a touch of dryness. This is a highly refined and expertly made Darjeeling that delivers an excellent and unparalleled taste.
It is best brewed at 90°C for 3-4 minutes and can be brewed 2+ times.
You can also buy Darjeeling Rohini Jethikupi black tea in our online shop.
We really do hope that you enjoy this tea selection for January and are looking forward to the selection in our next box. Our February box will be a purple tea special! It will feature Sun Rouge green tea from Japan and Nandi Hills green tea from Kenya. And for the dark side of the selection we have selected a Ye Sheng black tea from Yunnan and a Zi Ya sheng pu-erh.
If reading this has made you curious about our teas, but you don't yet subscribe to a monthly tea selection, you can sign up for our tea boxes in just a few clicks. We ship worldwide from London, UK.
We always love to hear from you, so if you have any questions, suggestions or just want to chat about tea, email us at contact@curioustea.com, via our Facebook page or via Twitter.
You can also follow us on Instagram for pretty tea photos.
Happy tea discoveries!