Welcome to the December 2021 edition of the Curious Tea subscription! Here's a closer look at the four exciting new teas that we are sharing with our subscribers this month.
The first light tea this month is an early spring Sejak green tea from an organic plantation in Boseong, South Korea that produces a fresh grassy liquor.
The second light tea is a Jin Xuan Milk Oolong from the famous Lugu Township in Taiwan that has a smooth flavour with a characteristically creamy mouthfeel.
For the dark side of the selection we have another tea from the Choi plantation in Boseong, this time a late summer coarse Yeopcha that has an intriguing autumnal flavour.
Finally, the last tea we are featuring this month is an unusual Dan Cong from China that is made into a black tea to produce a complex sweet flavour.
Our Discovery subscription boxes contain 10g taster pouches of all of the above mentioned teas. If you are a subscriber you will benefit from a 10% discount on all teas from our tea shop!
Let's get into further detail on these teas featured in our December tea subscription boxes.
Boseong Sejak Nokcha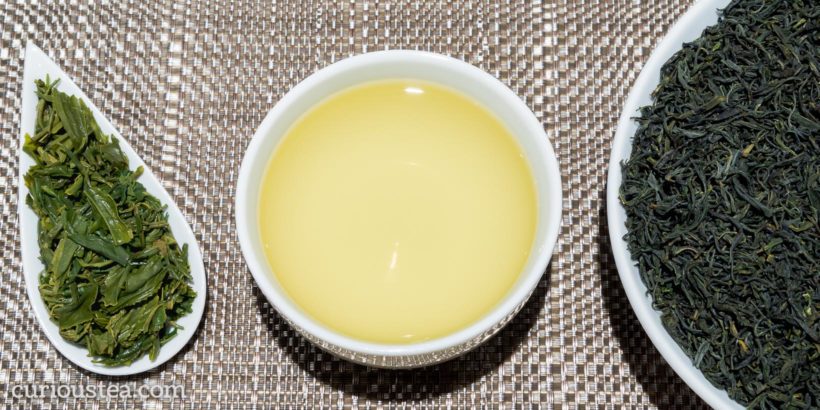 Boseong Sejak Nokcha (보성군 세작 녹차) is an organic green tea from the Choi family plantation located in the famous Boseong County of South Jeolla Province. The spring Sejak (세작) grade is plucked in late April and is the second flush after the rare and expensive Ujeon (우전) grade. The name Sejak Nokcha refers both to the flush of this tea and the fact that it is a green tea, or nokcha (녹차). This tea has full organic certification, was picked in April 2021 and is sourced by us directly from the Choi family.
The Choi family plantation produces some classic teas that all have their own unique characters but maintain a distinctive 'Korean' taste. The family has owned this plantation for 3 generations and the tea making knowledge passes down from one generation to the next. They take great care in growing and producing their organic teas that showcase wonderful traditional Korean tea flavours. The Choi family also runs tea making workshops for local schools, passing down their tea knowledge and promoting local agricultural work. Most children of farmers around the area are keen on moving to big cities for study and work, so their work is essential in ensuring the future of Korean tea.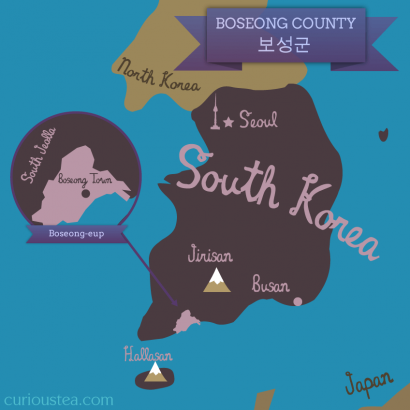 Korean teas are distinguished by having a clear classification system of flushes. The first flush Ujeon (우전) is the most prized one, which is the 'pre-rain' picking of the tea leaves. This is followed by Sejak (세작) 'thin sparrow', Jungjak (중작) 'medium sparrow' and Daejak (대작) 'big sparrow' flushes. These names refer to the shape and size of the leaves and their resemblance to sparrow tongues. The earlier the harvest, the more expensive the tea is. Earlier harvests also have more intense characteristics and heavily feature dominant green, savoury and umami flavours.
This Boseong Sejak Nokcha is from the second Sejak flush and is processed as a green tea. Unlike the earlier Ujeon harvest that is pan-fried in order to stop the oxidations process, this Nokcha undergoes steaming. This method of halting oxidation is more prevalent in Japan and it produces green teas that have bold profiles and flavours that have strong savoury and umami flavours. Steaming does happen to be a very popular processing methodology in Korea as well.
This Boseong Sejak Nokcha has wiry dark green leaves. It produces a grassy liquor that has a refreshing floral aspect to it. The flavours are predominantly grassy and savoury yet sweet with notes of nori seaweed. There is slight dryness present on the lasting aftertaste that is not at all distracting as it is balanced by some sweet notes. Overall this is a very clean and refreshing cup that still produces complex flavours.
It is best brewed at 70c for 2-3 minutes and can be re-brewed multiple times.
You can also buy Boseong Sejak Nokcha tea in our online shop. You may be interested in other teas we currently offer from the Choi Family Garden.
Lugu Jin Xuan Oolong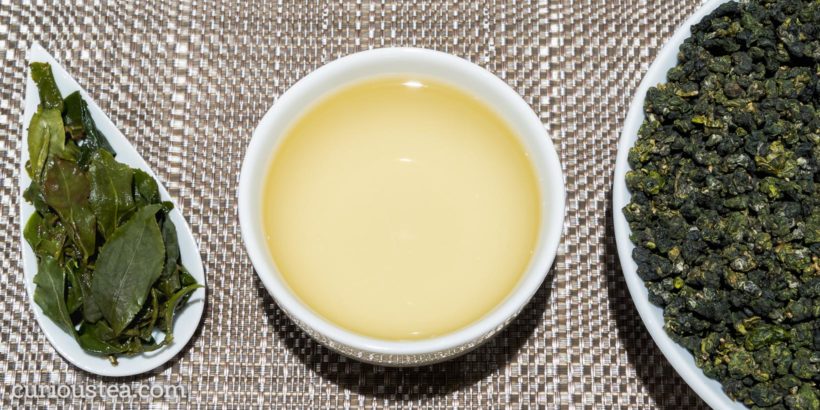 Our Lugu Jin Xuan Oolong (鹿谷鄉金萱烏龍茶) is a one-off batch of a classic, lightly oxidised Milk Oolong from Lugu Township, located in Nantou County of Taiwan. It produces a characteristically smooth flavour with creamy aroma and a ubiquitous smooth milky mouthfeel. Grown at an altitude of 800-900 metres by Mr Chen, who grows and crafts some of our Competition-grade teas, such as Gui Fei and Dong Ding. This is an August 2021 harvest that was hand picked and processed from the authentic Jin Xuan TRES #12 (金萱) cultivar plants.
Mr Chen mostly creates teas that are more oxidised and more baked to produce complex classic flavours. Due to growing conditions in 2021 the harvest from August was judged to be better suited to make a characterful lightly oxidised Milk Oolong. This is very much a one-off production and he will be unlikely to repeat this again as the focus of his production is normally quite different. While this version from Lugu is great, it is a one-off batch so we are not sure if this tea will be available in our shop again! Nevertheless, we are quite excited to offer this version from a slightly different terroir to our usual ones. Otherwise, we carry three Milk Oolong teas at Curious Tea from different terroirs of Taiwan. The low-grown Award-Winning Organic Milk Oolong from Mingjian Township is the most popular one but the high mountain Gao Shan Jin Xuan Oolong and Award-Winning Alishan Milk Oolong are both beautiful examples of teas from the high mountain terroirs of Taiwan.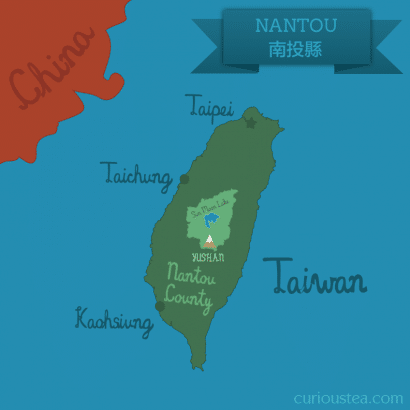 Jin Xuan cultivar is also known as the Golden Daylily (Jin Xuan – 金萱) or TRES #12, the number given to it by the Taiwan Research and Extension Station. This cultivar is very popular with farmers since the plants are more hardy and produce a higher yield. From a tea lover's point of view, Jin Xuan is an attractive aromatic drink with a lovely sweet character. It is particularly popular for the smooth creamy and milky aroma, texture and taste. There are plenty of milk(y) oolongs (whether from this cultivar or even others) that are flavoured either with milk or vanilla in order to imitate or enhance the natural taste that the leaves of this cultivar develop. Any genuine Milk Oolong is always produced from the Jin Xuan cultivar and should not be flavoured or enhanced with additional flavours in any way. All of our Milk Oolong teas, whether they are from Taiwan or Thailand, are only crafted from the authentic Jin Xuan cultivar and are not flavoured in any way.
This Lugu Jin Xuan Oolong has neat, large tightly rolled leaves. It produces a very bright liquor with great clarity and a creamy and slightly floral aroma. The taste is as expected: velvety smooth, with tangy, milky and lightly floral notes. The aroma, texture and mouthfeel all have the characteristic creamy aspect. The aftertaste is very clean and is on the sweet side. The 'golden' taste leaves a particularly warm and soothing impression!
It is best brewed at 90°C for 2-3 minutes according to your taste and can be brewed multiple times, increasing steeping time with each next brew if desired.
You can also buy Lugu Jin Xuan Oolong tea in our online shop.
Boseong Yeopcha Hongcha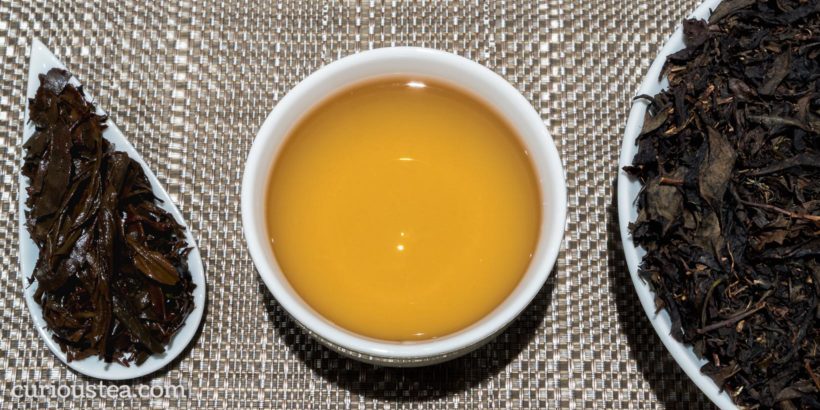 Boseong Yeopcha Hongcha (보성군 엽차 홍차) is an organic black tea from the Choi family plantation located in the famous Boseong County of South Jeolla Province. The late summer to early autumn Yeopcha (엽차) grade is the last picking of the season, so sometimes it is referred to as the autumnal flush. This is a very light black tea with an intriguing tangy and savoury flavour. It has full organic certification, was picked in late summer of 2021 and is sourced by us directly from the Choi family.
Korean teas are distinguished by having a clear classification system of flushes: Ujeon, Sejak, Jungjak, Daejak and finally Yeopcha. The earlier the harvest, the more expensive the tea is. Earlier harvests also have more intense characteristics and heavily feature dominant green, savoury and umami flavours. While these flavours are more evident in green teas, they also do translate rather well to their black tea counterparts. This Yeopcha is the last picking of the season and is the coarse grade that is suitable for everyday drinking. Unlike the higher grades and earlier harvests, this is machine picked and machine processed to keep the costs down.
This Boseong Yeopcha Hongcha consists of large coarse leaves of varying sizes, with some mixing in of smaller broken up leaf. It produces an amber liquor with good clarity and a light mineral aroma. The taste is very mild, savoury and tangy. It has herbaceous and vegetal notes of vine leaf, roasted aubergines, peppers and tomatoes with a herby, spiced edge. This is a surprisingly light tea, with no maltiness, tannins, astringency or dryness. The aftertaste is clean, with a stony note. The combination of flavours works well together and creates a flavour profile that makes us think of being in an autumnal forest!
It is best brewed at 90°C for 3 minutes and can be re-brewed multiple times.
You can also buy Boseong Yeopcha Hongcha black tea in our online shop. You may be interested in other teas we currently offer from the Choi Family Garden.
Dan Cong Hong Cha
Dan Cong Hong Cha (单枞红茶) is a red/black tea that comes from a tea garden of Master Huang located near Tianliao Village in the Phoenix Mountains at an altitude of approximately 600 metres. It is hand picked from the local Mi Lan Xiang cultivar trees that are about 30 years old. It produces a light yet complex liquor with wild honey notes and a tangy fruity aftertaste. This is a spectacular showcase of a Hong Cha from the Phoenix Mountain terroir, made from leaves normally reserved for Dan Cong Oolong. This current batch was harvested and processed in March-April 2021.
You may be interested in our other Dan Cong teas from Master Huang, which are available in our usual packaging or in two tea flight boxes that contain 6 different teas each.
This Hong Cha (red tea according to Chinese classification; black tea according to the Western one) is a masterfully crafted tea. It showcases the best style of Hong Cha from China, while also delivering a unique Phoenix Mountain touch. This Dan Cong Hong Cha is specifically picked from Mi Lan Xiang cultivar trees, which are plants that have been selected through cuttings from original Shui Xian (水仙) cultivar trees. Most Dan Cong cultivars have a long history going back, sometimes to just one single mother tree. As these have not been 'developed' by plant breeding or research stations, there is no standardisation. But as these plants are propagated by cutting, the descendant trees bear most of the features of the parent trees. This has allowed careful selection process to occur over time, which allowed for the desired plant's features to pass to the newly planted trees. Normally these would be utilised to produce Dan Cong Mi Lan Xiang Oolong, but here Master Huang crafted a rather special Hong Cha with some fantastic results!
The leaves of this Dan Cong Hong Cha still have a dark colour and a classic Dan Cong twisted appearance. The wet leaves and the liquor give off an aroma of honey and malt with a touch of baked notes. The amber liquor is bright and clear with a smooth taste. The predominant wild honey flavour has notes that are malty, lightly mineral, sweet, fruity and a touch floral. These give way to a tangier mineral aftertaste with a hint of lychee fruit. The finish is soft and clean, without any harshness or astringency. In many ways this is closer to a fine very dark oolong! But at the same time this is a very special showcase of a top quality Chinese Hong Cha from a somewhat unusual terroir and material.
Brew western style, just as our Dan Cong Oolong teas, at 90°C for 3 minutes 3+ times. For best results we highly recommend gongfu style brewing. For gongfu, we recommend using traditional glass or ceramic teaware or a gaiwan. Or you can use your favourite yixing or chaozhou tea pot that already performs well with Dan Cong teas. Make sure to preheat all teaware thoroughly. Use water brought to 100°C and a very high tea to water ratio of 1g per 10ml. We find anywhere between 7g (more conventional gongfu) and 10g (more local chaozhou gongfu style) per 100ml to be a good measure, depending on your taste. As an alternative visual guide, your brewing vessel should be about 75% full with leaves. Start with 10 second infusions for the first 4 infusions. Then start slowly increasing the infusion time after that. You can adjust the quantity of leaf and infusion time to your taste, however the bittersweet complexity that comes through when using the traditional method is very much a desired feature in Chaozhou.
Location of the conventional tea garden of Master Huang:
About our Dan Cong oolong teas from Master Huang.
Master Huang is an expert tea maker and has two gardens (one fully organic and one conventional) growing various varieties of Dan Cong trees. The organic tea garden is located in Gaoyuan Village (高原村) where the trees are approximately 15 years old. This garden is certified organic to EU and USDA standards. The conventional garden is located in Tianliao Village (田寮埔) where the trees are older, with most of them being approximately 30 years old. Both gardens grow a wide variety of Dan Cong cultivars used in making various traditional oolong teas. All trees are only handpicked, with most being picked in April; although the full picking season extends from March to May.
Dan Cong oolong undergoes a complex processing after picking, which starts off with withering in the sun on bamboo screens for 20-30 minutes, generally between 15:30 and 17:30 in the afternoon when the temperature is around 22-28°C. After the initial withering in the sun, the tea is brought indoors and allowed to cool in a well-ventilated place that results in reduction of moisture in the leaves, while increasing the aroma and flexibility of the leaf. This is then followed by a process known locally as 'touch green' (peng qing 碰青) where the tea leaves are shaken together to induce cell bruising of the edges of the leaves and achieve light oxidation. This process is done both by hand and mechanically with machines, usually at least 5 times and is repeated every two hours. In between each repetition the leaves are allowed to rest, promoting loss of water, increase in temperature and softening of the cells. Once the desired bruising and moisture reduction has been achieved, the leaves are pan-fried for about 15 minutes to stop oxidation. The leaves then undergo rolling to achieve the classic twisted Dan Cong shape. The rolled leaves are then dried to remove any residual moisture left.
Finally and most crucially the tea undergoes a roasting process, which is the main contributing factor to the variety of Dan Cong flavours. While of course the choice of the cultivar, the picking time and standard and initial processing all play a role in the final taste, the roasting process is really what brings out the wonderfully diverse flavours of Dan Cong teas. The roasting process differs for each tea and some will be more heavily roasted while others will go through a low level of roasting. Generally, the temperature is 90-110°C and the first roasting stage is about 2 hours. The second and third baking would be around 12 hours or more. Each batch of tea would be baked differently in order to achieve the desired outcome. Hence the skills and knowledge of the tea master are paramount in achieving the perfect flavour.
You can also buy Dan Cong Hong Cha black tea in our online shop.
We really do hope that you enjoy this tea selection for December and are looking forward to the selection in our next box. Our first box of 2022 will feature a flavoursome Yin Zhen Silver Needle white tea from Yunnan Province of China. We also selected a lightly oxidised Ruan Zhi Oolong from the highlands of Doi Mae Salong in northern Thailand. For the dark side of the selection we have a Hong Cha black tea from Yixing in China, an area that is more famous for the fabulous Yixing tea pots! And finally the last tea that we chose is a wonderful First Pick Darjeeling Jethikupi from Rohini tea estate.
If reading this has made you curious about our teas, but you don't yet subscribe to a monthly tea selection, you can sign up for our tea boxes in just a few clicks. We ship worldwide from London, UK.
We always love to hear from you, so if you have any questions, suggestions or just want to chat about tea, email us at contact@curioustea.com, via our Facebook page or via Twitter.
You can also follow us on Instagram for pretty tea photos.
Happy tea discoveries!