Welcome to the April 2022 edition of the Curious Tea subscription! Here's a closer look at the four exciting new teas that we are sharing with our subscribers this month.
The first light tea this month is a classic Long Jing Dragon Well green tea from China that features a vegetal and nutty profile.
The second light tea is a slight oddity for us, a traditional Shou Mei white tea from Fujian Province of China that is expertly blended with natural chrysanthemum flowers.
For the dark side of the selection we have a dark oolong from Taiwan, a smooth and balanced Four Seasons Red Oolong from Mingjian Township of Nantou Province.
Finally, the last tea we are featuring this month is a rare black tea from Taiwan, handcrafted from the newly introduced Qi Yun cultivar for a smooth, classic black tea profile.
Our Discovery subscription boxes contain 10g taster pouches of all of the above mentioned teas. If you are a subscriber you will benefit from a 10% discount on all teas from our tea shop!
Let's get into further detail on these teas featured in our April tea subscription boxes.
Long Jing Ming Qian Dragon Well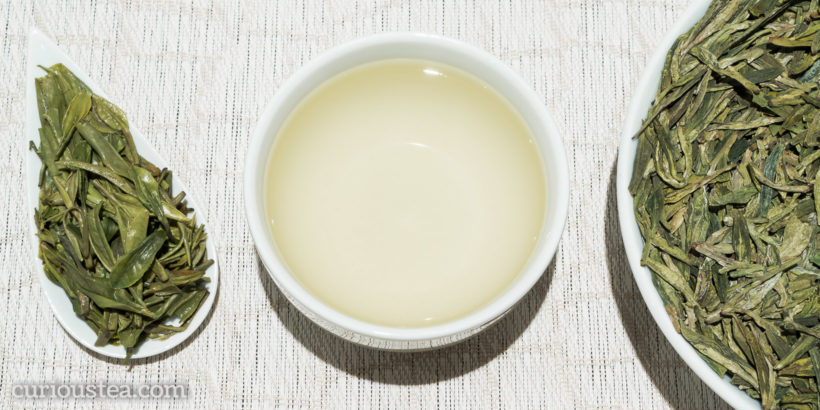 Long Jing Ming Qian Dragon Well is a classic Chinese green tea that has a smooth vegetal profile with satisfying toasty, nutty and zesty notes. This particular Long Jing is classified as Ming Qian (also known as pre-Qing Ming), which is the premium early season first plucking of the tea bushes. The early plucking occurs before the Qing Ming Festival, which is either on the 4th, 5th or 6th of April each year. The production cycle is very short so only the very first spring shoots are plucked throughout a period of approximately 10 days. This batch from Xinchang in Zhejiang Province is from the March 2021 picking.
Long Jing (龍井), sometimes Longjing, is perhaps the most famous and popular tea to come from China. It is often referred to by the 'Dragon Well' name, which is the literal translation of the Chinese name. Long Jing 'Dragon Well' is one of 10 of the Famous Teas of China (中国名茶). This Long Jing Ming Qian Dragon Well green tea comes from Xinchang, Zhejiang Province of Eastern China. It is also known as 'Dafo', meaning 'Big Buddha' as it is grown around the area where a 1600 year old Buddhist Dafo Temple stands, housing a 15m tall Buddha. While not from the famous West Lake area in Hangzhou, this tea in our opinion is one of the best from Zhejiang Province that does not come from the West Lake area. This tea uses the Long Jing #43 Cultivar.
There are many legends and versions that try to explain the Long Jing 'Dragon Well' name of this tea. Our favourite tells a story of monk imploring a dragon living in a well to come to the aid of villagers of an area that has been suffering from a drought. With the dragon helping out, the monk persuaded the villagers to pray and once they did, it miraculously started to rain. To celebrate this, a tea was named after the event – Long Jing 'Dragon Well'.
Long Jing Ming Qian Dragon Well green tea undergoes hand processing, during which the freshly plucked leaves are wok fried for approximately 20 minutes in order to halt the oxidation of the leaves and keep it a green tea. This tea still has to be processed mostly by hand as wok frying requires great skill.
This Long Jing Ming Qian Dragon Well green tea has flat leaves with a bud and one or two leaves and produces a light golden liquor. The smell of the dry leaves is that of exotic fruits. We can just about detect a faint incense aroma from this tea – perhaps a result of being grown and processed next to a temple!? The taste is multilayered but clean and refreshing. Classic nutty and toasty notes add complexity and smoothness to this tea. There are sweet and savoury umami notes competing for your taste buds that combine with flavours of asparagus and grapefruit. These zesty vegetal notes provide a very pleasant finish to this tea.
We suggest brewing parameters of 80°C for 2-3 minutes according to your taste. It can be brewed 2 or more times depending on your taste preferences. You can also use glass teaware to enjoy the beautiful green leaves!
You may also be interested in trying our Xi Hu Long Jing, an authentic Long Jing West Lake Dragon Well from Wengjiashan located in the core West Lake production area or our very popular and skilfully crafted Long Jing Long Wu Dragon Well from Longwu Village just outside the West Lake Scenic Area.
You can also buy Long Jing Ming Qian Dragon Well green tea in our online shop.
Chrysanthemum Shou Mei
Chrysanthemum Shou Mei (菊花清香寿眉白茶) is a white tea from Fujian Province that is blended with natural chrysanthemum flowers and comes compressed into individual mini cakes. Made from the larger, coarser leaves and stalks and whole chrysanthemum flowers, it produces a smooth and sweet flavour with herbal notes and a lasting tangy aftertaste. This particular batch was harvested and pressed in July 2021.
The base tea used here is the Shou Mei white tea, which is considered to be the 4th grade tea to come from the tea plants. The first grade is Yin Zhen Silver Needle that consists solely of fine tips. The second grade is Bai Mu Dan White Peony that consists of some tips plus smaller leaves. The third grade is called Gong Mei, although often this tea is combined under the more famous Shou Mei name. The fourth final grade that consists of coarser and larger leaves and fewer tips is called Shou Mei. The name Shou Mei (sometimes also Sow Mee) is often translated as 'Longevity Eyebrow'.
Shou Mei is a type of tea of which very many grades exist and the flavour profile greatly changes from one producer to the next. The main driving factor behind that is how late the picking of the leaves is in the year and also by the proportion of larger coarser leaves. Such darker leaves normally signify lower quality and they produce a darker liquor, albeit with a more full-bodied flavour. This tea can come in loose form but is also commonly sold in pressed form, with large cakes being a particularly popular form. In this case, it was pressed into mini discs or cakes. These make for convenient storage but also for convenient serving, each mini cake being an individual serving. Blending tea with whole flowers, especially chrysanthemum flowers, is a traditional tea making technique in China. This is a popular tea in China, especially in summer, due to the cooling effect associated with chrysanthemum.
These Chrysanthemum Shou Mei mini discs consist of pressed Shou Mei white tea and whole chrysanthemum flowers. The aroma and taste of chrysanthemum really comes through and compliments the already lightly herbal flavour of the Shou Mei white tea. It produces a bright clear liquor with a sweet and herbaceous aroma. The smooth taste has a pronounced herbal aspect. Unlike a plain chrysanthemum tisane, this tea has more body and depth of flavour with sweet honey notes coming through. The aftertaste is lasting with a demerara sugar note and a clean, tangy and refreshing aspect.
We suggest brewing at 95°C for around 2-4 minutes according to your taste. Use one mini cake per serving and brew multiple times. For best results, we recommend gongfu style of brewing: 1 cake per 200ml at 95°C in a gaiwan or your favourite teaware with an initial quick rinse to start opening up the leaves. Alternatively, skip the rinse and extend the first infusion until the mini cake starts opening up. After that, follow with infusions of around 30 seconds, increasing the time with each subsequent steep.
You can also buy Chrysanthemum Shou Mei white tea in our online shop.
Four Seasons Red Oolong
Four Seasons Red Oolong (四季春紅烏龍) is a highly oxidised oolong that hails from Zhushan Township (竹山鎮), known as Bamboo Mountain, in Nantou County, Taiwan. Crafted from the Four Seasons cultivar and grown to organic standards, it has a complex yet clean taste with satisfying fruity notes. This particular batch is from the April 2021 harvest.
Four Seasons Red Oolong is named after the cultivar that is used to make this expressive tea, Si Ji Chun (四季春), which translates as Four Seasons Spring and started appearing in Taiwan in the 1980's. It favours low altitude conditions but also provides farmers with a consistent crop throughout the whole year. The leaves that are plucked from Si Ji Chun plants have a fresh and light flowery aroma year round, hence the English name often follows in full the Chinese name, rendered as Four Seasons Spring.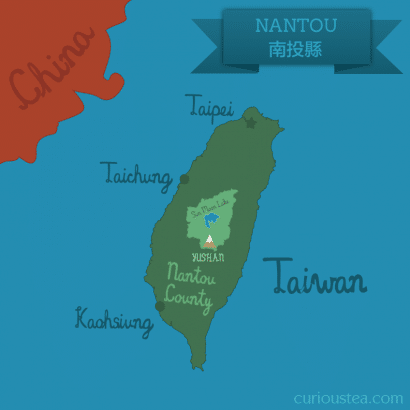 Unlike our classic lightly oxidised Four Seasons Oolong from Mingjian Township in Nantou County, this is a "red" oolong, meaning that it undergoes heavy oxidation at around 90%. This means that it falls into a category of oolong teas that treads a fine line between an oolong and a light black tea, much like our popular Moc Chau Red Buffalo Oolong from Vietnam. It is always difficult to classify such teas and to decide whether they should be included in black or oolong tea categories. However, since this particular tea is made from a cultivar that is normally used for oolongs and as it follows the method of production closer to an oolong tea, we felt it was more apt to classify it as an oolong. The addition of the "red" in the Four Seasons Red Oolong name serves as a marker of the high degree of oxidation and close proximity to a light black tea.
The leaves of this Four Seasons Red Oolong are hand-picked. The dry leaves are tightly rolled and when brewed, open up to produce a clear pale amber liquor with a sweet, stony aroma. The taste of this tea is clean and satisfying. There are lovely notes that are mineral, sweet, tangy and lightly floral. For us, the stand-out notes are those of red berries and honey. The aftertaste has more red berries on the aftertaste with a sweet and tangy character typical of raspberries. The tangy finish is clean and mouth watering. This is a very exciting tea that provides an amazing quality and taste for the price.
It is best brewed at 90°C for 3-4 minutes according to your taste and can be brewed multiple times, increasing steeping time with each next brew if desired.
You can also buy Four Seasons Red Oolong tea in our online shop.
Qi Yun Hong Cha
Qi Yun Hong Cha (祁韻紅茶) is a top grade experimental black tea, carefully handcrafted from early summer smaller leaves and neat tips. It is made from the brand new Qi Yun (祁韻) TRES #23 cultivar that was first officially unveiled only in 2018. Qi Yun Hong Cha is grown to organic standards around Mingjian Township of Nantou County by Mr Yu and was picked and processed entirely by hand in June 2021. In the same year, Mr Yu also made an early spring Qi Yun GABA Oolong version from the same plants.
The Qi Yun cultivar was introduced by the Taiwan Tea Research and Extension Station in 2018. The cultivar originated from seeds of Qimen (Keemun) plants brought to Taiwan from Anhui Province of China by professor Ryo Yamamoto in 1938 and planted at the Yuchi research station. The most outstanding plants from the section were selected in 2001 and comparison testing was carried out against the Qing Xin cultivar in 2015-2017. The cultivar was officially named and unveiled as Qi Yun TRES #23 in September 2018 and positioned specifically for black tea making. Essentially this is a small leaf descendant cultivar of Qimen plants and has similar characteristics. The plants have strong growth potential, as well as strong disease and drought resistance. Teas made from these plants tend to have pronounced aroma and sweetness. Mr Yu has experimented making different types of tea from the plants, including green, lightly oxidised oolong, GABA and black. He found that at this point the plants are most suited to GABA oolong and black tea production.
The ancestry of the plants is apparent to anyone familiar with good quality Qimen teas of Anhui Province. The fruity citrus flavours dominate, there is less maltiness but a more pronounced mineral aspect. The further development in Taiwan plus the difference in terroir bring a light mi xiang honey aspect as well as savouriness and richness associated with more assamica based Taiwanese teas like TRES #8 Assamica, TRES #18 Hong Yu and TRES #21 Hong Yun. The resulting cultivar does produce very interesting results, however given the small amount of it currently planted, it remains a rarity. This is further compounded by the fact that each tea is unique and the farmers have to do many experiments to find the best methods of producing new teas like this one.
This Qi Yun Hong Cha consists of neat, wiry leaves with a larger amount of golden tips, something not commonly found in Taiwanese black teas. The neat leaves consist solely of smaller leaves and tips that have been carefully hand processed to retain their shape. It produces a dark amber aromatic liquor with a mineral scent. The soft and mellow taste starts on sweet and tangy fruity notes reminiscent of fruity tobacco and salted plums. There is distinct mineral aspect present from the outset. The flavours in the middle bring out some welcome mi xiang honey notes. These then become more savoury and more similar to classic Taiwanese black teas. This tea finally delivers a lasting aftertaste with a savoury and mineral flavour. It is a complex tea that delivers quite exciting and slightly more unusual flavours – an intriguing further development for the Taiwanese black tea industry.
It is best brewed at 90°C for 2-3 minutes according to your taste and should be brewed multiple times, increasing steeping time with each brew if desired. For best results we definitely recommend brewing gongfu style.
You can also buy Qi Yun Hong Cha black tea in our online shop.
We really do hope that you enjoy this tea selection for April and are looking forward to the selection in our next box. Our May box will feature our popular Yin Zhen Silver Needle white tea from Fujian Province of China that is scented with jasmine and a classic, lightly oxidised Tie Guan Yin Iron Goddess of Mercy Oolong, also from Fujian. For the darker side of the selection we chose a Tu Cha black tea from the famous Wu Yi Shan region of Fujian and a highly aromatic Eight Immortals Dan Cong Oolong from Guangdong Province.
If reading this has made you curious about our teas, but you don't yet subscribe to a monthly tea selection, you can sign up for our tea boxes in just a few clicks. We ship worldwide from London, UK.
We always love to hear from you, so if you have any questions, suggestions or just want to chat about tea, email us at contact@curioustea.com, via our Facebook page or via Twitter.
You can also follow us on Instagram for pretty tea photos.
Happy tea discoveries!