Welcome to the March 2022 edition of the Curious Tea subscription! Here's a closer look at the four exciting new teas that we are sharing with our subscribers this month.
The first light tea this month is a smooth summer harvest Daejak green tea from the organic plantation of the Choi Family in Boseong, South Korea.
The second light tea is an unusual, lightly oxidised floral Dan Cong from Guangdong Province of China.
For the dark side of the selection we have a summer muscatel oolong from Rohini Tea Estate in Darjeeling that delivers a beautiful 'bug bitten' honey flavour.
Finally, the last tea we are featuring this month is a Japanese black tea from the garden of Kajihara-san in Ashikita, made from the unusual Okuyutaka cultivar.
Our Discovery subscription boxes contain 10g taster pouches of all of the above mentioned teas. If you are a subscriber you will benefit from a 10% discount on all teas from our tea shop!
Let's get into further detail on these teas featured in our March tea subscription boxes.
Boseong Daejak Nokcha
Boseong Daejak Nokcha (보성군 대작 녹차) is an organic green tea from the Choi family plantation located in the famous Boseong County of South Jeolla Province. The summer Daejak (대작) grade is harvested in June and is machine picked and processed. The name Daejak Nokcha refers both to the flush of this tea and the fact that it is a green tea, or nokcha (녹차). This tea has full organic certification, was picked in June 2021 and is sourced by us directly from the Choi family.
The Choi family plantation produces some classic teas that all have their own unique characters but maintain a distinctive 'Korean' taste. The family has owned this plantation for 3 generations and the tea making knowledge passes down from one generation to the next. They take great care in growing and producing their organic teas that showcase wonderful traditional Korean tea flavours. The Choi family also run tea making workshops for local schools, passing down their tea knowledge and promoting local agricultural work. Most children of farmers around the area are keen on moving to big cities for study and work, so their work is essential in ensuring the future of Korean tea.
Korean teas are distinguished by having a clear classification system of flushes. The first flush Ujeon (우전) is the most prized one, which is the 'pre-rain' picking of the tea leaves. This is followed by Sejak (세작) 'thin sparrow', Jungjak (중작) 'medium sparrow' and Daejak (대작) 'big sparrow' flushes. These names refer to the shape and size of the leaves and their resemblance to sparrow tongues. Finally the Yeopcha (엽차) grade is the last picking of the season representing a coarse grade that is suitable for everyday drinking. The earlier the harvest, the more expensive the tea is. Earlier harvests also have more intense characteristics and heavily feature dominant green, savoury and umami flavours.
Boseong Daejak Nokcha is from the fourth Daejak flush and is processed as a green tea. Unlike the first Ujeon harvest that is pan-fried in order to stop the oxidations process, this Nokcha undergoes steaming. This method of halting oxidation is more prevalent in Japan and it produces green teas that have bold profiles and flavours that have strong savoury and umami flavours. Steaming does happen to be a very popular processing methodology in Korea as well.
This Boseong Daejak Nokcha has larger, coarser leaf with a fresh vegetal aroma. It produces a slightly opaque green-yellow liquor with an aroma of herbs and cooked corn. The taste is light, smooth, predominately vegetal and herbaceous with notes of parsley and raw almonds. It has a lovely creamy note and mouthfeel, making the flavour softer and smoother. The aftertaste is clean, refreshing and lightly tangy. This is an excellent everyday green tea.
It is best brewed at 80c for around 2-3 minutes and can be re-brewed multiple times.
You can also buy Boseong Daejak Nokcha green tea in our online shop.
Dan Cong Chou Shi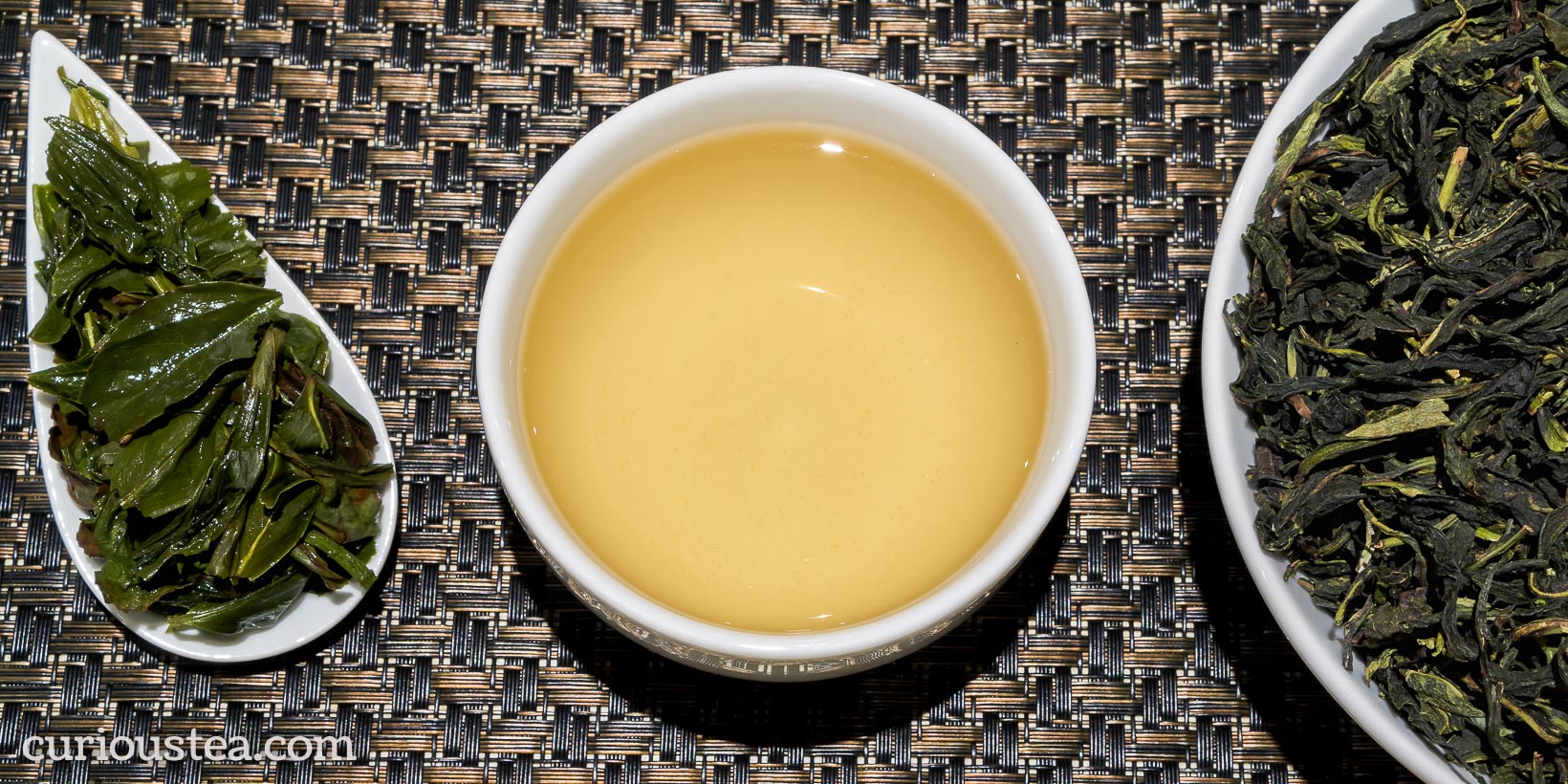 Dan Cong Chou Shi (单枞抽湿) is an unusual, lightly oxidised, Phoenix oolong. This is a modern type of oolong from Phoenix Mountain that undergoes very light oxidation and cool temperature baking to preserve the natural highly floral aroma and taste of the fresh tea leaves. It is a most unusual Dan Cong oolong and a must-try for any fans of complex teas from Guangdong. This particular batch is from the May 2021 harvest.
Dan Cong (单枞) is the general term that is used to refer to oolongs that come from Guangdong and specifically from Phoenix Mountain. Dan Cong literally means 'single bush' as traditionally these oolongs were all plucked only from single semi-wild trees. It has now become the generic term to cover all Phoenix Mountains (Fenghuang Shan 凤凰山) and sometimes other Guangdong oolongs.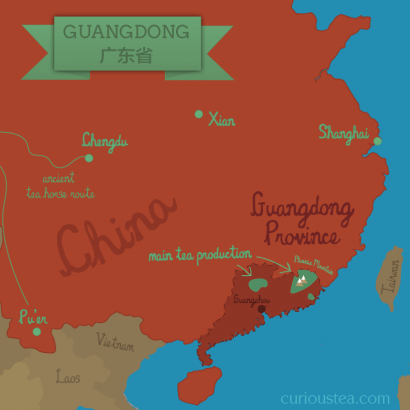 This Dan Cong Chou Shi comes from Fenghuang Shan near Chaozhou in Guangdong Province and is from the trees of the Shui Xian cultivar. The Shui Xian cultivar is traditionally a popular choice for Phoenix oolong tea since it has a particularly pronounced floral character. This tea undergoes a modern crafting method that is referred to as 'Chou Shi', which literally means 'dehumidification'. This refers to the minimal processing it undergoes, especially when it comes to baking; one can think of the leaves as just being 'dehumidified' rather than thoroughly processed. This modern-style processing involves baking, not just at high temperature, but by using alternating hot and cold temperatures. This prevents the leaves from heating too much thus reducing the level of roasted flavours common in Dan Cong teas, while also preserving the green floral aspect of the fresh leaves.
The creation of this Dan Cong Chou Shi is largely driven by market demand for highly floral, lightly oxidised oolong teas. When we first tried it, we were instantly reminded of our award-winning Wen Shan Bao Zhong pouchong from Taiwan; there is similarity in the floral aspects of both of these teas. The large leaves of Dan Cong Chou Shi have a dark and bright green appearance and a lovely fresh aroma. The lightly golden liquor produced has a creamy and floral aroma. The taste is highly floral with a lovely lightly savoury vegetal edge to it. The character is fresh and bright with creamy and nutty notes. The long-lasting aftertaste has a lightly sweet mineral aspect (this is where you can definitely see the parallels to traditional Dan Cong teas) that is combined with an aromatic floral quality.
This tea is bound to appeal to fans of Dan Cong oolongs as it provides a fascinating comparison to those traditional teas. But it would also appeal greatly to fans of modern, lightly oxidised, floral oolongs, of which it is a stellar example!
It is best brewed at 80°C for about 3-4 minutes according to your taste. As expected, it will stand multiple infusions well.
You can also buy Dan Cong Chou Shi oolong tea in our online shop.
Darjeeling Rohini Honey Ruby Oolong
Darjeeling Rohini Honey Ruby Oolong is a rare Second Flush 'muscatel' oolong from the Rohini Tea Estate grown at an altitude of 900-1,200 metres. It consists of buds and smaller young leaves that are picked and processed entirely by hand to preserve the delicate nature of the tea leaves. The plucking time and processing is specifically geared towards producing a flavour with a more pronounced muscatel aspect that is reminiscent of Taiwanese Oriental Beauty teas. Due to the tippy nature it produces a particularly delicate flavour, with a sweet honeyed taste and a fresh citrus zest aftertaste. Late May 2021 harvest.
Like all our Rohini and Gopaldhara teas, we source it directly from Rishi Saria, the owner and director of Gopaldhara and Rohini Tea Estates. Rohini Tea Estate is located along the route that connects the towns of Siliguri and Kurseong. Surrounded by a beautiful natural environment, this estate produces tea from relatively young trees. The estate has had a chequered past, not actually producing any tea for about 30 years after it was shut in 1962. Recently it has been replanted with young tea trees, so sometimes it is referred to as the youngest tea estate in Darjeeling. It is now going from strength to strength and is producing more and more interesting and higher quality teas. Most recently Rohini have been elevating the quality and flavours by focusing on smaller hand processed batches and more unusual types of tea.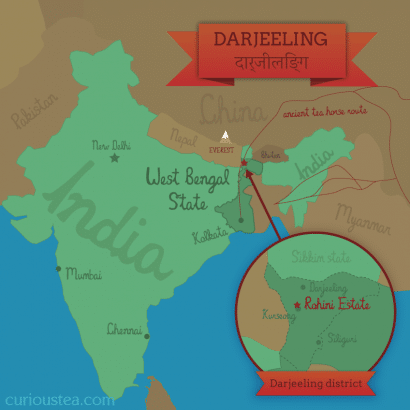 This Honey Ruby Oolong is similar in nature to Taiwanese 'bug bitten' Oriental Beauty teas. Similarly to the attacks of a little green leaf hopper in Taiwan, this oolong is also affected by the Tea Jassids (Jacobiasca formosana) in Darjeeling. The leaf hoppers nibble the tea leaves during growth so the tea plants react to this attack by producing more polyphenols. During tea processing this produces a unique 'beauty tea' flavour (known as mi xian in Taiwan and referred to as muscatel in Darjeeling) that is usually described as having a honey-like taste and aroma.
This Darjeeling Rohini Honey Ruby Oolong is a very delicate Second Flush muscatel oolong. It consists of very neat leaves with plenty of silver coloured buds that produce a bright, lightly golden liquor with good clarity and a sweet aroma. The predominately honey profile has a soft and smooth flavour without any harshness, astringency or dryness. The tasting notes also add spicy, mineral and tart fruity notes with a woody undercurrent. The aftertaste is very clean with lightly vaporific notes of citrus zest and just a touch of dryness at the very end.
It is best brewed at 90°C for 3-4 minutes and can be brewed 2+ times. Like all top grade teas from Gopaldhara and Rohini, you can try experimenting with gongfu brewing.
You can also buy Darjeeling Rohini Honey Ruby Oolong tea in our online shop.
Ashikita Okuyutaka Wakocha
Ashikita Okuyutaka Wakocha (芦北町おくゆたか和紅茶) is a balanced Japanese black tea grown on Kajihara Tea Farm that is run to organic standards in Ashikita District of Kumamoto Prefecture. This tea is crafted from the Okuyutaka cultivar plants, which results in a tart profile with intriguing spiced notes and complex flavours. We source it directly from the grower, Mr Toshihiro Kajihara. The current batch is the second flush summer harvest from June 2021. We also have a Kamairicha green version of this tea!
While Kajihara tea garden mostly focuses on heritage native 'zairai' plants, they also have a number of various Japanese cultivars planted on their farm to further differentiate and extend their range of teas. This Ashikita Okuyutaka Wakocha is made from the leaves of Okuyutaka (おくゆたか) cultivar plants. Just like his other Wakocha teas (Benifuki, Izumi, Koshun, Yabukita and Zairai), this is made solely from single cultivar plants and, unlike some of his Kamairicha green teas, these are not blended at all. As the sections of the garden with the new Okuyutaka plants are still relatively young and much smaller, the production every year is very limited.
The name of Okuyutaka cultivar means 'deep richness', referring to the deep green colour of the leaves and the rich umami flavours produced. The cultivar was developed from descendants of a Yutakamidori plant and an unknown test plant. It was registered in Japan in 1983 and is mostly favoured for sencha green tea due to the richness of savoury umami flavours produced. It also does seem to produce quite an interesting black tea version with some more unusual flavours.
Ashikita Okuyutaka Wakocha is a second flush summer harvest, so the flavours are not as light as with some of the earlier harvest teas from here. The leaves produce a dark liquor with good clarity and a lightly spiced aroma. The tart profile offers up a balanced and complex taste. There are interplaying malty, mineral and cocoa notes that are reminiscent of dark tart chocolate and underripe fruits. The taste finishes on a clean aftertaste that has a lightly mineral and malty flavour and a pleasant level of tannins. This Okuyutaka cultivar tea makes for an interesting comparison to teas made from other cultivars by Kajihara-san.
It is best brewed at 90°C for around 2-3 minutes, with multiple infusions.
You can also buy Ashikita Okuyutaka Wakocha black tea in our online shop.
We really do hope that you enjoy this tea selection for March and are looking forward to the selection in our next box. Our April box will feature a classic Ming Qian Long Jing Dragon Well green tea from China and a characterful Chrysanthemum Shou Mei white tea from Fujian Province of China that comes pressed into mini cakes together with whole chrysanthemum flowers. And for the dark side of the selection we selected two Taiwanese teas – a balanced and smooth Four Seasons Red Oolong and an unusual Qi Yun Hong Cha, carefully crafted from the newly introduced Qi Yun cultivar.
If reading this has made you curious about our teas, but you don't yet subscribe to a monthly tea selection, you can sign up for our tea boxes in just a few clicks. We ship worldwide from London, UK.
We always love to hear from you, so if you have any questions, suggestions or just want to chat about tea, email us at contact@curioustea.com, via our Facebook page or via Twitter.
You can also follow us on Instagram for pretty tea photos.
Happy tea discoveries!