Welcome to March 2017 Curious Tea subscriptions! We have some new and exciting teas to share with you this month. We have selected the following four teas, and unusually for us, we have included two scented teas! Khao Hom Fragrant Rice Oolong comes from northern Thailand and incorporates the unusual aroma agent into the mix of the leaves. The second scented tea is a classic Jasmine Pearls green tea from Fujian Province of China. For the darker side of the selection, we opted for a smooth Nilgiri Frost tea from Parkside Estate in southern India. And finally we have a really special old tree Wu Yi Rock oolong, the fantastically fragrant Lao Cong Shui Xian.
Our Discovery tea taster subscription boxes contain 10g taster pouches of all of the above mentioned teas. As always, if you are a subscriber you will benefit from a 10% discount on all teas from our tea shop!
To help you along with the tasting, here is some further information on all teas featured in our March boxes.
Khao Hom Fragrant Rice Oolong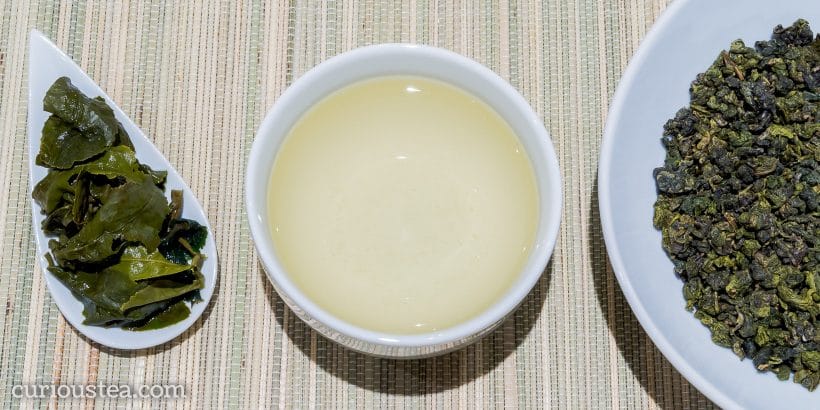 Khao Hom Fragrant Rice Oolong is a rather unusual tea for us at Curious Tea. We are purists when it comes to tea so normally we stay away from any flavoured ones. Occasionally though we do include traditionally scented teas into our range that we think are outstandingly good, such as jasmine or ginseng scented ones. This oolong, however, is even more different. Not only does it include an unusual scenting agent but it also incorporates it into the mix of the leaves! It is grown around Santikhiri village (formerly Mae Salong) in Thailand, which is located around the highlands of Doi Mae Salong mountain, close to the border with Burma and Laos. Grown at an altitude of around 1,200-1,600 metres, it was plucked in August 2016.
Khao Hom Fragrant Rice Oolong is a scented oolong tea that is produced from a Jin Xuan Golden Daylily (金萱) TRES #12 cultivar that is most commonly known for being the leaf of choice for Milk Oolong. This cultivar was originally imported from Taiwan and is famous for its creamy and milky aroma, mouthfeel and taste. When this area of Thailand went from growing opium poppies to sustainable tea growing, many tea cultivars were imported from Taiwan in order to quickly establish a booming tea industry. Taiwanese cultivars were particularly attractive as the growing conditions that these cultivars were selected for matched well the growing conditions of northern Thailand. Furthermore many consider Taiwanese teas to be of fantastic quality hence fetching a premium price, something Thai tea growers were understandably attracted to.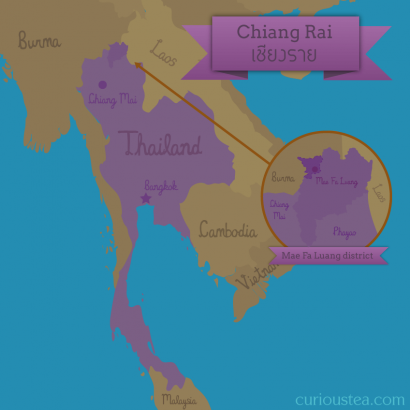 The scenting agent used for this tea is called Nuo Mi Xiang (糯米香), which literally translates as 'Sticky Rice Fragrance' and is normally used in Yunnan for scenting pu-erh. This herb is also known as Nuo Mi Xiang Nen Ye (Sweet Rice Tender Leaves) or alternatively by the catchy Latin name of Semnostachya menglaensis. It has a flavour not unlike vanilla, and is very similar to pandan, which is sometimes referred to as 'asian vanilla'. This herb is also commonly used to scent rice, hence the name of this tea – Fragrant Rice or Sticky Rice Oolong – as it reminds us of fragrant rice that is so common around that part of Asia. When you brew this particular Khao Hom Fragrant Rice Oolong, you will see in your tea pot two types of leaves: some lighter coloured leaves, which are the leaves of the tea plant and some darker greener leaves, which are the actual leaves of the Sticky Rice Fragrance plant!
The tightly rolled leaves of this Khao Hom Fragrant Rice Oolong have a distinct fragrance akin to Thai jasmine rice. The brewed liquor has a light colour and a comforting aroma of fragrant sticky rice. This tea is carefully crafted so that the scenting complements the sweet creamy profile of the Jin Xuan cultivar, rather than overpowering it completely. This perfect balance results in a taste that is light, sweet and smooth, with a creamy and soft mouthfeel. There are lovely flavours of cream, nuts, corn, vanilla and pandan. The resulting cup is very well-balanced and quite addictive.
We suggest brewing at 90°C for 2-3 minutes according to your taste. It can be brewed 3 or more times depending on your taste preferences.
You can also buy Khao Hom Fragrant Rice Oolong tea in our online shop.
Jasmine Pearls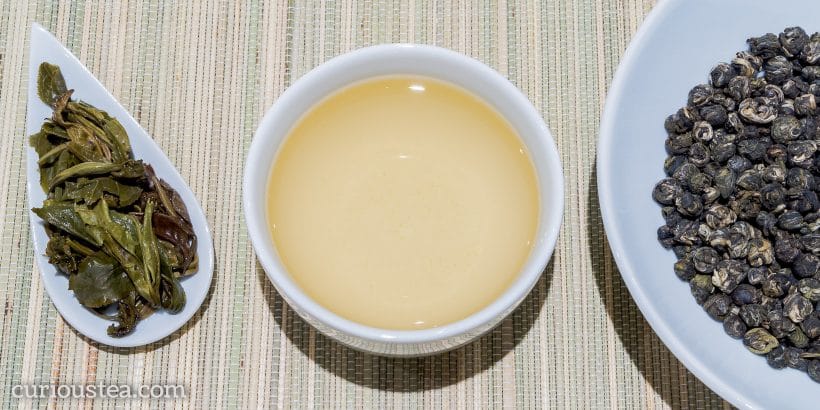 Jasmine Pearls is a premium scented tea that originates from the famous Fuding tea growing area of Fujian Province in China. Mo Li Zhen Zhu Cha (茉莉珍珠茶) is also sometimes known as Jasmine Dragon Pearls or Phoenix Pearls.
Jasmine Pearls green tea is made by hand by tightly rolling fine leaves and buds to form tiny pearl shaped balls. The pearls are left in a darkened room where up to six layers of tea are alternated with layers of fresh jasmine blossoms. When the pearls soak up the jasmine scent, the blossoms are removed and the pearls are dried out again to remove any moisture that was acquired during this scenting process. Jasmine tea is highly regarded in China and is often used as a welcoming gesture to guests.
This Jasmine Pearls green tea is created using the finest leaves consisting of a bud and one or two small leaves. The tea pearls unravel when brewed, releasing the heady and fragrant jasmine aroma. The liquor is a light green colour, while the flavour is slightly nutty, sweet, dominated by jasmine and honey. The first infusion tends to have a stronger jasmine scent while the tea flavour is not so strong. Second infusion is more balanced, with a lighter jasmine scent but a more complex tasting cup.
It is best brewed at 80°C for 2-4 minutes, with multiple infusions, using glass teaware to enjoy the unfurling leaves. Try brewing for longer, especially on the second infusion to bring out the honey notes and to increase the heady jasmine fragrance.
This tea also works great as an iced tea or simply cold. To make it, brew as you like it, decant it to a jug or bottle and once cool, store in the fridge. It makes for a great and refreshing drink! If you are feeling adventurous, mix cold jasmine tea with lychee juice to taste (try 1/3 juice to 2/3 tea) making a simple yet tasty non-alcoholic cocktail.
You can also buy Jasmine Pearls green tea in our online shop.
Nilgiri Frost Parkside Estate
Nilgiri Frost Parkside Estate is a light and floral black tea that is grown on Parkside Tea Estate located in the Nilgiris, or Blue Mountains in southern India. This tea undergoes unusual processing, somewhat akin to our Darjeeling Gopaldhara Red Thunder Gold oolong tea, during which the leaves are exposed to frost. This results in a unique profile, also giving this tea the 'Frost' name.
The Blue Mountains form part of the Western Ghats in southern India. Many of the peaks are over 2,000m high, with the highest peak (Doddabetta) being 2,637m high. Parkside Estate is located at an altitude of around 1,800m and benefits from the topography of the region. The high altitude allows for production of this unique frost tea during the winter months, when the temperature in the mountains drops below zero at night. When a frosty period occurs, tea pluckers will gather tea leaves at night in order to get these slightly frozen leaves to the factory for withering. The withering process that takes place with the help of frost results in a highly aromatic tea, something that is usually lost during mechanical withering in conventional tea production. The production of this tea is a very laborious process that has to be impeccably timed in order to achieve perfect conditions, making Nilgiri Frost tea very special indeed.
This tea is made using a China clonal cultivar CR6017, meaning that the plants used for this tea are descendants of plants brought over from China but that have been hybridised over time in order to meet specific selection criteria. This cultivar is particularly favoured for producing characterful Nilgiri Frost teas. This cultivar produces a distinctive looking dry leaf during withering process – the edges of the leaves are flaked off during withering, retaining their green colour. The resulting dry leaf of this Nilgiri Frost has a very attractive appearance of dark tea leaves with green and yellow flakes.
This particular batch of Nilgiri Frost Parkside Estate was plucked in December 2016. The dry leaves have a dark appearance with plenty of green and yellow colours mixed in. This tea will definitely appeal to Darjeeling fans as it shares some very similar qualities, while being slightly smoother and less mineral in taste. This tea is balanced, with floral and stony notes and crisp fruity flavours reminiscent of fruits of the forest. As there is no real astringency, it makes a very drinkable and satisfying cup of tea.
We suggest brewing at 90°C for 3-4 minutes according to your taste. It can be brewed a couple of times depending on your taste preferences.
You can also buy Nilgiri Frost Parkside Estate black tea in our online shop.
Lao Cong Shui Xian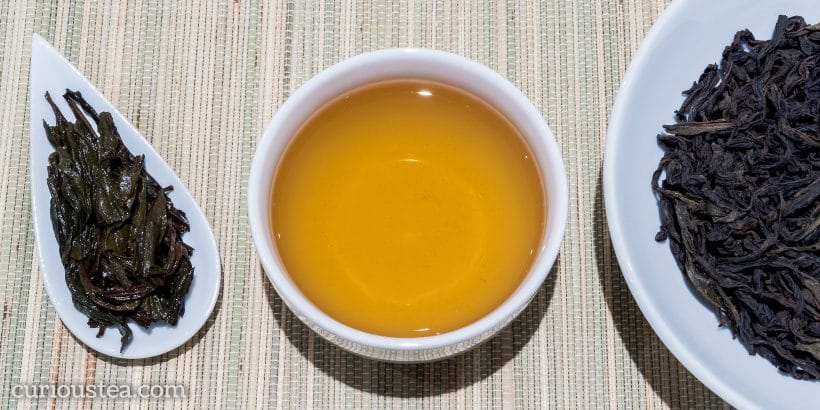 Lao Cong Shui Xian (老枞水仙) is a fantastic oolong from Wu Yi Shan in Fujian Province of China that is renowned for producing some of the best and most characterful oolongs. This tea is made from leaves plucked from old trees (Lao Cong) that are more than 70 years old grown high up in Wu Yi Mountains. It has undergone medium roasting, resulting in an attractive complex flavour. This particular lot was produced in May 2016.
Shui Xian (sometimes Shui Hsien) is a type of oolong that originally comes from Fujian Province and refers to the cultivar used to make this tea. Shui Xian translates as 'narcissus', 'water sprite' or 'water lily' in English and is known for distinctive flowery honey aroma and flavour.
Lao Cong Shui Xian is a highly aromatic Wu Yi Rock oolong (Yancha), which can also often be referred to by the English name 'Bohea'. As historically the term Bohea used to apply to lower grades of tea, the preferred term for teas coming out of this terroir is Wu Yi tea or Wu Yi Rock tea. Wu Yi teas are grown on rocky mountainsides where the soil is high in mineral content and the growth of the tea trees is much slower. This terroir results in a distinctive 'rock' taste that is prized amongst tea lovers for the characteristic profile that is stony and mineral in taste but featuring a long lasting sweet and floral aftertaste.
The leaves of this Lao Cong Shui Xian are rather large and produce an amber infusion with a heady floral aroma. The medium roast level results in sophisticated but very well balanced flavours. The liquor has a mouth-watering quality to it, with long lasting clean floral notes. There are dry and stony flavours that signify this is a Wu Yi Rock oolong. The slightly spicy finish combines with overall floral honey flavours to create a very pleasing yet complex aftertaste.
We suggest brewing at 90°C for 2-4 minutes according to your taste. It should be brewed 3 or more times depending on your taste preferences as each infusion brings out slightly different aspects of this tea.
You can also buy Lao Cong Shui Xian oolong tea in our online shop.
We really hope that you enjoy the tea club selection for March and are looking forward to what we have in store for your April boxes!
If reading this has piqued your interest, but you don't yet subscribe to our monthly tea selections and would like to receive them in the future, you can set up your tea subscription in just a few clicks. We ship worldwide from London, UK.
We always love to hear from you, so if you have any questions, suggestions or just want to chat about tea, email us at contact@curioustea.com, via our Facebook page or via Twitter.
You can also follow us on Instagram for pretty tea photos.
Happy tea tasting!