Description
Khao Hom Fragrant Rice Oolong from Thailand, winner of a 3-Star Great Taste Award in 2017.
What the Great Taste judges thought: "The leaf is of fantastic quality. The liquor has gentle, bakey rice notes, brassica and good umami flavour alongside creaminess and butteriness."
Khao Hom Fragrant Rice Oolong is a rather unusual tea for us at Curious Tea. We are purists when it comes to tea so normally we stay away from any favoured ones. Occasionally though we do include traditionally scented teas into our range that we think are outstandingly good, such as jasmine or ginseng scented ones. This oolong, however, is even more different. Not only does it include an unusual scenting agent but it also incorporates it into the mix of the leaves! It is grown around Santikhiri village (formerly Mae Salong) in Thailand, which is located around the highlands of Doi Mae Salong mountain, close to the border with Burma and Laos. Grown at an altitude of around 1,200-1,600 metres, it was plucked in spring 2022.
Khao Hom Fragrant Rice Oolong is a scented oolong tea that is produced from a Jin Xuan Golden Daylily (金萱) TRES #12 cultivar that is most commonly known for being the leaf of choice for Milk Oolong. This cultivar was originally imported from Taiwan and is famous for its creamy and milky aroma, mouthfeel and taste. When this area of Thailand went from growing opium poppies to sustainable tea growing, many tea cultivars were imported from Taiwan in order to quickly establish a booming tea industry. Taiwanese cultivars were particularly attractive as the growing conditions that these cultivars were selected for matched well the growing conditions of northern Thailand. Furthermore many consider Taiwanese teas to be of fantastic quality hence fetching a premium price, something Thai tea growers were understandably attracted to.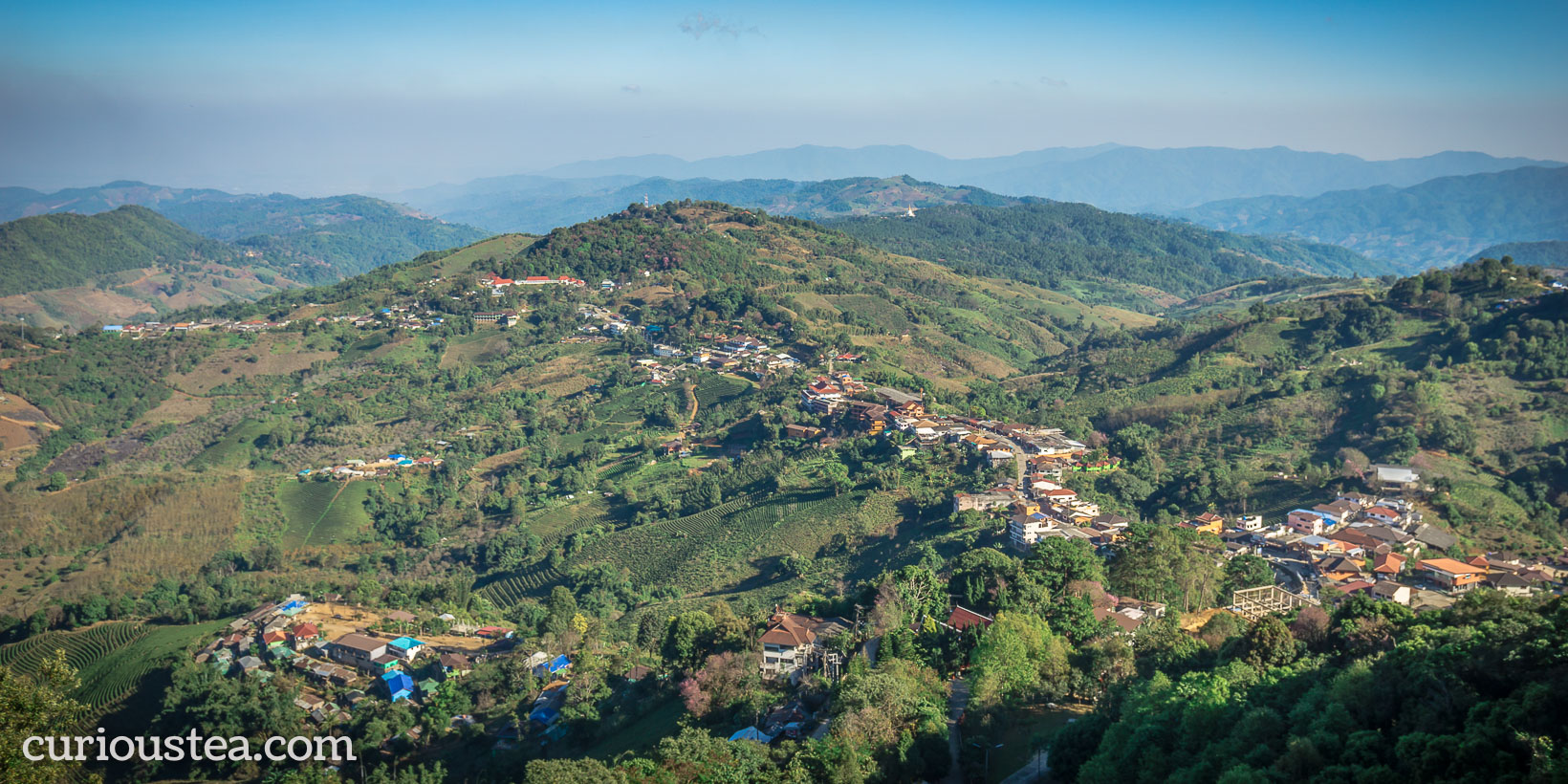 The scenting agent used for this tea is called Nuo Mi Xiang (糯米香), which literally translates as 'Sticky Rice Fragrance' and is normally used in Yunnan for scenting pu-erh. This herb is also known as Nuo Mi Xiang Nen Ye (Sweet Rice Tender Leaves) or alternatively by the catchy Latin name of Semnostachya menglaensis. It has a flavour not unlike vanilla, and is very similar to pandan, which is sometimes referred to as 'asian vanilla'. This herb is also commonly used to scent rice, hence the name of this tea – Fragrant Rice or Sticky Rice Oolong – as it reminds us of fragrant rice that is so common around that part of Asia. When you brew this particular Khao Hom Fragrant Rice Oolong, you will see in your tea pot two types of leaves: some lighter coloured leaves, which are the leaves of the tea plant and some darker greener leaves, which are the actual leaves of the Sticky Rice Fragrance plant!
The tightly rolled leaves of this Khao Hom Fragrant Rice Oolong have a distinct fragrance akin to Thai jasmine rice. The brewed liquor has a light colour and a comforting aroma of fragrant sticky rice. This tea is carefully crafted so that the scenting complements the sweet creamy profile of the Jin Xuan cultivar, rather than overpowering it completely. This perfect balance results in a taste that is light, sweet and smooth, with a creamy and soft mouthfeel. There are lovely flavours of cream, nuts, corn, vanilla and pandan. The resulting cup is very well-balanced and quite addictive.
We suggest brewing at 90°C for 2-3 minutes according to your taste. It can be brewed 3 or more times depending on your taste preferences.
This Khao Hom Fragrant Rice Oolong tea was first featured in our March 2017 Curious Tea Subscription Boxes.