Welcome to the April 2023 edition of the Curious Tea subscription! Here's a closer look at the four exciting new teas that we are sharing with our subscribers this month.
The first light tea this month is a Karigane wile goose green tea from the famous Uji tea growing area of Japan that has a balanced sweet and savoury flavour profile.
The second light tea is a Yin Zhen Silver Needle white tea from the slightly more unusual tea growing area in Guangxi Province of China that features an attractive woody and fruity taste.
For the dark side of the selection we have a small batch tea from Rohini Tea Estate in Darjeeling that is crafted in the style of 'bug bitten' Taiwanese Oriental Beauty teas for a pronounced honey flavour.
Finally, the last tea we are featuring this month is a pu-erh from Haiwan Tea Factory in Yunnan Province of China that has a very classic ripe pu-erh taste that is still quite easy-drinking.
Our Discovery subscription boxes contain 10g taster pouches of all of the above mentioned teas. If you are a subscriber you will benefit from a 10% discount on all teas from our tea shop!
Let's get into further detail on these teas featured in our April tea subscription boxes.
Uji Karigane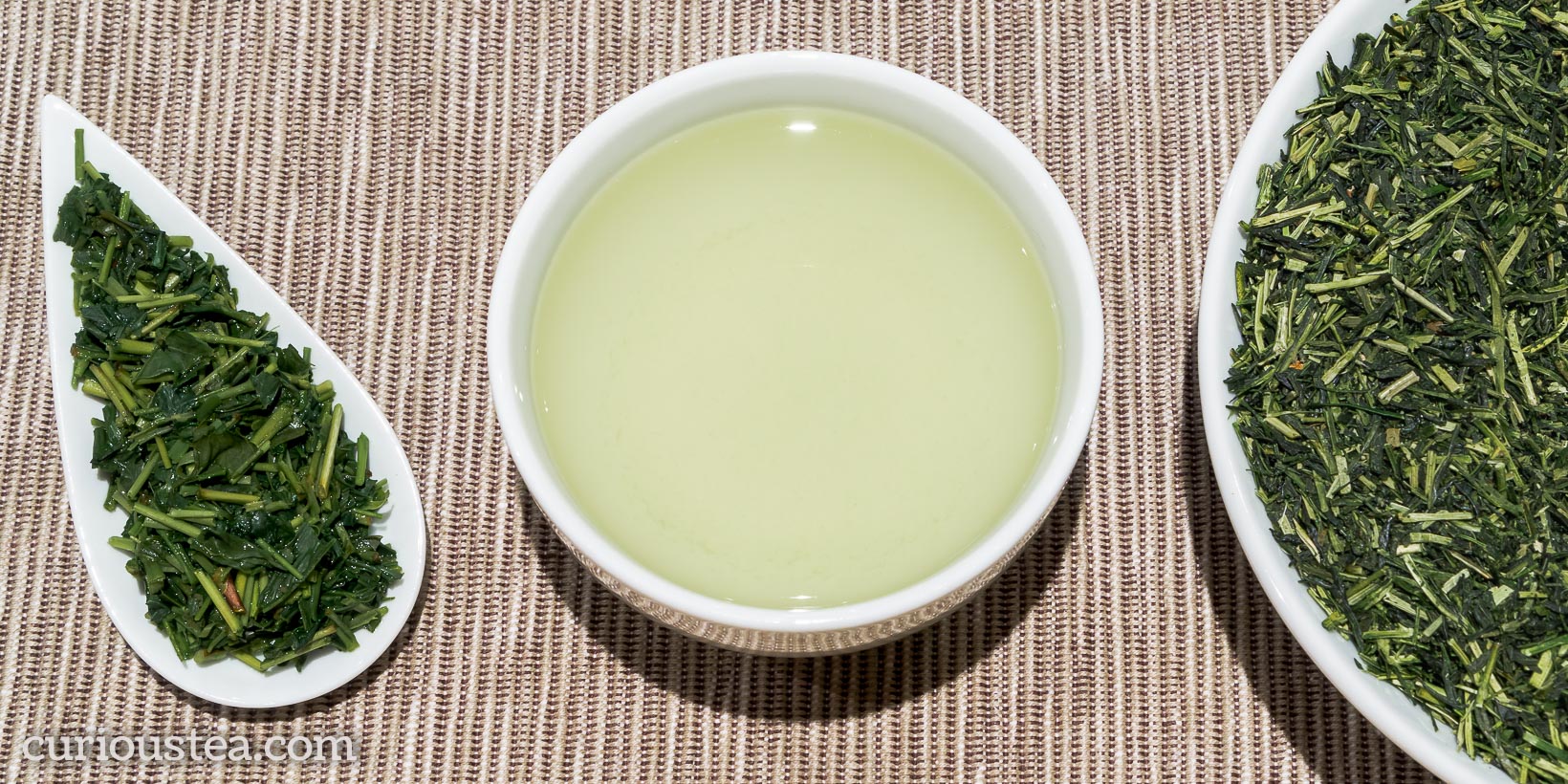 Uji Karigane (宇治田原雁が音) is a fine Japanese gyokuro green tea from Uji Tawara, Kyoto Prefecture, a location said to be the 'home of Japanese green tea'. The name Karigane translates as wild goose and is one of the names that this type of tea goes by. It is made from a blend of cultivars that are specifically chosen and grown for gyokuro green tea. During the growth the tea trees are also shaded, resulting in a stronger, more flavoursome tea. This Karigane tea is made by blending the fine gyokuro leaves with stems that also come from gyokuro production. This batch is from the May 2022 harvest and had the benefit of approximately 1/2 year of resting under controlled conditions in Japan, a method used traditionally to improve flavours of gyokuro and matcha.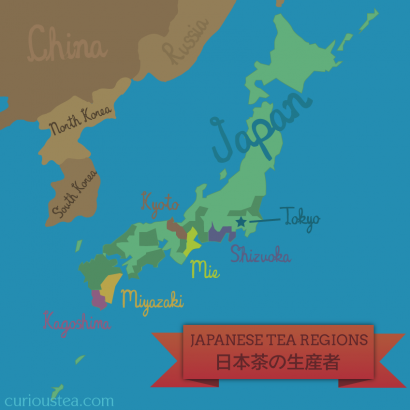 Karigane belongs to a generally broader group of Kukicha teas, which are made from a blend of tea leaves and tea leaf stems. As it is made with the stems, it's also known as 'twig tea'. The stems generally contain higher sugar content compared to the leaf, which leads to a more balanced and smoother tea profile. While Kukicha can be made from different types of tea leaves, Karigane tea is made only from leaves and stems from Gyokuro production. Hence this tea is often called Gyokuro Kukicha (玉露茎茶) in Kyoto. It is also known as Shiraore (白折) if it comes from Kyushu.
Uji Karigane undergoes a growing process that is unique to gyokuro and differs from most other tea growing. During growth the tea plants are shaded for about 20 days prior to harvesting that typically occurs in May of each year. High quality tea such as this Uji Karigane is normally shaded using traditional shades made out of bamboo that cover the tea plants from up to 90% of the sun. The covering of the tea forces the tea plants to slow the rate of photosynthesis, leading to higher levels of theanine. This change in chemistry of the leaves creates a much sweeter, mellower taste with a bolder character that is grassy and rich in umami flavours.
Our Uji Karigane has attractively coloured dark green leaves that are mixed with the lighter coloured stems. It produces a cloudy yellow-green liquor with a grassy aroma. The flavours are particularly smooth and mouth-coating. The dominant notes are savoury and grassy. The taste starts on the more grassy notes that then progress to more umami flavours with notes of nori seaweed. There is also plentiful smooth creaminess present throughout that makes this tea particularly balanced. The finish is clean, without astringency that leaves a satisfying lightly sweet aftertaste.
You can brew this tea Western style 2.5g of tea per 200-250ml at 70°C fo 1-2 minutes. But for best authentic results we find 10g per 250ml of water to be the correct amount for this tea. Brew using good quality water that has been heated to 70°C and using traditional Japanese teaware. As you are using lower temperature water, preheating your teaware prior to brewing is a particularly good idea. In our tasting, a first infusion of 90 seconds followed by multiple infusions at around 60 seconds, worked particularly well. As always, keep increasing steeping time until no flavour is left.
You can also buy this Uji Karigane green tea in our online shop.
Yin Zhen Guangxi Silver Needle
Yin Zhen Guangxi Silver Needle (广西白毫银针) is a delicate yet flavoursome white tea. It is grown in Baise, Guangxi Province, utilising plants specifically used for white tea production that originate in the famous Fuding tea growing area of Fujian Province. The neat silver leaves produce a fruity and woody liquor with a sweet, satisfying flavour. This particular tea is grown to organic standards and is an early spring First Flush picking from 6 March 2021.
This Yin Zhen Guangxi Silver Needle is picked from the best early spring buds. It is a high grade Bai Hao (白毫) variety, which literally means White Hair, named after the white 'hairs' on the tea buds. These hairs give a silver shine to the leaves that appear fluffy and are soft to touch. The presence and quantity of white hairs signifies both good quality tea and careful processing. After picking, the leaves are gently wilted, piled for a short period of time for some minimal enzyme oxidation and finally dried.
Guangxi Province is not particularly famous for growing white tea, but some farmers have brought plants from Fujian and planted them for white tea production here. Similar to our Xue Ya Guangxi Snow Bud, the cultivar utilised is the famous Fuding Da Bai (福鼎大白 – Fuding Large White). This cultivar is used in Fujian to produce our classic Yin Zhen Silver Needle. However with the change of terrior comes a change in flavour. The Fuding versions tend to be the most delicate, having a very light profile. This Guangxi version of Yin Zhen however delivers a more complex profile, with pronounced fruity and woody notes and a good dose of honey flavour. By comparison, our Yin Zhen Yunnan Silver Needle has the most woody character since it is made from a different cultivar.
Yin Zhen Guangxi Silver Needle has been carefully processed to create neat silver leaves. The dried leaves have a lightly fruity and woody aroma. The liquor produced is a pale golden colour with a light aroma. The liquor has a balanced profile, having a good body yet light flavour. The main smooth flavours are woody and fruity with notes of plums and melon. There is plenty of complex honey sweetness that makes the liquor particularly satisfying to drink. The clean aftertaste is comforting with long-lasting sweet flavours.
This tea is best brewed at 80°C for 3-4 minutes according to your taste, brewing multiple times. Like with all white teas, you can experiment with both low temperature and long steeping time as well as high temperature and short steeping time as an alternative way of brewing.
You can also buy this Yin Zhen Guangxi Silver Needle white tea in our online shop.
Darjeeling Rohini Silver Tips Oolong
Darjeeling Rohini Silver Tips Oolong is a small batch Second Flush oolong from the Rohini Tea Estate grown at an altitude of 900-1,200 metres. It consists of very fine silver buds and smaller young leaves that are picked and processed entirely by hand to preserve the delicate nature of the tea leaves. The plucking time and processing is specifically geared towards producing a flavour with a more pronounced muscatel aspect that is reminiscent of Taiwanese Oriental Beauty teas. Unlike some other honey style oolong teas from Rohini, this lot is crafted entirely from AV2 cultivar plants. It produces a smooth and delicate flavour with a sweet taste of floral honey. May 2022 harvest.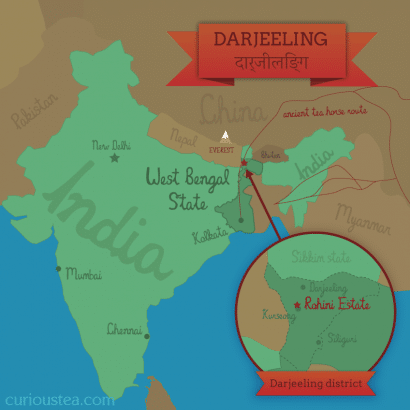 Like all our Rohini and Gopaldhara teas, we source it directly from Rishi Saria, the owner and director of Gopaldhara and Rohini Tea Estates. Rohini Tea Estate is located along the route that connects the towns of Siliguri and Kurseong. Surrounded by a beautiful natural environment, this estate produces tea from relatively young trees. The estate has had a chequered past, not actually producing any tea for about 30 years after it was shut in 1962. Recently it has been replanted with young tea trees, so sometimes it is referred to as the youngest tea estate in Darjeeling. It is now going from strength to strength and is producing more and more interesting and higher quality teas. Most recently Rohini have been elevating the quality and flavours by focusing on smaller hand processed batches and more unusual types of tea.
This Silver Tips Oolong is similar in nature to Taiwanese 'bug bitten' Oriental Beauty teas. Similarly to the attacks of a little green leaf hopper in Taiwan, this oolong is also affected by the Tea Jassids (Jacobiasca formosana) in Darjeeling. The leaf hoppers nibble the tea leaves during growth so the tea plants react to this attack by producing more polyphenols. During tea processing this produces a unique 'beauty tea' flavour (known as mi xian in Taiwan and referred to as muscatel in Darjeeling) that is usually described as having a honey-like taste and aroma.
It is made entirely from leaves picked from AV2 plants. The AV2 plant name stands for Ambari Vegetative 2, one of the various clonal plants popular in Darjeeling. AV2 is perhaps one of the most preferred clones in Darjeeling, even though it was originally developed in the plains. The popularity of this particular plants stems from the prominent fragrance and aroma of the finished tea. This plant is very prone to drought and insect attacks so the best teas come from plants grown at higher elevation in very good soil and that are picked during dry weather.
This Darjeeling Rohini Silver Tips Oolong consists of very fine young leaves with plenty of silver buds that are medium oxidised. It produces a bright, clear liquor with a fruity aroma. The style of Oriental Beauty is evident both in the lighter cup, the aroma and the honeyed flavour. The taste is predominately sweet, floral and fruity. The distinct floral honey flavour runs throughout. There is also an intriguing nutty note, akin to the flavour of nut skin, that is more unusual in this style. Combined with the rest of the flavours it makes us think of the flavour of nuts preserved in a floral honey. The aftertaste is smooth and clean, delivering more of the same flavours. This is a great Oriental Beauty style of tea that also plays homage to its terroir.
It is best brewed at 90°C for 3 minutes and can be brewed 3+ times. Like all top grade teas from Gopaldhara and Rohini, we can highly recommend experimenting with gongfu brewing.
You can also buy this Darjeeling Rohini Silver Tips Oolong tea in our online shop.
Haiwan Mini Brick Ripe Pu-erh
Haiwan Mini Brick Ripe Pu-erh (海湾小砖熟茶) is a ripe (shu) pu-erh from Menghai County, Xishuangbanna Dai Autonomous Prefecture, Yunnan Province. Made from leaves that are loosely pressed into small bricks, this ripe pu-erh has a classic woody profile with a rich flavour that is earthy and nutty. The current batch is from 2012 harvest so it is a little aged. Each mini brick weights around 4.5-5 grams, making it very convenient for brewing. Our 10g packs have 2 bricks, while 50g packs have on average 11 bricks.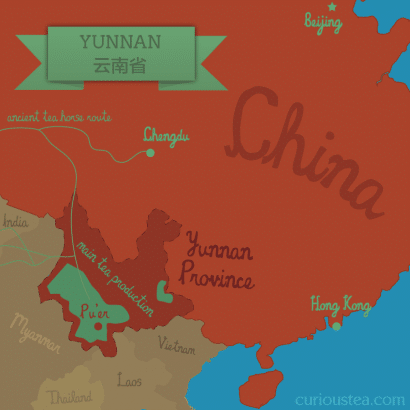 These mini ripe pu-erh bricks make a nice difference to the usual mini tuo cha shape. They are produced by Haiwan Tea Factory (海湾茶厂), which is a reasonably new company. The founder of Haiwan Tea Factory, Mr Zou Bing Liang has worked in the famous Menghai Tea Factory since 1957 and then managed it from 1984. In 1999 he decided to start his own factory with a focus on high grade tea and the high end market. Haiwan Tea Factory has grown in popularity and the products from here are highly sought after.
This Haiwan Mini Brick Ripe Pu-erh is a great introduction to shu pu-erh. It comes in individually wrapped mini bricks that are around 5 grams in weight. This makes them ideal for both western style brewing (1 tuo per 500ml pot) or gong fu brewing (1 tuo per gaiwan or yixing pot). As the leaves are loosely pressed together, the flavours are quickly released so it is suitable for quicker brewing if you prefer a lighter cup.
This tea comes pressed into small bricks, known as Zhuan Cha (砖茶). It is the traditional shape that was used to facilitate more efficient transport of tea along the ancient Tea Horse Road. Of course traditionally the bricks were much larger in size!
This 'ripe pu-erh' or 'Shu Cha' (熟茶) has undergone accelerated fermentation in order to speed up the ageing process and improve flavour. This technique is known as Wo Dui (渥堆), and is known as 'wet piling' in English. It was first developed in 1973 in Menghai Tea Factory and Mr Zou Bing Liang played a significant role in developing the technical aspects of this process. During the Wo Dui process the tea leaves are carefully processed under controlled conditions in a warm, humid environment. This process is somewhat similar to composting and is designed to simulate prolonged ageing that raw 'sheng' pu-erh would undergo under natural conditions over the course of many years. This speeded up fermentation normally takes 40-60 days and the tea is generally ready to drink straight after. However many prefer to leave it for a few extra years in order to even out the flavours post Wo Dui processing.
Haiwan Mini Brick Ripe Pu-erh tea bricks are formed of loosely pressed black leaves with some golden tips. The tea brews very quickly so it is easy to achieve a rich and deep, flavoursome liquor. The colour of the liquor is very dark, with a pronounced woody aroma. The taste is clean with dominant woody and earthy notes. The rich flavour has savoury notes of walnuts, red fruits and vine leaf. The aftertaste is superbly smooth, with a nice mineral edge. This is a very approachable tea that is great for everyday drinking or as an introduction to the world of ripe pu-erh.
We suggest brewing at 90°C for 3-4 minutes according to your taste. It should be brewed multiple times depending on your taste preferences.
You can also buy this Haiwan Mini Brick Ripe Pu-erh tea in our online shop.
We really do hope that you enjoy this tea selection and are looking forward to the selection in our next box. Our May 2023 subscription boxes will be a Taiwan special! It will feature early spring harvest of two teas from Sanxia District of northern Taiwan: an aromatic and herbaceous Bi Luo Chun green tea; and a smooth Hong Cha black tea that is savoury yet sweet. This will be followed by a Milk Oolong and a GABA Oolong that have both undergone complex roasting in the style normally reserved for high end Dong Ding Competition Grade teas.
If reading this has made you curious about our teas, but you don't yet subscribe to a monthly tea selection, you can sign up for our tea boxes in just a few clicks. We ship worldwide from London, UK.
We always love to hear from you, so if you have any questions, suggestions or just want to chat about tea, email us at contact@curioustea.com, via our Facebook page or via Twitter.
You can also follow us on Instagram for pretty tea photos.