Welcome to the March 2023 edition of the Curious Tea subscription! Here's a closer look at the four exciting new teas that we are sharing with our subscribers this month.
The first light tea this month is a wonderfully complex high mountain oolong from the famous Alishan terroir of central Taiwan that has a bright floral profile.
The second light tea is a Hojicha from Ashikita, a heavily roasted Japanese green tea, that delivers comforting toasty flavours.
For the dark side of the selection we have a classic Keemun Mao Feng from Qimen County of Anhui Province in China, featuring an alluring fragrance and a fruity taste.
Finally, the last tea we are featuring this month is a highly unusual black tea from Japan that is smoked over Sakura wood to deliver a smoky yet balanced flavour.
Our Discovery subscription boxes contain 10g taster pouches of all of the above mentioned teas. If you are a subscriber you will benefit from a 10% discount on all teas from our tea shop!
Let's get into further detail on these teas featured in our March tea subscription boxes.
Alishan Green Heart Oolong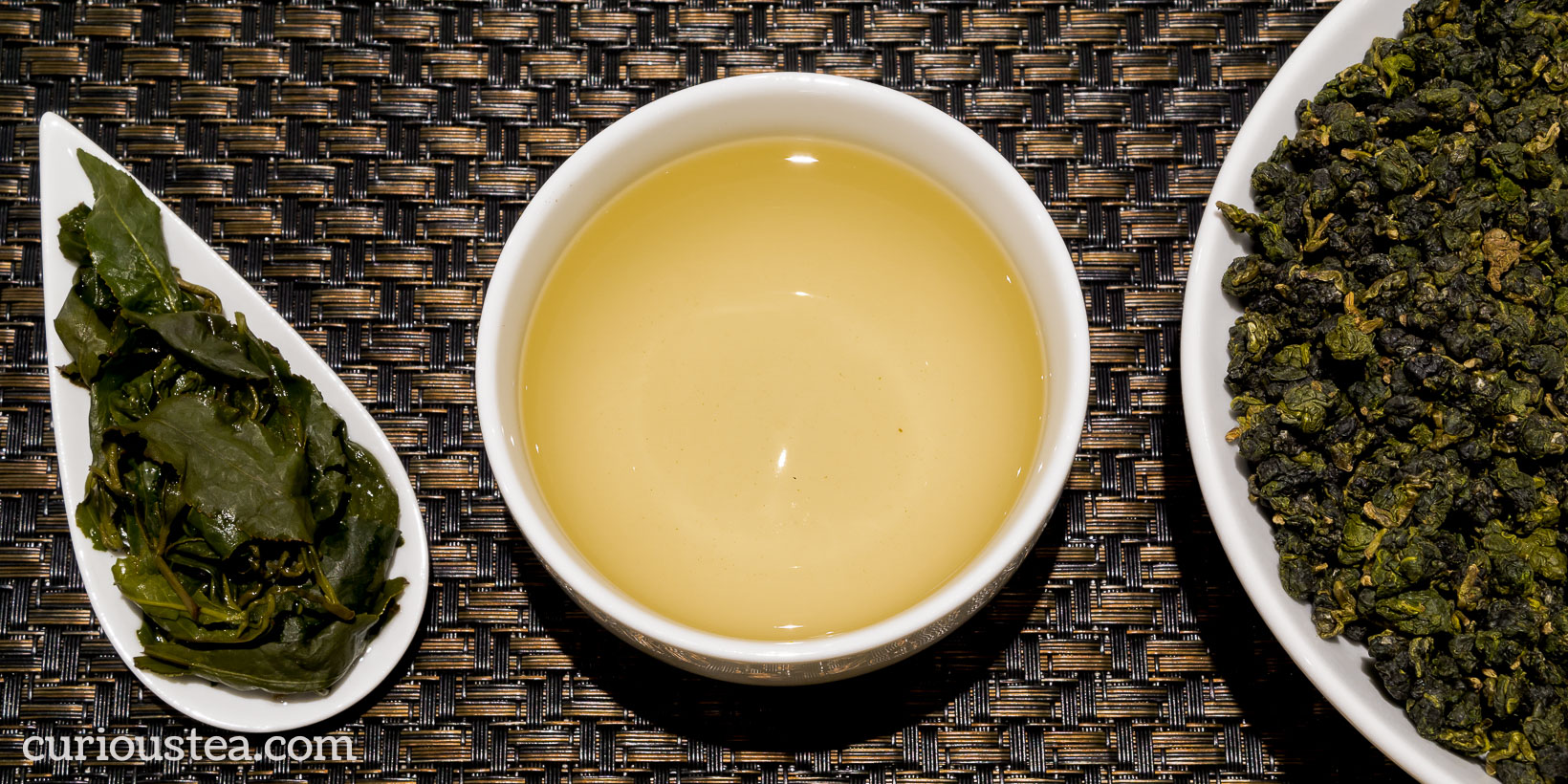 Alishan Green Heart Oolong (阿里山青心烏龍) is a lovely floral oolong from the famous Alishan tea growing area of Taiwan. Made from the Qing Xin (青心), or Green Heart cultivar, it has a bright character that is both floral and creamy. This particular batch is from April 2022 crop.
Green Heart or Qing Xin (青心) refers to the cultivar used for this Alishan Green Heart Oolong. Some consider it to be most likely the same as Ruan Zhi (軟枝 'Soft Stem') plant that was brought from Fujian to Taiwan by the Japanese. Over time this cultivar has developed into what is now recognised as Qing Xin. Typically it has green, floral notes with subtle hints of mountain flowers, sometimes described as orchid. There is also a characterful sweetness and creaminess, reminiscent of buttered green beans.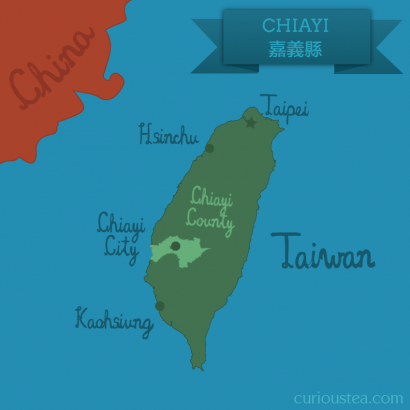 This high mountain Alishan Green Heart Oolong is grown at an altitude of 1,200-1,250 metres close to the famous Alishan National Scenic Area. It consists of rather large leaves and is approximately 15-20% oxidised. Unlike our Alishan Competition Qing Xin Oolong, it has not been baked. This results in a flavour that has more prominent floral notes while sacrificing a little of the complexity of baked teas.
This Alishan Green Heart Oolong has tightly rolled leaves that produce a very bright, light golden liquor with great clarity and a floral, creamy aroma. The fresh taste is predominantly floral, with clean and bright flavours that are buttery and verdant. The aftertaste is smooth, long-lasting, with a buttery edge and a touch of tanginess. Even though this tea has not undergone any baking, there are some very subtle baked notes present on the aftertaste. The taste further develops with subsequent infusions. Overall this is a delightfully floral and verdant tea that makes us think of a fresh summer's breeze over alpine meadows.
It is best brewed at 90°C for 3 minutes according to your taste and should be brewed multiple times, increasing steeping time with each brew if desired.
You can also buy this Alishan Green Heart oolong tea in our online shop.
Ashikita Kamairicha Hojicha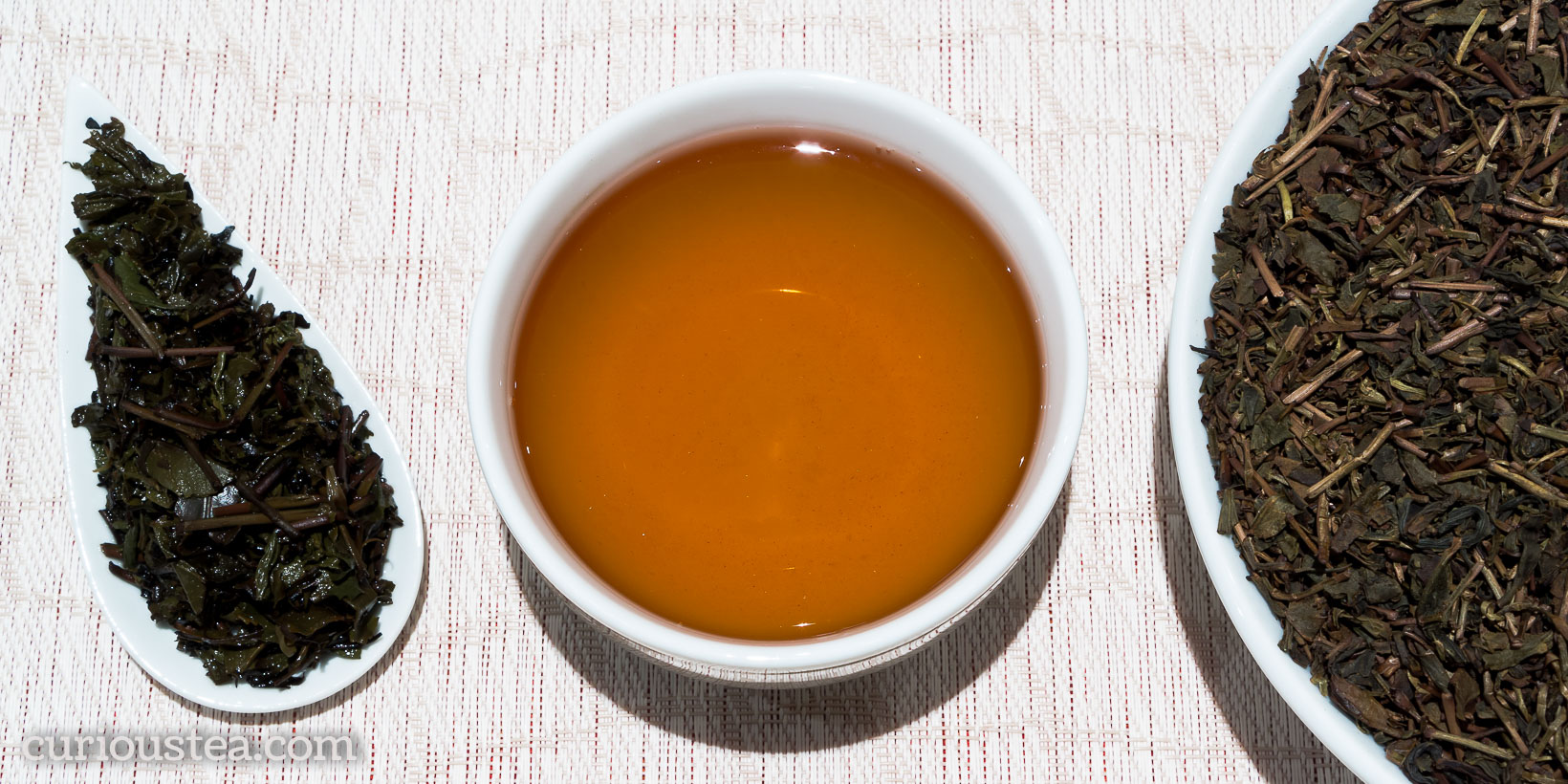 Ashikita Kamairicha Hojicha (芦北町釜炒り茶焙じ茶) is a comforting roasted Japanese green tea from Kajihara Tea Farm located in Ashikita District of Kumamoto Prefecture. Run to organic standards, this tea garden specialises in producing kamairicha and wakocha teas. We source this tea direct from the grower, Mr Toshihiro Kajihara. The current batch is from summer 2022 harvest.
Hōjicha (焙じ茶 / ほうじ茎), often also spelled Houjicha, was first produced in Kyoto in the 1920's. The tea follows normal green tea processing but at the final stages it is exposed to high temperature, followed by a quick cooling phase. This imparts a characteristic roasted profile, at the same time lowering caffeine and catechin content. As catechin is responsible for astringency in tea, this results in a much mellower, non-astringent flavour that is hugely appealing.
This Hojicha is also made from leaves that were initially processed as kamairicha (釜炒り茶), or 'pan-fried tea'. This results in a flavour profile that is more balanced with sweeter and lighter green notes. Japanese green teas are normally steamed, a type of processing that imparts a distinctively pronounced grassy and savoury flavour. Less than 5% of current Japan's tea output is within the pan-fried category! Consequently the vast majority of Hōjicha teas are made from steamed leaves that are then roasted. This Hojicha is made from pan-fried leaves and then undergoes further roasting. This means that the combination of pan-frying and roasting leads to a particularly balanced and smooth tea!
This tea is made from a blend of various cultivars that are grown by Kajihara-san. As it is made from kamairicha, the size of the leaf generally is a bit bigger but the dry leaf also has a good amount of stalks and leaf stems mixed in. This does contribute to balance the flavour as well as add some sweetness. When brewed, the roasted aroma is captivating but it is not overpowering. The liquor in an attractive copper colour with good clarity. The taste is smooth and clean with dominant roasted notes. The underlying green tea flavour with light vegetal and umami notes still comes through here, which is not as common with other hojicha teas. The roasted profile is complimented nicely by lightly metallic and tangy notes of barley and dry fruits. The aftertaste is smoothly comforting with some umami from the underlying green tea lingering on.
It is best brewed at 80°C for around 2-3 minutes, with multiple infusions. This tea goes exceptionally well with food and being lower in caffeine is a good option for later in the day. It is also delicious cold!
You can also buy this Ashikita Kamairicha Hojicha green tea in our online shop. You may also be interested in other teas crafted by Kajihara-san.
Keemun Mao Feng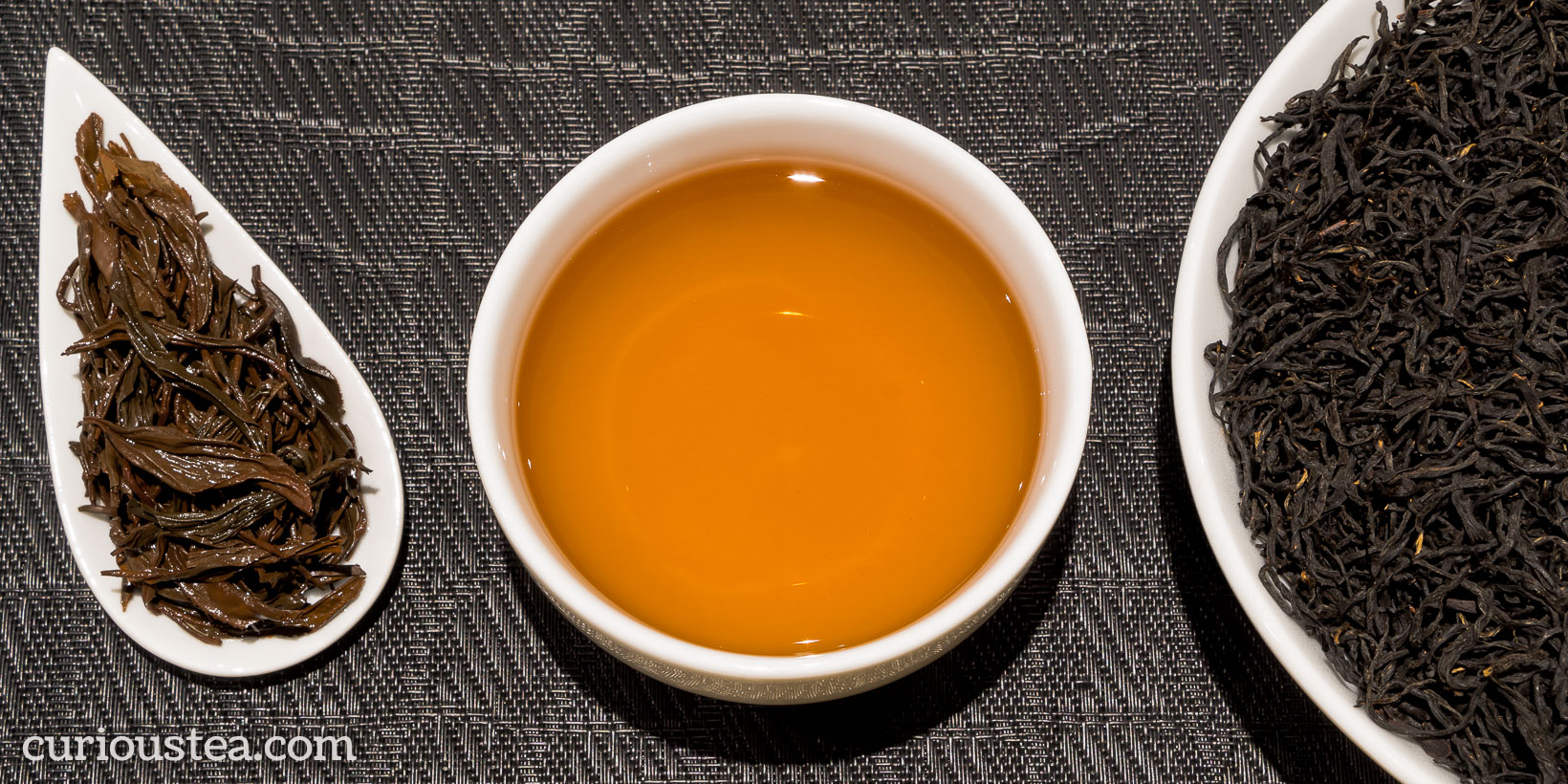 Keemun Mao Feng (祁门毛峰) is produced in Qimen County of Anhui Province, China. This tea is a high grade 'Mao Feng' type that has a classic aromatic Keemun profile that is fruity and smooth. This particular lot is from the spring 2022 harvest.
The origin of Qimen Hong Cha (祁门红茶) or 'Keemun Red Tea' only dates back to the late 19th century. The Keemun name comes from an older Western spelling of the town of Qimen. Keemun, or Qimen, tea has quickly become a popular and famous Chinese black tea due to an appealing, fragrantly sweet and fruity character that this tea develops. Many other sub-types of this tea exist: Mao Feng, Hao Ya and Congou being the most common and popular ones. Lower grade Keemun black teas are also commonly used in tea blends. We also stock two high grade tippy versions: Keemun Jin Zhen Golden Needle and Keemun Xiang Luo Aromatic Snail.
Keemun Mao Feng is one of the better known and higher grade varieties of Keemun black tea. It is said to be the favourite tea of Queen Elizabeth II. Mao Feng refers to the type of tea and literally means 'fur peak'. Similarly to the famous Huang Shan Mao Feng green tea, this refers to the hairs found on buds when it is harvested. As Keemun Mao Feng consists of full unbroken buds and young tender leaves, it is much lighter and sweeter than other types of Keemun black tea. By comparison, Keemun Congou tends to be made up of broken leaves, thus producing a fuller and heavier cup.
This Keemun Mao Feng has long dark thin leaves that are lightly twisted, which is a typical appearance for this type of tea. When the leaves are brewed you can clearly see that this Keemun Mao Feng consists of buds and small tender leaves. The liquor produced has a dark amber colour with a spicy, lightly woody and fruity aroma. The smooth fruity profile has mineral notes with a lightly woody edge. There is a deep flavour of stewed red stone fruits. Lightly tangy, stony aftertaste completes the tasting on a particularly satisfying note.
We suggest brewing at 90°C for 3-4 minutes according to your taste, brewing multiple times.
You can also buy this Keemun Mao Feng black tea in our online shop.
Shimada Sakura Smoked Wakocha
Shimada Sakura Smoked Wakocha (櫻燻製和紅茶) is a highly unusual Japanese wakocha (black tea) that has been smoked over sakura wood. This tea undergoes natural slow smoking process and has no additional flavouring added. The resulting flavour is is light yet complex, with tangy and fruity smoky notes. We source this tea from a small tea producer based in Shimada, Shizuoka Prefecture that specialises in producing smoked black teas. Made from Yabukita cultivar plants that are grown to traditional Chagusaba farming method. The current batch is from the second flush picked in late May 2022.
The grower and producer of this tea, Mr Matsumoto, was the first to pioneer the production of smoked black tea in Japan. Third generation tea farmer, he is in charge of a small family-run tea garden located at low altitude in the basin of the Ōi River (大井川, Ōi-gawa) near Shimada City. This area is recognised by the Food and Agriculture Organization, a specialised agency of the United Nations, as one of the Globally Important Agricultural Heritage Systems. Specifically it is a type of tea farming that is recognised, something Mr Matsumoto practices in his tea garden. All of his teas are produced according to this heritage method of tea growing.
Location of the tea garden:
The Traditional Tea-grass Integrated System in Shizuoka represents a type of farming known as Chagusaba (茶草場), which is commonly translated as semi-natural grasslands and is known as a traditional tea-grass integrated system in English. Chagusaba represents a system of traditional agricultural techniques, where grasslands are maintained around tea fields to supply mulch that improves the quality of tea cultivation. Chagusaba is a rare example of codependence between agricultural production and biodiversity, each of which enhances the other's value.
For more than 10,000 years, Chagusaba areas have been maintained through human activity. However, the area of the semi-natural grasslands has been reduced with the modernization of agriculture. This disuse has led to a serious and rapid decline in the biodiversity of Chagusaba.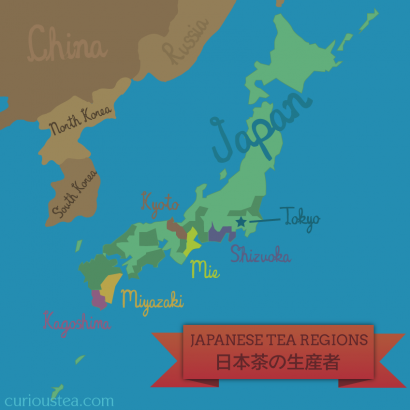 This decline is the reason to recognise and promote Chagusaba as this natural style of farming encourages and preserves local biodiversity. From a tea drinker's perspective Chagusaba teas generally contain minimal or no artificial fertilisers, thus offering a cleaner and naturally more flavoursome cup of tea. You can also find lots of photography detailing the Chagusaba method on the website for the Council for the Promotion of Chagusaba in Shizuoka.
This Shimada Sakura Smoked Wakocha black tea consists of a mixed dark leaf that has a pronounced smoky aroma. As with many other Japanese teas, the level of oxidation is slightly less and the mixture of larger and smaller leaves results in a balanced profile. This tea was gently smoked over wood from sakura cherry blossom trees, giving a complexity to this tea that is quite unique. All of the smokiness that this tea possesses comes off on the aroma and the vapours. The profile is smoky and fruity with tart flavours of sour cherries. There are light notes of leather and pipe tobacco. The mineral and tart aftertaste leaves a very warming and comforting impression. This is a complex tea that might be surprising at the first sip but has the tendency to become more and more addictive.
It is best brewed at 90°C for around 3 minutes, with multiple infusions.
You can also buy this Shimada Sakura Smoked Wakocha tea in our online shop.
We really do hope that you enjoy this tea selection and are looking forward to the selection in our next box. Our April 2023 subscription boxes will feature a Silver Needle white tea from Guangxi Province of China and a Karigane green tea from the famous Uji tea growing area of Japan. For the dark side of the selection we have an unusual 'bug-bitten' oolong from Rohini in Darjeeling that is made in the Oriental Beauty style and a Mini Brick Ripe Pu-erh from Haiwan Factory of Yunnan Province in China.
If reading this has made you curious about our teas, but you don't yet subscribe to a monthly tea selection, you can sign up for our tea boxes in just a few clicks. We ship worldwide from London, UK.
We always love to hear from you, so if you have any questions, suggestions or just want to chat about tea, email us at contact@curioustea.com, via our Facebook page or via Twitter.
You can also follow us on Instagram for pretty tea photos.