Welcome to the September 2020 edition of the Curious Tea subscription! Here's a closer look at the four exciting new teas that we are sharing with our subscribers this month.
The first light tea this month is a lightly oxidised Taiwanese High Mountain oolong from Meishan that has a characteristically floral profile.
The second light tea is Snow Dragon green tea from Fujian that straddles the boundary between flavoursome white teas and light green teas with a light, fruity flavour.
For the dark side of the selection we have a smashing Second Flush tea from Gopaldhara Tea Estate in Darjeeling that this year has a particularly fine quality and pronounced muscatel notes.
Finally, the last tea we are featuring this month is a highly oxidised Taiwanese High Mountain oolong from Shibi Shan that is specially produced for evaluated GABA content as well as a complex, fruity flavour.
Our Discovery subscription boxes contain 10g taster pouches of all of the above mentioned teas. If you are a subscriber you will benefit from a 10% discount on all teas from our tea shop!
Let's get into further detail on the products featured in our September tea subscription boxes.
Gao Shan Qing Xin Oolong
Gao Shan Qing Xin Oolong (高山青心烏龍茶) is a Green Heart oolong tea grown in Chiayi County of Taiwan. This tea was hand picked in April 2020 from Green Heart or Qing Xin (青心) cultivar plants. It follows the trend for low oxidation processing of high mountain teas as this allows the cultivar to keep the green fresh flavours and highlight the floral taste aspects.
Green Heart or Qing Xin (青心) refers to the cultivar used for this Gao Shan Qing Xin Oolong. Some say it is the same as Ruan Zhi (軟枝 'Soft Stem') and was brought from Fujian to Taiwan by the Japanese. Typically it has green, floral notes with subtle hints of mountain flowers, sometimes described as orchid. There is also a characterful sweetness and creaminess, reminiscent of buttered green beans.
This high mountain Green Heart oolong is from Meishan Township, located between the famous Shanlinxi and Alishan tea growing areas. Meishan was one of the first areas in Taiwan to grow high altitude Gao Shan (高山) teas, even before the famous neighbouring areas. Teas grown around Meishan are very similar in character to those from the more famous Alishan and are sometimes marketed as Alishan grown teas due to the proximity to and the fame of the latter.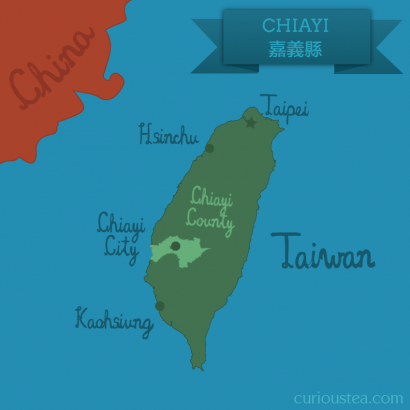 This Gao Shan Qing Xin Oolong has large but tightly rolled dark and light leaves common to high mountain Taiwanese oolongs. When brewed it produces a bright, golden yellow coloured liquor with a green tint. Its aroma is a lovely warm floral scent with a buttery undertone. Still, its flavour is wonderfully clean and crisp with a sweet, almost milky aftertaste. We can liken it to a Four Seasons Oolong but with a creamier edge and a more full-bodied and complex flavour; yet not as milky as Milk Oolong as it is still lighter and floral. All in all very drinkable and comforting; the floral aspects give way to a creamier and nuttier flavour on later brews.
We suggest brewing this Gao Shan Qing Xin Oolong at 90°C for 3-5 minutes according to your taste. Like all top grade high mountain oolongs, it can sustain multiple brews very well – brew up to 5 times or more depending on steeping time, water temperature and personal taste. You can enjoy substantially more brews and the changing flavours of each brew when using the traditional gong fu brewing method.
You can also buy Gao Shan Qing Xin Oolong tea in our online shop.
Xue Long Snow Dragon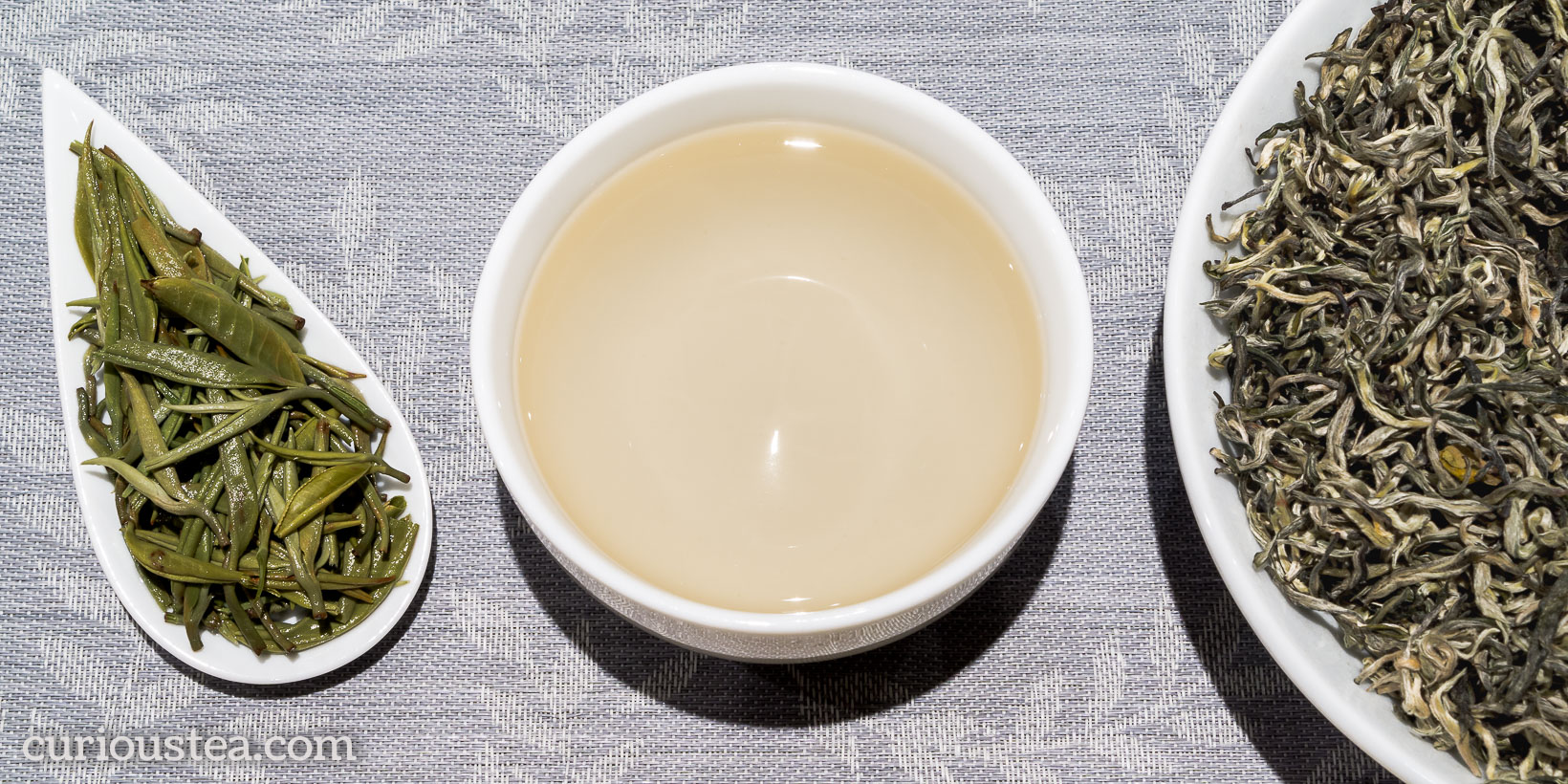 Xue Long Snow Dragon (雪龙) is an intriguing tea that straddles the line between white and green types of tea with a balanced flavour that has the best of both worlds. It is grown at an altitude of 800-900m at a fully organic tea garden in Fuding, Fujian Province and we source it directly from the producer. This hand plucked and processed Xue Long Snow Dragon green tea is from April 2020 harvest.
Xue Long Snow Dragon is made from a white tea cultivar Fuding Da Hao (福鼎大毫 – Fuding Large Sprout) but is processed like a green tea. This dual heritage is reflected in its name. Xue (雪), meaning Snow, refers to the white hairs on the tea leaves, similar to Xue Ya Snow Bud White Tea. Long (龙), meaning Dragon, refers to the green tea aspect of processing and inadvertently references the famous Dragon Well Long Jing Green Tea.
The twisted dry green and silver leaves have a faint fruity aroma and do not make it evident at the outset that Xue Long Snow Dragon green tea is made from leaf buds. This becomes clear once you steep the leaves and the beautiful buds fully unfurl.
The brewed liquor is very light and has a pale gold champagne-like colour with a light aroma. The taste is supremely balanced, truly taking the best of white and green tea characters. The flavours are light but more pronounced when compared to a white tea. At the same time, it does not exhibit any strong common green tea characteristics, so there are no overbearing vegetal or grassy flavours or any pronounced astringency. Xue Long Snow Dragon is a perfect green tea to try if you are finding other green teas too 'green' tasting or astringent.
The predominant characteristics of this tea revolve around bright yet mellow flavours. The taste is brisk and sweet with sparkly notes of white grapes and peaches. A very refreshing tea that would make an excellent cold brew in the hot summer months!
We suggest brewing parameters of 80°C for 2-3 minutes according to your taste, brewing 3 or more times. You can also experiment with lower temperatures and longer brewing times to bring out more sweetness from this tea. Also try brewing it cold by putting 10g into 1l of water and leaving it in a fridge overnight.
You can also buy Xue Long Snow Dragon green tea in our online shop.
Darjeeling Gopaldhara Second Flush
Darjeeling Gopaldhara Second Flush is a brisk Darjeeling from Gopaldhara Tea Estate. Made from leaves harvested from China bushes in early summer, it has a typical Second Flush Darjeeling character. Somewhat more robust than the best First Flushes from Gopaldhara, it has an exquisite muscatel profile with smooth flavours and a comforting aftertaste. This batch is FTGFOP1 'China Muscatel' grade from the second flush crop picked in May 2020. The 2020 harvest has a particularly pronounced muscatel character that is truly captivating!
Like all our Gopaldhara teas, we source this tea directly from Rishi Saria, the owner and director of Gopaldhara and Rohini Tea Estates. Gopaldhara Tea Estate is nestled in the Mirik Valley, in the Himalayan foothills, and is one of the highest tea estates in Darjeeling with elevations of up to 2,100m. It is renowned for producing teas of exceptional quality and very often quite unusual character.
Second Flush Darjeeling teas are generally not as sought after or as well regarded as their earlier spring First Flush counterparts. The flavours are quite different and many have a preference for the finer, more pronounced mineral and muscatel characters of the best First Flush teas. However Second Flush Darjeeling teas have many fans, who are drawn to them by the more complex and robust profiles. A good Second Flush Darjeeling certainly should exhibit a character that is more rounded, having a stronger overall flavour. But these stronger flavours should be well balanced – just like in this particularly traditional Second Flush example from Gopaldhara. This balanced profile is particularly attractive to those who find First Flush teas to be a little on the lighter and more mineral side!
Darjeeling Gopaldhara Second Flush black tea has mixed leaf with light colour, indicating a lighter degree of oxidation. The liquor produced has a dark amber colour with a slight mineral aroma. The refined taste is smooth and satisfying. It has a great muscatel quality that is balanced by some stony, fruity and mineral notes. The dominant muscatel and honey flavours are nicely offset by the aftertaste that has mineral and citrus flavours.
We suggest brewing parameters of 90°C for 3-4 minutes according to your taste, brewing multiple times.
You can also buy Darjeeling Gopaldhara Second Flush black tea in our online shop.
Gao Shan Amber GABA Oolong
Gao Shan Amber GABA Oolong (高山佳葉龍烏龍茶) is a spectacular High Mountain oolong from Shibi Shan (石壁山) in Taiwan. Hailing from a relatively unknown terroir, it is a tea of a distinctive character and is the best quality GABA tea in our shop. Made from Qing Xin (青心) cultivar plants, it consists entirely of large hand picked leaves. The tea is carefully processed in an oxygen deprived environment to achieve about 80% oxidation level. It is one of the top teas for GABA content that we currently have. It was analysed by a Hungkuang University Laboratory in Taiwan and found to contain GABA content at a level of 196mg/100g. Produced by Mr Chen, we source this tea via a Taiwanese Tea Master. This current lot is from April 2020 harvest.
Our Gao Shan Amber GABA Oolong hails from Shibi Shan, Yunlin County. Grown at a high altitude garden in a biodynamic manner, this tea is produced to organic standards without use of artificial pesticides or fertilisers. Shibi Shan lies in between Alishan and Shan Lin Xi terroirs and is completely overshadowed by these famous and much more popular tea areas. As Shibi Shan is not as famous for tea growing, there are fewer tea gardens. There are also more forests, a much stronger desire for natural and biodynamic farming and a gentler, hillier landscape that is not as steep and rocky.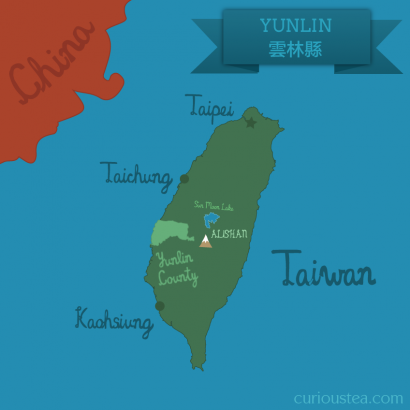 These factors combine here to produce teas with a character that is unique in itself and should truly be recognised and promoted as a separate terroir. However the teas from Shibi Shan are sold at much lower price as they are just not as famous. This is the same as the other great relatively unknown nearby terroir that is Meishan. Many vendors buy cheaper teas from Meishan and Shibi Shan to sell as Alishan, Shan Lin Xi or even Da Yu Ling. We always make sure that all our teas are correctly attributed to the exact places where they are grown, so we would never label this tea as one of the 'other', more famous terroirs. Instead we opt for the more neutral 'Gao Shan' moniker to signify that it is a High Mountain tea. We trust that our particularly discerning customers will be pleased and interested to know the exact terroir and to try something new!
This Gao Shan Amber GABA Oolong follows typical GABA processing: after picking the leaves are placed into a special deoxidation vacuum machine. During this processing oxygen is removed from the machine by replacing it with nitrogen and the tea is left to slowly oxidise in this unusual environment. The oxidation process happens very slowly due to lack of oxygen in the machine, increasing the GABA content and developing the characteristic GABA flavours. This also positively affects the tannins, greatly reducing them to produce a smoother, less astringent taste.
This tea comes in tightly rolled dark amber leaves. When brewed, they open up to reveal large leaves with tips, complete with plenty of stalk, which is a classic picking standard for Taiwan. The liquor produced has an attractive bright and clear appearance with an amber colour and a lovely fruity aroma. The flavours are typical of GABA teas, with plenty of fruity notes that are reminiscent of dry fruits such as sultanas and prunes. The high mountain nature manifests itself in the profile of this tea having a particularly complex and clean nature. The predominantly sweet fruity flavours are nicely balanced by some unusual rich red floral notes and a pleasant mineral aspect. There is also a savoury and tangy undercurrent running throughout. The aftertaste is tangy and mineral, with a mouth coating, lasting quality. As expected, the overall impression is smooth and comforting, with no astringency and minimal tannins.
It is best brewed at 90°C for 3-4 minutes according to your taste and should be brewed multiple times, increasing steeping time with each brew if desired.
You can also buy Gao Shan Amber GABA Oolong tea in our online shop.
We really do hope that you enjoy the tea selection for September and are looking forward to the selection in our next box. Our October box will feature two High Mountain Four Seasons Oolong teas from Thailand, a Karigane green tea from the famous Uji terroir in Japan and a rare Vietnamese black tea hand picked from ancient wild tea trees!
If reading this has made you curious about our teas, but you don't yet subscribe to a monthly tea selection, you can sign up for our tea boxes in just a few clicks. We ship worldwide from London, UK.
We always love to hear from you, so if you have any questions, suggestions or just want to chat about tea, email us at contact@curioustea.com, via our Facebook page or via Twitter.
You can also follow us on Instagram for pretty tea photos.
Happy tea discoveries!