Welcome to the November 2023 edition of the Curious Tea subscription! Here's a closer look at the four exciting new teas that we are sharing with our subscribers this month.
For this month the first light tea that we selected is a smooth Fish Hook green tea from Vietnam that delivers a complex profile with a classic green tea taste. The second light tea is a Jasmine scented Snow Dragon green tea that comes from Fujian Province of China.
For the dark side of the selection we have an unusual dark tea from an organic tea plantation of the Choi family in Boseong, South Korea. Finally the last tea to be featured is our extremely popular Deep Baked GABA Oolong fro Taiwan that has a comforting roasted profile.
Our Discovery subscription boxes contain 10g taster pouches of all of the above mentioned teas. If you are a subscriber you will benefit from a 10% discount on all teas from our tea shop!
Let's get into further detail on these teas featured in our November tea subscription boxes.
Tan Cuong Fish Hook
Tan Cuong Fish Hook green tea is a wonderfully bold and distinctive green tea that is grown around the renowned tea growing area of Tân Cương in Thái Nguyên Province of Vietnam. It is grown at an altitude of 500m, by a tea growing community nestled between the Red River delta and the mountainous region to the north. This area boasts a unique micro climate and is highly regarded for the quality of teas produced here that are well-known for their vegetal, yet sweet flavour profiles. This particular batch is from October 2023 harvest.
This tea is produced using traditional hand processing methods from plantation-grown tea trees. It is processed on a small community farm of 10 hectares by Mr Thien with the help from his family. This Vietnamese green tea is made from the small bud and youngest leaf on the tea plant that are hand picked from the plants. The leaves are then hand rolled into the characteristic fish hook shape and processed in small batches in wood fired ovens. It is the shape of the dry leaf that gives this tea the 'Fish Hook' name.
The tea plants and processing techniques used for producing this tea result in quite a balanced green tea with a nice interplay between greener, savoury, more vegetal notes and a lasting complex sweetness. The traditional processing that utilises wood fired ovens adds more flavour and just a tiny hint of smokiness. This tea represents a more traditional Vietnamese green tea when compared to teas from newer plantations that are mostly producing Taiwanese style floral green oolongs, like our Moc Chau Green Heart Oolong. It is also a lot more approachable than the much more unusual and acquired traditional ones made from wild assamica plants, like our Muong Khuong Purple Rain.
The dark leaves of this Tan Cuong Fish Hook green tea produce a light yellow-green liquor with a vegetal and lightly creamy aroma. The vegetal profile is quite bold and complex with mineral, herbaceous and creamy notes of cooked green vegetables such as asparagus and spinach. The aftertaste has a pleasant astringency and light citrus dryness that gives way to a lasting sweetness. There is also just a slight hint of smoke and seaweed on the top of the palate.
We suggest brewing at 80°C for around 2 minutes according to your taste. The leaves of this tea can be brewed multiple times, at least 3 or maybe more depending on the strength of your preferred cup and your brewing methods. If you are finding the flavours too strong you can decrease the brewing time to yield a lighter cup.
You can also buy this Tan Cuong Fish Hook green tea in our online shop.
Xue Long Jasmine Snow Dragon
Xue Long Jasmine Snow Dragon (茉莉雪龙) is a jasmine scented green tea that consists of twisted green leaves and silver buds. After picking, it is scented with jasmine blossom. The resulting flavour is bold and rich with a dominant jasmine flavour, fruity notes and a creamy mouthfeel. This Jasmine Xue Long is grown at an altitude of 800-900m at a fully organic tea garden in Fuding, Fujian Province and we source it directly from the producer. April 2023 harvest.
Xue Long Jasmine Snow Dragon is made from a white tea cultivar Fuding Da Hao (福鼎大毫 – Fuding Large Sprout) but is processed like a green tea. This dual heritage is reflected in its name. Xue (雪), meaning Snow, refers to the white hairs on the tea leaves, similar to Xue Ya Snow Bud White Tea. Long (龙), meaning Dragon, refers to the green tea aspect of processing and inadvertently references the famous Dragon Well Long Jing Green Tea – even though the leaves of this tea are twisted rather than flat.
Otherwise the production process follows a classic jasmine green tea recipe of scenting tea leaves with jasmine blossoms. The scenting involves layering tea leaves with fresh jasmine blossom in alternating layers so that the leaves acquire a jasmine fragrance. The blossoms are removed from the finished tea as leaving the jasmine blossom in can deteriorate the quality of the tea and result in a bitter taste. Jasmine tea is very popular in China and is often used as a welcoming gesture to guests.
This Jasmine Snow Dragon consists of neat tippy leaves that are of mixed size and size. Unlike rolled jasmine teas, twisted types tend to have more broken leaves due to processing. The dry leaves have an attractive dark green colour with plenty of silver buds present, very much a feature of Snow Dragon teas. It has a creamy jasmine aroma that is medium in strength and not too overpowering. The liquor produced has good clarity and a yellow-green colour. The taste is on the stronger and bolder side, having a mouthwatering quality. The rounded jasmine flavour is nicely combined with a creamy mouthfeel and floral fruity notes. The aftertaste has the typical jasmine taste with a touch of floral astringency and dryness. This jasmine green tea is definitely on the stronger side and would appeal if you prefer a stronger green tea taste.
We suggest brewing parameters of 80°C for 2 minutes according to your taste, brewing 3 or more times. If you are finding the taste to be on the stronger side, you can reduce the brewing temperature and time.
You can also buy this Xue Long Jasmine Snow Dragon green tea in our online shop.
Boseong Daejak Hwangcha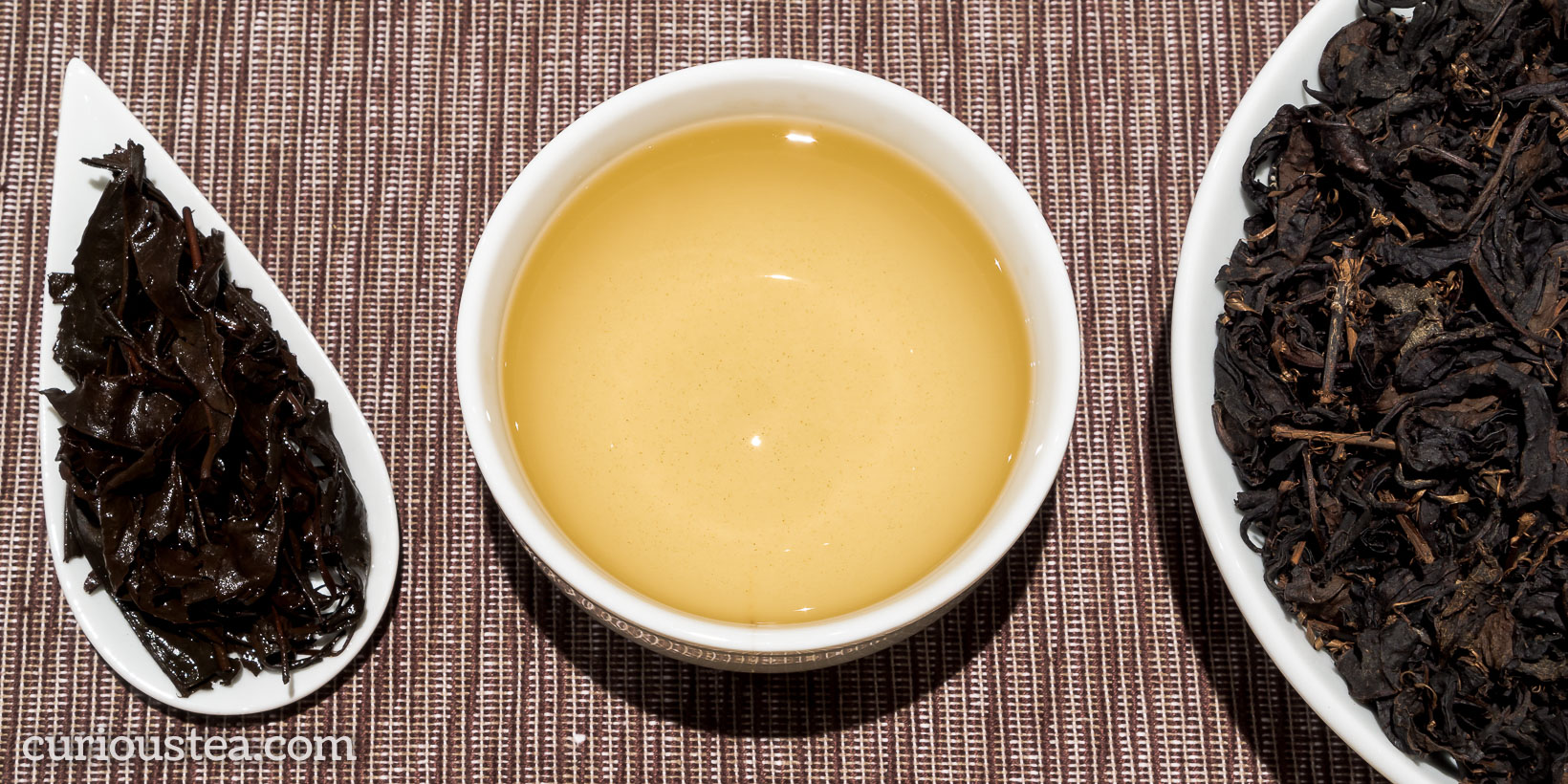 Boseong Daejak Hwangcha (보성군 대작 황차) is an organic balhyocha tea from the Choi family plantation located in the famous Boseong County of South Jeolla Province. The summer Daejak (대작) grade is harvested in June and is machine picked and processed. The name Daejak Hwangcha refers both to the harvest of this tea and the fact that it is a balhyocha (발효차), a special kind of 'fermented' tea from Korea. This tea has full organic certification, was picked in June 2023 and is sourced by us directly from the Choi family.
You may be interested in other teas we currently offer from the Choi Family Garden.

We visited the Choi family plantation in early spring of 2017. While still being early for the first harvest of the year we were able to see their beautiful plantation and facilities. The family has owned this plantation for 3 generations and the tea making knowledge passes down from one generation to the next. Sampling some of the teas, our particular favourite was a traditional Boseong Sejak Hwangcha fermented tea, or balhyocha, handmade by Mr Choi's grandmother according to her secret recipe. As that particular tea has to be made by hand and in small quantities, it is very rare and expensive. Hence recently the Choi family created this machine processed summer version that comes in at a lower price point. While losing out on some of the finer aspects of the Sejak version, this offers an exciting (and affordable) insight into the world of Korean fermented teas.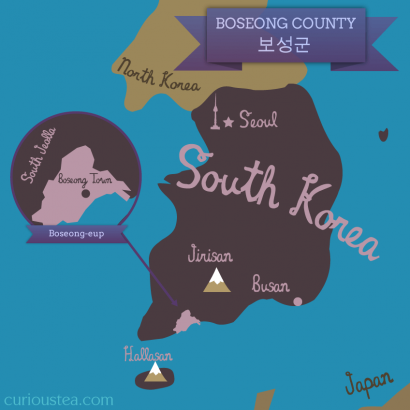 Hwangcha (황차) is a type of tea that is unique to Korea. It can also be called balhyocha, paryocha, 'fermented' tea or 'yellow' tea. It doesn't have much in common with the traditional Chinese yellow tea. Rather the 'yellow' tea name in Korean seems to stem from the appearance of the leaves during processing and perhaps also the brewed liquor, which is yellow in colour and in between green nokcha and red hongcha. Each tea maker will have their own recipe for balhyocha, with many varying processing methods. It means that it is almost impossible to classify hwangcha according to the usual tea classification methods and it really does belong to a category of its own. Some hwangcha teas achieve partial oxidation of the leaves through a normal oxidation process whereby the chlorophyll in the leaves is enzymatically broken down. This process will result in a normal black tea if the oxidation is allowed to continue or in an oolong if the oxidation is halted at a partial stage.
This Boseong Daejak Hwangcha is slightly different to some of the other hwangcha teas that achieve partial enzymic oxidation as this tea does also undergo fermentation in the true sense of the word. It goes through a fermentation process utilising aerobic microorganisms to achieve the desired fermentation and oxidation level. While similar to other post-fermented teas, such as pu-erh from China and goishicha from Japan, the techniques employed are unique to the Choi family. This fermentation process results in a unique flavour profile whereby all tannins and astringency are removed from the finished tea.
Boseong Daejak Hwangcha is a fermented balhyocha tea that has very large summer leaves. It produces a pale golden liquor with a unique fruity aroma. The taste is very light, predominantly sweet and tart. The tangy profile has fruity notes with a creamy and lightly toasty edge. We also found some additional notes of toasted wheat and raisins. The aftertaste is very clean and refreshing with lasting tartness. There is also an intriguing cooling sensation on the finish that lingers on, especially evident as the tea cools.
It is best brewed at 95°C for 3 minutes and can be re-brewed multiple times.
You can also buy this Boseong Daejak Hwangcha dark tea in our online shop.
Deep Baked GABA Oolong
Our Award Winning Deep Baked GABA Oolong (深焙佳葉龍烏龍茶) is grown in Nantou County of Taiwan and is fully organic GABA tea that has quite a unique flavour. After the initial processing, it undergoes extensive baking, which is described as 'Deep Baking' or 'Deep Roasting'. This type of finishing is also sometimes referred to as 'Charcoal Roasted' because of the unique roasted charcoal flavour. The cultivar used to make this Deep Baked GABA Oolong is the Si Ji Chun 'Four Seasons' (四季春) cultivar that is used for our popular Four Seasons Oolong. The current batch is from the November 2022 harvest.
We also offer a wide variety of GABA-rich teas, ranging from classic GABA Oolong to the more unique Red Jade GABA and GABA Oolong Cakes!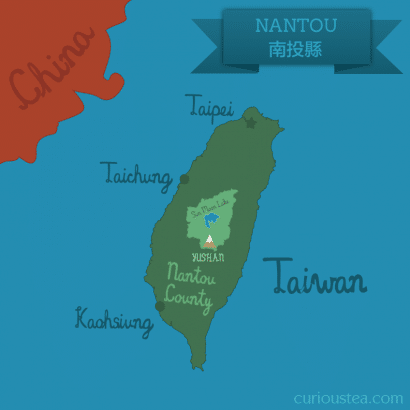 This Deep Naked Baked GABA Oolong follows typical GABA processing: after picking the leaves are placed into a special deoxidation vacuum machine. During this processing oxygen is removed from the machine by replacing it with nitrogen and the tea is left to slowly oxidise in this unusual environment. The oxidation process happens very slowly due to lack of oxygen in the machine, increasing the GABA content and developing the characteristic GABA flavours. This also positively affects the tannins, greatly reducing them to produce a smoother, less astringent taste. To demystify the acronym in the name, GABA stands for Gamma-Aminobutyric Acid. This molecule, which is mostly found in the human brain, purportedly can reduce stress and anxiety. GABA Oolong tea is also known as Gabaron and Jia Ye Long (佳葉龍).
There are differing opinions on how well our bodies can actually absorb GABA from our food and drink and while some people report feeling particularly relaxed and calm after drinking GABA tea, others do not see any significant difference. So while the effects of this tea are a very personal experience, most will appreciate this tea for the unusual and distinctive taste. While personal experiences vary, many tea drinkers experience a calming and relaxing effect on the body that is combined with clarity of mind from this type of tea. It's a perfect choice when practicing meditation, yoga and Tai Chi.
Deep Baked GABA Oolong has very tightly rolled dark brown and black leaves that are typical of oolong teas. When brewed it produces a dark umber liquor with a complex smooth, sweet and tart taste and aromas of burning log fires. A very unique cup of tea with a toasty flavour full of notes of roasted nuts and dried fruits.
It is best brewed at 90°C for 3-5 minutes. Brew multiples times to enjoy the developing flavours from each brew of this unique tasting tea.
You can also buy this Deep Baked GABA oolong tea in our online shop.
We really do hope that you enjoy this tea selection and are looking forward to the selection in our December box. It will feature a beautifully made Zomba Pearls white tea from Malawi and a Matcha Genmaicha green tea from Japan. For the darker side of the selection, we selected a Mi Xiang black tea from the famous Shan Lin Xi terroir of Taiwan as well as a heavily roasted Huang Da Cha yellow tea from China.
If reading this has made you curious about our teas, but you don't yet subscribe to a monthly tea selection, you can sign up for our tea boxes in just a few clicks. We ship worldwide from London, UK.
We always love to hear from you, so if you have any questions, suggestions or just want to chat about tea, email us at contact@curioustea.com, via our Facebook page or via Twitter.