Welcome to May 2017 Curious Tea subscriptions! As always we have some new and exciting teas to share with our subscribers this month.
New teas from the 2017 harvest are starting to arrive here with us at Curious Tea and we included one green tea from this year's crop into our May 2017 boxes. It has been a mixed year in terms of tea crops thus far with many regions in China seeing bad weather with resulting delays in harvest dates. But now the eagerly awaited new harvest teas are looking rather promising and next month we will be featuring an all China selection of 2017 spring harvest!
We have tasted and selected four delicious teas for you to try this month. Wu Yi Shan Bi Luo Chun from the famous Wu Yi Mountain region of China's Fujian Province is a vegetal, savoury tea that has a touch of sweetness and is super fresh as it was only picked and processed on 28 March 2017. The second light tea, Santikhiri Blue Pearls Milk Oolong, comes from northern Thailand and is made from the Taiwanese Jin Xuan cultivar resulting in a satisfyingly creamy taste. For the darker side of the selection, we opted for a particularly aromatic Wu Yi Shan Rou Gui, a famous oolong also from the Wu Yi Mountain area of Fujian Province. And finally we have a Nilgiri Kala Moti, an unusually light and fruity black tea from southern India.
Our Discovery tea taster subscription boxes contain 10g taster pouches of all of the above mentioned teas. As always, if you are a subscriber you will benefit from a 10% discount on all teas from our tea shop!
To help you along with the tasting, here is some further information on all teas featured in our May tea subscription boxes.
Wu Yi Shan Bi Luo Chun
Wu Yi Shan Bi Luo Chun is a complex green tea from the famous Wu Yi Shan (武夷山) area of Fujian Province. We sourced this tea direct from the growers, the Chen family. Normally focusing on making black and oolong teas that this part of Fujian is famous for, the Chen family make just one green tea in the Bi Luo Chun style using a local Wu Yi Cai Cha (菜茶) cultivar. This tea is grown at Tong Mu Village in Wu Yi Shan at an altitude of approximately 800 metres. Hand plucked on 28 March 2017 and completely hand processed, it is of supreme quality and is super fresh!
Bi Luo Chun (碧螺春) translates as 'Green Snail Spring' and refers to the colour, the shape and the plucking time for this tea. Classic Bi Luo Chun originates from Jiangsu Province in China so this tea is a bit more unusual as it uses a cultivar that is normally used to produce some of the famous Fujian oolong and black teas. As this is a very limited production from the Chen family, this highly sought after tea is of fantastic quality and amazing flavour.
Wu Yi Shan, Wu Yi Rock or Wu Yi Mountain is an area that is known for producing famous Chinese teas, such as Da Hong Pao Oolong, Lapsang Souchong and another kind of oolong, Rou Gui, which is also featured in this month's box. Wu Yi Rock teas are grown on rocky mountainsides where the soil is high in mineral content and the growth of the tea trees is much slower. This terroir results in a distinctive 'rock' taste that is particularly evident in oolongs from this area and is prized amongst tea lovers. This characteristic profile is stony and mineral in taste but with a long lasting sweet aftertaste. It translates to green tea as well, resulting in a slightly mineral and savoury kind of flavour but with a sweet uplifting note at the end.
The aromatic dry wiry leaves of this Bi Luo Chun green tea only consist of young tender leaves. When brewed the liquor is light in colour and has a slight vegetal and peachy aroma. The taste is balanced, crisp and fresh. This tea is bright in character with a full floral and vegetal flavour. There is a pleasant nutty and savoury yet fruity finish with a faintly smoky top note.
We suggest brewing at 80°C for 2-3 minutes according to your taste. It can be brewed around 3 times depending on your taste preferences.
You can also buy Wu Yi Shan Bi Luo Chun green tea in our online shop.
Santikhiri Blue Pearls Milk Oolong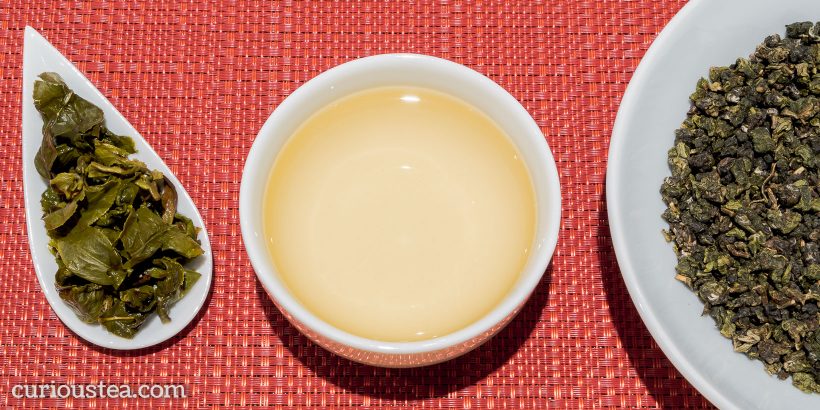 Santikhiri Blue Pearls Oolong is a 'Milk Oolong' tea that is produced from a Jin Xuan cultivar that develops natural milky or creamy flavours. This is a real Milk Oolong made from a cultivar that develops the flavours naturally – there was no milk scenting or any kind of artificial or natural flavouring done to this tea. This oolong comes from around Santikhiri village (formerly Mae Salong) that is located in Mae Fa Luang District and around the highlands of Doi Mae Salong mountain, close to the border with Burma and Laos. Santikhiri Blue Pearls Oolong tea is grown at an altitude of around 1,200-1,600 metres and was plucked in August 2016.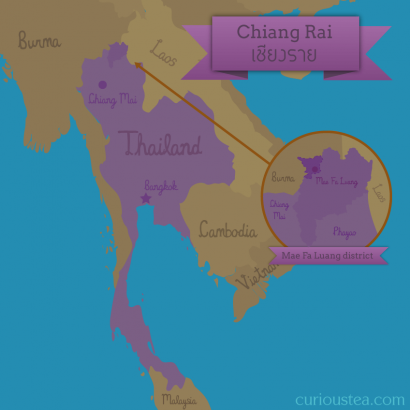 When this area of Thailand went from growing opium poppies to sustainable tea growing, many tea cultivars were imported from Taiwan in order to quickly establish a booming tea industry. Taiwanese cultivars were particularly attractive since they matched well the growing conditions of northern Thailand. Furthermore many consider Taiwanese teas to be of fantastic quality hence fetching a premium price, something Thai tea growers were understandably attracted to. It is safe to say that while teas grown in Thailand still have some way to go in matching the top tier Taiwanese teas, the offerings from Thailand are certainly of very solid quality and generally are at an attractive price point for consumers.
This oolong is made from the Taiwanese Jin Xuan Golden Daylily (金萱) TRES #12 cultivar. This cultivar is used in making Milk Oolong and is famous for its creamy and milky aroma, mouthfeel and taste. This tea makes an interesting comparison to a classic Milk Oolong from Taiwan. Both teas exhibit the milky and creamy characteristics as advertised. The Taiwanese version is a little more floral, less baked while this Thai counterpart is a little more baked with milky and creamy flavours not being so pronounced. It will definitely appeal to those unsure of whether they would like other Milk Oolongs in general as the milky flavours are toned down somewhat.
Blue Pearls Oolong comes in tightly rolled large leaves that resemble pearls, and being an oolong (a 'blue' tea) the Blue Pearls name seems quite apt. It produces a light golden liquor with a creamy aroma, mouthfeel and taste. Flavoursome balanced notes have a creamy, nutty, lightly baked edge with floral hints. Overall this oolong is somewhat light on the 'milky' or 'creamy' aspect. Instead, the flavours are more on the baked side, wholesome and very balanced.
We suggest brewing at 90°C for 3-5 minutes according to your taste. It can be brewed more than 3 times.
You can also buy Santikhiri Blue Pearls Milk Oolong tea in our online shop.
Wu Yi Shan Rou Gui
Wu Yi Shan Rou Gui Oolong (武夷山肉桂) is a classic oolong from Wu Yi Shan (武夷山) in Fujian Province, China. Rou Gui is also known as Cassia Oolong in English, a name for Cinnamomum cassia, or Chinese Cinnamon. The name does not mean that it has a distinctive cinnamon flavour or aroma but rather that the character is somewhat dry and with a particular scent, akin to cassia or cinnamon bark!
This Rou Gui Oolong has pronounced mineral and stony flavours yet it has a long lasting floral and sweet finish that this kind of Wu Yi Rock oolong (or yancha) is famous for. This particular tea was harvested and processed in April 2016. It has undergone light to medium roasting during processing. It was then left to 'rest' for a year before being made available for sale. This allowed the roasted character to mellow out and diminish even more, emphasising the floral nature of this special tea instead.
This Rou Gui Oolong is a popular and well recognised Wu Yi Rock tea, which can collectively be referred to by the English name 'Bohea'. As historically the term Bohea used to apply to lower grades of tea, the preferred term for teas coming out of this terroir is Wu Yi tea or Wu Yi Rock tea. As described previously, Wu Yi Rock terroir results in a distinctive 'rock' taste that has a characteristic profile that is stony and mineral in taste but featuring a long lasting sweet aftertaste.
Our Wu Yi Shan Rou Gui Oolong certainly does not disappoint in delivering those sought after characteristics. The lower level of baking (especially when compared to the more heavily roasted Da Hong Pao that we offer) as well as allowing this tea to rest for a full year prior to making it available to our customers really brings out the characteristic floral and stony features. Large dark twisted leaves unfurl into dark black and green leaves in the cup, producing an attractive amber liquor with a floral and sweet aroma. The character is mild, balanced, with mineral and stony flavours that are nicely balanced by the more sweet and floral top notes. There is no astringency or dryness on the finish, just a long lasting juicy, sweet yet mineral aftertaste that affixes to your palate. A superb tea that can be savoured at any time of the day.
We suggest brewing parameters of 90°C for 3-4 minutes according to your taste, brewing 4 or more times.
You can also buy Wu Yi Shan Rou Gui oolong tea in our online shop.
Nilgiri Kala Moti
Nilgiri Kala Moti is a light and fruity black tea that is grown on a fully organic estate located in the Nilgiris, or Blue Mountains in southern India. This black tea is processed by hand rolling leaves into pearls, giving the Kala Moti or Black Pearls name to this tea. The tea leaves are very carefully processed and are not 100% oxidised, resulting in a lighter and more fruity profile.
The Blue Mountains form part of the Western Ghats in southern India. Many of the peaks are over 2,000m high, with the highest peak (Doddabetta) being 2,637m high. The tea estate is located at an altitude of around 1,800m and benefits from the topography of the region.
This Nilgiri Kala Moti was plucked in Summer 2016. The dry leaves are hand rolled into tight pearls. These are not too big in size and resemble more a Bi Luo Chun leaf than a traditional rolled oolong, being less uniform and much smaller in size. The dark leaves open up into full-ish orange and dark green leaves when brewed, producing a dark amber liquor. This tea has a sweet and fruity aroma with a hint of Assam style of maltiness. The character is crisp, with fruity notes of grapes and plums and malty top notes. It is most similar to a Second Flush Darjeeling and would appeal to fans of lighter Indian black teas.
We suggest brewing at 90°C for 3-4 minutes according to your taste. It can be brewed a couple of times depending on your taste preferences. If brewed at our suggested parameters, this tea produces a lighter liquor that is perfect for an afternoon cup of tea and is best enjoyed without milk or sugar. This Kala Moti black tea can also be brewed for longer to increase the malty flavour and to bring out more tannins and robustness to make a very good morning cup of tea.
You can also buy Nilgiri Kala Moti black tea in our online shop.
We really hope that you enjoy the tea club selection for May and are looking forward to our China 2017 Spring Special selection in June!
If reading this has piqued your interest, but you don't yet subscribe to our monthly tea selections and would like to receive them in the future, you can set up your tea subscription in just a few clicks. We ship worldwide from London, UK.
We always love to hear from you, so if you have any questions, suggestions or just want to chat about tea, email us at contact@curioustea.com, via our Facebook page or via Twitter.
You can also follow us on Instagram for pretty tea photos.
Happy tea tasting!