Here is another month of Curious Tea subscriptions! This December we have an excellent selection of fantastic teas for you to try. We have selected the following four teas this month: a modern Chinese green tea classic, the Tai Ping Hou Kui, known as Peaceful Monkey King; a wonderfully complex Red Buffalo oolong from Vietnam; a supreme Jasmine scented Silver Needle white tea; and finally a flavoursome example of a very fine 2016 First Flush Darjeeling from the Orange Valley Tea Estate.
Our Discovery tea taster subscription boxes contain 10g taster pouches of all of the above teas. Don't forget that all subscribers also benefit from a 10% discount on all teas from our tea shop!
To help you along with the tasting, here is some further information on all teas featured in our December boxes.
Tai Ping Hou Kui Peaceful Monkey King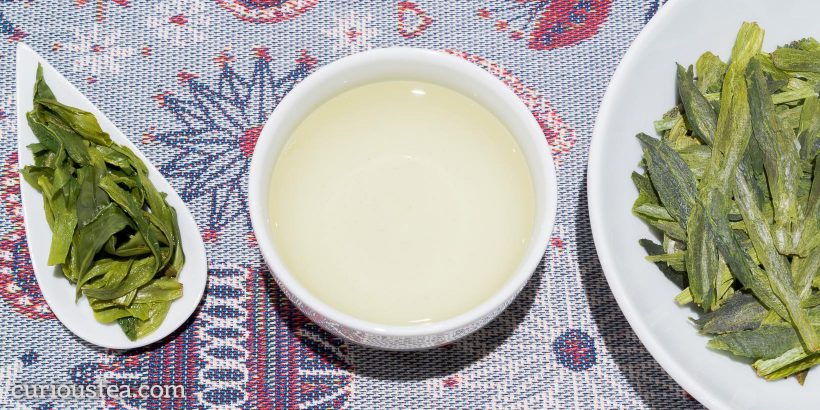 Tai Ping Hou Kui (太平猴魁) is our supreme version of this green tea produced in south-eastern part of Anhui Province of China. A very famous Chinese green tea, it traces the rise to fame back to the early 20th century. Tai Ping Hou Kui green tea is renowned for the unique shape of the leaves after processing. They can be described as 'two knives and one pole', where two straight leaves surround one large bud. Tai Ping Hou Kui is normally translated into English as Peaceful Monkey Leader or Peaceful Monkey King.
This tea is grown at an altitude of about 700m around the Xinming Township, Taiping County of Anhui Province. The tea gardens are scattered around this township, mostly in the mountainous areas, interspersed with ancient forests and rocks. This is the area that produces the authentic Tai Ping Hou Kui green tea. It also lies at the foot of Huang Shan (Yellow Mountain) mountain range, itself famous for production of green tea. The harvest season for the best tea lasts only 14 days in the year and is normally at the end of spring. This particular crop was plucked in late April 2016.
Tai Ping Hou Kui green tea undergoes a complex processing that results in these unique shaped leaves. After plucking, the tea leaves are pan-fried to denature enzymes present in them, in order to stop the leaves from oxidising; a process that is known as kill-green. After pan-frying the leaves are transferred onto bamboo plates and heated 3 times, during which the leaves are also shaped by hand into these unique pressed long shaped leaves.
The very long and very flat light to dark green leaves of this Tai Ping Hou Kui green tea have a slightly waxy appearance. You can clearly see the bud plus two leaves on most of the dried leaves. The liquor produced is a pale green colour with a very light pleasant vegetal aroma. The wet leaves have a brilliant green colour to them and they remain whole while brewed. The taste is light, very mellow, vegetal and a little floral. There are notes of fresh green crisp vegetables such as courgettes and spinach. However, there is also a sweet aftertaste that balances nicely with the greener flavours and there is no astringency on the finish. Overall a very balanced, refreshing yet smooth cup!
This green tea is best brewed at 80°C for 2-3 minutes according to your taste and can be brewed more than 3 times, increasing steeping time with each next brew if desired. As the leaves are so large in size, we do recommend weighing this tea out in order to get the perfect measure when brewing.
You can buy Tai Ping Hou Kui Peaceful Monkey King green tea in our online shop.
Yin Zhen Jasmine Silver Needle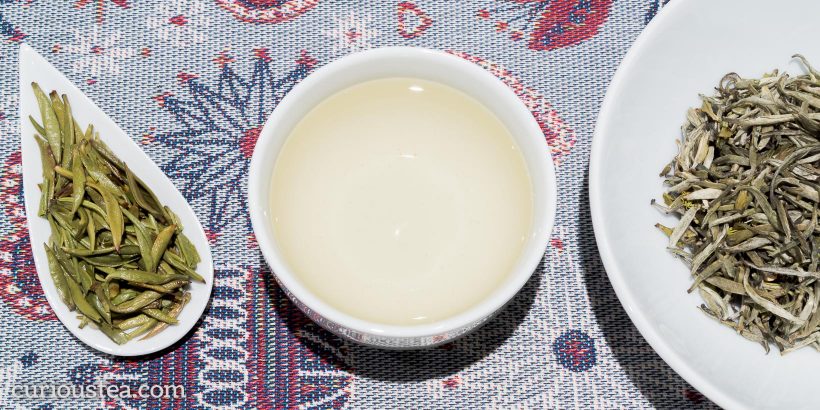 Yin Zhen Jasmine Silver Needle white tea (茉莉银针) is a supreme jasmine scented tea from our producer in Fuding, Fujian Province. It is grown in a fully organic tea garden at an altitude of 800-900m. Hand plucked from the choicest buds in April 2016, it was then scented with fresh jasmine blossom from Guangxi Province.
This Yin Zhen Jasmine Silver Needle is made from a well-known white tea cultivar Fuding Da Bai (福鼎大白 – Fuding Large White). This cultivar is one of the main two cultivars that is used to produce top grade Chinese Silver Needle white teas. This tea is completely hand plucked and processed and it utilises only the buds or the tips of the tea plant. The scenting takes place using fresh jasmine blossom, which imparts a lovely jasmine scent to this delicate tea. After scenting the jasmine blossom is removed so as not to add any bitterness to the brewed tea.
The long silver needles of this white tea have a lovely heady jasmine scent. The liquor is a pale golden colour with a pronounced jasmine aroma. This Yin Zhen Jasmine Silver Needle white tea has a beautifully light and crisp character with a clean and refreshing taste. The jasmine aroma is not too overpowering and does not take away from the delicateness of this high grade white tea. The taste is balanced, with clean floral notes and a slight citrus aftertaste.
We suggest brewing at 80°C for 2-3 minutes according to your taste. Yin Zhen Jasmine Silver Needle white tea can be brewed 3 or more times depending on your taste preferences. As with all white teas, you can experiment with brewing times. Try either brewing this at a lower temperature (70°C) for 4-5 minutes or alternatively at 90°C for 60-90 seconds. Different brewing parameters produce quite different results so experimenting with the water temperature and steeping time is the best way of finding the brewing method that works best for you.
You can buy Yin Zhen Jasmine Silver Needle white tea in our online shop.
Moc Chau Red Buffalo Oolong
Moc Chau Red Buffalo Oolong is a unique and complex oolong tea that is grown in the north of Vietnam, in Mộc Châu district of Sơn La Province. It is grown at a high altitude of around 1,100m on a small tea estate that specialises in growing Taiwanese tea cultivars. This oolong is allowed to oxidise to around 70%, resulting in an intriguing cup of tea that has some of the black tea characteristics, while still retaining floral attributes of a light oolong.
This Red Buffalo Oolong is hand processed from estate grown tea trees. The cultivar used to produce this tea is called Thanh Tam locally, but in reality it is the Qing Xin 'Green Heart' (青心) cultivar originally brought over from Taiwan. Both Vietnam and Thailand have successful plantations utilising some of the well-known Taiwanese tea plant cultivars and producing Taiwanese style teas. Most of these are exported to Taiwan or Japan. Some unscrupulous tea vendors will also sell Vietnam or Thailand grown tea as Taiwanese as some of them can be much cheaper to buy. While the benefits or disadvantages of Vietnamese and Thai teas over their Taiwanese counterparts is a lengthy discussion, needless to say that there are some fantastic examples of teas that can be found in any of the above countries. This Red Buffalo Oolong is certainly a unique creation that uses a classic cultivar in a somewhat more unusual way to create quite a characteristic and drinkable tea.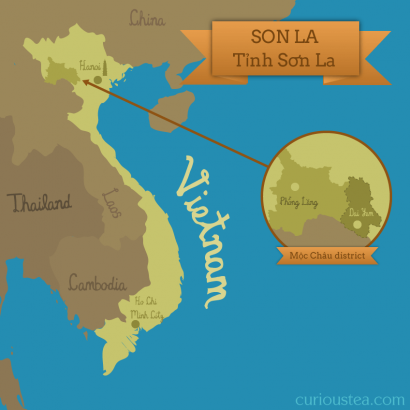 Qing Xin cultivar is particularly known for the floral aspects of teas that are made from it. As the Red Buffalo Oolong is much more heavily oxidised, the floral character becomes more of a secondary flavour, although still quite a prominent one. The oxidation does draw out a profile that is closer to a black tea, especially some of the very pleasant maltiness.
The dark leaves of this tea are tightly rolled – just as you would expect a rolled oolong in appearance – but much darker in colour and much closer to a black tea leaf in appearance. When the leaves are brewed, they slowly unfurl releasing a very pleasant and satisfying amber coloured liquor with a gentle malty aroma. The character is that of a light black tea, with smooth malty notes yet zero astringency. Overall this Red Buffalo Oolong is light, smooth and quite warming to drink. There are fruity sweet notes of raisins and wild honey that finish off this tea quite nicely.
We suggest brewing at 90°C for 2-3 minutes according to your taste. It can be brewed 3 or more times depending on your taste preferences. The flavour of this Red Buffalo Oolong tends to alter with each brew so make sure to brew the leaves multiple times to get the most out of this complex tea.
You can buy Moc Chau Red Buffalo Oolong tea in our online shop.
Darjeeling Orange Valley First Flush 2016
Darjeeling Orange Valley First Flush 2016 is a high grade (FTGFOP1) tea that has a fantastic floral First Flush character with minimal astringency. Grown and processed on the Orange Valley Tea Estate that is famous for creating most flavoursome Darjeeling black teas, this tea is from the 2016 spring crop.
Orange Valley Tea Estate utilises mostly clonal China bushes, and is located on the east facing slopes overlooking the town of Darjeeling in the West Valley of Darjeeling District. The tea garden is at an elevation of between 1,500 and 1,800m, making it the perfect location for producing some exceptional teas. Particularly renowned teas from this garden are the floral First Flush and muscatel Second Flush crops. The name of the garden comes from the fact that it is surrounded by orange trees, the blossom of which during spring time is said to add to the character of this First Flush black tea.
Plucked in spring 2016 this Darjeeling Orange Valley First Flush has neat small leaves with mixed colours as well as silver tips. Once brewed, it produces a golden liquor with a pronounced first flush character. The liquor has a distinct floral and mineral aroma that is very pleasing. The flavour profile tends to be more on the floral side rather than muscatel, leading to lighter flavours with minimum astringency. It exhibits typical smooth Darjeeling notes, floral, fruity and mineral aspects being particularly prominent. The smoothness and balanced nature make this a marvellous tea that can be enjoyed by itself or as part of a full afternoon tea.
Darjeeling Orange Valley First Flush 2016 black tea is best brewed at 90°C for 3-4 minutes according to your taste. It can also stand at least one more infusion. Best taken without milk to fully enjoy the floral first flush character.
You can buy Darjeeling Orange Valley First Flush 2016 black tea in our online shop.
We really hope that you enjoy the tea club selection for December and are looking forward to what we have in store for your selections in the New Year!
If reading this has piqued your interest, but you don't yet subscribe to our monthly tea selections and would like to receive them in the future, you can set up your tea subscription in just a few clicks. We ship worldwide from London, UK.
We always love to hear from you, so if you have any questions, suggestions or just want to chat about tea, email us at contact@curioustea.com, via our Facebook page or via Twitter.
You can also follow us on Instagram for pretty tea photos.
Happy tea tasting!