Everyone knows masala chai, and its delicious mix of tea and spices. But do you know what tea to use in it, and why? Well, today we're going to explain why some teas work well in chai, as well as give you our go-to chai recipe.
An essential part of any chai recipe is the quality and flavour of the tea. It needs to be strong enough to hold its own against the strong spices in the chai, but not so strong that it will try to compete with them. We've tried many of our Indian Assams and Darjeelings, and we've found two that work in perfect harmony with our chai spice mixture.
Firstly, we'd recommend our Assam Koliapani Signature Black. The bright liquor produced has a good depth of colour and a comforting black tea aroma. The taste is typical malty Assam black tea, but somewhat elevated and refined in flavour. Another great option is our Darjeeling Gopaldhara Second Flush. Because it is a Second Flush, this means that it has a more complex and robust flavour profile. The honey notes work extremely well with the sweetness of a classic masala chai.
Our Masala Chai Recipe
Recipes for chai vary across continents, cultures, towns and families. This is our personal recipe that makes a great classic cup of chai. It's is very adaptable, so feel free to change up the recipe as you want. If you particularly like the ginger flavour, then add more ginger! Or if you're worried about the spiciness of your chai, reduce the amount of black peppercorns.
This recipe makes 3 servings.
Classic Masala Chai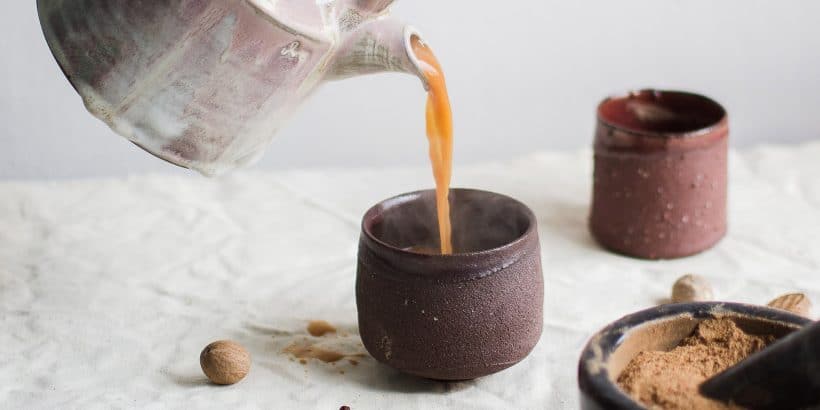 Ingredients
For the tea:
160g whole black peppercorn
125g whole dried ginger or ginger powder
50g cinnamon sticks or finely ground
50g whole cardamom seeds or finely ground
5g whole cloves or finely ground
5g nutmeg or finely ground
For the masala mix:
1/2 cup milk (120ml)
1/2 cup water (120ml)
1 to 2 tsp sugar, or your favorite sweetener (optional)
1 tsp loose tea leaves (5g)
1/8 to 1/4 tsp chai masala depending on your spice preference
Method for the masala mix:
If using whole ingredients, grind them finely with a mortar and pestle or in a food processor
Keep the mix in an airtight jar, away from bright light
Use in your chai!
Method for the chai:
Pour all ingredients into a saucepan.
Place over medium heat. Allow to heat until small bubbles appear around the perimeter of the milk.
Stir the chai, scraping the bottom to avoid scalding the milk.
When the milk comes to a boil, turn off the heat and stir well. Bring to a boil once again, turn off the heat and stir well.
Allow to steep for a few minutes. Strain carefully into a cup, and serve.
Nutrition

Per Serving: 26 calories; 0.8g fat; 3.5g carbohydrates; 1.3g protein; 3mg cholesterol; 19mg sodium.

If you follow this recipe, or use our teas in your masala chai, please share it with us on social media @curioustealtd.