Welcome to the August 2020 edition of the Curious Tea subscription! Here's a closer look at the four exciting new teas that we are sharing with our subscribers this month.
The first light tea this month is a bold and potent Sencha Japanese green tea that is made from the unusual Benifuki cultivar that is normally reserved for black teas.
The second light tea is a classic, refreshing Yun Wu 'Mist and Cloud' green tea from the picturesque Lu Shan in Jiangxi Province of China.
For the dark side of the selection we have a unique Autumnal Oolong from Gopaldhara Tea Estate in Darjeeling that is picked during the first frosts that occur later in season.
Finally, the last tea we are featuring this month is a Japanese Wakocha from a small family-run garden that is made from a rare Koshun cultivar to produce a fruity black tea with minimal tannins.
Our Discovery subscription boxes contain 10g taster pouches of all of the above mentioned teas. If you are a subscriber you will benefit from a 10% discount on all teas from our tea shop!
Let's get into further detail on the products featured in our August tea subscription boxes.
Ibusuki Benifuki Sencha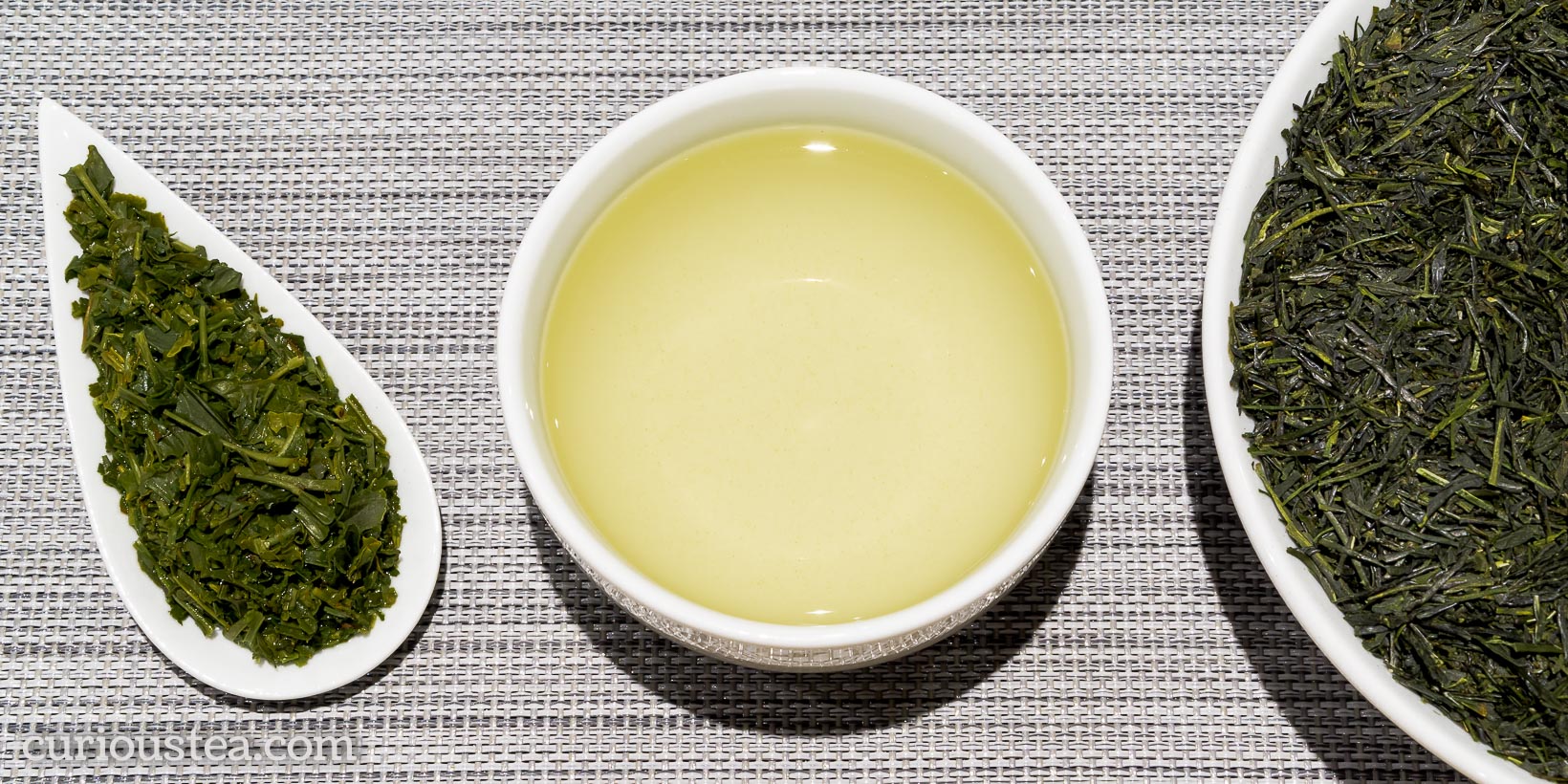 Ibusuki Benifuki Sencha (揖宿べにふうき煎茶) is an unusual green tea from Japan. Grown at low altitude around Ibusuki in Kagoshima Prefecture, on the southern part of Kyushu Island, it is made from the Benifūki (べにふうき) cultivar. This results in a bold and potent tea with complex character and a slightly more unusual taste. It is grown and processed to organic standards without use of any pesticides. This particular batch is a summer flush tea, harvested in June 2019.
The Benifūki (べにふうき) cultivar (also often written as Benifuuki in English) is the result of cross-breeding two cultivars in Japan in the 1960's. The selected cultivars were MakuraCd86, a Camellia sinensis that originated from descendants of Darjeeling plants, and Benihomare that originated from descendants of Camellia assamica plants found in India and Sri Lanka. The actual Benifūki cultivar was registered in Japan only in 1993 after many years of selection.
It has now become rather popular in Japan for production of Benifuki Oolong and Benifuki Wakocha black tea. The main reason behind this is that the originating plants used to develop the Benifūki cultivar are both mostly used for black tea production, yielding teas that are more flavoursome and robust in flavour. While great for black tea, this has drawbacks when making green tea as Benifūki tends to be more astringent in flavour.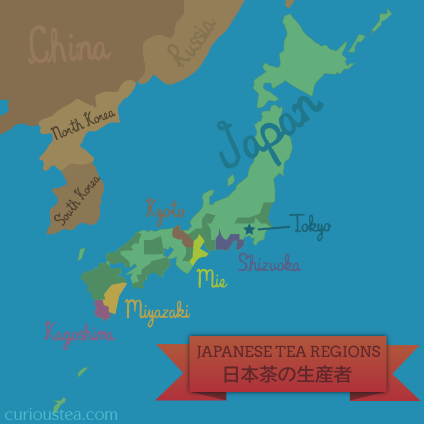 Even though Benifūki green tea has a more potent flavour with sometimes pronounced astringency, there is an additional health benefit in consuming green tea made from the Benifūki tea plants. Processed as a green tea, it contains the largest concentration of methylated catechin of all the Japanese teas – this is actually responsible for the bitterness and astringency of the tea! Methylated catechin content of Benifuki green tea has been shown as having potential for reducing allergies and hay fever. Only Benifūki green tea is useful for that as the methylated catechin content is destroyed when the tea is processed as a black tea, or reduced when it is processed as an oolong. So it's not a wonder that it has recently become a popular natural remedy in Japan to help to keep allergies at bay.
Leaving the potential health benefits aside, this tea makes for an interesting drink. Like other Benifūki teas, it can be a little tricky to get right, so good water, lower temperature and shorter infusion time on your first try are key! We tend to brew this one quite light, at 70°C for 1, maximum 2 minutes; this yields a complex and balanced flavour. When brewed at higher temperature, the astringency and bitterness can quickly dominate the flavours!
This Ibusuki Benifūki Sencha has a fine mixed leaf typical of sencha with some finer and larger leaves together. The dry leaf has a lovely fruity and grassy aroma and when lightly brewed produces a green-yellow liquor. The flavours are quite bold and potent even if not brewed strongly, but still balanced overall. The pronounced herbaceous profile has buttery vegetal notes and a smooth mouth-coating impression of sweetness. It transitions to a lasting aftertaste that becomes dryer and reveals some pleasant bitterness. When brewed for longer or at higher temperature the bitterness becomes more pronounced but so do the savoury flavours that develop into more umami seaweed notes.
This is an intriguing sencha that can be a little tricky to brew but yields fascinating results. And comes with a health bonus! Start with lower brewing parameters and then ramp them up to match your taste. We suggest starting at 70°C for 1 minute, increasing to 2 minutes. After that you can increase to 80°C for 1 minute and further to 2 minutes to bring out more of that tannic catechin content! It stands up well to multiple infusions – 2-3 depending on initial brew strength that you opt for.
You can also buy Ibusuki Benifuki Sencha green tea in our online shop.
Lu Shan Yun Wu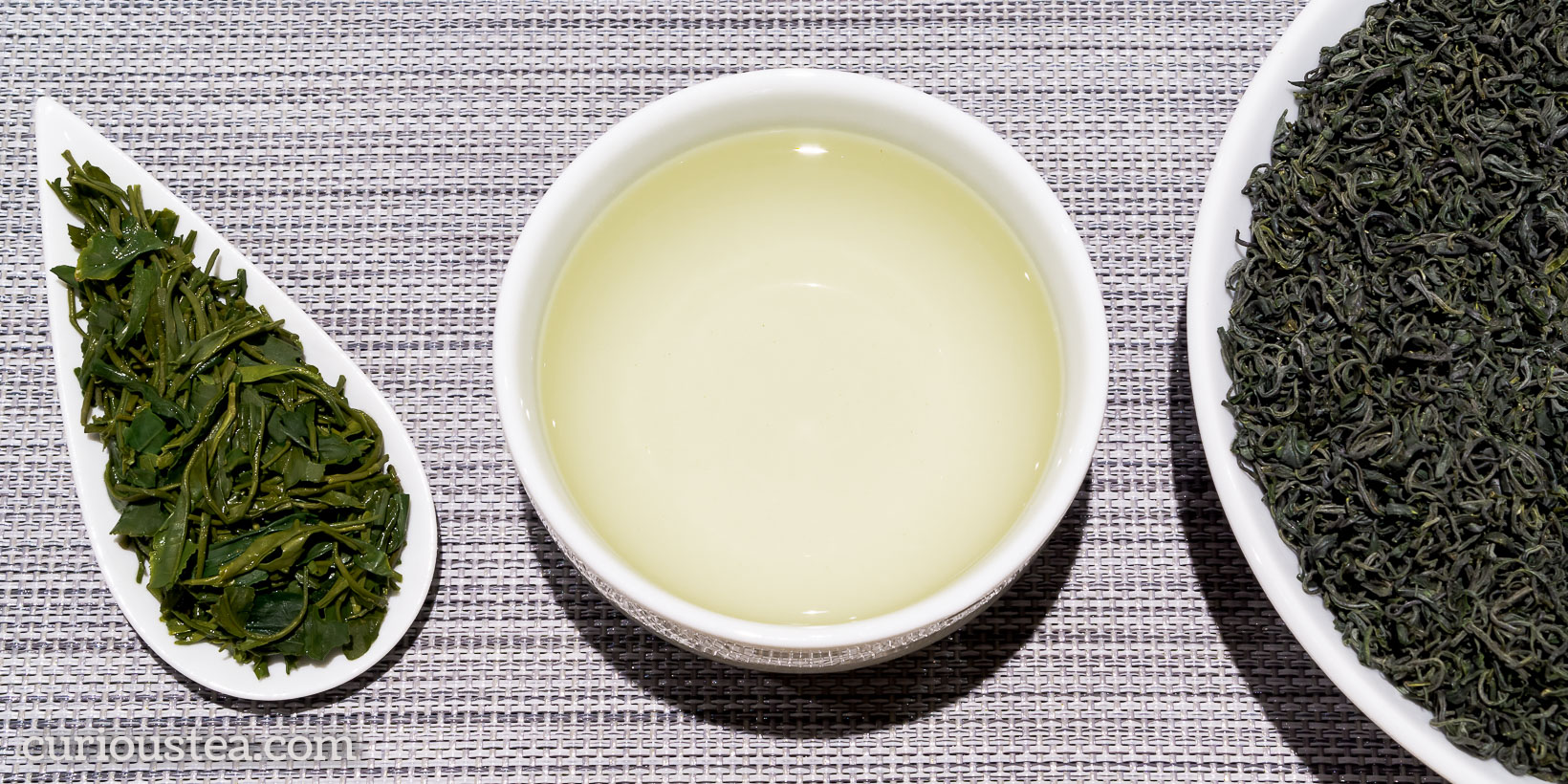 Lu Shan Yun Wu (庐山云雾) is a light and refreshing green tea from the Lu Shan (庐山) tea growing region of Jiangxi Province in China. It has a light and mellow vegetal profile with clean and refreshing, fruity and light roasted notes. The name Yun Wu (云雾) translates as 'Cloud and Mist' referring to the cool and misty climate at Lu Shan that is perfect for producing flavoursome teas that have a high level of theanine and are rich in tannins and vitamins. We are currently offering the April 2020 harvest.
Lu Shan (庐山), Mount Lu, also known as Kuanglu (匡庐), is a mountainous area in the northern part of Jiangxi Province and is one of the most famous mountain landscapes in China. Tea is grown at Lu Shan and around the surrounding area, mostly at higher altitude. As the landscape is mountainous, the tea fields and mountains are covered by a sea of clouds many days of the year. This is the origin of the Cloud and Mist tea name: it is partly descriptive of the growing conditions for this green tea. The cloud cover essentially provides natural shading for the tea plants, resulting in slower growth and a naturally more concentrated flavour. At the same time the clouds also bring plentiful precipitation, leading to a fuller, lusher leaf with plenty of nutrients. These factors combine to produce a delicate yet flavoursome tea with an enduring fruity sweetness.
In China the name Yun Wu (云雾) is somewhat common and is often also used in many other regions throughout the country to describe a green tea that is produced locally but that does not fall under any of the 'famous' tea types or has any other modern branding attached to it. Generally, it is a good quality local green tea that was hand plucked but then more machine processed in order to keep the costs reasonable. These teas do vary in quality and taste depending on the growing region and processing but tend to be somewhere in the middle. In this, our Lu Shan Yun Wu is similar to our Yun Wu green tea from Huang Shan but is of better quality.
Perhaps the reason for the popularity of the Yun Wu name is a Chinese saying 高山云雾出好茶 (gāoshān yúnwù chū hǎo chá), which can be roughly translated as 'high mountain, cloud and mist leads to good tea', clearly signifying the importance of the climatic conditions in good tea making!
Lu Shan Yun Wu green tea has a very neat, curled and twisted very appealing leaf that consists only of smaller leaves and buds. The dry leaf has a vegetal scent but also hints of lightly toasted wheat. The brewed liquor has a very light yellow-green colour with excellent clarity. The overall impression is that of a vegetal profile, but one that is very smooth, mellow and light. Nice fruity notes lend sweetness to the liquor while the more toasted aspect brings light notes of toasted almonds and roasted chestnuts. There is creamy smoothness that makes this very drinkable. There is hardly any astringency or dryness on the clean aftertaste, making for a very refreshing cup!
This green tea is best brewed at 80°C for 2-3 minutes according to your taste and can be brewed more than 3 times, increasing steeping time with each next brew if desired.
You can also buy Lu Shan Yun Wu green tea in our online shop.
Darjeeling Gopaldhara Red Thunder Oolong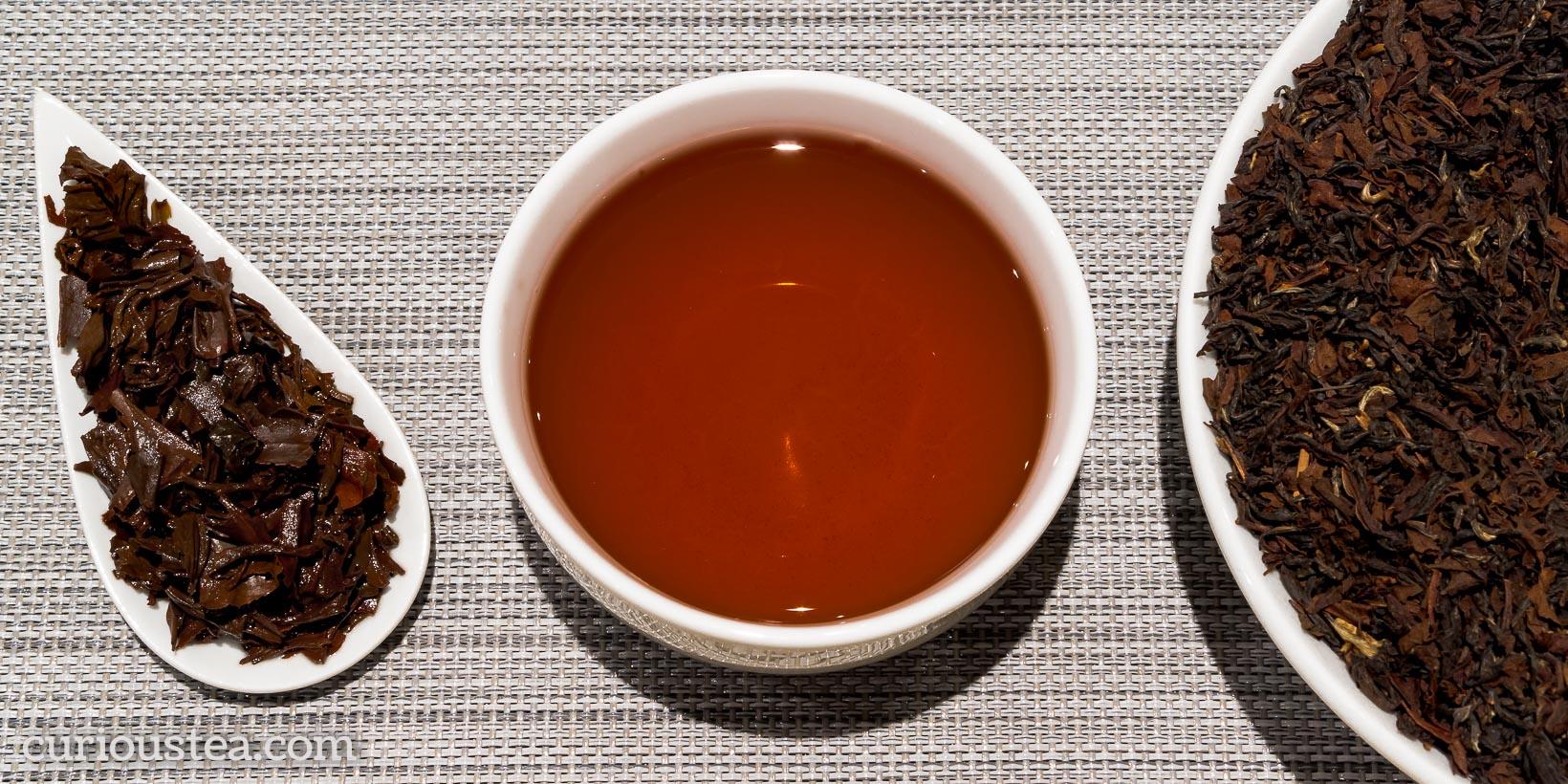 Darjeeling Gopaldhara Red Thunder Oolong is a unique oolong tea that comes from the Gopaldhara Tea Estate in Darjeeling. It was plucked in October 2019. This batch is FTGFOP1 'Red Thunder' grade and was picked from clonal bushes during cold autumn weather, with temperatures around 0-12°C.
Like all our Gopaldhara teas, we source this tea directly from Rishi Saria, the owner and director of Gopaldhara and Rohini Tea Estates. Gopaldhara Tea Estate is nestled in the Mirik Valley, in the Himalayan foothills, and is one of the highest tea estates in Darjeeling with elevations of up to 2,100m. It is renowned for producing teas of exceptional quality and very often quite unusual character.
The high altitude location of the estate means that in late autumn the weather turns cold quite quickly. When Gopaldhara Red Thunder Oolong tea is plucked, the leaves already start to get slightly frosted. They begin to wither on the tea plants, effectively starting a very slow fermentation process. This is then combined with a very long oxidation process to produce this special tea. It is a very laborious method that has to be carefully controlled so that the leaves are plucked at just the right time. It means that the yield is very low, making this tea a very rare one indeed.
The leaves are somewhat mixed in appearance and produce a golden red liquor with a lovely fruity aroma. When brewed, the character is complex and very distinctive. The flavour is smooth and complex, with sweet and fruity notes of red stone fruits: cherries and plums. There is a herbaceous edge that leaves a vapour of mint and eucalyptus on the palate. The aftertaste is lasting, with a more pronounced stony and mineral edge common of Darjeeling teas. It leaves a positively warming and comforting feeling.
Darjeeling Gopaldhara Red Thunder Oolong is best brewed at 90°C for 2-3 minutes and can be brewed multiple times. Savour this special tea on its own, or try combining it chilled with your favourite dishes that normally call for a glass of red wine – a very tasty and healthy substitute!
You can also buy Darjeeling Gopaldhara Red Thunder Oolong tea in our online shop.
Ashikita Koshun Wakocha
Ashikita Koshun Wakocha (芦北町香駿和紅茶) is a fruity Japanese black tea grown on Kajihara Tea Farm that is run to organic standards in Ashikita District of Kumamoto Prefecture. This tea is crafted from the unusual Kōshun cultivar plants, which results in a distinctive profile that is sweet and fruity. We source it directly from the grower, Mr Toshihiro Kajihara. The current batch is the first flush harvest from spring 2019.
While Kajihara tea garden mostly focuses on heritage native 'zairai' plants, they also have a number of various Japanese cultivars planted on their farm to further differentiate and extend their range of teas. This Ashikita Koshun Wakocha is made from the leaves of Kōshun (香駿) cultivar plants. This cultivar is still quite rare and it is largely used to make green tea, known for a pronounced floral aroma. However some farmers like Mr Kajihara are starting to experiment with producing some more unusual black teas with a unique Japanese character that cannot be found anywhere else. And it turns out that Kōshun is a great 'green tea' cultivar for making wakocha with!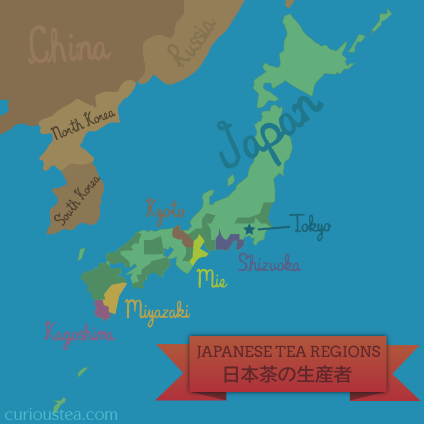 Wakocha (和紅茶), or Japanese black tea, is still rather rare and sourcing it can be quite a complex process due to small production levels and mixed results. Different cultivars are utilised for producing various Wakocha black teas with different flavour profiles. For example our Makinohara Benifuki Wakocha has a more broken leaf and a much bolder black tea profile. Some of these Japanese black teas aim to emulate their counterparts from India, China and Taiwan to capture some of the established market. Some however, just as this Kōshun Wakocha does, create something completely new and exciting – a distinctive flavour profile that is unique not only to Japan, but to specific cultivar and farmer.
Ashikita Koshun Wakocha black tea has a mixed twisted very dark leaf that produces a dark amber liquor. The taste starts off on sweet fruity notes of apricot jam, quince marmalade and is followed by an array of deep floral flavours. It is undoubtedly a supremely smooth tea with no astringency or bitterness and minimal tannins. The overall impression is that of enduring fruity sweetness. The flavours progress to a lasting aftertaste that develops some malty and intriguing mineral notes. This tea makes for an extremely satisfying drink.
It is best brewed at 90°C for around 3 minutes, with multiple infusions. The sweet fruity flavours also make this tea perfect for cold brewing in your fridge overnight!
You can also buy Ashikita Koshun Wakocha black tea in our online shop.
We really do hope that you enjoy the tea selection for August and are looking forward to the selection in our next box. Our September box will feature two High Mountain Taiwanese Oolong teas, a Xue Long Snow Dragon green tea from China and another Gopaldhara Darjeeling – this time a classic Second Flush from 2020!
If reading this has made you curious about our teas, but you don't yet subscribe to a monthly tea selection, you can sign up for our tea boxes in just a few clicks. We ship worldwide from London, UK.
We always love to hear from you, so if you have any questions, suggestions or just want to chat about tea, email us at contact@curioustea.com, via our Facebook page or via Twitter.
You can also follow us on Instagram for pretty tea photos.
Happy tea discoveries!