Welcome to the June 2022 edition of the Curious Tea subscription! Here's a closer look at the four exciting new teas that we are sharing with our subscribers this month.
The first light tea this month is an early spring Bai Ya White Bud from Yongde in Yunnan Province of China that is processed similarly to a sheng pu-erh, resulting in a complex flavour.
The second light tea is a refreshing green tea from the famous Mengding Mountain in Sichuan Province of China that has a classic, balanced liquor with a herbaceous profile.
For the dark side of the selection we have a black tea from the Choi family organic plantation in Boseong, South Korea that has a clean and refreshing flavour.
Finally, the last tea we are featuring this month (just like last month) comes from Wuyi Shan in Fujian Province of China and is a classic unsmoked Lapsang Souchong that is fruity and tangy.
Our Discovery subscription boxes contain 10g taster pouches of all of the above mentioned teas. If you are a subscriber you will benefit from a 10% discount on all teas from our tea shop!
Let's get into further detail on these teas featured in our June tea subscription boxes.
Bai Ya White Bud
Bai Ya White Bud (永德白芽) is a complex pure bud white tea from Yongde County, Lincang, Yunnan Province of China. Grown in a remote area of the province, close to the border with Myanmar, it is hand harvested from local assamica trees and processed similarly to a sheng (raw) pu-erh. The plump buds produce a complex liquor with a smooth taste that is creamy and sweet with a lasting aftertaste. This particular batch was harvested on 6 March 2022.
Just as some other white teas from Yunnan Province (like our White Moonlight or our pressed Silver Needle Cakes), this tea is also sometimes classified as a pu-erh due to similar production steps and methods. In these cases we must make a decision on whether to classify as a white tea or a pu-erh. Generally we make this distinction based on the characteristics of the tea, rather than on the processing steps. Due to similar processing methods employed, and as these whites teas originate from the birthplace of pu-erh, sometimes they are referred to as white pu-erh.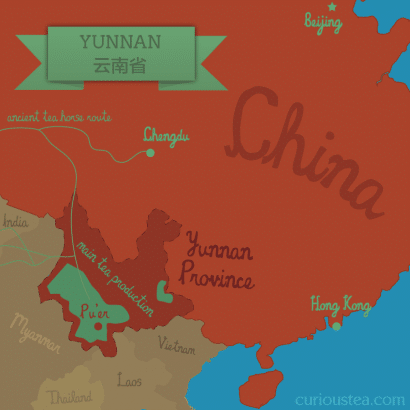 This Bai Ya White Bud tea is harvested from native assamica tea plants of Yunnan Province that are locally known as Yunnan Da Ye Large Leaf (雲南大叶). These plants have larger leaves than their sinensis cousins and are largely used for pu-erh tea production in the region. For white tea, it undergoes processing that is more akin to a young Sheng Cha (生茶) Pu-erh. So it starts life as young and tender leaf buds that are carefully hand plucked so as to keep the buds intact. They are then withered, very lightly pan fried and dried in the sun. As there are still enzymes present in the tea leaves, this leads to a slight oxidation during sun drying. Therefore, this white tea is closer to a Mao Cha (毛茶), which is the loose-leaf form of young Sheng Cha Pu-erh and is the starting point for pu-erh tea.
This tea consists of neat, plump buds that are covered in small white hairs giving them a silver colour and a very attractive appearance. Compared to Silver Needle teas, especially from Fujian, these buds are larger, thicker but are less silver in colour. It produces a creamy-yellow liquor that is bright and clear. The aromas are of fresh woody and grassy hay notes. The processing results in a profile that is more complex when compared to other white teas. The liquor is smooth but flavoursome, with a creamy profile and sweet hay notes. The aftertaste is lasting and smooth with chalky, woody notes and just a touch of dryness. Overall, this is a complex but smooth white tea with a comforting impression.
We suggest brewing at 80°C for around 3 minutes. Bai Ya White Bud tea shoud be brewed multiple times depending on your taste preferences. As with all white teas, you can experiment with brewing times. Try either brewing this at a lower temperature (70°C) for 4-5 minutes or alternatively at 90°C for 60-90 seconds. Different brewing parameters produce quite different results so experimenting with the water temperature and steeping time is the best way of finding the brewing method that works best for you. This tea works well for both western and gongfu brewing style.
You can also buy Bai Ya White Bud white tea in our online shop.
Meng Ding Mao Feng
Meng Ding Mao Feng (蒙顶毛峰) is a refreshing early spring green tea from the Sichuan Province of China. It is made entirely from buds and small leaves, producing a delicate yet complex liquor. Meng Ding Mao Feng green tea was picked on 20 March 2022 around Mengding Mountain in Mingshan District of Sichuan Province.
Mengding Mountain is a famous tea growing area with a history of cultivation that stretches over 1,000 years. Around 1,200 years ago, Mengding Mountain became one of the areas to be designated for production of tribute tea to the Chinese Imperial Palace. Teas here are generally picked earlier than in many other places in China, with the picking of this Meng Ding Mao Feng occurring in the middle of March, and other teas in the area being picked as early as late February.
Unlike most other Chinese green teas, Meng Ding Mao Feng is not pan fried but instead undergoes steaming. This results in a profile that is closer to Japanese green teas, which are commonly steamed. Steaming imparts a fresher, greener and grassier flavour profile, which is somewhere between a Chinese and a Japanese green tea in flavour and quite close to some of our Korean green teas. Perhaps this is one of the least typical and most uniquely flavoured Chinese green teas that we are offer.
The long small wiry leaves of this Meng Ding Mao Feng are very tightly rolled. When brewed they unfurl and you are able to see the small buds and leaves that make up this tea. The produced liquor has a bright hue that is lightly green in colour and has a fresh grassy aroma. It has a creamy and herbaceous profile with green floral notes and there is a slight, barely noticeable astringency on the aftertaste. Overall a refreshing and bright tea that has a lightly grassy and herbaceous flavour. Excellent for mind clarity and concentration.
We suggest brewing parameters of 80°C for 2-3 minutes according to your taste. If you are finding the tea a little too astringent for your taste, you can decrease the water temperature to 70-75°C.
You can also buy Meng Ding Mao Feng green tea in our online shop.
Boseong Sejak Hongcha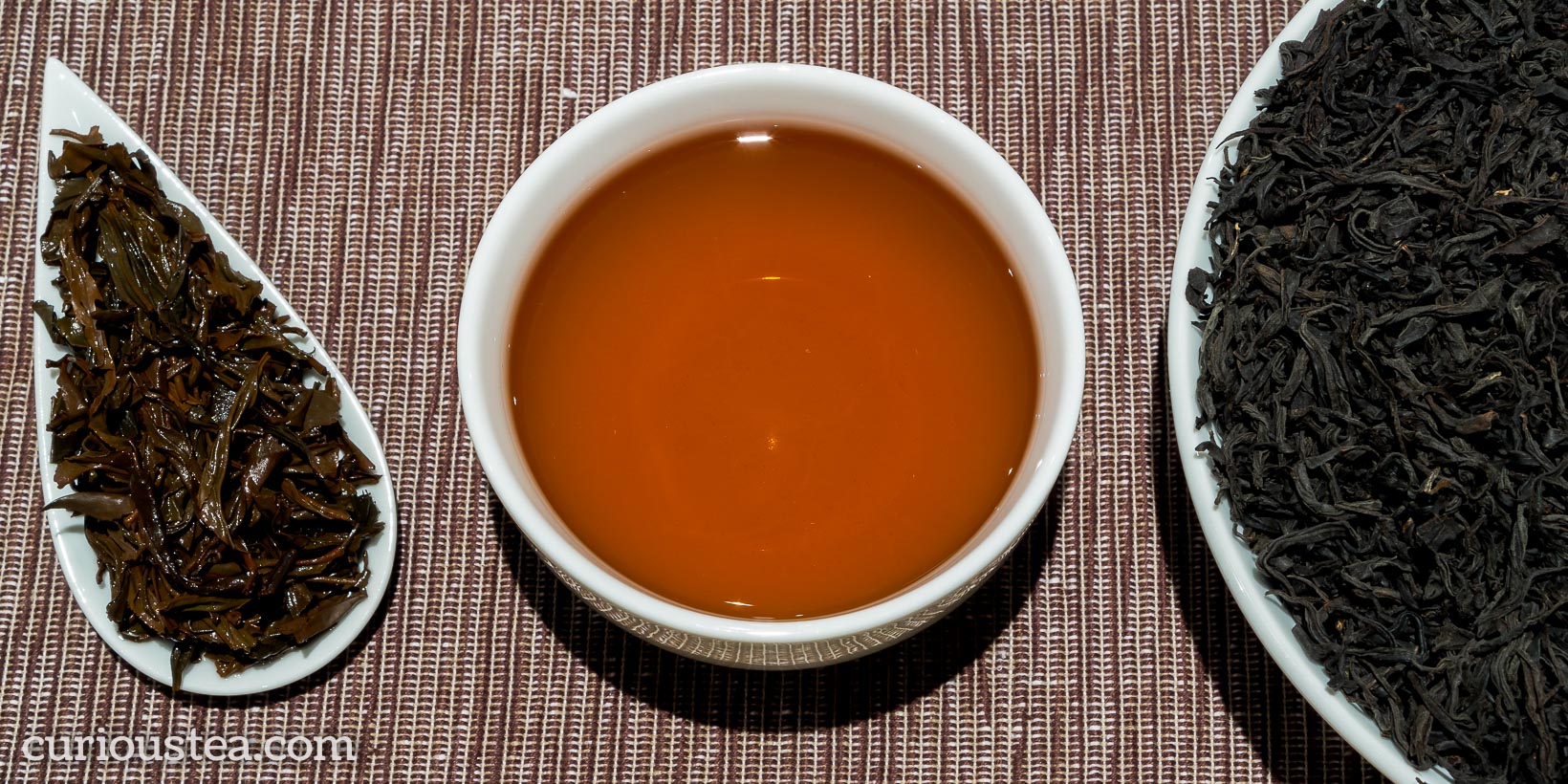 Boseong Sejak Hongcha (보성군 세작 홍차) is an organic black tea from the Choi family plantation located in the famous Boseong County of South Jeolla Province. The spring Sejak (세작) grade is plucked in April and is the second flush after the rare and expensive Ujeon (우전) grade. The name Sejak Hongcha refers both to the flush of this tea and the fact that it is a black tea, or hongcha (홍차). This tea has full organic certification, was picked in April 2021 and is sourced by us directly from the Choi family.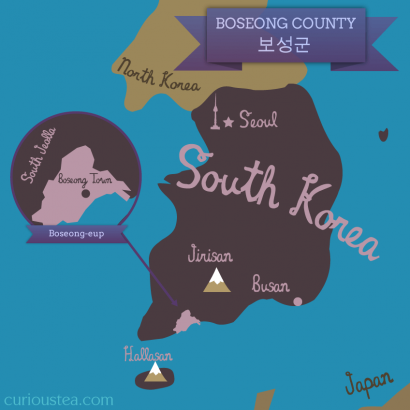 The Choi family plantation produces some classic teas that all have their own unique characters but maintain a distinctive 'Korean' taste. The family has owned this plantation for 3 generations and the tea making knowledge passes down from one generation to the next. They take great care in growing and producing their organic teas that showcase wonderful traditional Korean tea flavours. The Choi family also run tea making workshops for local schools, passing down their tea knowledge and promoting local agricultural work. Most children of farmers around the area are keen on moving to big cities for study and work, so their work is essential in ensuring the future of Korean tea.
Korean teas are distinguished by having a clear classification system of flushes. The first flush Ujeon (우전) is the most prized one, which is the 'pre-rain' picking of the tea leaves. This is followed by Sejak (세작) 'thin sparrow', Jungjak (중작) 'medium sparrow' and Daejak (대작) 'big sparrow' flushes. These names refer to the shape and size of the leaves and their resemblance to sparrow tongues. Finally the Yeopcha (엽차) grade is the last picking of the season representing a coarse grade that is suitable for everyday drinking. The earlier the harvest, the more expensive the tea is. Earlier harvests also have more intense characteristics and heavily feature dominant green, savoury and umami flavours. While these flavours are more evident in green teas, they also do translate rather well to their black tea counterparts.

This Boseong Sejak Hongcha is from the second Sejak flush and is processed as a black tea by allowing the tea leaves to oxidise. Traditionally oxidation levels in Korean black teas tend to be rather light, something you can easily see in this tea as well. The lighter oxidation results in a lighter profile that is cleaner and more refreshing.
This Boseong Sejak Hongcha has wiry dark leaves that produce a dark amber liquor with a light aroma. The taste is soft, smooth and clean. There is no astringency, bitterness or maltiness in this tea. Instead there are light stony and woody notes. There are further notes of dried fruits that lead on to a crisp and tangy aftertaste. Overall this is a very fresh and clean tasting tea that represents a great showcase of the lighter style of black tea popular in Korea.
It is best brewed at 90°C for around 3 minutes and can be re-brewed multiple times.
You can also buy Boseong Sejak Hongcha black tea in our online shop. You may be interested in other teas we currently offer from the Choi Family Garden.
Zheng Shan Xiao Zhong
Zheng Shan Xiao Zhong (正山小種), also sometimes referred to as unsmoked Lapsang Souchong, is an outstanding black tea from Wuyi Mountains in Fujian Province. Compared to its classic smoky counterpart, this version has a malty and fruity profile with complex dark cocoa notes. This particular batch is from the spring 2021 harvest.
If you would like to try the classic smoky version of this tea, our Lapsang Souchong from our shop is a good choice!
This tea is often sold as an unsmoked version of Lapsang Souchong (LS). We prefer to name this tea as Zheng Shan Xiao Zhong rather than 'unsmoked' LS to avoid any confusion. Many people refer to Zheng Shan Xiao Zhong as a type of LS, something that is especially common in China. In fact, there are clear cases where a lot of Wuyi black teas of this style are referred to as LS, whether they are smoked or not, this being a kind of umbrella term in China for these teas. The specific teas in questions are: Zheng Shan Xiao Zhong, Li Shan Xiao Zhong and Jin Jun Mei. This of course causes a large amount of confusion for customers as to what tea they are actually buying. Therefore we are using Zheng Shan Xiao Zhong to refer to this specific unsmoked tea and to differentiate it from the Jin Jun Mei that we offer. Consequently, we use both the well known 'Lapsang Souchong' as well as the proper Chinese 'Li Shan Xiao Zhong' names to refer only to the classic smoked tea.
The name Zheng Shan Xiao Zhong literally means 'Original Mountain Small Leaf', referring the the 'original' Wuyi Mountains and the small leaf plant that is used to produce this tea. Zheng Shan Xiao Zhong is made from the same leaves that are used to make LS, only in this case the leaves are left unsmoked. This showcases the complexity that these teas can have before they are smoked. While the classic smoked LS that we offer has a smoky and spicy profile, this tea displays a more delicate and balanced malty and chocolaty character.
The leaves of this Zheng Shan Xiao Zhong have a neat wiry appearance with some golden tips present. It produces a dark amber liquor with a light malty and somewhat floral aroma. It reminds us of a very good Keemun style of tea, while featuring a more mineral character that is so typical of Wuyi Shan teas. The liquor produced has no astringency or bitterness and is superbly smooth, mouth-watering with a juicy and clean taste. The character is very well balanced, having tangy and sweet characterful notes of fruits, cocoa and malt. There are complex notes of sweet longan, dark tart chocolate and caramelised sugar. A greatly satisfying cup!
It is best brewed at 90°C for 3-4 minutes, with multiple infusions.
You can also buy Zheng Shan Xiao Zhong black tea in our online shop.
We really do hope that you enjoy this tea selection for June and are looking forward to the selection in our next box. Our July box will feature a Volcano Oolong from Hainan Island of China and a Yun Wu green tea from Jiuyi Shan in Hunan Province of China. For the darker side of the selection we chose a fresh First Flush tea from Mandal Gaon in Darjeeling and a fresh Kathaldanga Signature black tea from Assam.
If reading this has made you curious about our teas, but you don't yet subscribe to a monthly tea selection, you can sign up for our tea boxes in just a few clicks. We ship worldwide from London, UK.
We always love to hear from you, so if you have any questions, suggestions or just want to chat about tea, email us at contact@curioustea.com, via our Facebook page or via Twitter.
You can also follow us on Instagram for pretty tea photos.
Happy tea discoveries!