Welcome to the August 2023 edition of the Curious Tea subscription! Here's a closer look at the four exciting new teas that we are sharing with our subscribers this month.
The first light tea this month is a classic spring Long Jing Dragon Well from Xinchang in China that has a typical verdant, vegetal and slightly nutty flavour. The second light tea is an unusual Sencha from Japan that is blended with Matcha and Sakura blossom to create a complex profile with a very unique flavour combination.
For the dark side of the selection we have a brand new Wakocha from Japan that is crafted from a blend of cultivars to create a very classic and approachable black tea profile. Finally the last tea to be featured is a ripe pu-erh from Mengku in Yunnan Province of China that comes shaped in large pearls and delivers a rich liquor with a clean taste.
Our Discovery subscription boxes contain 10g taster pouches of all of the above mentioned teas. If you are a subscriber you will benefit from a 10% discount on all teas from our tea shop!
Let's get into further detail on these teas featured in our August tea subscription boxes.
Long Jing Ming Qian Dragon Well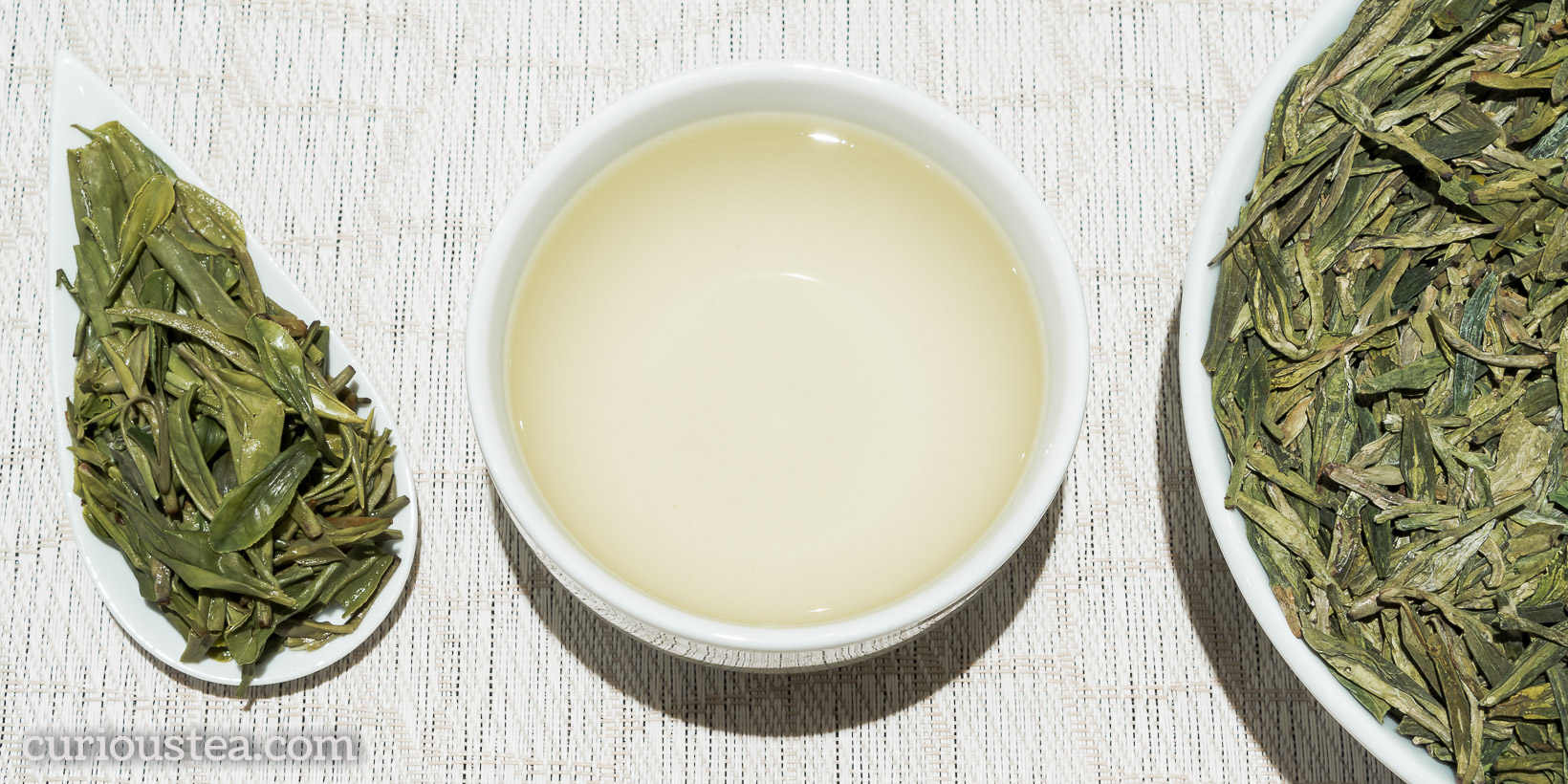 Long Jing Ming Qian Dragon Well (明前龙井) is a classic Chinese green tea that has a smooth vegetal profile with satisfying toasty, nutty and zesty notes. This particular Long Jing is classified as Ming Qian (also known as pre-Qing Ming), which is the premium early season first plucking of the tea bushes. The early plucking occurs before the Qing Ming Festival, which is either on the 4th, 5th or 6th of April each year. The production cycle is very short so only the very first spring shoots are plucked throughout a period of approximately 10 days. This batch is from the 30 March 2023 picking.
Long Jing (龍井), sometimes Longjing, is perhaps the most famous and popular tea to come from China. It is often referred to by the 'Dragon Well' name, which is the literal translation of the Chinese name. Long Jing 'Dragon Well' is one of 10 of the Famous Teas of China (中国名茶). This Long Jing Ming Qian Dragon Well green tea comes from Xinchang, Zhejiang Province of Eastern China. It is also known as 'Dafo', meaning 'Big Buddha' as it is grown around the area where a 1600 year old Buddhist Dafo Temple stands, housing a 15m tall Buddha. While not from the famous West Lake area in Hangzhou, this tea in our opinion is one of the best from Zhejiang Province that does not come from the West Lake area. This tea uses the Long Jing #43 Cultivar.
There are many legends and versions that try to explain the Long Jing 'Dragon Well' name of this tea. Our favourite tells a story of monk imploring a dragon living in a well to come to the aid of villagers of an area that has been suffering from a drought. With the dragon helping out, the monk persuaded the villagers to pray and once they did, it miraculously started to rain. To celebrate this, a tea was named after the event – Long Jing 'Dragon Well'.
Long Jing Ming Qian Dragon Well green tea undergoes hand processing, during which the freshly plucked leaves are wok fried for approximately 20 minutes in order to halt the oxidation of the leaves and keep it a green tea. This tea still has to be processed mostly by hand as wok frying requires great skill.
This Long Jing Ming Qian Dragon Well green tea has flat leaves with a bud and one or two leaves and produces a light golden liquor. The smell of the dry leaves is that of exotic fruits. We can just about detect a faint incense aroma from this tea – perhaps a result of being grown and processed next to a temple!? The taste is multilayered but clean and refreshing. Classic nutty and toasty notes add complexity and smoothness to this tea. There are sweet and savoury umami notes competing for your taste buds that combine with flavours of asparagus and grapefruit. These zesty vegetal notes provide a very pleasant finish to this tea.
We suggest brewing parameters of 80°C for 2-3 minutes according to your taste. It can be brewed 2 or more times depending on your taste preferences. You can also use glass teaware to enjoy the beautiful green leaves!
You can also browse all Long Jing teas that we currently have on offer. You can also buy this Long Jing Ming Qian Dragon Well green tea in our online shop.
Sakura Matcha Sencha
Sakura Matcha Sencha (抹茶入さくら緑茶) is an unusual tea from Japan. This is an expertly blended tea that consists of organic sencha from Kagoshima, organic matcha from Shizuoka and pesticide-free sakura blossom pieces that are also sourced from Shizuoka. This is an interesting take on the popular Matcha Iri Genmaicha whereby the toasted rice aspect is instead replaced by sakura blossom. This results in an intriguing profile with complex flavours that progress from a savoury and salty cherry blossom taste to a more sweet, verdant finish. We source this tea via a specialist refining factory in Shizuoka who work directly with the farmers. They provide end processing and refining at their small factory in Shizuoka but also support smaller farmers in distributing their teas, developing new tea types and improving their techniques. This tea is from a range of harvests, blended in August 2023.
While Matcha Iri Genmaicha is a more common tea that can be found in a variety of places, this Sakura Matcha Sencha certainly is a more unusual take. Also unlike our Matcha Genmaicha, the matcha content in this tea is significantly lower. This results in a taste that is not as strong and that perfectly pairs with the more gentle flavour of sakura. So it definitely has a slightly more approachable green tea flavour and the matcha aspect does not overpower.
Edible and drinkable sakura cherry blossom is quite popular in Japan. Often this can be found as salted, preserved whole cherry blossom flowers that can be made into a 'tea'. The resulting liquor, while being generally reminiscent of cherry blossom, also tends to feature a very salted taste. In this Sakura Matcha Sencha, instead of using the salted variety of cherry blossom, the producer used preserved and edible but unsalted pieces of flowers and leaves of the cherry tree. The resulting flavour, while having a slightly salted aspect, again is not overpowering and is nicely balanced.
This Sakura Matcha Sencha consists of mixed size sencha leaves that are blended with smaller pieces of sakura leaf with the addition of matcha. This tea has a strong pronounced blossom scent that overlays a light vegetal and savoury aroma. It produces a darker yellow-green liquor. The addition of matcha means that the liquor is quite cloudy with matcha particles resting at the bottom of the cup. The flavours are balanced. There is a stronger start to the taste that is savoury and has notes of salt water, cherry blossoms and seaweed. This is followed by a softer finish that leaves a verdant and sweet impression in the mouth.
It is best brewed at 80°C for 2-3 minutes according to your taste. It can be brewed 2+ times depending on your taste preferences. Since the matcha content is mostly washed off in the first steeping, any subsequent steeping will be much lower in caffeine and softer in taste. This tea pairs extremely well both with traditional Japanese sweets and sweeter western-style cakes.
You can also buy this Sakura Matcha Sencha green tea in our online shop.
Yakushima Wakocha
Yakushima Wakocha (屋久島和紅茶) is a Japanese black tea from the verdant island of Yakushima in Japan. Grown at an organic plantation, this tea is crafted from a blend of cultivars. This creates a very classic black tea profile with an approachable character and a pleasant sweet and malty flavour. We source this tea via a specialist tea merchant based in Tokyo who also has a traditional refining factory in Shizuoka with over 150 years of history. This batch was harvested in May 2023.
Yakushima Wakocha hails from an organic plantation in Yakushima Island. The island is part of Kagoshima Prefecture and is found south of Kyushu. It is a very lush, natural and somewhat remote island, a large portion of which is a designated national park. The remoteness, small population and abundance of flora and fauna do make this location a perfect choice for an organic plantation.
This Yakushima Wakocha is crafted as a blend of tea leaves of three Japanese tea cultivars: ubiquitous Yabukita, second most popular Yutakamidori and Asatsuyu. What is perhaps interesting to note here is that all of these cultivars are traditionally green tea cultivars. Most other producers prefer to use cultivars that were specifically developed for black tea production, such as Benifuki, Benihikari, etc; or at least those with more pronounced characters when made as a black tea, such as Koshun and Sayamakaori. Alternatively it seems that various cultivars used for Kamairicha such as Unkai and Takachiho also work extremely well for black tea.
The reason behind this pattern is due to certain cultivars having much higher catechin content, which translates into bitterness when made as a green tea, and especially so for a steamed green tea. Crafted instead as a black tea, the catechins are converted into theaflavins and thearubigins as the main polyphenols, thus reducing bitterness. These also add to the orange colour of tea liquor, although it has not been conclusively determined what actual effect these have on the taste or aroma.
So it is intriguing to see a black tea that was crafted entirely from a blend of green tea cultivars. While it certainly can be done, we think it is likely for the results to be a little underwhelming. But when we first tried this tea at the factory in Shizuoka in May 2023, we knew that we had to get it. The use of the green tea cultivars lends to a softer flavour that is very approachable. This tea was created with a classic black tea profile in mind, reminiscent of a good afternoon blend. The leaves are of a smaller size, which definitely helps with extracting some of the stronger flavours for a better balance. The rounded taste has malty and fruity notes with a pleasant lightly mineral edge. The finish is clean but has some very pleasant tannins in a nod to that classic black tea profile found in other more traditional teas and blends. This is not a typical wakocha by any means, and one that we found both intriguing, but also strangely familiar!
It is best brewed at 90°C for around 2-3 minutes, with 2+ infusions.
You can also buy this Yakushima Wakocha black tea in our online shop.
Menkgu Ripe Pu-erh Pearls
Mengku Ripe Pu-erh Pearls (勐库普洱熟龙珠), as the name suggests, is a pearl-shaped pu-erh that is ripe (shu) and comes from Mengku, Lincang of Yunnan Province. These pearls were produced in the spring of 2017, each pearl weighing between approximately 7 grams. This makes them very convenient to use – one pearl per one 1/2 litre tea pot if you are brewing this Western style. Or one pearl per gaiwan or small teapot if brewing gongfu style.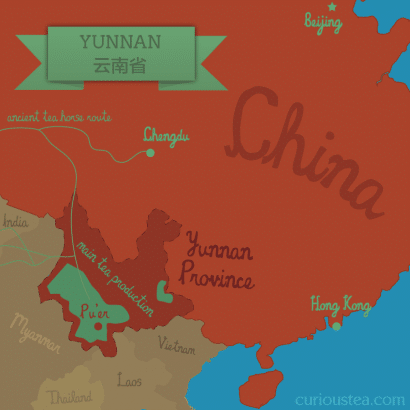 Pu-erh tea undergoes a unique production process, during which the tea leaves are dried and rolled after which they undergo secondary microbial fermentation and oxidation. This unique processing sets it apart from black tea and means that pu-erh fits within the separate dark teas category. The tea is most commonly pressed into various shapes (domes, disks, bricks, etc) or can be left loose and the gradual fermentation and maturation process continues further during storage. These Mengku Ripe Pu-erh Pearls have been pressed into small round shapes, which are like large pearls. As this is a ripe (shu) pu-erh, the ageing process has been effectively sped up during the production. This means that this tea can be either drunk straight away or, if desired, can be left to mature for longer to mellow out even more.
When it comes to individual serve compressed pu-erh, pearl or ball shapes are generally seen as more favourable when compared to the very popular tuo (dome) shape. This is largely due to pearls typically consisting of larger or whole leaves, as you can see when you brew these ones from Mengku. Compare that to a tuocha, which typically consists of lower grade smaller leaf. The larger leaf is certainly of higher quality but it also adds complexity and results in more infusions when compared to the smaller, more broken leaf teas.
This tea has been shaped into pearls, then wrapped in paper for storage. When you remove the paper wrapping, you can see rather large leaves with plenty of golden tips. Mengku Ripe Pu-erh Pearls break apart when brewed, producing a deep dark liquor that is almost black. The flavours produced are satisfying, rich and warming. The deep and complex character of this tea is woody, a little mineral and with pronounced peppery notes of tart fruits and walnuts. This is a very clean tasting and easily approachable pu-erh, perfect if you are just starting to explore the world of ripe pu-erh.
This tea is best brewed with water at 95°C for 3-5 minutes and can be brewed multiple times.
You can also buy this Mengku Ripe Pu-erh Pearls tea in our online shop. We stock both the 2015 and the 2017 vintages at the moment.
We really do hope that you enjoy this tea selection and are looking forward to the selection in our September box. It will feature our award-winning Sejak green tea from an organic plantation in Boseong in South Korea as well as a black tea counterpart from the same plantation, a Sejak Hongcha. We will also feature our classic Sencha from an organic plantation in Kirishima in Japan. Finally the last tea we selected for September is a classic Dian Hong from Yunnan Province of China that is made to the original black tea recipe of the region.
If reading this has made you curious about our teas, but you don't yet subscribe to a monthly tea selection, you can sign up for our tea boxes in just a few clicks. We ship worldwide from London, UK.
We always love to hear from you, so if you have any questions, suggestions or just want to chat about tea, email us at contact@curioustea.com, via our Facebook page or via Twitter.