It's April and we have a new instalment of exciting teas for you to taste! Welcome to another month of Curious Tea subscriptions! This time we have two Indonesian teas from the organic Harendong Tea Farm, a green and a black variety of the same tea; a special hand-made green tea from Indian state of Bihar from Doke Tea Garden and finally a rather different tea from one of the tea making villages of Georgia.
We had a great time sourcing these fantastic and rare teas to share with you and to help you along with the tasting, here is some further information on the teas featured in our April boxes.
Harendong Lilitan Green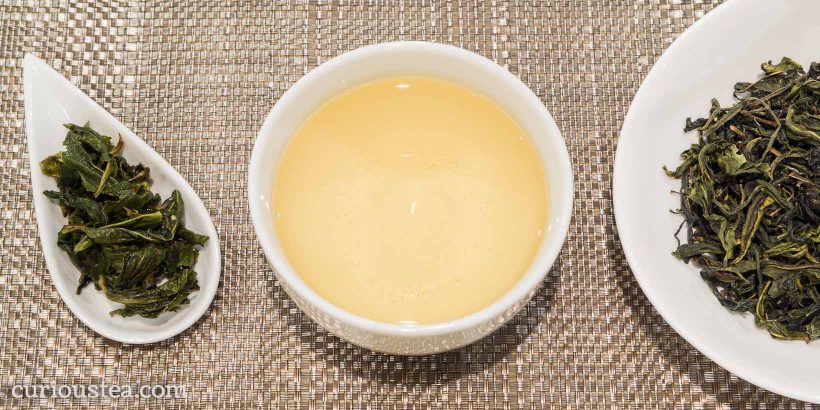 Indonesia is a country that is normally associated with coffee and is not widely known for its tea production. However, it is the 8th largest producer of tea in the world, above even Japan and Argentina. It produces some really great tea, but most of it on very large scale. Some producers also work for particular markets, for example there are farmers who exclusively grow and sell Taiwanese style oolongs destined for Taiwan. As always though, there are some smaller farmers who are trying to create a niche product where the quality and taste of the product as well as respect for the land and the people take priority.
The Harendong Lilitan 'Twisted' Green tea comes from the fully organic Harendong Green Tea Farm located in Banten Province, Java, Indonesia. The name Lilitan derives from Indonesian and means 'twist' or 'coil', which refers to the shape of the leaves. The farm was established in 2005 in Halimun mountains next to Gunung Halimun-Salak National Park. The plants grown here were originally imported from Taiwan, so teas produced on this estate have certain similarities to Taiwanese ones. The organic nature of the tea combined with the fact that it is grown on mountains next to a national park results in a very pure drink with a 'clean' taste.
This Harendong Lilitan Green tea was selected by us for our April Mixed and Light boxes. The leaves are rather long and twisted, dark green in colour and have a light floral and vanilla aroma. When brewed, it produces a bright green-yellow liquor with a lightly floral scent. Its taste is slightly sweet, balanced and very fresh, with a distinctive 'clean' taste to it with not much grassiness or astringency. We think it tastes quite spring-like so is a perfect cup of green tea to have in April!
We suggest brewing at 80°C for 1-2 minutes according to your taste. It can be brewed 3 or more times depending on your taste preferences.
You can buy Harendong Lilitan Green from our online shop.
Bihar Doke Diamond Green
This very high quality hand-made green tea comes from the Doke Estate located in Kishanganj, Bihar State, India. Bihar State is a relatively new area to tea growing even though it is located next to some famous tea growing regions, just south of Nepal and west of northern West Bengal (Darjeeling) growing areas.
Doke Estate is family owned and managed. In their own words: "our mission at Doke Tea is to bring you teas that are unique in flavor and quality. Something that causes you to pause a moment to wonder and marvel at the delicious, comfortable experience it gives you. Our business philosophy at Doke is one that is first and foremost ecologically friendly to the air, the water, the soil, the animals, and most of all to the people who work and live on the land."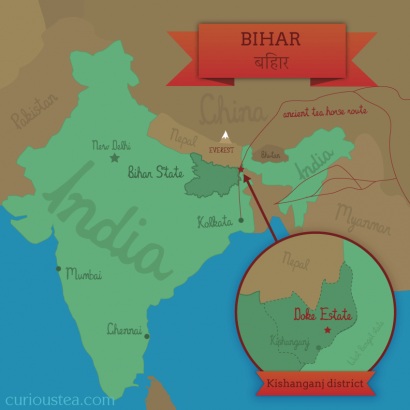 This philosophy, their understanding of growing and successful management results in some great teas produced at Doke Estate that are high quality, very unusual and full of wonderful flavours.
We selected this Bihar Doke Diamond Green tea for our April Light box. The heavily twisted dark green leaves have an astounding aroma that is fruity with a touch of smokiness. The liquor produced is a light golden yellow colour and retains some of the exotic fruit aroma apparent on the dry leaves. The character is light and smooth. It has a mild balanced flavour that combines exotic fruits with slight pyrotechnic notes. The finish is also pleasantly mildly astringent.
We find it is best brewed at 80°C for around 1-2 minutes according to your taste. This tea should be brewed multiple times (3 or more) depending on your preferences.
You can buy Bihar Doke Diamond Green from our online shop.
Harendong Lilitan Black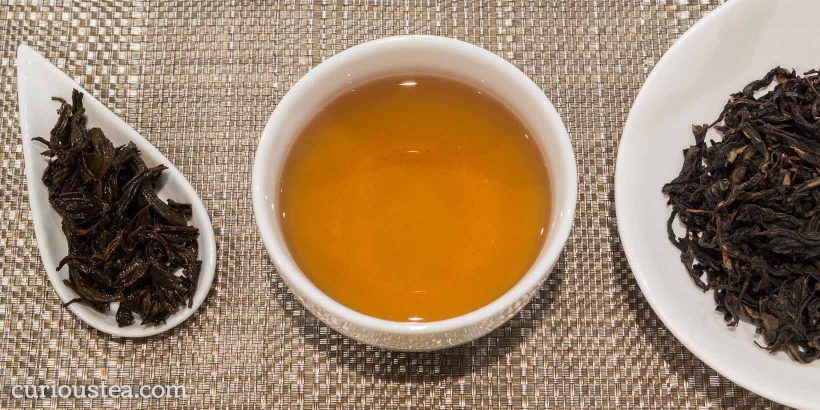 The Harendong Lilitan 'Twisted' Black tea also comes from the fully organic Harendong Tea Farm located in Banten Province, Java, Indonesia. Again, the name Lilitan refers to the twisted shape of the dry leaf. All of Harendong's teas have a very 'clean taste'. This is unsurprising as the estate is located in a pollution free environment next to a natural reserve and uses only fresh spring water direct from local mountains.
This Harendong Lilitan Black tea was selected by us for our April Mixed and Dark boxes. The dry leaves are long, twisted, very dark in colour and have a toasty wholemeal aroma. The liquor is golden brown with a somewhat wheaty scent. It has a fresh taste, which is sweet and fruity. The distinctive 'clean' taste has hardly any astringency or stoniness. This balanced and smooth profile is combined with plummy undertones to make this tea quite delicious!
The leaves are best brewed at 90°C for 3-4 minutes. You can experiment with brewing at higher temperature and with longer steeping times for a stronger taste or for repeated brews.
You can buy Harendong Lilitan Black from our online shop.
Nagobilevi Black
Finally, we are excited to be sending out our first tea from the republic of Georgia! Tea was first smuggled out of China and grown in Georgia in the 1830s and grew well in the sub-tropical parts of the country. It is said that during the Soviet era, most of Georgia's tea was sent to Russia, with the locals having to illegally take small amounts for themselves and process them by hand at home. As in China, each village came up with its own style and this was passed down as family traditions.
Nagobilevi village, situated in the western Guria region, is no exception to this. This tea is a great example of a unique Georgian practice, with just a small amount of people hand processing all the output.
We selected the Nagobilevi Black for our April Dark subscription boxes. It possesses very dark and twisted leaves that produce a reddish-brown liquor with a stony and malty aroma. The taste is medium strength and surprisingly smooth and balanced for such a dark leaf. Like the Indian cousins of this tea, there is a definite malty and stony flavour, but it is complemented by its own distinctive sweet and zesty dimension.
This tea is best brewed with water at 90°C for 4-5 minutes. If you prefer your tea stronger, you can increase the water temperature and/or brewing time.
You can buy Nagobilevi Black from our online shop.
We really hope that you enjoy the tea club selection for April and are looking forward to what we have in store for your selections in May!
If reading this has piqued your interest, but do not yet subscribe to our monthly tea selections and would like to receive them in the future, you can order your tea subscription in just a few clicks. We ship worldwide from the UK.
We always love to hear from you, so if you have any questions, suggestions or just want to chat about tea, email us at contact@curioustea.com, via our Facebook page or via Twitter.
You can also follow us on Instagram for pretty tea photos.
Happy tea tasting!