Description
Santikhiri Jasmine Dragon Pearls Oolong is an interesting oolong tea that is produced from Camellia sinensis var. assamica, although this particular strain is native to northern Thailand. It is grown around Santikhiri village (formerly Mae Salong) in Thailand, which is located around the highlands of Doi Mae Salong mountain, close to the border with Burma and Laos. After picking and rolling, it is traditionally scented with jasmine blossom to produce a light and delicate floral liquor that is very easy-going. Grown at an altitude of around 1,200-1,600 metres, it was picked and scented in June 2023.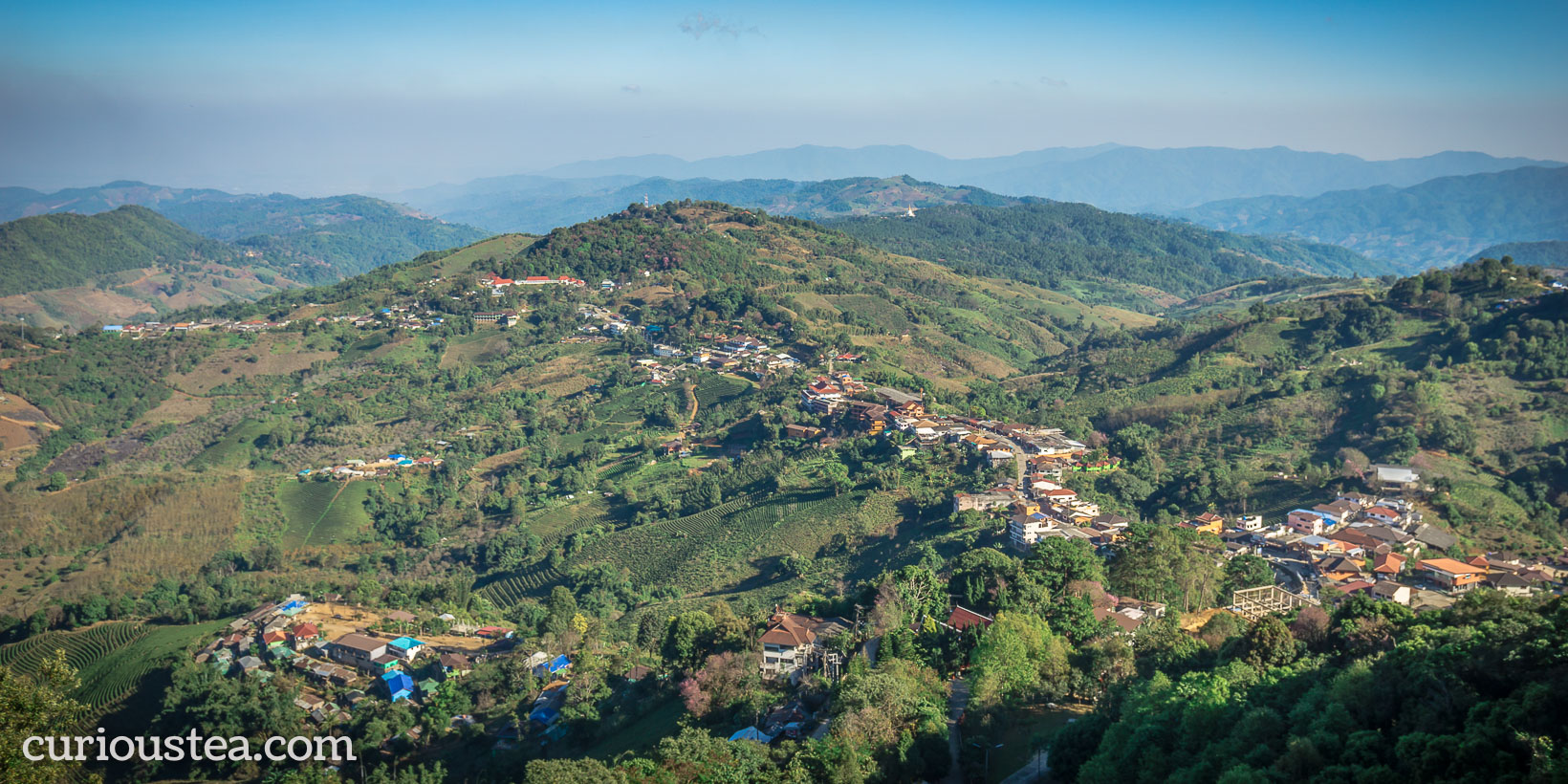 Locally known as 'Bai Yai' or 'Large Leaf' this strain of tea plant has been growing wild around this part of Thailand for centuries. In fact, there are local wild tea plants just like this one around many parts of Southeast Asia, the particular strain differing from one locality to the next. While a lot of wild trees are still found around this area of Thailand, this Santikhiri Jasmine Dragon Pearls Oolong tea is harvested from plants that are cultivated at a tea garden in Doi Mae Salong.
This area of Thailand is part of the Golden Triangle of Southeast Asia, the largest producer of opium from the 1950s well into the 1990s. Following eradication campaigns that started in Thailand in the 1980s, the production of opium has vastly decreased in this particular part of the Golden Triangle. It has been particularly effective in Thailand, where tea was recognised as one of the sustainable commercial crops to replace opium poppy growing. This was in a way appropriate as many of the original immigrants to northern Thailand's poppy fields came from Yunnan in China. With a long history of tea growing, it was easier for these Yunnanese immigrants to switch from growing opium poppies to once again growing a sustainable tea crop.
While many tea cultivars now grown in Thailand have been imported from Taiwan, the local native strain has been preserved, in some part thanks to the Yunnanese immigrants that came with the intent of growing poppies, yet stayed on to grow tea. After all there is more similarity between this native Thailand strain of assamica and the strains of the tea plant that are found in Yunnan. So the centuries old traditions of tea growing and processing from Yunnan found a new place in northern Thailand.
While most Chinese Jasmine Dragon Pearls teas are green teas, this one is slightly more unusual as it represents a lightly oxidised oolong. This Santikhiri Jasmine Dragon Pearls Oolong consists of large leaves and buds, still on stem, that have been rolled into balls. These unfurl quite quickly as they are not rolled too tightly. The pale cream-coloured liquor has a vegetal and jasmine aroma that is not overpowering. It is definitely more of a delicate tea, with jasmine scenting being on the lighter side. The approachable flavour has a floral jasmine note with a sweet and vegetal taste. The aftertaste is clean, subtle and refreshing.
This green tea is best brewed at 90°C for 2-3 minutes according to your taste and can be brewed more than 3 times, increasing steeping time with each next brew if desired.
This Santikhiri Jasmine Dragon Pearls Oolong was last featured in our July 2023 Curious Tea Subscription Boxes.