Description
Santikhiri Four Seasons Oolong is a fully organic, lightly oxidised oolong from Doi Mae Salong in northern Thailand. It is a high mountain oolong, grown at an altitude of around 1,200-1,600 metres. It has a refreshing floral character with added verdant and citrus complexity. This lot is from the summer 2020 harvest.
This Santikhiri Four Seasons Oolong comes from an organic plantation located around the village of Santikhiri. The village (formerly Mae Salong) is located in Mae Fa Luang District, around the highlands of Doi Mae Salong mountain, close to the border with Burma and Laos. While previously the area was a centre for the opium trade of the Golden Triangle, since the 1980's local efforts have resulted in farmers switching to sustainable crops. Doi Mae Salong has now become the centre of a booming tea industry and is home to the best high mountain plantation-grown teas of Thailand.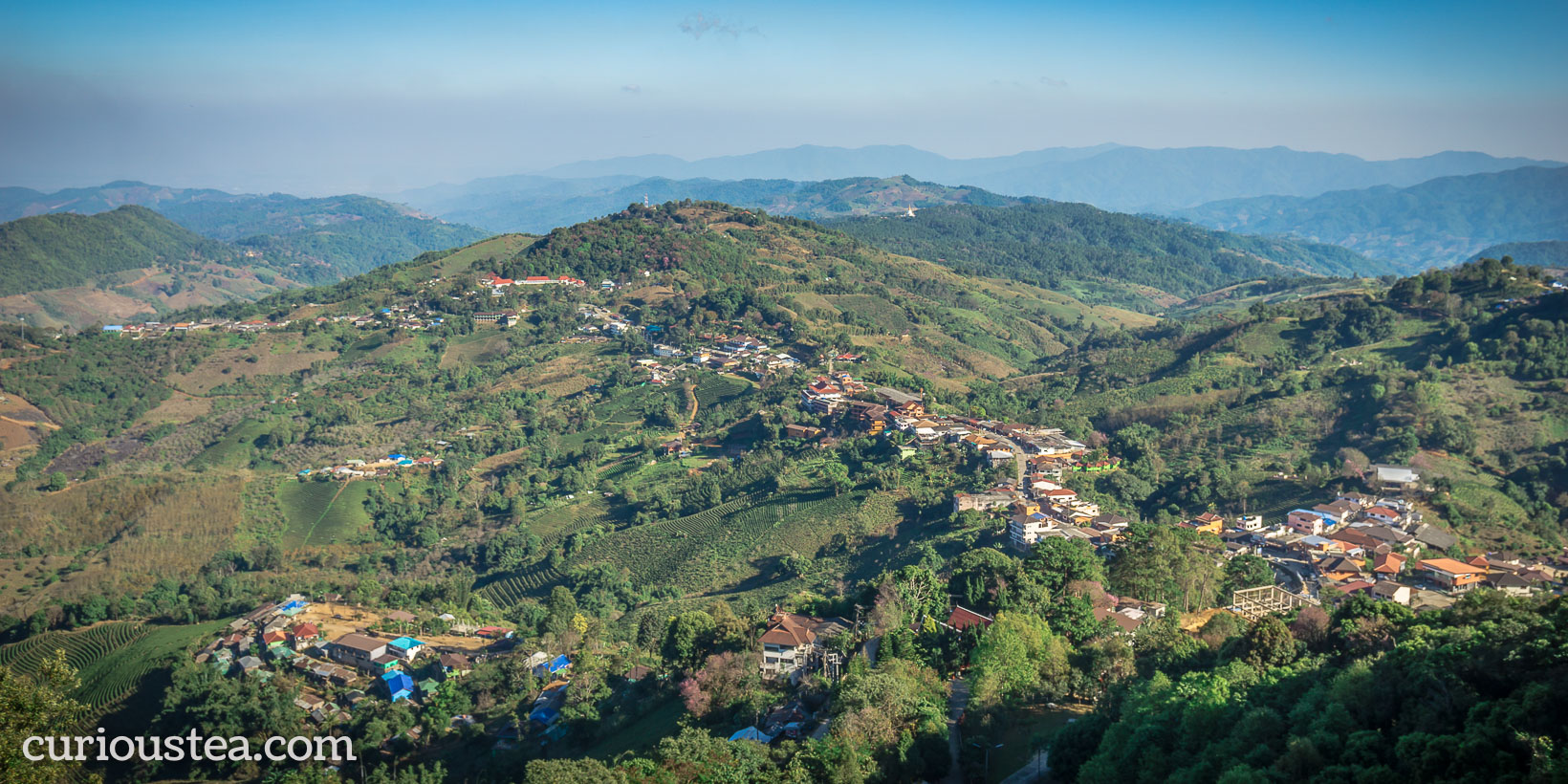 It is made from a Taiwanese Si Ji Chun or 'Four Seasons' (四季春) cultivar that is especially favoured for lighter floral oolongs. This cultivar is particularly popular in Taiwan amongst farmers growing teas at lower altitude that are harvested year round to produce lightly oxidised floral oolongs. However, due to the growing conditions of Doi Mae Salong, these tea plants thrive in northern Thailand at higher altitude while still producing rather decent oolong teas year round. When compared to a typical low-grown Taiwanese Four Seasons Oolong, the terroir, higher altitude and different processing does alter the profile to a degree. It results in a tea that is perhaps less expressive on the floral notes, instead highlighting some of the more complex verdant and citrus flavours.
Santikhiri Four Seasons Oolong comes in tightly rolled leaves that open up when brewed. These are mostly green in colour, the result of low-level oxidation. The produced liquor is clear, with a pale gold colour, and a lovely floral aroma. The neutral taste again highlights the light oxidation of this tea, having a verdant and herbaceous character. The tasting notes start on a refreshingly floral aspect, giving way to more drying verdant flavours that are still light and clean. The pleasant and fresh aftertaste has citrus notes that are most reminiscent of orange peel.
Overall, this is an interesting take on a popular Four Seasons Oolong that does away with the punchy floral notes to introduce some refreshing verdant complexity. You may also be interested in a highly oxidised 'Ruby' version of this tea, our Santikhiri Four Seasons Ruby Oolong, that has a warming fruity character and provides a great contrast.
We suggest brewing at 90°C for 3-4 minutes according to your taste. It can be brewed around 3+ times depending on your taste preferences.
This Santikhiri Four Seasons Oolong tea was featured in our October 2020 and February 2019 Curious Tea Subscription Boxes.