Welcome to the September 2022 edition of the Curious Tea subscription! Here's a closer look at the four exciting new teas that we are sharing with our subscribers this month.
The first light tea this month is a classic everyday Long Jing Dragon Well green tea from China that has an easy-going vegetal and nutty profile.
The second light tea is a Fukamushi Sencha from Ariake in Japan that has undergone deep steaming to produce a refreshing liquor with traditional Japanese green tea flavours.
For the dark side of the selection we have a First Flush Assam from Latumoni that produces an elegant flavour with Assam flavours that are delicate and not overpowering.
Finally, the last tea we are featuring this month is an unusual GABA Oolong from Taiwan that is handmade from Qing Xin Gan Zi cultivar plants to produce a sweet fruity flavour with a tangy edge.
Our Discovery subscription boxes contain 10g taster pouches of all of the above mentioned teas. If you are a subscriber you will benefit from a 10% discount on all teas from our tea shop!
Let's get into further detail on these teas featured in our September tea subscription boxes.
Long Jing Dragon Well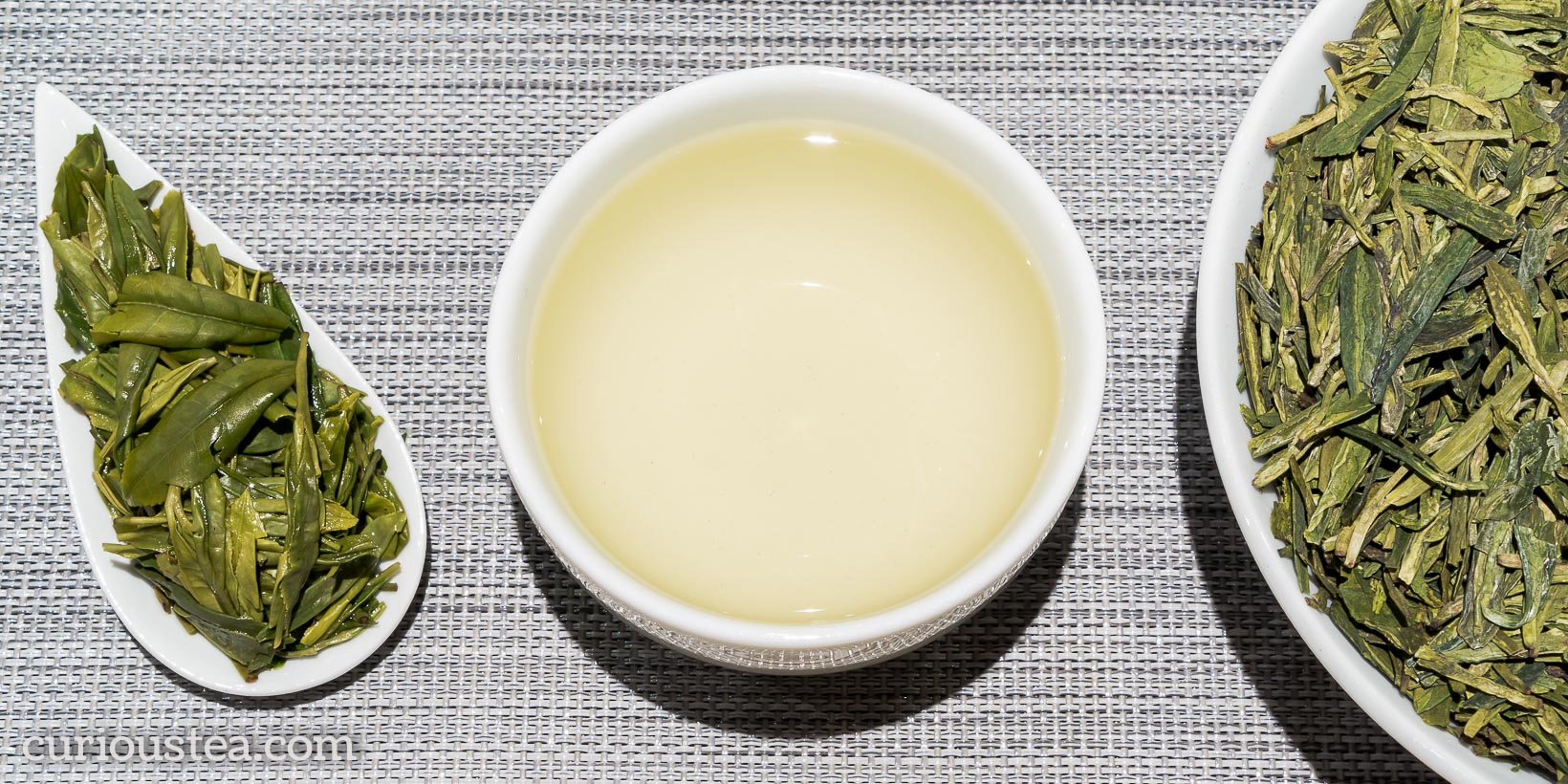 Long Jing (龙井) Dragon Well is an absolutely classic Chinese green tea. Combining both vegetal and nutty flavours, it is a sure crowd pleaser! Grown in Hangzhou of Zhejiang Province, the core growing area of Long Jing Dragon Well tea, this tea was picked on 12 April 2022. Unlike our Long Jing Ming Qian Dragon Well, this tea is from a slightly later harvest time, which results in a fuller profile and a more attractive price point.
Long Jing Dragon Well is perhaps the most famous and popular tea in China. There are many legends and versions that try to explain the name of this tea. In our favourite legend of the origin of the name, a monk wanted to come to the aid of villagers of an area that has been suffering from a drought. The monk implored a dragon that lived in a well to help the villagers. After that the monk persuaded the villagers to pray and, with the dragon helping out, it miraculously started to rain. To celebrate this, the tea was named after the event – Dragon Well.
Long Jing Dragon Well is also considered to be one of the Famous Teas of China. As with all green tea, the oxidation process has to be stopped by heating the tea, and in the case of Dragon Well this is achieved by frying the freshly plucked tea leaves in a wok for about 20 minutes. If the oxidation process is not halted, the enzymes naturally present in the tea will oxidise it, resulting in oolong (partially oxidised) and black (fully oxidised) styles of tea. This tea is still mostly produced by hand as the wok frying requires great skill.
This particular Long Jing Dragon Well has green flat leaves, which is the classic appearance for this tea. When brewed it produces a bright light golden liquor with a slight vegetal aroma. The balanced flavours are a little vegetal, nutty and creamy with a mouth watering liquor that has a pleasant clean finish and minimum astringency. There are also notes of peppery capsicum and dandelions, leading to the overall impression of a fresh vegetal character.
This tea is best brewed with at 80c for 2-3 minutes and can be brewed multiple times.
You can also browse all Long Jing teas that we currently have on offer! You can also buy this Long Jing Dragon Well green tea in our online shop.
Ariake Fukamushi Sencha
Ariake Fukamushi Sencha is a refreshing speciality green tea from Japan. It comes from the Kagoshima prefecture, which is on Kyushu Island, the southwesternmost of Japan's main islands. The name 'Ariake' refers to the former town of Ariake (有明町, Ariake-chō) that has been absorbed in Shibushi city, but the name still refers to tea grown around this area. This tea is from the late April 2022 crop.
This Ariake Fukamushi Sencha, like most of Japanese green teas, is steamed rather than pan roasted. However it is rather more special as it undergoes a lengthier steaming processes, referred to as deep steaming. In Japanese, fukamushi (深蒸し) means 'deep steamed' as the tea is steamed for 1-2 minutes as opposed to the usual futsuumushi (普通蒸し) steaming, which is only 30 seconds to 1 minute. There is also an even lighter version that is called asamushi (浅蒸し) or 'light steamed' tea, which undergoes steaming for less than 30 seconds. Even though gyokuro, kabusecha and even bancha can be deep steamed, it is usually senchas that undergo such treatment. Therefore 'fukamushicha' will usually refer to a deep steamed sencha.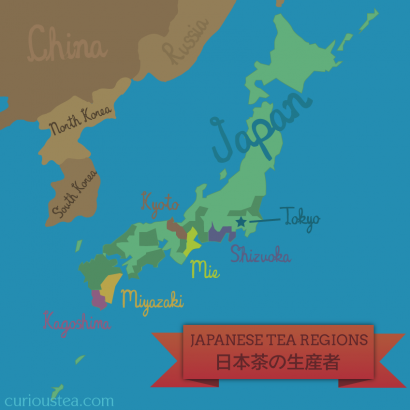 This longer steaming process makes quite a big difference to the flavour of the tea. It diminishes the astringency and increases sweetness, resulting in a good balance between the classic umami depth and a pleasing sweet aftertaste. The steaming process makes the tea leaves very soft, so during the next processing stage, which is rolling, the leaves and tips can often break. This results in variable leaf size, with many very small broken leaf fragments. It can appear like a low-quality sencha, but the reality is completely the opposite as it the result of the specialised deep steaming process.
When brewed, fukamushicha also has a stronger, more vibrant, green color, with a cloudy liquor and sediment visible. There are Japanese teapots specifically designed for brewing fukamushicha, which have a finer brewing mesh with a larger surface area so that it doesn't get clogged with the fine tea particles. We recommend using a very fine mesh infuser if you have one. On the plus side, having fine particles in your tea can increase the health benefits, as you will be consuming more leaves (and their catechins, fibre, vitamins, and chlorophyll), very much akin to matcha drinking!
Ariake Fukamushi Sencha has aromatic dark green leaves that produce a cloudy but vibrantly bright green liquor. It has a typical savoury and vegetal green sencha aroma. The taste is surprisingly delicate, reminiscent of fresh green vegetables. The profile has a mild umami and savoury body, yet is refreshing and has a pronounced sweetness on the aftertaste. Compared to other senchas, the deep steaming results in greatly reduced astringency, making this an easy drink – the brisk flavour and vegetal umami notes give way to a pleasantly sweet, smooth aftertaste.
We highly suggest brewing at 70°C (not to burn or damage the delicate leaves) for just 1 minute. It can be brewed at least 3 times.
You can also buy Ariake Fukamushi Sencha green tea in our online shop.
Assam Latumoni Tippy Black
Assam Latumoni Tippy Black is a fine completely handmade Assam from Latumoni, a very small family-run plantation located in Tingkhong, Upper Assam. The careful hand processing in small individual batches results in large, beautiful leaves and a rich yet mellow liquor. This tea was harvested on 16 April 2022 from plants grown naturally and without use of chemical fertilisers or pesticides.
The small privately-run plantation only measures approximately 2 acres. It was planted by Sailen and his late father. Originally the leaves from this small plantation like those of many others were bought by the larger factories of Assam to increase their capacity. However, with large corporate gardens having full control over the purchasing of the leaves from small scale farmers and little competition have lead to a significant decrease in the price offered to the farmers. This essentially has created a situation where the small scale farmers were exploited by the large corporate estates. Sailen decided to change the way he was running the plantation, to switch to organic growing methods and to start producing his own artisanal teas.
We work together with a specialist wholesaler in Assam who only works with small scale farmers like Sailen. They do not just resell the farmers' teas but also provide support and financial help to small scale farmers to enable them to produce great quality tea – such as investing into machinery and providing them with knowhow. This guarantees small scale farmers like Sailen a fair price for their tea and provides investment into their farm to support their family's future. This is in complete contrast with teas from many large Assam estates where most of the price paid for the tea ends up with the estate and little trickles down to the farmers.
This Assam Latumoni Tippy Black is an earlier First Flush Assam, having been picked in the middle of April. Generally the later Second Flush is the more prized picking as it tends to deliver a bolder flavour that many fans of Assam black tea are looking for. However this earlier harvest delivers some of the classic Assam taste but with a lighter, more elegant twist. The leaves of this tea are carefully handpicked from demarcated sections of the plantation over a short picking period. Therefore each picking can be quite different and this particular batch was only 15kg in total. After picking the leaves are hand-rolled in small batches to avoid breakage and to preserve unique flavour profiles of each picking. Being a bit more tippy than the Signature Black from the sister production at Kathaldanga, this version delivers a lighter Assam taste.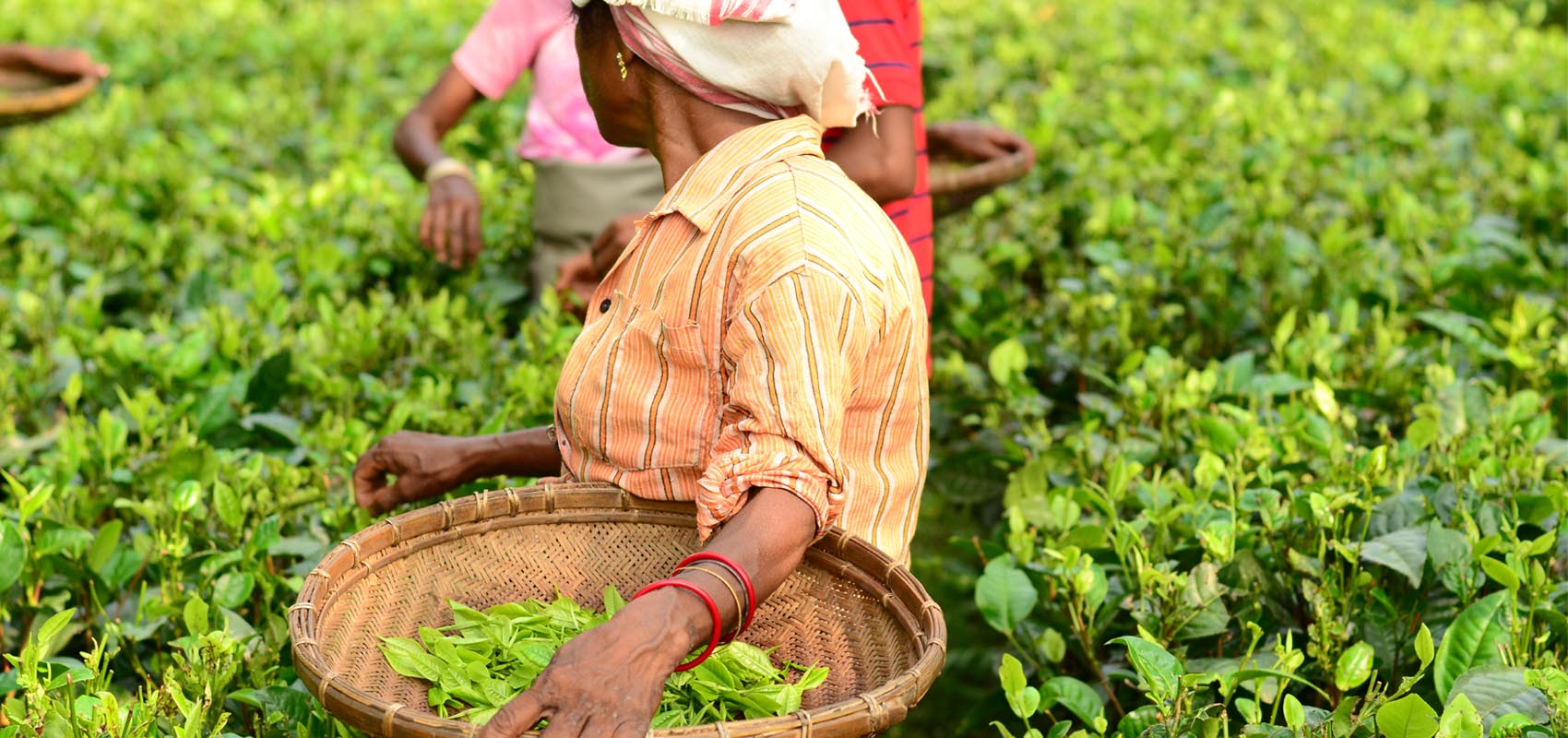 The dry leaves of Assam Latumoni Tippy Black are large and dark in colour with 20-30% of golden tips. It produces a dark amber liquor with a malty aroma, very much like a classic Assam. The malty taste is smooth, sweet and lightly drying. There are mineral, dry floral and lightly woody notes on the taste. The aftertaste is tangy, mineral, with a hint of tobacco and some pleasant tannins. This tea delivers a classic Assam taste but without the harsher and overpowering tannins commonly found in more mass-produced teas. Being an earlier harvest, this further elevates the taste, making it milder, smoother and more approachable.
We suggest brewing at 90°C for 3-5 minutes according to your taste. It can be brewed a couple of times depending on your taste preferences. Definitely try this one without addition of milk or sugar. Works great for gongfu brewing!
You can also buy Assam Latumoni Tippy Black tea in our online shop.
GABA Green Heart Oolong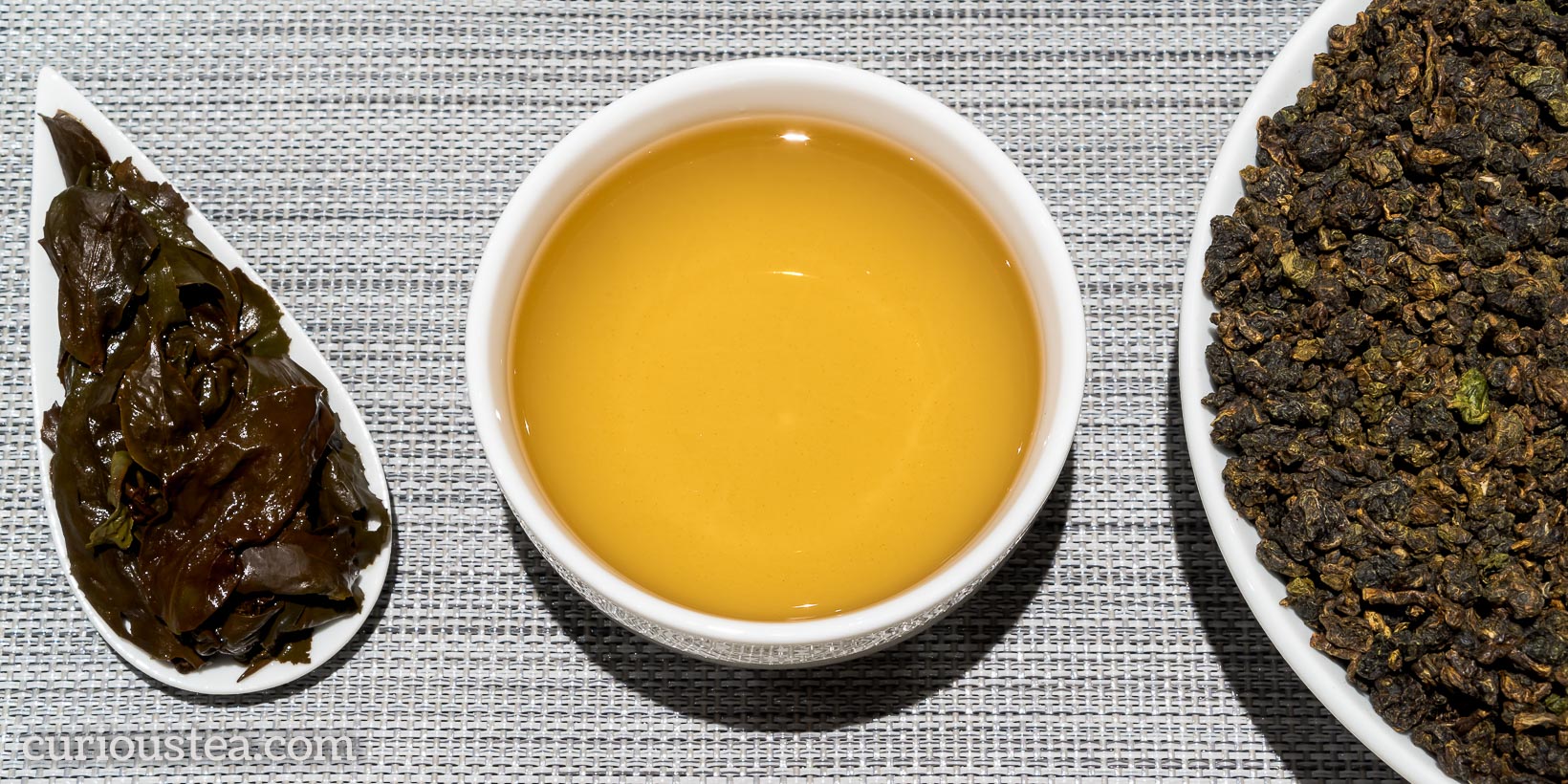 GABA Green Heart Oolong (青心佳葉龍茶) is a smooth GABA Oolong made from hand picked leaves of the Qing Xin Gan Zi cultivar plants from Mingjian Township of Nantou County in Taiwan. The large, tightly rolled leaves produce a sweet liquor with notes of fruits and honey. This tea is grown to organic standards by Mr Yu and was harvested on 1 March 2022.
This GABA Green Heart Oolong tea is from the same farmer who previously made our GABA Green Heart green tea in 2020 and Qing Xin Gan Zi White tea in 2021. All of the three teas are made from the same plants, however Mr Yu chooses the most suitable processing method depending on many factors, including the climate, tree condition and leaf growth, to select the most optimum style of tea in each particular year. In spring 2022 the leaves grew very rapidly due to a warmer spring and were quickly too big to make white or green tea. So this year it was made in a rolled GABA oolong style instead.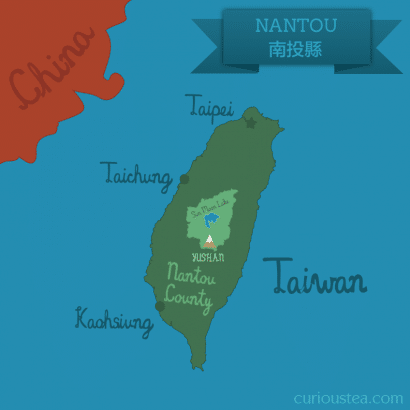 The Green Heart name actually refers to the varietal used for this oolong tea – Qing Xin translates as 'Green Heart'. The widespread and popular Qing Xin cultivar is known for a particularly floral character and this tea is made from a Qin Xin Gan Zi sub-varietal. This sub-varietal is extensively used for high grade Oriental Beauty Oolong teas due to large amount of buds that these plants tend to produce. This results in finer and more characterful profiles and translates extremely well to this fine version of a Taiwanese GABA Oolong. Like all such teas, this tea undergoes special processing in an oxygen-deprived environment to naturally increase GABA content. Most GABA teas are made from the more common cultivars like Si Ji Chun (Four Seasons), Cui Yu (Jade) or Jin Xuan (Golden Daylily). It is more unusual to find a GABA Oolong made from the Qing Xin (Green Heart) cultivar, let alone, the more rare Qing Xin Gan Zi version of it.
The large leaves of this GABA Green Heart Oolong produce an amber liquor with a fruity aroma. The taste is more complex when compared to usual GABA teas, with a more pronounced honey muscatel flavour and less tanginess. The liquor is smooth and flavoursome with notes of fruits and sweet acacia honey that lead to a juicy and lasting aftertaste of dried fruits. It is a little savoury and tangy, becoming sweeter as it cools. There is also an intriguing light eucalyptus note that is reminiscent of Taiwanese black teas. This is a really special GABA Oolong that is a complete one-off production, offering an opportunity to try something a bit unusual.
It is best brewed at 90°C for 2-3 minutes according to your taste and should be brewed multiple times, increasing steeping time with each brew if desired.
You can also buy GABA Green Heart Oolong tea in our online shop.
We really do hope that you enjoy this tea selection for September and are looking forward to the selection in our next box. Our October box will feature a Chinese Huang Ya yellow tea from Huang Shan as well a Chinese Lu An Gua Pian green tea that is known for its unusual leaf shape. For the darker side of the selection we chose a superb summer harvest Golden Tips Darjeeling from Rohini Estate and a classic First Flush tea from Ilam in Nepal.
If reading this has made you curious about our teas, but you don't yet subscribe to a monthly tea selection, you can sign up for our tea boxes in just a few clicks. We ship worldwide from London, UK.
We always love to hear from you, so if you have any questions, suggestions or just want to chat about tea, email us at contact@curioustea.com, via our Facebook page or via Twitter.
You can also follow us on Instagram for pretty tea photos.
Happy tea discoveries!