Welcome to the September 2018 edition of the Curious Tea subscription! Let's look at the four exciting new teas we're sharing with our subscribers this month.
The first light tea this month is Darjeeling Sencha from Gopaldhara Tea Estate, an unusual vegetal and smoky green tea made from Japanese tea clones.
The second light tea is Alishan Competition Fine Grade Qing Xin Oolong, a competition grade creamy and floral oolong from the famous Alishan tea growing area that was selected from amongst the best teas of 2018.
For the dark side of the selection we have a classic Dan Cong Shui Xian Oolong, a darker Dan Cong that has a pronounced roasted character and a complex flavour.
Finally, Tumoi Nandi Hills Black from Kenya is an easy-going light tea with a classic black tea flavour and a fruity and slightly malty profile.
Our Discovery subscription boxes contain 10g taster pouches of all of the above mentioned teas. If you are a subscriber you will benefit from a 10% discount on all teas from our tea shop!
Let's get into further detail on the products featured in our September tea subscription boxes.
Darjeeling Gopaldhara Sencha
Darjeeling Gopaldhara Sencha green tea is an unusual green tea from Gopaldhara Tea Estate in Darjeeling. Made from Japanese tea clones, the dry leaves have a polished appearance that is normally common of Japanese sencha teas. Like all our Gopaldhara teas, we source this tea directly from Rishi Saria, the owner and director of Gopaldhara and Rohini Tea Estates. This particular batch of tea is FTGFOP1 grade from the first flush spring 2018 crop.
Gopaldhara Tea Estate is nestled in the Mirik Valley, in the Himalayan foothills, and is one of the highest tea estates in Darjeeling with elevations of between 1,700m and 2,100m. It is renowned for producing teas of exceptional quality and very often quite unusual character.
Recently many tea estates in Darjeeling have been struggling for profitability. Most Darjeeling teas are traditionally sent to auction houses where they are sold to large wholesale buyers and importers. The wholesalers then retail the teas bought at auction to other smaller wholesalers and tea companies. Finally the tea companies, if not selling directly to the consumer, will sell their teas to shops and supermarkets. At this point the tea finally reaches the end consumer, having passed though a number of resellers, all looking for a profit margin. What it means in practice is that the estates get a rather low auction price for the tea, with most of the high price paid by the consumers going elsewhere.
To counter that, certain tea estates in Darjeeling are starting to experiment with producing small amounts of high end, top quality teas that they are offering directly, thus bypassing the auction houses and wholesalers. This enables the tea estates to set a fair price that reflects the quality of the tea and labour that has gone into making it. Higher profits for tea estates means paying their workers a fair or higher wage and investing into local community projects. For us, the specialist tea merchants, it means that we are able to buy direct from the producer teas that have a much better quality to price ratio. This enables us to share these high end teas with our customers in a way that most of the price paid goes back to the tea farmer!
Darjeeling Gopaldhara Sencha green tea has long polished dark green leaves that are larger in size than a typical Japanese sencha. The leaves produce a pale liquor with a pronounced aroma that is vegetal, smoky and somewhat reminiscent of tobacco. The taste, however, is rather soft for an Indian green tea with smooth lightly vegetal flavours. It has a mouth coating aspect and notes that are smoky and fruity, resembling smoked prunes. There is slight tartness and a slight tannic astringency on the aftertaste. Overall, the flavours of this tea do take you on a little journey. The start is sweet, the middle progresses to a main smoky and fruity flavour and the finish has a mineral and vegetal aftertaste.
We suggest brewing parameters of 80°C for 2-3 minutes according to your taste. If you are finding the tea a little too astringent, you can decrease the water temperature to 70-75°C.
You can also buy Darjeeling Gopaldhara Sencha green tea in our online shop.
Alishan Competition Fine Grade Qing Xin Oolong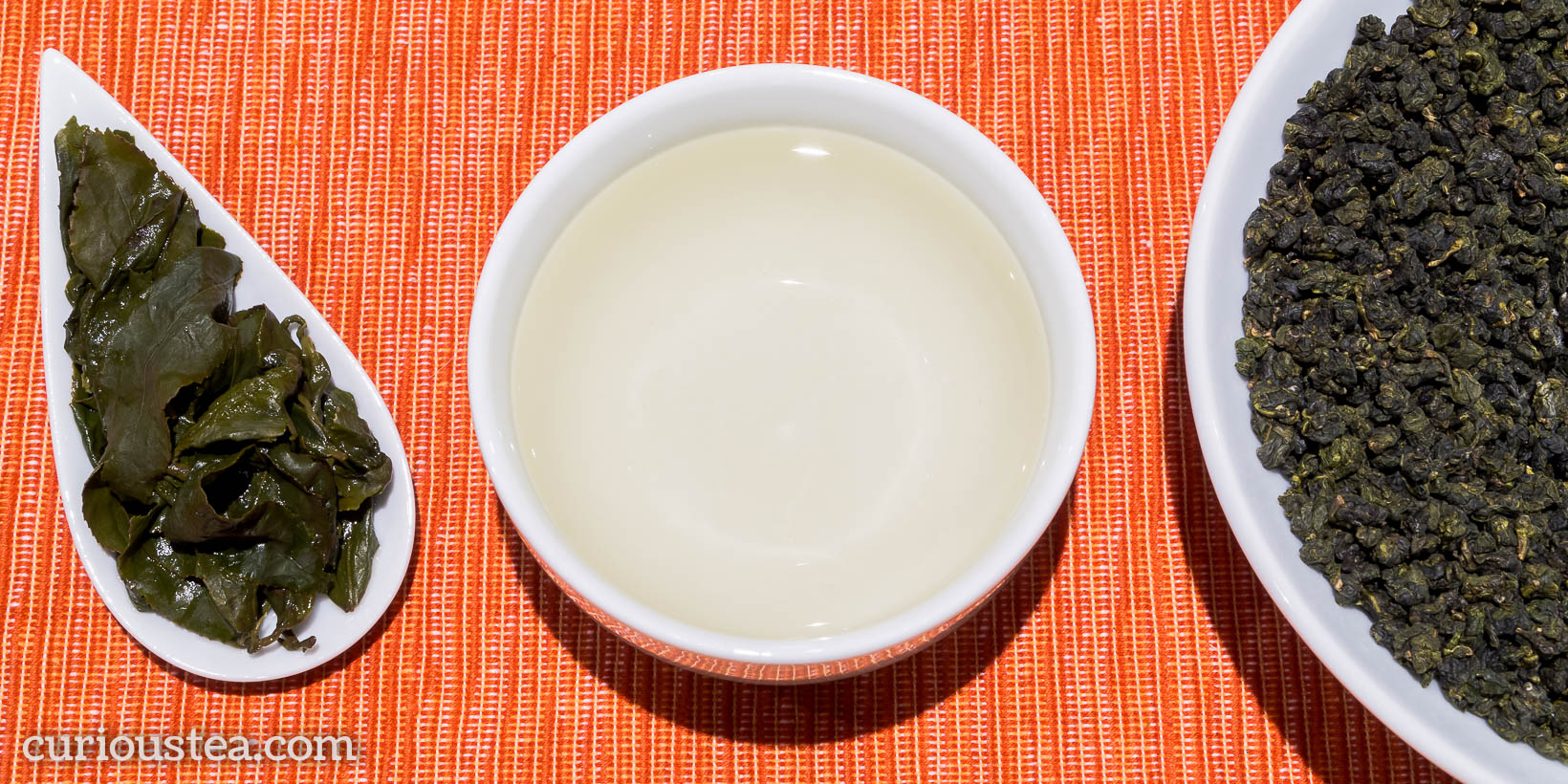 Alishan Competition Fine Grade Qing Xin Oolong (阿里山青心烏龍) is a top grade oolong from the famous Alishan tea growing area of Taiwan. Made from the Qing Xin (青心), or Green Heart cultivar, it has a smooth profile that is both floral and creamy. As stipulated in competition rules, this oolong undergoes very light baking that brings out complexities of the tea without overshadowing the floral aspect of the Qing Xin cultivar. This particular tea is from the spring 2018 crops and was entered into competition held in May 2018.
We were lucky this year to acquire a small amount of this Alishan Competition 'Fine Grade' Qing Xin Oolong with the help of a tea master in Taiwan. Every year in Taiwan, local competitions are held to determine the best teas of that season. This particular tea took part in the Alishan Farmers' Association competition in 2018 and achieved a Fine Grade. Specifically, it means that from 733 Alishan Qing Xin Oolong teas that took part this year, about 60% have been awarded a grade. The grading is split, with 20 teas winning First Grade, 31 teas winning Second Grade, 45 teas winning Third Grade. The rest of the 60% of graded teas are judged to be Fine Grade.
Taiwan tea competitions work somewhat differently to many others. When a farmer submits a tea for competition, 22 jin of tea is submitted for judging, one jin being equal to just over 600 grams. From that 1 jin is used specifically for judging and 1 jin is used for sampling. Upon presenting the awards, the remaining 20 jin, or 12 kilograms of tea, of all awarded teas are sealed with competition seals signifying the competition and the grade achieved. This labelling makes sure that there is no possible counterfeiting or reselling of inferior tea as 'competition' tea. The 12 kilograms of each graded tea is then auctioned off. The best grades of tea do resell for astronomical prices. In many cases the best graded teas are bought by very wealthy individuals or large corporates seeking free publicity from paying exorbitant sums of money for the top teas of the year.
This Competition Grade Qing Xin Oolong from Alishan has tightly rolled leaves that produce a yellow green liquor that is clear and very bright. The liquor has a light floral aroma with creamy and slightly baked notes that are representative of the light baking (roasting) that this tea undergoes. The smooth balanced profile is creamy, buttery and floral. The clean floral notes have a baked edge to them, making them most similar to sweet scent of alpine meadow flowers. The complexity of this tea definitely exhibits layers of flavours, with sweet floral notes at the start, followed by middle notes that are creamier and more baked and finishing on freshly tart notes and a lingering floral aftertaste. Interestingly we think that most of the floral notes tend to reside at the top of the palate and in the vapours of the tea while the flavours on the tongue providing a creamier base note.
This Alishan Competition Fine Grade Qing Xin Oolong tea is best brewed at 90°C for 3-4 minutes according to your taste and should be brewed multiple times, increasing steeping time with each brew if desired.
You can also buy Alishan Competition Fine Grade Qing Xin Oolong tea in our online shop.
Dan Cong Shui Xian Oolong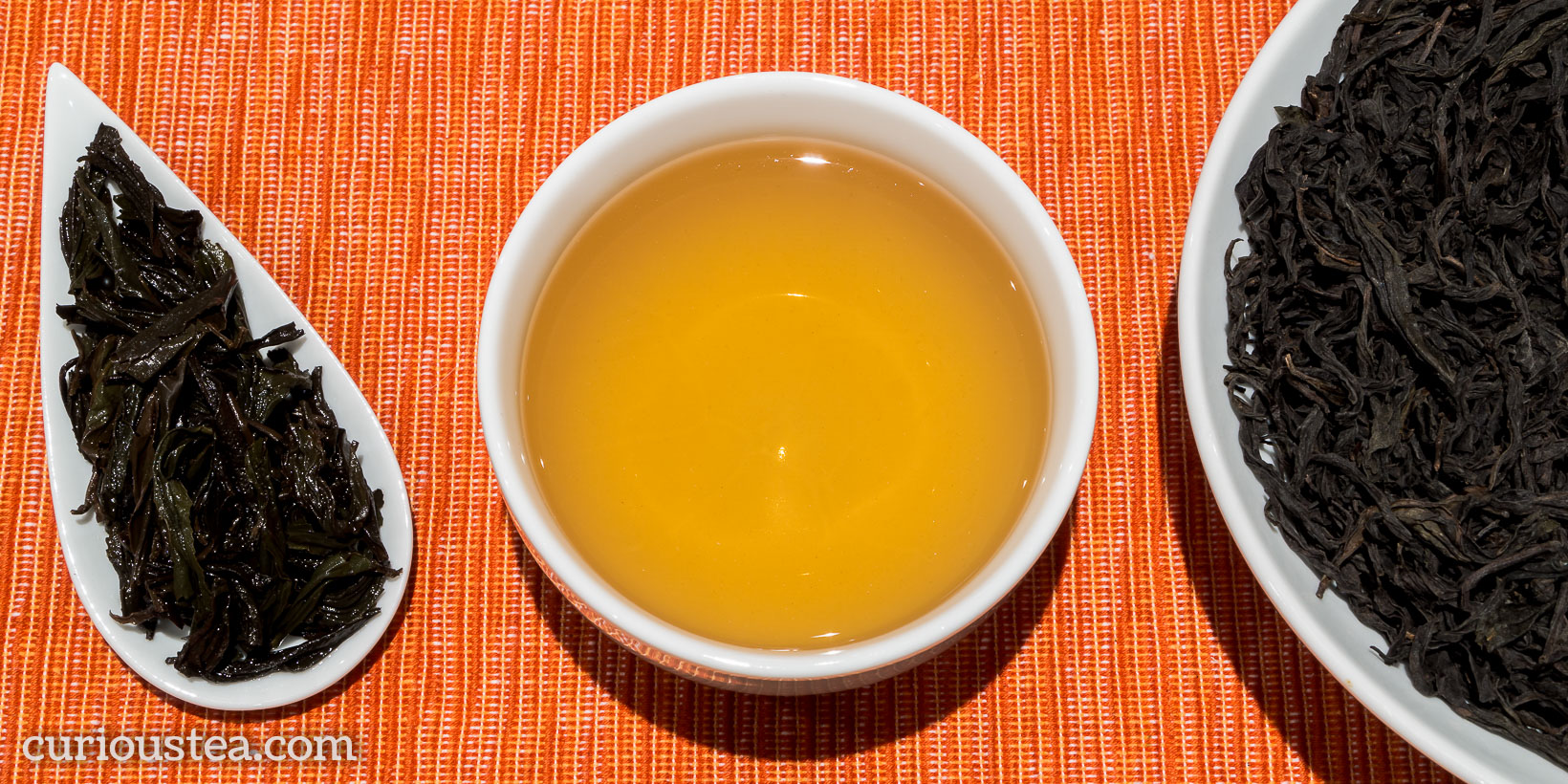 Dan Cong Shui Xian Oolong (单枞水仙) is a highly oxidised and roasted oolong grown on the famous Wu Dong Mountain in Guangdong Province. It features a pleasant roasted and floral honey aroma with a smooth and complex flavour. This particular batch is from April 2018 harvest.
Dan Cong (单枞) is the general term that is used to refer to oolongs that come from Guangdong and specifically from Phoenix Mountains. Dan Cong literally means 'single bush' as traditionally these oolongs were all plucked only from single semi-wild trees. It has now become the generic term to cover all Phoenix Mountains (Fenghuang Shan 凤凰山) and sometimes other Guangdong Oolongs. This particular Shui Xian comes from Wu Dong Mountain (Wu Dong Shan 乌岽山), which is one of the tallest and perhaps the most famous of all of the Phoenix Mountains.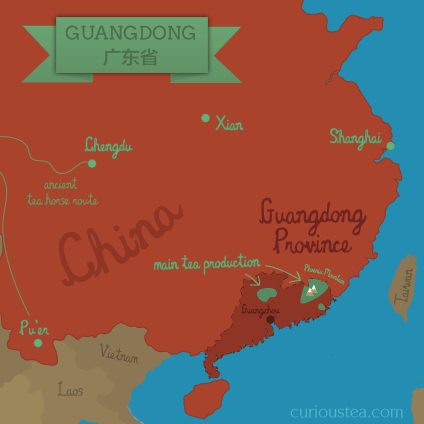 Traditionally, Shui Xian (水仙), sometimes also Shui Hsien, is a type of oolong that originates from Fujian Province and refers to the cultivar used to make this tea. Shui Xian translates as 'narcissus', 'water sprite' or 'water lily' in English and is known for distinctive flowery honey aroma and flavour. However some Shui Xian oolong teas are also produced in Guangdong Province. While there are may references to Shui Xian originating in Wu Yi Shan in Fujian Province, there are a few others who think that this plant was brought over to Fujian from Guangdong a long time ago. There doesn't seem to be a particular consensus on the exact origin of Shui Xian cultivar and on whether the two cultivars grown in Fujian and Guangdong Provinces are actually the same plant. However, there is definitely a certain degree of similarity between Shui Xian oolong teas from both of these tea regions.
Dan Cong Shui Xian Oolong is particularly known for having a floral and honey aspect while also being one of the most oxidised and roasted of Guangdong oolong teas. The dark twisted leaves produce a deep amber liquor with a roasted floral aroma. It has a mineral profile with a roasted floral flavour that is a little sweet and fruity. There are light woody, stony, roasted and floral notes with a lovely clean tangy finish that has minimal astringency. Overall a deeply satisfying and comforting tea that adds another dimension to the typical Dan Cong flavours.
It is best brewed at 90°C for about 3 minutes according to your taste. As expected, it will stand multiple infusions well.
You can also buy Dan Cong Shui Xian Oolong tea in our online shop.
Tumoi Nandi Hills Black
Tumoi Nandi Hills Black is an easy-going tea with a classic black tea profile that would appeal to most drinkers. Grown around Nandi Hills at an altitude of over 2,000 metres by the Tumoi Teas Cooperative without the use of pesticides and processed using traditional orthodox tea production methods. This Tumoi Nandi Hills Green Black is from the summer 2017 harvest.
Unlike our Purple Green tea from Tumoi, this one does not come from the new purple cultivar. Instead, a more conventional tea plant (also used for the Tumoi Nandi Hills Green) is used to produce a black tea that is smooth and balanced. It also provides an interesting comparison to the green tea from Tumoi.
Tumoi Teas Cooperative is a relatively new type of tea farmer cooperative in Kenya that focuses on creating beautiful tea while also supporting local farmers and the local community. While a large proportion of tea plantations in Kenya are owned by multinational corporations, Tumoi Teas is completely run and managed by small-scale tea farmers.
Tumoi specifically focusses on producing high-quality orthodox teas. The rationale behind this is that the Kenyan tea industry is dominated by CTC (cut-tear-curl) teas that are destined for bags. The CTC market is very volatile with large corporations buying up the majority of CTC tea and generally trying to drive the prices down. This results in very little return for the farmers. In contrast, farmers that grow small scale but high quality teas are more in control over pricing and enjoy much fairer returns for their labour.
This Tumoi Nandi Hills Black has rather mixed leaves in appearance and size. The dark amber liquor has a slight fruity and malty aroma. The flavours are well-balanced and smooth. The overall fruity profile has notes that are stony, fruity, malty and mineral. The aftertaste is pleasant and not overpowering, with no astringency and only a touch of dryness. The character overall has a very classic black tea taste that would appeal to many tea drinkers. It makes an excellent morning breakfast tea, especially if you would like to take it without milk.
It is best brewed at 90°C for 3-4 minutes and should be brewed around two times depending on your taste. If you do prefer a stronger brew, this tea will stand a longer infusion and higher water temperature well to produce a much strong cup.
You can also buy Tumoi Nandi Hills Black tea in our online shop.
We really do hope that you enjoy the tea selection for September and are looking forward to the next instalment in October!
If reading this has made you curious about our teas, but you don't yet subscribe to a monthly tea selection, you can sign up for our tea boxes in just a few clicks. We ship worldwide from London, UK.
We always love to hear from you, so if you have any questions, suggestions or just want to chat about tea, email us at contact@curioustea.com, via our Facebook page or via Twitter.
You can also follow us on Instagram for pretty tea photos.
Happy tea discoveries!