In September 2015 we are featuring the following teas for our tea club subscription: a great purple tea from Kenya, two Indonesian teas from Harendong and a very rare Doke Black fusion.
Welcome to another month of Curious Tea subscriptions! This month we have some very unusual teas: a purple varietal tea from Kenya, a couple of exciting teas from Indonesia and a very special hand-made tea from the state of Bihar in India. We had a very exciting time selecting these fantastic teas to share with you. We hope you will enjoy our selection, and to help you along with the tasting, here is some further information on all teas featured in our September Curious Tea boxes.
Purple Varietal Green Tea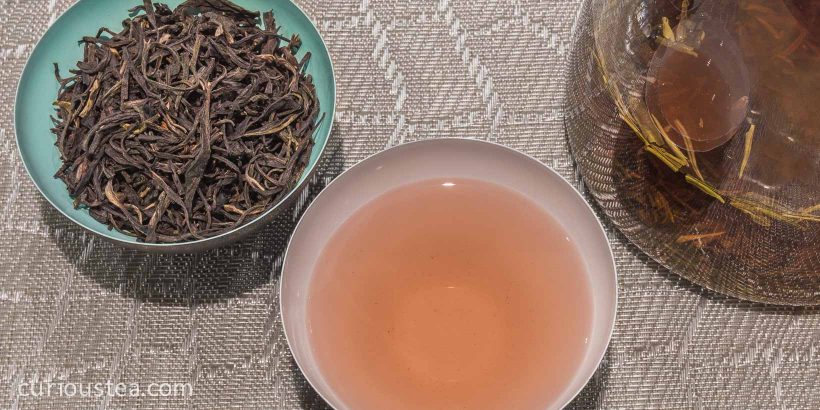 This highly unusual Kenyan Purple Varietal Green Tea is grown on the slopes of Mount Kenya at an altitude of between 1,500 and 2,200 metres. Purple tea was developed by the Kenyan Tea Research Institute over the past 25 years and the first crops are just making it onto the market. The name comes from the fact that the leaves of these tea plants are tinted reddish-purple. This is the result of the tea plants having higher amounts of anthocyanin in their leaves. This is a natural pigment that also occurs in grapes, blueberries and cranberries and also acts as protection from UV rays. Hence this type of tea can be grown at higher altitude and closer to the equator. In fact purple tea can be found naturally occurring in Yunnan Province in China where they are subject to strong sunlight.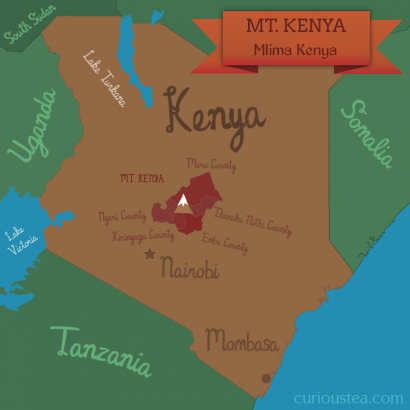 The rationale behind developing unusual and specialist teas is that the Kenyan tea industry is dominated by CTC (cut-tear-curl) teas that are destined for bags. The CTC market is very volatile with large corporations buying up majority of CTC tea and generally trying to drive the prices down. This results in very little return for the farmers. In contrast, farmers that grow small scale but high quality teas such as this purple varietal are more in control over pricing for and enjoy much fairer returns for their labour. Purple tea is also more resistant to effects of drought, frost and pests ensuring the farmers enjoy a higher yearly yield from their tea plants. Further reasoning behind developing the purple tea variety is the high anthocyanin content. Anthocyanin acts as an antioxidant and this very high antioxidant content of is further driving the popularity of this tea. As it is a green tea, the processing preserves most of the antioxidant properties of the leaves.
We selected this unusual Kenyan steamed Purple Varietal Green Tea for our September Light and Mixed Curious Tea boxes. The leaves of this tea are plucked, then steamed and rolled to prevent further oxidation of the tea leaves. The dry rolled leaves are quite long, very dark in appearance and have a wonderful sweet and floral aroma. The smooth rich liquor produced is actually tinted lilac! The steaming of the leaves brings out slight grassy notes (similar to Japanese green teas) and this combines with fruity and sweet notes reminiscent of sugared plums. Overall a very smooth, sweet, fruity tea with a slight grassy note and very unusual liquor appearance. A certain delight for green tea fans, it is also proving quite popular with those unfamiliar with green tea.
This tea is best brewed at 80°C for 2-3 minutes and can be brewed multiple times.
Harendong Green Oolong
This month we have two organic teas from the same estate in Indonesia. A Green Oolong (lightly oxidised – approximately 40%) and a black tea called Black Pearl, which is described further down in this post.
Indonesia is normally associated with coffee and is not widely known for its tea production. However it is the 8th largest producer of tea in the world, above Japan and Argentina. And Indonesia produces some really great tea, however most of it is very large scale production. Some producers also work for particular markets, for example there are farmers who exclusively grow and sell Taiwanese style oolongs destined for Taiwan. As always though, there are some smaller farmers who are trying to create a niche product where the quality and taste of the tea as well as respect for the land and the people take priority.
This lovely light organic oolong comes from the Harendong Green Tea Farm located in Banten Province, Java, Indonesia. The farm was established in 2005 in Halimun mountains next to Gunung Halimun-Salak National Park. The tea plants used in production of their teas were imported from Taiwan hence this oolong has some taste similarities to other oolongs from Taiwan. The Harendong tea farm has achieved full organic certification. The organic nature of the tea combined with the fact that the tea is grown on mountains next to a national park results in a very pure tea with a 'clean' taste.
We selected this Harendong Green Oolong for our September Light selection box. The large dry leaves of this tea come tightly rolled and are lovely light green in appearance. The smooth and light liquor produced is a light green colour with a slight floral and fruity scent. This tea has a very fresh character that is sweet, a little floral and fruity with a slight creamy finish. A very fresh, light and delicate oolong that is not too overpowering and very drinkable. Make sure to steep the leaves multiple times as the flavour profile changes and develops further with each steep.
This tea is best brewed at 85°C for 2-3 minutes and can be brewed multiple times. When experimenting with repeated steepings, you can gradually increase the water temperate and steep time to extract fuller flavour.
Harendong Black Pearl
This is another great organic tea to feature from the Harendong Green Tea Farm – you can read more about the farm earlier on in the post. This particular tea is a black tea that comes tightly rolled, hence the 'pearl' name. The pearls are somewhat similar in shape to a green oolong tea, while being smaller in size and less uniform. Generally this is quite an unusual shape for a black tea. The leaves unfurl when brewed, which also means that they have strength for repeated steepings.
We selected this Harendong Black Pearl for our September Dark and Mixed subscribers. The leaves of this tea are tightly rolled into a shape that resembles pearls, which are an attractive black colour with a golden tint. This tea produces a very smooth richly coloured liquor that is very well balanced and has a clean and brisk taste for a black tea. It is slightly sweet with almost no astringency. There are very pleasant fruity and honey notes that make this a greatly enjoyable light black tea.
This tea is best brewed at 90°C for 3-4 minutes and can be brewed multiple times. When experimenting with repeated steepings, you can gradually increase the water temperate and steep time to extract fuller flavour.
Bihar Doke Black Fusion
This very high quality hand-made black tea comes from the Doke Estate located in Kishanganj, Bihar State, India. Bihar State is a relatively new area to tea growing even though it is located next to some famous tea growing regions, just south of Nepal and west of northern West Bengal (Darjeeling) growing areas.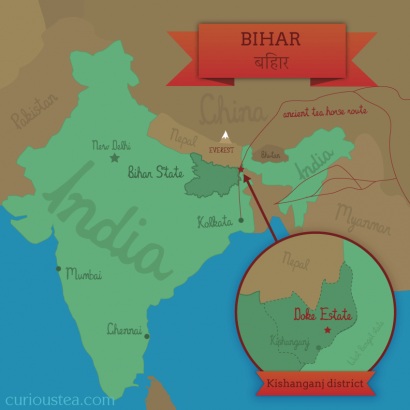 Doke Estate is family owned and managed. In their own words: "our mission at Doke Tea is to bring you teas that are unique in flavor and quality. Something that causes you to pause a moment to wonder and marvel at the delicious, comfortable experience it gives you. Our business philosophy at Doke is one that is first and foremost ecologically friendly to the air, the water, the soil, the animals, and most of all to the people who work and live on the land."
This philosophy and their understanding of their tea results in some great teas produced at Doke Estate that are high quality, very unusual and full of wonderful flavours.
We selected this Bihar Doke Black Fusion for our September Dark box. The very large curled black leaves of this tea are completely stunning and the aroma of the dry leaves is very appealing, a little malty and floral. When brewed this tea produces a dark amber liquor with a lovely rose aroma that is very smooth and a little buttery. The character of this tea is simply unique. It has a complex flavour with fruity notes balanced off a slightly malty molasses taste. There are also notes of raisins and spice that rounds the taste off.
For this tea, you can brew it in two ways. The standard suggested way is to brew at 90°C for 2-3 minutes for a lighter and more balanced taste. If your preference is for a maltier and more robust taste, increase the water temperature to around 95°C and brew for the same amount of time. Either way this tea can be steeped up to three times, increasing the steeping time and water temperature with each subsequent steeping.
You can buy Bihar Doke Black Fusion black tea in our online shop.
We really hope that you enjoyed the tea club selection for September and are looking forward to what we have in store for your October selection.
Incidentally, if you are reading this but do not subscribe to our monthly tea selection and would like to receive them, you can sign up to any of our tea subscriptions in just a few clicks. We ship worldwide from the UK.
As always, we want to hear from you, so if you have any questions, suggestions or just want to chat about tea, contact us at contact@curioustea.com, via our Facebook page or via Twitter.
You can also follow us on Instagram for pretty tea photos.
Happy tea tasting!