Welcome to the October 2022 edition of the Curious Tea subscription! Here's a closer look at the four exciting new teas that we are sharing with our subscribers this month.
The first light tea this month is a vegetal and mellow Huang Ya yellow tea from Huo Shan in Anhui Province of China.
The second light tea is another tea from Anhui Province, a Gua Pian green tea that comes from Lu'an City and has an intriguing name.
For the dark side of the selection we have a complex Golden Tips Darjeeling from Rohini Tea Estate that has a fruity and malty flavour.
Finally, the last tea we are featuring this month is a tea from the famous Ilam District of Nepal, a light and floral First Flush with pronounced sweetness.
Our Discovery subscription boxes contain 10g taster pouches of all of the above mentioned teas. If you are a subscriber you will benefit from a 10% discount on all teas from our tea shop!
Let's get into further detail on these teas featured in our October tea subscription boxes.
Huo Shan Huang Ya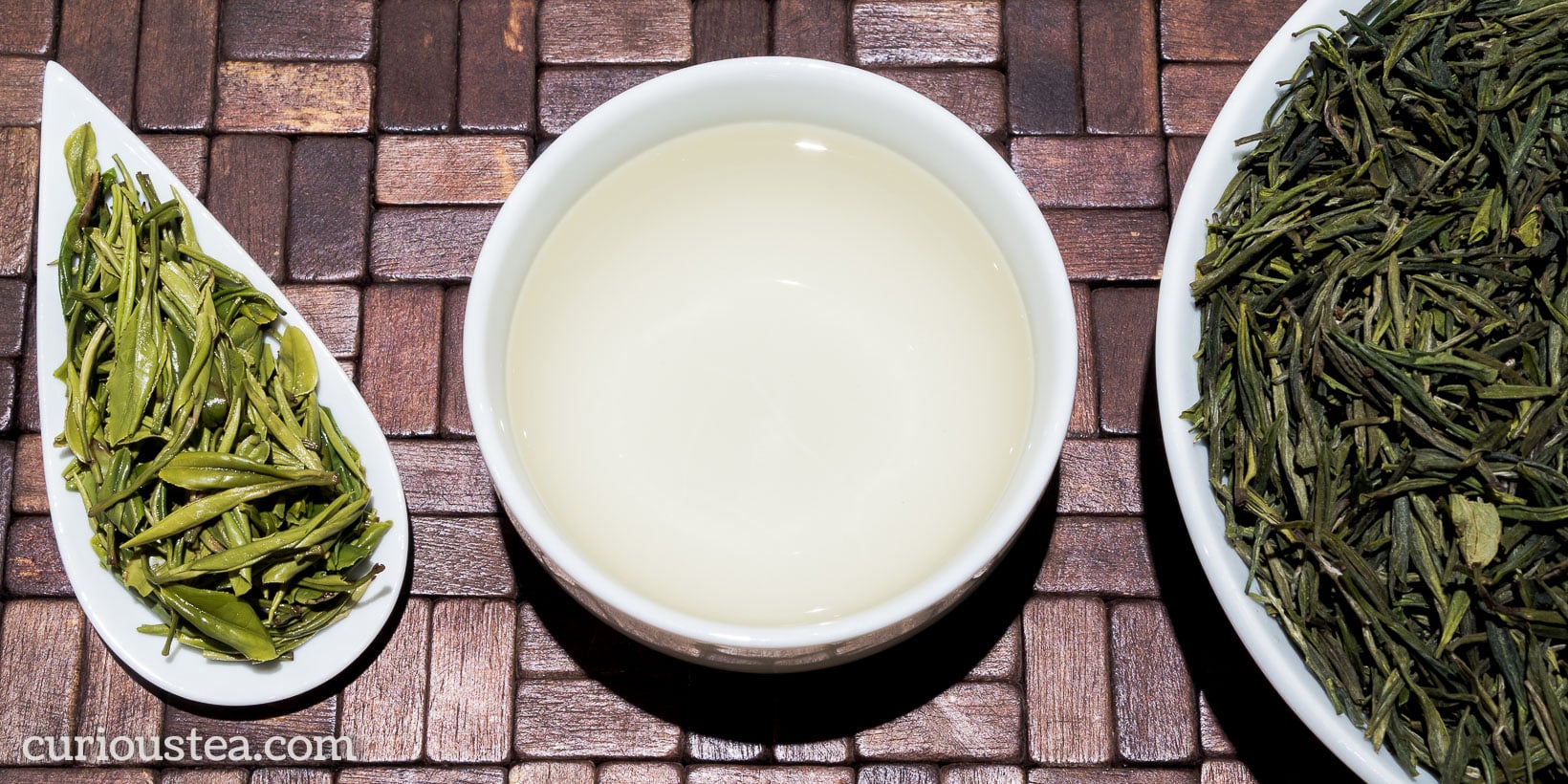 Huo Shan Huang Ya (霍山黃芽) is a yellow tea from Huo Shan County, located in Anhui Province of China. A balanced and mellow tea, it has smooth vegetal notes with no astringency. Grown from Jin Ji cultivar at an altitude of 800 meters, this particular batch was hand plucked and processed in early April 2022.
The name of this yellow tea translates as Mount Huo Yellow Bud and refers to its origin (Huo Shan 霍山 – Mount Huo) as well as to the fact that tender buds of this tea are processed using the yellow tea production method. Yellow tea production method is distinct from other teas. While some may find this tea similar to other gently processed greens, all yellow teas undergo a special separate procedure called Sealing Yellow (闷黄 – Men Huang). A laborious process that requires great skill on the tea master's part results in yellow teas having a much milder and smoother taste.
The Men Huang process is what distinguishes yellow tea from green tea. After plucking, just like with green tea, the leaves are briefly withered. Also like green tea, yellow tea is then heated (traditionally panned in a wok but also using modern machinery), but at a lower temperature than green tea. Afterwards, while the tea is still hot, it is usually rolled, piled and wrapped in paper or cloth to initiate the Men Huang process. It is all done in a controlled environment with further piling and with the introduction of heat and moisture by spraying or steam. This results in slight oxidation through a process of light non-enzymic fermentation. In some cases this process can be repeated many times over a number of days until the desired outcome is achieved. Finally the tea is fixed and dried by either heating or panning in a wok or in a modern machine equivalent. This processing profoundly affects the flavour of the tea, reducing grassy and dry notes and instead making the tea more mellow, smoother and sweeter.
Huo Shan Huang Ya yellow tea has a beautifully mellow nature that sets it apart from other non-oxidised teas. The dark green leaves have a slightly waxy appearance with plenty of silver hairs evident on the straight tippy leaves. When brewed it produces a liquor that is light in colour and taste. At the same time the flavours are quite full – more so than with similar light green or heavier white teas. The processing of this tea really balances the flavours and mellows it out. While it still has some vegetal flavours similar to other green teas, the profile is very smooth and lacking in any grassy astringency of green tea. This tea has umami vegetal notes that are a little sweet and a little savoury at the same time with just a hint of roasted and nutty notes.
This yellow tea is best brewed at 80°C for 2-3 minutes according to your taste and can be brewed 3-4 times, increasing steeping time with each next brew if desired.
You can also buy this Huo Shan Huang Ya yellow tea in our online shop.
Lu An Gua Pian
Lu An Gua Pian (六安瓜片) green tea originates from Anhui Province of China. It is featured in almost all lists of 'China's Famous Teas' and is mentioned extensively throughout Chinese tea history. The pan-fried leaf of this famous green tea has a distinct shape, producing a vegetal liquor with a sweet aftertaste. Our Lu An Gua Pian is grown around Qi Tou Shan in Jinzhai County of Lu'an City Prefecture in Anhui Province at an altitude of approximately 600m. This particular lot is from tea harvested in the middle of April 2022.
The name Lu An Gua Pian translates as Lu'An Melon Seed, referring to the origin of this fine tea: the city of Lu'An in Anhui Province. The 'Melon Seed' part of the name comes from the fact that the processed tea leaves resemble a melon seed shape when brewed and fully flat and open. So hence this tea has a very descriptive name: Melon Seed from the city of Lu'An.
This green tea is also somewhat unusual amongst other Chinese green teas. Most of green teas from China, especially the finer versions, tend to use 'pure bud' or 'one-two leaves plus bud' standard of picking and processing. Lu An Gua Pian differs in that only the second leaf is used during processing, without the bud. The leaf is also snipped at end, removing the end of the stem, thus resulting in a distinctly shaped leaf.
This Lu An Gua Pian green tea has large and very neat green leaves with an emerald tint in appearance. It produces a bright light green liquor with a fresh vegetal aroma. The flavour has a refreshing vegetal and creamy profile with light grassy notes of spinach. The finish has sweet herbaceous notes that have a slight tangy, peppery and mineral hint. Overall this is a green tea with a classic profile yet a very refined flavour.
This tea is best brewed at 80c for 2-3 minutes in multiple infusions, gradually increasing the steeping time.
You can also buy Lu An Gua Pian green tea in our online shop.
Darjeeling Rohini Golden Tips
Darjeeling Rohini Summer Golden Tips is a complex Second Flush Darjeeling from Rohini Tea Estate. It is defined by the presence of plenty of golden tips in the dry leaves, indicating the tippy nature of the tea. Made exclusively from AV2 cultivar plants, it produces a complex liquor with a fruity profile that is light and balanced. This small batch was harvested and processed in June 2022.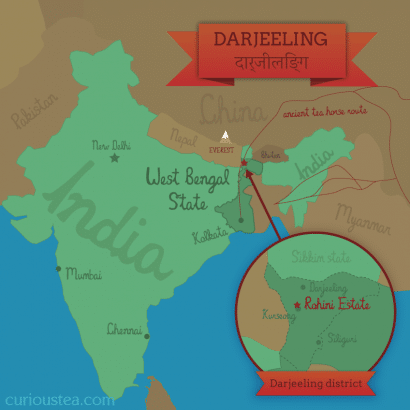 Like all our Rohini and Gopaldhara teas, we source it directly from Rishi Saria, the owner and director of Gopaldhara and Rohini Tea Estates. Rohini Tea Estate is located along the route that connects the towns of Siliguri and Kurseong. Surrounded by a beautiful natural environment, this estate produces tea from relatively young trees. The estate has had a chequered past, not actually producing any tea for about 30 years after it was shut in 1962. Recently it has been replanted with young tea trees, so sometimes it is referred to as the youngest tea estate in Darjeeling. It is now going from strength to strength and is producing more and more interesting and higher quality teas. Most recently Rohini have been elevating the quality and flavours by focusing on smaller hand processed batches and more unusual types of tea.
It is made entirely from leaves picked from AV2 plants. The AV2 plant name stands for Ambari Vegetative 2, one of the various clonal plants popular in Darjeeling. AV2 is perhaps one of the most preferred clones in Darjeeling, even though it was originally developed in the plains. The popularity of this particular plants stems from the prominent fragrance and aroma of the finished tea. This plant is very prone to drought and insect attacks so the best teas come from plants grown at higher elevation in very good soil and that are picked during dry weather.
This Darjeeling Rohini Summer Golden Tips consists of handpicked and carefully processed wiry leaves that have plenty of golden tips, a single leaf and a bud. This tea is more oxidised than some other speciality batches from Rohini, leading to a classic black tea flavour that is complex and balanced. The dark amber liquor has a fruity and savoury aroma. The flavours are smooth with notes of malt, fruits, mangoes and plum jam. The aftertaste has a juicy mouthfeel with more fruity notes that progress onto citrus flavours. Makes us think of a sweet black tea with lemon as the lightly tannic citrus finish plays very nicely to the overall sweetness of the main flavour. We found this Darjeeling Golden Tips to be reminiscent of a very light Assam or a less malty Dian Hong rather than a Darjeeling tea. So we would urge anyone not sure about Darjeeling teas to definitely give this one a try!
This tea is best brewed at 90°C for 3 minutes and can be brewed 2+ times. Like all top grade teas from Gopaldhara and Rohini, you can try experimenting with gongfu brewing.
You can also buy Darjeeling Rohini Golden Tips black tea in our online shop.
Ilam Wonder First Flush
Ilam Wonder First Flush is a lightly oxidised high grade First Flush tea from Ilam District in eastern Nepal. This tea comes from a small, fully organic plantation. It produces an easy-going but complex liquor that is floral, sweet and fruity. It has a typical First Flush profile, all wrapped up in a very appealing and approachable taste. Unlike graded batches (like SFTGFOP1 etc), this tea was not graded, so it has kept the more original, raw appearance. This batch was made from varied cultivars and was picked 18-19 April 2022.
We source this tea via a small specialist wholesaler partner who specialises in working with smaller estates and farmers in Nepal, India and Sri Lanka. The tea comes from a small plantation that is run to organic standards, located in Ilam District in Province No. 1. The plantation is found at an average of 1,500 meters and occupies only 10 hectares, producing SFTGFOP1 teas with minimal lower grade tea output. It is planted with varied Darjeeling cultivars and this batch is a selection of the best pickings from: Phoobsering 312, Bannockburn 777, Goomtee and Tukda 178. As this tea was not graded, this not only retains more of the original nature of the tea but also means that it is very fairly priced considering the quality and the wonderful flavours.
Ilam District itself is the purported location of the beginning of the Nepali tea industry back in around 1860. Due to isolated nature of the country at the time, the tea industry did not develop, unlike Darjeeling just across the border. While eventually the tea industry in Nepal did start evolving, the style of tea made was always more along the lines of Darjeeling teas. At the same time the demand for Darjeeling tea meant that there was a demand for Nepali tea that was very similar in style in nature as it was being sold as Darjeeling instead. While some would name the tea as Darjeeling (origin Nepal) others would simply sell Nepali tea (that was reasonably unknown at the time) as the much more expensive and famous Darjeeling.
More recently, as people are becoming more aware of origin and terroir, Nepali tea is gaining good traction with some estates gaining recognition similar to that of the famous Darjeeling ones. As always, this can only be a good thing as this means better price for the tea makers and better wages and living conditions for those working in the tea industry.
This Ilam Wonder is a First Flush black tea. It is classed as a black tea according to convention, alongside First Flush Darjeeling. In reality it is much more of an oolong tea in style and flavour. It consists of leaves of mixed size that reflects the ungraded nature but at the same time retains the original and raw appearance. It produces a golden green liquor with great clarity and brightness. The highly aromatic liquor has a smooth, light taste with a floral profile. There is a nice mineral aspect reminiscent of Darjeeling teas, some nice lightly roasted notes and honey sweetness present throughout the tasting. There are hardly any tannins, just a lightly drying aftertaste at the very end of the flavour with a somewhat spicy mouthfeel. Overall this is a very smooth, floral and surprisingly sweet tea!
Ilam Wonder First Flush is best brewed at 90°C for around 3 minutes and can be brewed 2+ times. This is definitely one of the teas from the region that we would encourage you to experimenting with gong fu brewing.
You can also buy Ilam Wonder First Flush black tea in our online shop.
We really do hope that you enjoy this tea selection for October and are looking forward to the selection in our next box. Our November box will feature a floral Four Seasons Oolong from Taiwan and a savoury Gyokuro Japanese green tea from the famous Yame tea growing region. For the darker side of the selection we chose a fabulous, traditionally smoked Old Bush Lapsang Souchong and an everyday Assam black tea from Jamguri Tea Estate.
If reading this has made you curious about our teas, but you don't yet subscribe to a monthly tea selection, you can sign up for our tea boxes in just a few clicks. We ship worldwide from London, UK.
We always love to hear from you, so if you have any questions, suggestions or just want to chat about tea, email us at contact@curioustea.com, via our Facebook page or via Twitter.
You can also follow us on Instagram for pretty tea photos.
Happy tea discoveries!