Welcome to the November 2022 edition of the Curious Tea subscription! Here's a closer look at the four exciting new teas that we are sharing with our subscribers this month.
The first light tea this month is a smooth and floral, lightly oxidised Four Seasons Oolong from Taiwan.
The second light tea is a classic Gyokuro green tea from Yame in Japan that produces a complex umami flavour.
For the dark side of the selection we have an exquisite Lao Cong Lapsang Souchong that is picked from old tea bushes and smoked using traditional methods.
Finally, the last tea we are featuring this month is an Assam from Jamguri Tea Estate that is a perfect representation of the classic Assam flavours.
Our Discovery subscription boxes contain 10g taster pouches of all of the above mentioned teas. If you are a subscriber you will benefit from a 10% discount on all teas from our tea shop!
Let's get into further detail on these teas featured in our November tea subscription boxes.
Four Seasons Oolong
Four Seasons Oolong (四季春) is an aromatic, lightly oxidised oolong grown in Mingjian Township, Nantou County, Taiwan. It has a floral profile with a smooth taste and a lightly creamy finish, creating a refreshing and satisfying everyday drink. We source it direct from the farmer in Taiwan and this particular batch is from a spring crop, picked 7 March 2022.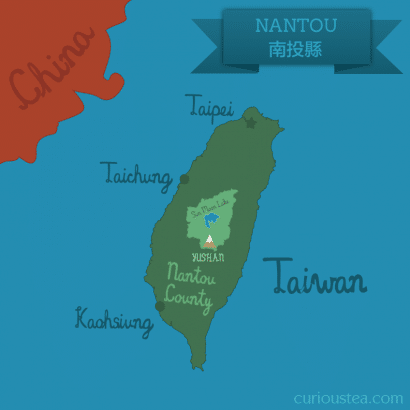 Four Seasons Oolong is named after the cultivar that is used to make this aromatic tea, Si Ji Chun (四季春 – Four Seasons Spring). This cultivar started appearing in Taiwan in 1980's. It is said that one farmer near Taipei noticed a tea plant in his garden growing much quicker than others, so he planted cuttings from that particular bush more systematically. He was able to harvest leaves from those plants throughout the year, including during winter time when many of the tea plants are normally dormant or growing at a very slow rate.
The leaves of the Si Ji Chun cultivar plants have a fresh and light flowery spring-like aroma year round, hence the full Chinese name that translates as Four Seasons Spring. Even though some prefer to use the full 'Four Seasons Spring' name, we find it can create some confusion as to when the actual tea was harvested. Hence we opt for the still popular shorter version of Four Seasons Oolong.
Si Ji Chun has become very popular in Taiwan, as well as other countries, such as Thailand and Vietnam. It favours low altitude conditions but also provides farmers with a consistent crop throughout the whole year. These are very versatile plants. The most popular style is to make a lightly oxidised oolong such as this one, but it is also used to make more complex teas, including darker and roasted oolongs, unusual aged teas and as a floral base for scented teas like Bergamot and Jasmine.
This Four Seasons Oolong consists of quite young spring leaves that have been machine harvested to keep the costs down. The leaves are tightly rolled into bright and darker green pearls that unfurl with each infusion. It possesses a wonderful aroma that is most reminiscent of honeysuckle (jasmine or lily of the valley according to others). It has a smooth and light liquor with a floral profile. The overall flavours are light and very refreshing. The floral taste has lightly sweet notes that combine well with a creamy finish. It makes for a comforting light drink in winter but also works extremely well for cold brewing in summer.
Taiwanese Four Seasons Oolong tea is best brewed at 90°C for 3-4 minutes according to your taste and can be brewed multiple times, increasing steeping time with each next brew if desired.
You can also buy this Four Seasons Oolong tea in our online shop.
Yame Gyokuro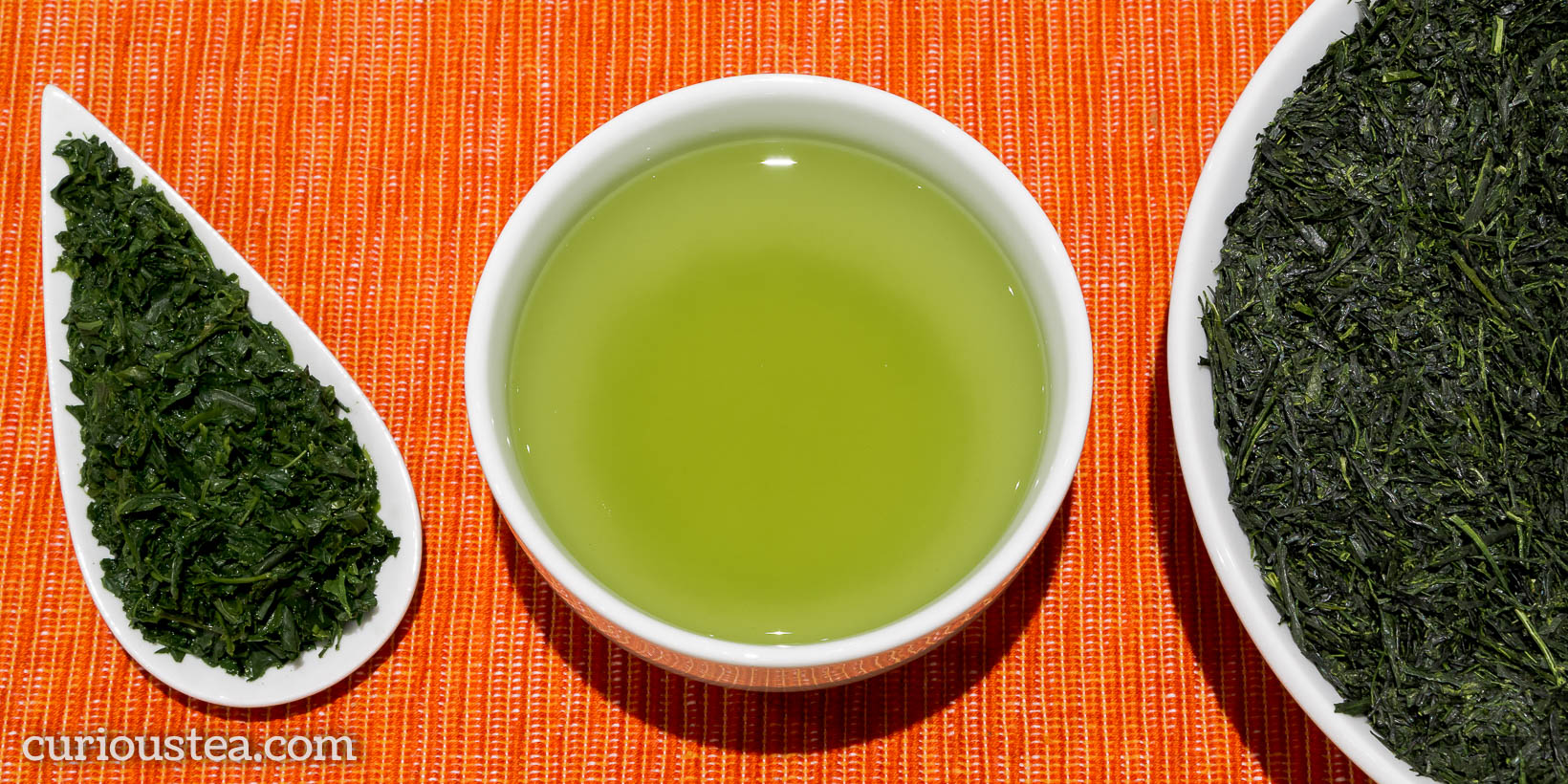 Yame Gyokuro (八女玉露) is a fine Japanese green tea from Yame, Fukuoka Prefecture in the northern part of Japan's Kyushu Island. Yame Gyokuro is also known as Yamecha in Japan and is one of the most popular and recognised types of tea. It is made from an unusual Asatsuyu (あさつゆ) tea cultivar that is known for producing flavoursome and aromatic teas with plenty of sweetness and lower astringency. Our Yame Gyokuro is from the first flush harvest, has been deep steamed and is more roasted than usual. May 2022 harvest.
The name gyokuro translates as jade dew and is a reference to the fine pale green colour of the liquor. Gyokuro undergoes a growing process that is unique and differs from most other tea growing. During growth the tea plants are shaded for about 20 days prior to harvesting that typically occurs in May of each year. High quality tea such as this Yame Gyokuro is normally shaded using traditional shades made out of bamboo that cover the tea plants from up to 90% of the sun. The covering of the tea forces the tea plants to slow the rate of photosynthesis, leading to higher levels of theanine. This change in chemistry of the leaves creates a much sweeter, mellower taste with a bolder character that is grassy and rich in umami flavours. The covering of the tea also creates a unique rich aroma that gyokuro is known for. This process is similar to kabusecha, however kabusecha is normally shaded for a shorter period of time.
This Yame Gyokuro is made from the leaves of Asatsuyu (あさつゆ) tea cultivar plants. It is an unusual cultivar that is relatively rare due to being harder to grow and producing lower yields when compared to other Japanese cultivars. It is, however, unique in producing a particularly flavoursome and aromatic tea, resulting in the moniker – 'natural gyokuro'. It is said that even without shading, this cultivar produces teas that have a gyokuro-like quality. In our case, the tea was still shaded to produce a true gyokuro.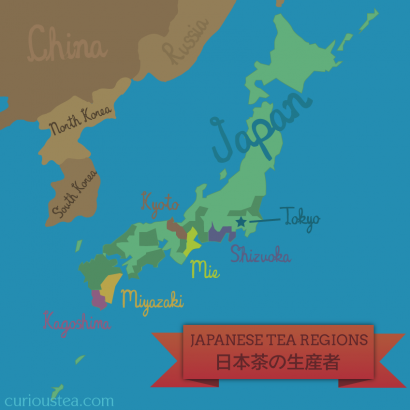 Yame Gyokuro is also a fukamushi gyokuro, which means that it was also deep steamed. This processing results in a much finer leaf that brings more sweetness with diminished astringency. In Japanese, fukamushi (深蒸し) means 'deep steamed' as the tea is steamed for 1-2 minutes as opposed to the usual futsuumushi (普通蒸し) steaming, which is only 30 seconds to 1 minute. There is also an even lighter version that is called asamushi (浅蒸し) or 'light steamed' tea, which undergoes steaming for less than 30 seconds. The longer steaming process results in a good balance between the classic umami depth and a pleasing sweet aftertaste. The steaming process makes the tea leaves very soft, so during the next processing stage, which is rolling, the leaves and tips can often break. This results in variable leaf size, with many very small broken leaf fragments. It can appear like a low-quality tea, but the reality is completely the opposite as it the result of the specialised deep steaming process.
Our Yame Gyokuro has attractively coloured dark green leaves with a bright, verdant and savoury aroma. The liquor produced has an attractive green colour and is somewhat opaque. The liquor is thick, mouth coating and definitely has a fresh green quality to its taste. The flavours are grassy and full of savoury umami notes. There is a kind of bitterness that you get from fresh green leafy vegetables present, yet it is refreshing and pleasant. The flavours continue on a more creamy note, leading up to herbs and buttered green asparagus. When brewed in Japanese style, this is a complex and full-bodied tea with a thick, herbaceous and umami-laden liquor that has a excellent, lightly sweet and creamy counterbalance. Brewed western style, this is still a flavoursome tea, however not as concentrated in flavour.
It is possible to brew this tea in the common Western style (2.5g of tea per 200-250ml) but you will not get the full flavour profile that Gyokuro is famous for. To get the most when brewing Western style, you should use at least twice the amount of leaves you normally would (5g of tea per 200-250ml). That way you are closer to enjoying the authentic flavours of real gyokuro. Using this method, brew at 70°C for 1 mins in multiple infusions. Gradually increase brewing temperature and time until no flavour is left.
But for best results we find 10g per 200ml-250ml of water to be the correct amount for this tea. Brew using good quality water that has been heated to 60°C and using traditional Japanese teaware. As you are using lower temperature water, preheating your teaware prior to brewing is a particularly good idea. In our testing, a first infusion of 90 seconds followed by further infusions of around 60, 90 and 120 seconds, worked particularly well. As always, keep increasing steeping time and temperature until no flavour is left.
You can also buy Yame Gyokuro green tea in our online shop.
Old Bush Lapsang Souchong
Lao Cong Lapsang Souchong (老枞小种) is an exquisite traditionally smoked tea that is picked from old native Qizhong tea bushes that are around 100 years old. These grow wild at an altitude of about 1,000 metres around Tongmuguan, Wuyi Shan in Fujian Province of China; the reputed birthplace of black tea. Carefully hand picked and hand processed, it is smoked in a traditional local smoke house over natural pine wood. Made according to a family heritage recipe, we source this tea directly from the makers, the Chen & Zhou family. This Lapsang Souchong produces a very balanced flavour with a lightly smoky profile that nicely compliments the sweetness of the tea. This batch was harvested on 20 May 2022.
This Old Bush Lapsang Souchong is also known as Lao Cong Xiao Zhong (老枞小种) in Chinese. Lao Cong means Old Bush or Old Tree and refers to tea that is picked from older tea plants. Generally these would be 100+ year old trees, although some producers will classify some of the younger plants belonging to this category. Xiao Zhong is the reference to Zheng Shan Xiao Zhong, which is the common Chinese name for this style of black tea from Wuyi Shan. In fact, Lapsang Souchong is very much a Western name (although originating in China and vastly altered) and really is used to describe a smoked Zhen Shan Xiao Zhong. To try to avoid confusion, we refer to the smoked version as Lapsang Souchong, a name that is more commonly used in the West. And we stick with Zheng Shan Xiao Zhong for the unsmoked version of this tea. Incidentally, you may be interested in trying an early spring Ming Qian Zheng Shan Xiao Zhong from the same family, albeit harvested from slightly younger trees.
Unlike mass produced Lapsang Souchong teas that are smoked using modern machinery and consisting of poor quality tea that is smoked to make it more sellable, this heritage style goes through traditional processing and smoking methods. The smoking process is done using only natural pine wood. After the fresh leaves are picked from the plants, they are sent to the smoking room for withering in a bamboo sieve. The smoking house, Yan Fang (烟房), is a specially designed house for tea smoking – as you can see in the pictures on this page. The withering process lasts 2-3 days, during which time the leaves loose moisture and absorb some of the smoke. The next step is rolling, during which the leaves are shaped and the cells in the leaves are broken to improve the taste of the finished tea. The rolling stage only takes 20-30 minutes.
The next step in processing is oxidation, sometimes erroneously referred to as fermentation. This is the fundamental process that breaks down the chemicals in the leaves to turn them into what resembles black tea. It is carried out by rolling the leaves in a basket and letting them absorb more of the smoke in the smoking room for approximately another 16 hours. After the leaves achieve the desired level of oxidation, they are finally dried. Drying is done by spreading the leaves on a bamboo sieve in the smoking room, letting them absorb more of the pine wood smoke. The drying process takes 2-3 days depending on the moisture content of the leaves and weather conditions. Sometimes if the quality of the tea is lower, it will be sorted again after drying.
We source this Old Bush Lapsang Souchong from a wife and husband team who represent the Chen and Zhou tea master families respectively. The family has gardens in Wuyi Shan and in Zhenghe County of Fujian Province, as well as having gardens in Guangdong Province. They specialise in producing hand crafted artisanal teas. Compared to larger gardens and factory productions, these are made in small batches and are still made according to traditional methods passed down the generations in their families. We have a wide selection from the Chen & Zhou family gardens available already, including a wide range of Yancha. This particular tea ticks all the boxes when it comes to a proper Lapsang Souchong: it is grown in Tongmuguan, made of old trees of the Qizhong native plants and is crafted and smoked over natural pine wood according to the traditional family recipe.
This Lapsang Souchong consists of larger leaves, mixed with some smaller ones. It produces a bright and clear liquor with a light amber colour. The aroma is definitely smoky, but also quite fruity, akin to smoked prunes. The elegant flavour is finely balanced, with no flavour being overpowering. Nothing like a cheap version where the only thing you can taste is smoke and tar! The profile is definitely smoky but it has quite pronounced fruity notes of prunes and plenty of honeyed sweetness. The aftertaste is lasting, with more sweet smoky flavour returning. It is an evocative tea, bringing images of campfires and walking through a forest of a warm and sunny autumn day with the smell of smoke from a nearby fireplace in the air.
We suggest brewing at 90°C for 3 minutes according to your taste. It should be brewed multiple times depending on your taste preferences. For best results, gongfu brewing is advised.
You can also buy Old Bush Lapsang Souchong black tea in our online shop.
Assam Jamguri Classic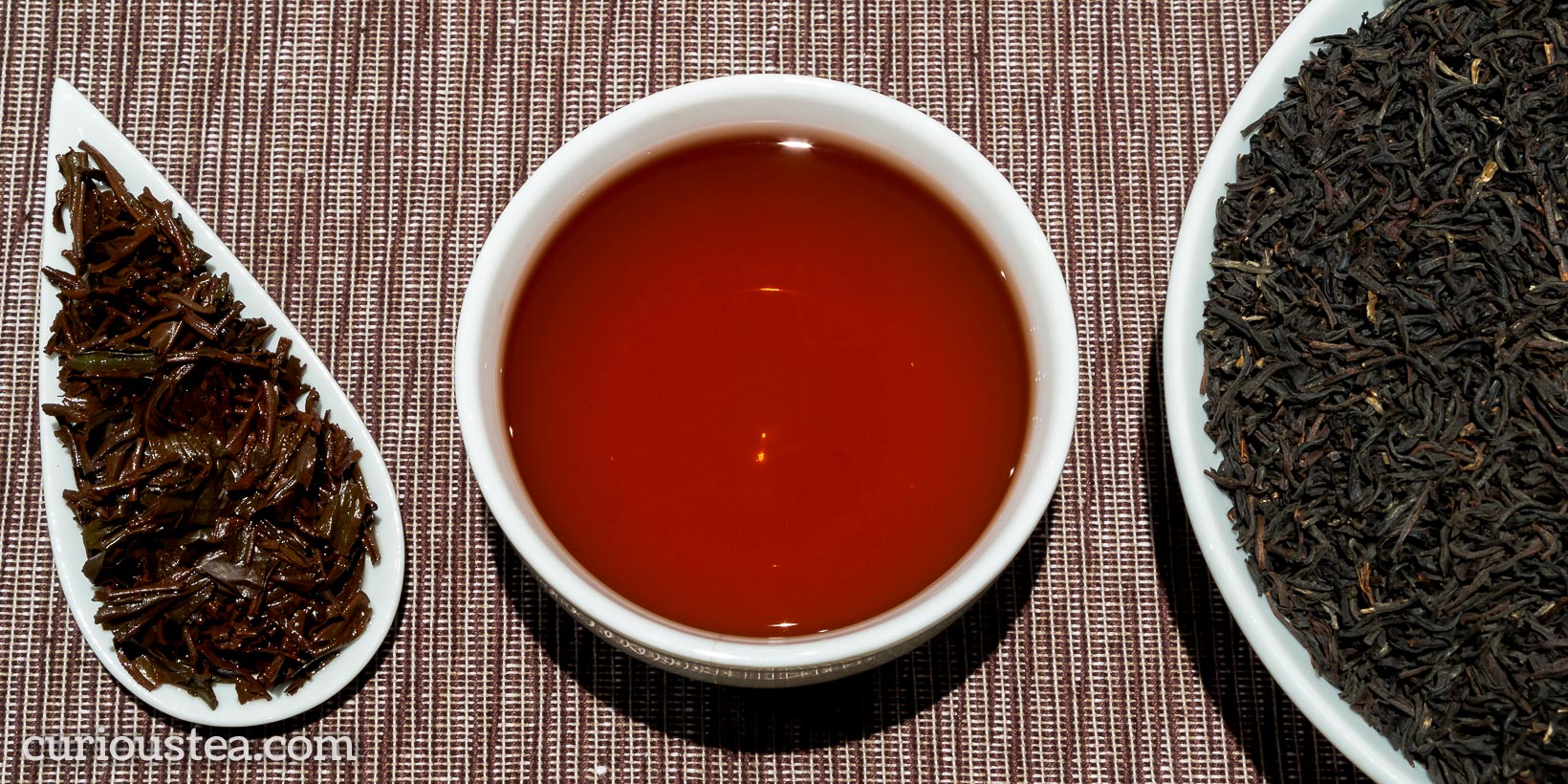 Assam Jamguri Classic is a traditional Assam from Jamguri Tea Estate that is found just south of the mighty Brahmaputra River in Golaghat District. This FTGFOP1 grade is made from plants that are grown to organic standards and the Estate has organic certification. It has a characterful flavour that would appeal to all fans of bolder Assam and breakfast style teas. This particular batch is made of mixed 2022 harvests, blended to create a very satisfying liquor. We source this tea via a small specialist wholesaler who works directly with the estate.
Jamguri Tea Estate was founded on 12 March 1898 and was originally known as Nagora. Jamguri in the local language translates as 'the land of the Jamun tree', a tree known as the Malabar plum that produces bitter and sweet purple fruits. The estate is located next to Brahmaputra River and to the east of Kaziranga National Park. It has been exclusively producing organic teas for many years and the tea plants here thrive in natural biodiverse conditions. The teas from Jamguri are known for quality and for having classic Assam flavours.
Unlike our completely handmade Assam teas from Kathaldanga and Latumoni that have much more elegant but lighter flavours, this Assam Jamguri delivers a bolder, more traditional flavour profile. It is handpicked but machine processed, although still retains the high FTGFOP1 grading, referencing the tippy nature and high quality. This enables this tea to be competitively priced while delivering a lovely traditional Assam flavour. The blending of the harvests, utilising a milder First Flush together with a bolder Second Flush also greatly enhances the flavour.
This Assam Jamguri Classic consists of smaller, neat leaves with some very evident tips. It produces a dark, bold liquor with an aroma of malt and stewed plums. The overall taste is unmistakably Assam, bold and flavoursome. It has a plummy, fruity and malty flavour with a stony and mineral edge. There is a very pleasant underlying sweetness that balances the flavours. This sweetness is very welcome as the tea delivers a good degree of tannins and some bitterness, as expected! In fact, if it wasn't for the tannic aspect, this would otherwise make for quite a sweet-tasting tea. The long-lasting aftertaste is mostly tannic, featuring drying notes of burnt sugar.
We suggest brewing at 90°C for 3-5 minutes according to your taste. It can be brewed a couple of times depending on your taste preferences. Can be enjoyed without any additions if you like a stronger taste. You can also brew this tea a bit lighter by shortening the infusion time and lowering the water temperature to 85°C. Add a splash of milk or honey and lemon if you must!
You can also buy Assam Jamguri Classic black tea in our online shop.
We really do hope that you enjoy this tea selection for November and are looking forward to the selection in our next box. Our December box will feature a classic high mountain Qing Xin Oolong from Meishan in Taiwan as well as an unusual green tea from Rohini in Darjeeling. For the darker side of the selection we chose our award-winning Hong Shui Oolong from Meishan that is pleasantly roasty as well as a Nepali black tea from a small garden in the foothills of Machapuchare mountain.
If reading this has made you curious about our teas, but you don't yet subscribe to a monthly tea selection, you can sign up for our tea boxes in just a few clicks. We ship worldwide from London, UK.
We always love to hear from you, so if you have any questions, suggestions or just want to chat about tea, email us at contact@curioustea.com, via our Facebook page or via Twitter.
You can also follow us on Instagram for pretty tea photos.
Happy tea discoveries!