Welcome to the November 2020 edition of the Curious Tea subscription! Here's a closer look at the four exciting new teas that we are sharing with our subscribers this month.
The first light tea this month is a light Bai Mu Dan white tea from Fuding in Fujian Province of China that comes pressed into mini 5g individually wrapped cakes.
The second light tea is a rare Taiwanese green tea that is crafted from the Qing Xin Gan Zi sub-varietal that delivers classic green tea flavours with a characteristic floral edge.
For the dark side of the selection we have a high mountain Gui Fei Oolong from the famous Shan Lin Xi tea growing area of Taiwan that has a captivating wild floral honey flavour.
Finally, the last tea we are featuring this month is a traditional Gopaldhara Rare Muscatel Gold, a Second Flush Darjeeling tea crafted from old China trees planted by the British some 130 years ago.
Our Discovery subscription boxes contain 10g taster pouches of all of the above mentioned teas. If you are a subscriber you will benefit from a 10% discount on all teas from our tea shop!
Let's get into further detail on the products featured in our November tea subscription boxes.
Bai Mu Dan White Peony Mini Cakes
Bai Mu Dan White Peony Mini Cakes (白牡丹小饼) is a balanced white tea that comes pressed into mini 5g individual serving cakes sourced directly from our producer in Fuding, Fujian Province. It is grown in a fully organic tea garden at an altitude of 800-900m. The small cakes unfurl slowly, releasing light yet flavoursome liquor over multiple infusions. This particular batch was picked and pressed in April 2020.
This Bai Mu Dan is made from a Fuding Da Bai (福鼎大白 – Fuding Large White) white tea cultivar. This is the same cultivar that is used to make the famous and highly regarded Yin Zhen Silver Needle white tea from Fuding. Unlike the Yin Zhen, which utilises only the buds or the tips of the tea plant, this Bai Mu Dan mostly consists of one bud plus the top two leaves of the plant. The inclusion of the top leaves in addition to the buds results in a slightly stronger and more pronounced flavour when compared to other pure bud white teas. For many tea drinkers this characteristically stronger taste that is fuller and fruitier is very much an attraction of a Bai Mu Dan style of white tea over the lighter and more refined white teas made exclusively from tips.
The Bai Mu Dan name of this tea refers to Bai Mu Dan (白牡丹), which roughly translates as 'white peony'. It was pressed into mini cakes, which makes it convenient for single serve brewing. The cakes are roughly 4-6g in size so perfect for brewing in a gaiwan or a small pot. The cakes are individually wrapped in paper and will store well. This tea also should age quite well.
The small cakes have an attractive colour to the leaf, which is a classic appearance for Bai Mu Dan teas. When brewed, it is possible to tell that these cakes consist of larger leaves as well as tips, which results in a bolder flavour. The liquor has a vegetal profile with herbaceous and woody notes with lightly floral top notes. The aftertaste is clean but lasting with no astringency but with a slight dryness present.
We suggest brewing at 90°C for around 3-5 minutes according to your taste. Some of the cakes are more densely compressed so will take a while to open up. The best way to brew this tea is to use clear glass tea ware. This way you can see the cakes opening up and monitor the brewing. Generally we find the first infusion needs up to 5 minutes to open up the cake. Further infusions can be much shorter, 2-3 minutes. Brew until the leaves are completely separated and no flavour is left; up to 3 or more times depending on the brewing method and vessel.
You can also buy Bai Mu Dan White Peony Miki Cakes white tea in our online shop.
Qing Xin Gan Zi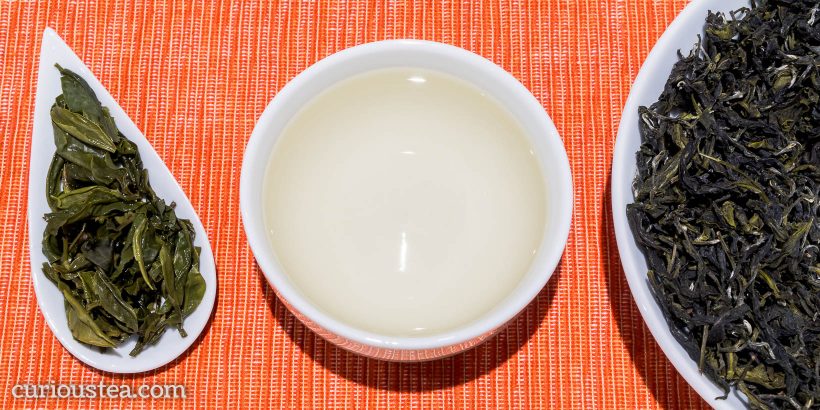 Qing Xin Gan Zi (青心柑仔) is a top grade early spring green tea from Taiwan. Made from the Qing Xin (青心), or Green Heart cultivar that is normally reserved for oolong teas, it has a brilliantly floral profile. It is somewhere between a light green tea and a light, minimally oxidised floral oolong! Qing Xin Gan Zi is grown to organic standards around Mingjian Township of Nantou County and was hand picked from the fine early spring leaves in March 2020.
Please make sure to check out our popular GABA Green Heart, made from the same cultivar but processed in an oxygen deprived environment to create a uniquely fruity flavour.
The Qing Xin Gan Zi name actually refers to the varietal used for this green tea. It is a sub-varietal of the widespread and popular Qing Xin cultivar known for a particularly floral character. The Gan Zi sub-varietal is extensively used for high grade Oriental Beauty Oolong teas due to large amount of buds that these plants tend to produce. This results in finer and more characterful profiles and translates extremely well to this fine, particularly floral, Taiwanese green tea.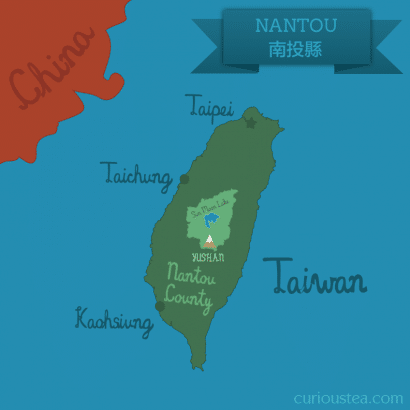 While Qing Xin cultivars are a popular choice for fine floral teas from Taiwan, these plants are not as popular with the farmers. It is generally thought that this particular cultivar naturally evolved and developed over time from ancestor plants from Fujian. Unlike the many scientifically selected and developed cultivars from Taiwan that are hardier, more resistant and featuring increased output, the Qing Xin cultivar does not have such characteristics. As such, the farmers are unable to produce as much tea from these plants, leading to higher prices. However the unique character of this cultivar makes the challenge all the more worthwhile for the farmers!
This Qing Xin Gan Zi has a very bright and clear liquor with a yellow-green light colour. The aroma is slightly vegetal and highly floral. It features a floral character with smooth and comforting notes that are lightly vegetal. The taste starts on a fruity note, followed by stronger floral middle notes and finishes on a slightly sweet yet drying aftertaste. Overall this is a fine green tea that has a slight vegetal profile typical of green tea while definitely being dominated by the more unusual floral notes.
It is best brewed at 80°C for 2-3 minutes according to your taste and should be brewed multiple times, increasing steeping time with each brew if desired.
You can also buy Qing Xin Gan Zi green tea in our online shop.
Shan Lin Xi Gui Fei Oolong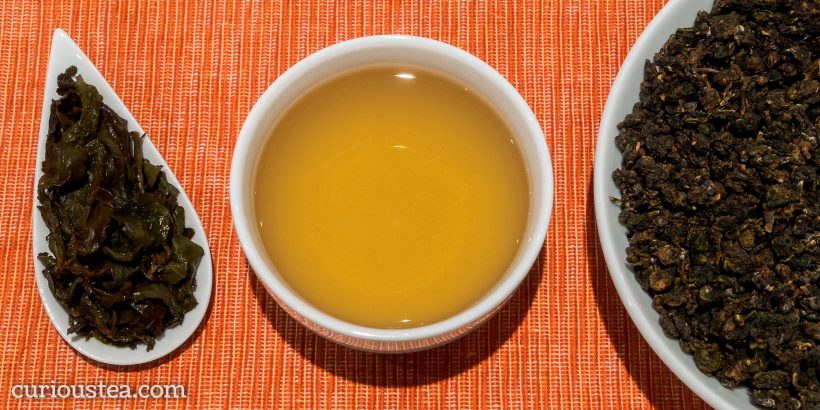 Shan Lin Xi Gui Fei Oolong (杉林溪貴妃烏龍茶) is an expressive Beauty Oolong from the famous Shan Lin Xi tea growing area of Nantou County in Taiwan. Grown at an altitude of 1,000-1,200 metres, this tea is crafted from 'bug bitten' leaves of the Qing Xin 'Green Heart' (青心) cultivar plants. Medium oxidation of about 45% combined with lower level of baking results in a balanced liquor with a captivating mi xian beauty flavour. This tea was harvested and processed in July 2020.
Shan Lin Xi (杉林溪) is an exceptional terroir located high in the mountains of Nantou Province. Although Alishan as a terroir may be more famous, it is without doubt that Shan Lin Xi produces high mountain (Gao Shan) oolong teas that are also considered to amongst the best from Taiwan. Shan Lin Xi can be literally translated as Pine Forest Stream from Chinese. However it is also commonly known as Sun Link Sea, an English phonetic approximation of the Chinese Shan Lin Xi, a process referred to as phono-semantic matching in linguistics. So both Sun Link Sea Oolong and Shan Lin Xi Oolong refer to teas from the same terroir. The gardens of Sun Link Sea terroir range in altitude between approximately 1,000 and 2,000 metres. The picturesque mountainous landscape is also home to Shanlinxi Forest Recreation Area, a popular destination for nature hiking that is known for its giant forest trees and waterfalls.
Gui Fei (貴妃) Oolong is classed as a 'beauty tea', which is an unusual class of tea that is affected by the presence of little green leaf hoppers. The leaf hoppers (Jacobiasca formosana) nibble the tea leaves during growth so the tea plants react to this attack by producing more polyphenols. During tea processing this produces a unique 'beauty tea' flavour (known as mi xian) that is usually described as having a honey-like taste and aroma. These teas also go by the Chinese name Dong Fang Mei Ren (東方美人), Eastern Beauty and Oriental Beauty, although the Gui Fei name is reserved exclusively for a rolled style of oolong.
Gui Fei Oolong itself is named after Yang Guifei, an Imperial Consort during the Tang Dynasty who is celebrated for her legendary beauty. Indeed, she is considered one of the Four Beauties of ancient China. When this new style of rolled beauty oolong was created around the Dong Ding area, the growers thought the Gui Fei name to be an apt description for this new tea style. And the new name still paid homage to the original Dong Fang Mei Ren name of beauty teas produced in northern Taiwan.
Our Shan Lin Xi Gui Fei Oolong consists of large hand picked and processed leaves that are tightly rolled. The medium oxidation means that the leaves are dark green in colour with darker brown colours from higher oxidation. Compared to our Award-Winning Gui Fei, or our Competition Grade Gui Fei, it is less oxidised, which leads to interesting results. Often Gui Fei has higher oxidation in order to bring out more sweetness in the tea, however this comes at the expense of the lighter floral flavours. We think this particular tea has a very fine balance. There are good floral notes that are characteristic of the Qing Xin cultivar. Nevertheless the bug-bitten beauty flavour also comes through with lovely sweet and honey notes.
This tea is highly aromatic, with a heady floral and honey aroma. The beauty mi xian taste is quite light but pronounced. There are some comforting lightly roasted notes that lead to more tangy and fruity top notes. The aftertaste is clean and lightly mineral with more floral flavours. Overall this is a very finely balanced tea that strikes the perfect combination of floral and wild honey flavours.
It is best brewed at 90°C for 3-4 minutes according to your taste and should be brewed multiple times, increasing steeping time with each brew if desired. For best results, we recommend good quality filtered water and the gong fu brewing method.
You can also buy Shan Lin Xi Gui Fei Oolong tea in our online shop.
Gopaldhara Rare Muscatel Gold
Darjeeling Gopaldhara Rare Muscatel Gold is a traditional Second Flush Darjeeling from Gopaldhara Tea Estate. Made from leaves harvested from old China bushes that were originally planted by the British, some 130 years ago, that grow at a special, higher section of the Estate; at an altitude of 1,700-2,100 metres. It is more robust than the First Flush teas from Gopaldhara but is also more complex when compared to their Classic Second Flush tea. It has a smooth profile with muscatel and fruity notes. This batch is FTGFOP1 'China Muscatel Gold' grade from the second flush crop picked in June 2020.
Like all our Gopaldhara teas, we source this tea directly from Rishi Saria, the owner and director of Gopaldhara and Rohini Tea Estates. Gopaldhara Tea Estate is nestled in the Mirik Valley, in the Himalayan foothills, and is one of the highest tea estates in Darjeeling with elevations of up to 2,100m. It is renowned for producing teas of exceptional quality and very often quite unusual character.
Second Flush Darjeeling teas generally have more robust profiles when compared to First Flush Darjeeling. A good Second Flush Darjeeling certainly should exhibit a character that is more rounded, having a stronger overall flavour. But these stronger flavours should be well balanced – just like in this fine Second Flush example from Gopaldhara. The usage of leaves from old China bushes leads to a more nuanced flavour in this tea, featuring complex sweet muscatel flavours.
Darjeeling Gopaldhara Rare Muscatel Gold tea has a dark leaf with bold red and golden colours, indicating a higher degree of oxidation. The liquor produced has a dark reddish colour with a light aroma. The fruity profile has sweet muscatel notes that are light and smooth. There is pleasant floral aspect underpinning the taste. The fruity notes are somewhat reminiscent of smoked or roasted prunes. There is a mineral aspect present, however it does not translate into any bitterness or astringency. The aftertaste is very comforting with lasting fruity notes.
We suggest brewing parameters of 90°C for 3-4 minutes according to your taste, brewing multiple times.
You can also buy Gopaldhara Rare Muscatel Gold black tea in our online shop.
We really do hope that you enjoy the tea selection for November and are looking forward to the selection in our next box. Our December box will feature a Nokcha green tea from Korea, a Colombian green tea, a classic summer Kathaldanga Assam from India and a Santikhiri Ruby Jin Xuan Oolong from Thailand!
If reading this has made you curious about our teas, but you don't yet subscribe to a monthly tea selection, you can sign up for our tea boxes in just a few clicks. We ship worldwide from London, UK.
We always love to hear from you, so if you have any questions, suggestions or just want to chat about tea, email us at contact@curioustea.com, via our Facebook page or via Twitter.
You can also follow us on Instagram for pretty tea photos.
Happy tea discoveries!