Welcome to the November 2019 edition of the Curious Tea subscription! Here's a closer look at the four exciting new teas that we are sharing with our subscribers this month.
The first light tea this month is a refreshingly floral Huang Jin Gui Golden Osmanthus Oolong from Fujian Province of China.
The second light tea is a delicate yet flavoursome balanced Yin Zhen Silver Needle white tea from Guangxi Province in China.
For the dark side of the selection we have a supreme quality 2019 'Spring Delight' First Flush Darjeeling from Rohini Tea Estate.
Finally, the last tea we are featuring this month is a smooth and rich Dian Hong Da Ye Assamica from Yunnan Province that is made purely from leaves of assamica plants.
Our Discovery subscription boxes contain 10g taster pouches of all of the above mentioned teas. If you are a subscriber you will benefit from a 10% discount on all teas from our tea shop!
Let's get into further detail on the products featured in our November tea subscription boxes.
Huang Jin Gui Golden Osmanthus Oolong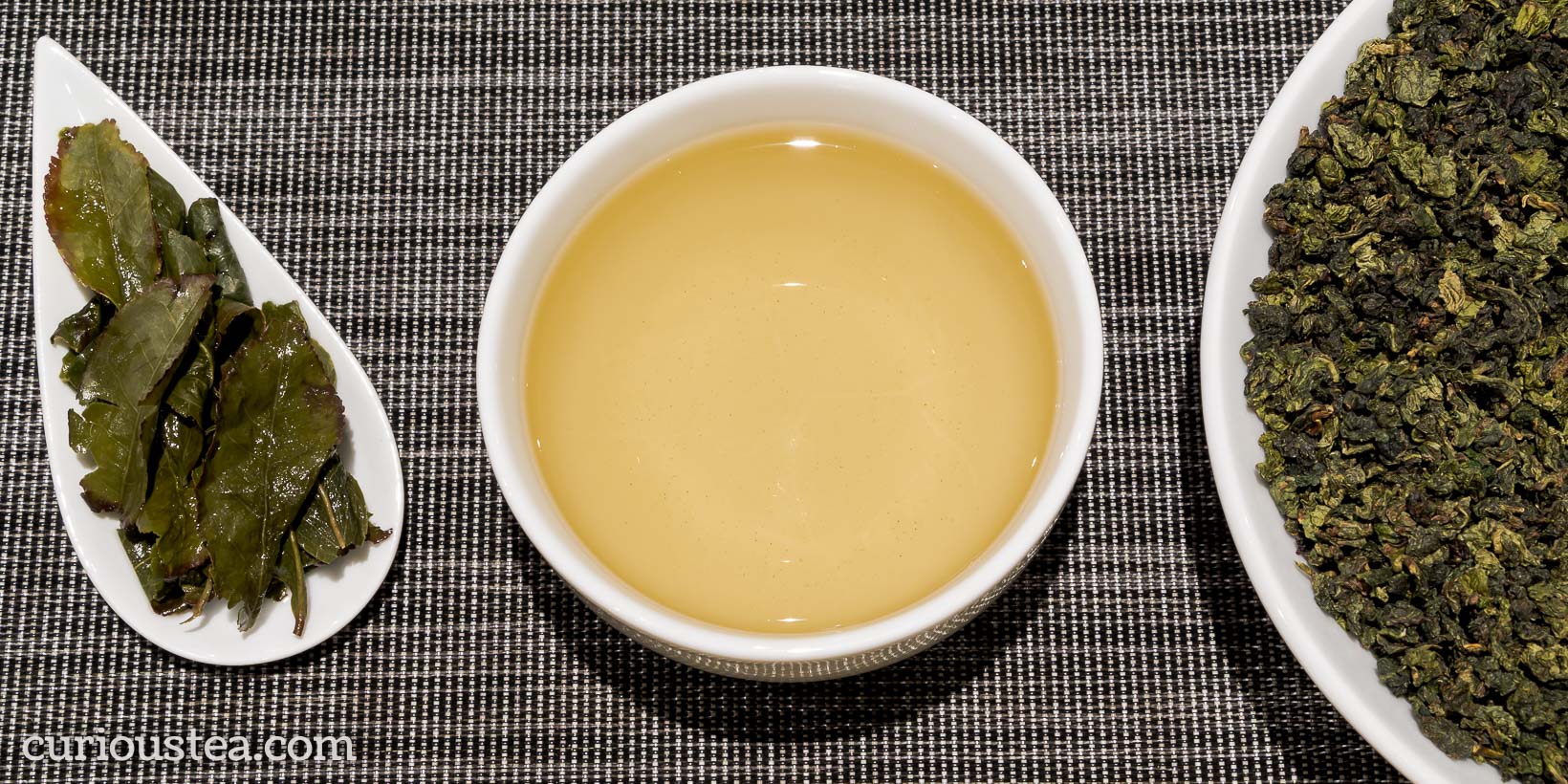 Huang Jin Gui Golden Osmanthus Oolong (黃金桂乌龙茶) is one of the four famous lightly oxidised oolongs from Anxi County of Fujian Province in China. It is one of the most floral oolong teas from the area, having a verdant and floral character reminiscent of sweet osmanthus blossom. This particular batch is from the spring 2019 harvest.
Huang Jin Gui (黃金桂), which translates as "golden osmanthus", gets its name from the floral character that is said to resemble the scent of sweet osmanthus flowers. This oolong should not be confused with other teas that are actually scented with osmanthus flowers. This tea, while being quite floral, is unscented. The floral profile only hints at osmanthus blossom fragrance.
Anxi style oolongs are generally lightly oxidised, retaining many of the delicate floral aspects that are closer to a light green tea without the grassiness or astringency. This type of oolong has become known as a 'jade' or 'green' oolong due to the light appearance and colour that is reflected in both the leaves of the tea as well as the light coloured liquor.
Traditionally, many Anxi oolongs, while being lightly oxidised, would undergo heavy roasting to produce a much stronger roasted profile. These traditional roasted oolongs have fallen out of favour as there has been a rise in popularity of the unroasted light green oolongs both in China and in the West. In large part this is driven by trends among the younger generations in China. Also these lighter oolongs tend to be much easier to brew while having a much more easily approachable and appreciable taste. They are comparable to the lightly oxidised oolongs of Taiwan, such as Jade and Four Seasons, which are also gaining in popularity.
Huang Jin Gui Golden Osmanthus Oolong has a low degree of oxidation, resulting in a light liquor with a brilliant floral profile. The dark and light green coloured rolled leaves open up when brewed to produce a light yellow coloured liquor. True to the name of this tea, it has a wonderfully floral and verdant aroma reminiscent of osmanthus blossom. It has a lovely character that is light and super smooth, without any astringency. The flavours have sweet buttery notes of verdant florals and asparagus. It has a fresh and clean aftertaste with just a touch of tartness. A refreshing tea that is great for working and focus.
We suggest brewing at 90°C for around 3 minutes according to your taste. It can be brewed around 3+ times depending on your taste preferences.
You can discover all four famous Anxi oolongs in our online shop: classic Tie Guan Yin Iron Goddess of Mercy, crisp and zesty
Mao Xie Hairy Crab, refreshingly floral Ben Shan Source Mountain and the most floral Huang Jin Gui Golden Osmanthus.
Yin Zhen Guangxi Silver Needle
Yin Zhen Guangxi Silver Needle (广西白毫银针) is a delicate yet flavoursome white tea. It is grown in Baise, Guangxi Province, utilising plants specifically used for white tea production that originate in the famous Fuding tea growing area of Fujian Province. The neat silver leaves produce a fruity and woody liquor with a sweet, satisfying flavour. This particular tea is grown to organic standards and is an early spring First Flush picking from March 2019.
This Yin Zhen Guangxi Silver Needle is picked from the best early spring buds. It is a high grade Bai Hao (白毫) variety, which literally means White Hair, named after the white 'hairs' on the tea buds. These hairs give a silver shine to the leaves that appear fluffy and are soft to touch. The presence and quantity of white hairs signifies both good quality tea and careful processing. After picking, the leaves are gently wilted, piled for a short period of time for some minimal enzyme oxidation and finally dried.
Guangxi Province is not particularly famous for growing white tea, but some farmers have brought plants from Fujian and planted them for white tea production here. The cultivar utilised is the famous Fuding Da Bai (福鼎大白 – Fuding Large White). This cultivar is used in Fujian to produce our classic Yin Zhen Silver Needle. However with the change of terrior comes a change in flavour. The Fuding versions tend to be the most delicate, having a very light profile. This Guangxi version of Yin Zhen however delivers a more complex profile, with pronounced fruity and woody notes and a good dose of honey flavour. By comparison, our Yin Zhen Yunnan Silver Needle has the most woody character since it is made from a different cultivar.
Yin Zhen Guangxi Silver Needle has been carefully processed to create neat silver leaves. The dried leaves have a lightly fruity and woody aroma. The liquor produced is a pale golden colour with a light aroma. The liquor has a balanced profile, having a good body yet light flavour. The main smooth flavours are woody and fruity with notes of plums and melon. There is plenty of complex honey sweetness that makes the liquor particularly satisfying to drink. The clean aftertaste is comforting with long-lasting sweet flavours.
This tea is best brewed at 80°C for 3-4 minutes according to your taste, brewing multiple times. Like with all white teas, you can experiment with both low temperature and long steeping time as well as high temperature and short steeping time as an alternative way of brewing.
You can also buy Yin Zhen Guangxi Silver Needle white tea in our online shop.
Darjeeling Rohini Spring Delight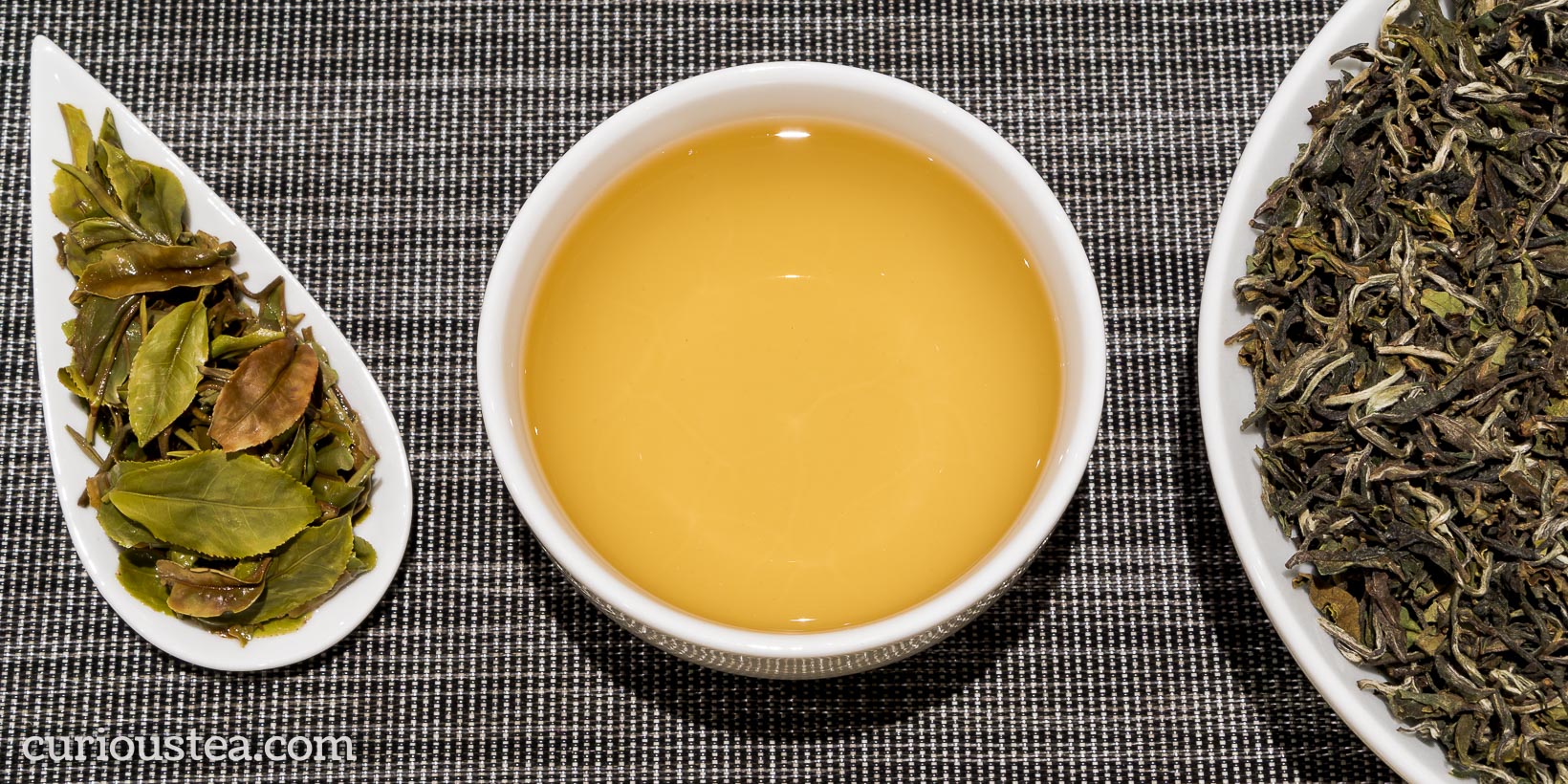 Darjeeling Rohini Spring Delight is a top grade First Flush tea from Rohini Tea Estate. Hand selected from finely picked whole leaves and buds and lightly oxidised, this tea delivers a typical First Flush profile that is mineral and floral. This current EX21 batch is from the March 2019 harvest.
Rohini Tea Estate is located along the route that connects the towns of Siliguri and Kurseong. Surrounded by a beautiful natural environment, this estate produces tea from relatively young trees. The estate has had a chequered past, not actually producing any tea for a long period of time. Recently it has been replanted with young tea trees, which sometimes has lead it to be called the youngest tea estate in Darjeeling. It is now going from strength to strength and is producing more and more interesting and higher quality teas. Spring Delight is an example of a high grade First Flush Darjeeling that undergoes light oxidation to preserve and highlight the fresh spring flavours.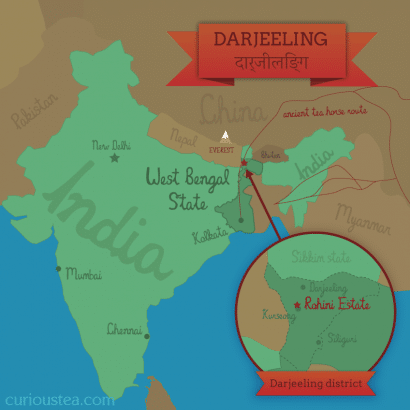 Like in all of Darjeeling, the First Flush is a particularly prized picking. The tea trees undergo hibernation for about 4 months during the period of December to March. As spring approaches, the trees start to slowly produce very fine new growth. These new spring leaves that are carefully picked by hand usually consist of one bud plus one or two leaves. These are hand sorted and processed using minimal machinery to retain the fine quality.
Darjeeling Rohini Spring Delight has neat tippy leaves that have a typical First Flush Darjeeling mineral aroma. The brewed semi-oxidised leaves look particularly neat and well-sorted, with lovely mixed colours. The brewed liquor has a wonderful First Flush character with mineral and floral flavours. There are some interesting almond notes and a nice stony finish to the taste. Overall the flavours are rather clean and smooth, with a lightly drying aftertaste finely balancing the profile. This is a top First Flush Darjeeling that can be enjoyed by itself or paired with pastries for a delightful afternoon treat.
It is best brewed at 90°C for 3-4 minutes and can be brewed 2+ times.
You can also buy Darjeeling Rohini Spring Delight 2019 First Flush tea in our online shop.
Dian Hong Da Ye Assamica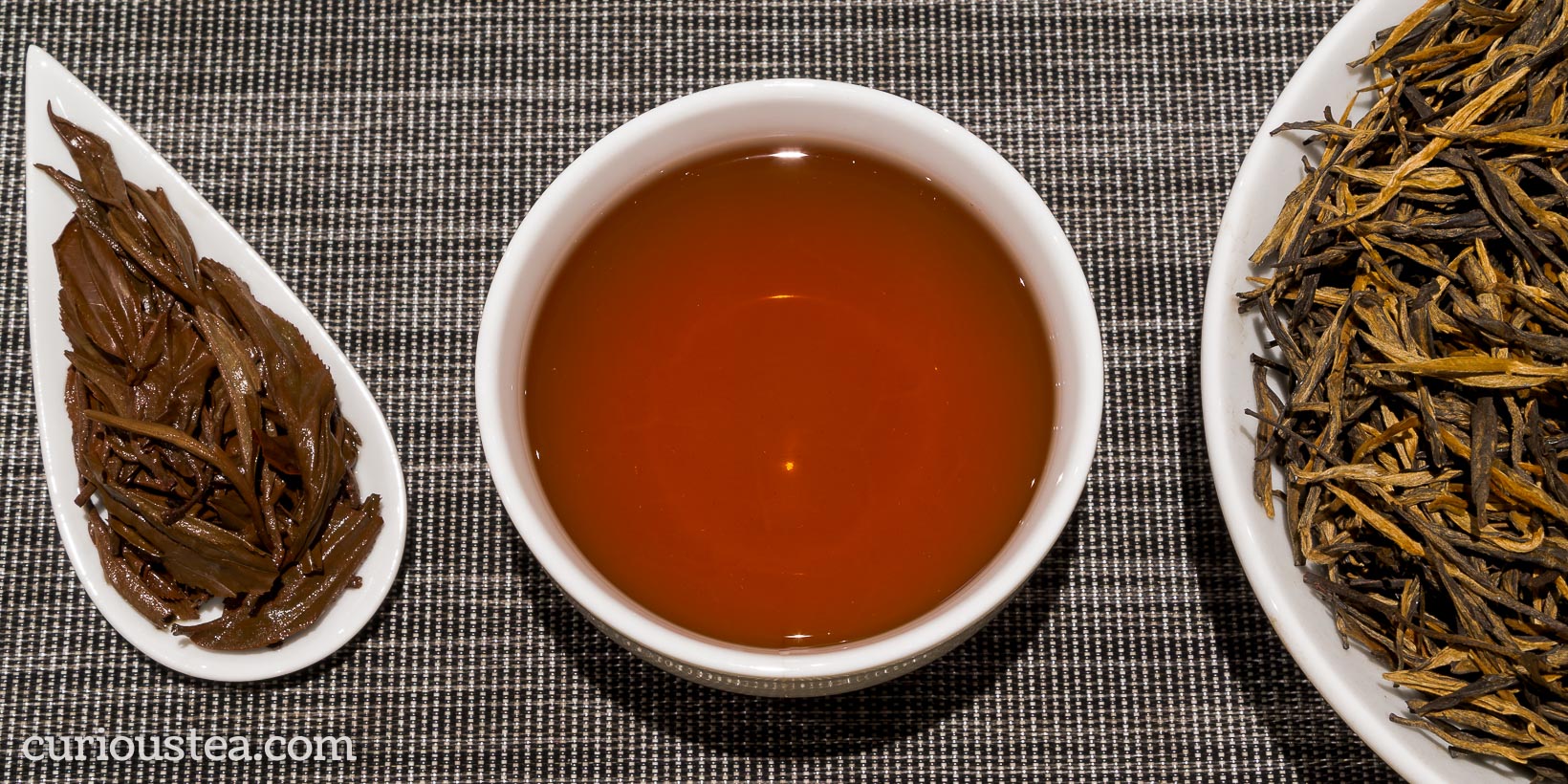 Dian Hong Da Ye Assamica (滇红大叶) is a wonderfully balanced and flavoursome Yunnan Red tea from Simao District in Pu'er City, Yunnan Province. Made exclusively from large leaves of assamica plants, it displays a classic Dian Hong profile that has a fine balance between sweet malty and tangy mineral notes. This batch is from early March 2019 harvest.
Simao District has played an important role in history of tea, both in this region and in the rest of the world. The ancient Tea Horse Road was a trade route with the starting point in Simao, so both this district and the surrounding Pu'er Prefecture area have been growing and trading tea for over a thousand years. To this day tea remains the central crop and production of this region. Traditionally this area produces pu-erh tea, with black tea production in Yunnan Province only dating to around 1938.
Yunnan Province produces some great Dian Hong (滇红), or Yunnan Red teas. These are largely popular due to the flavour profile, having balanced and smooth flavours with plenty of full bodied sweet malty notes and lack of astringency or bitterness. The low level of tannins is attributed both to production methods as well as the actual raw material used for these teas. The native plant to Yunnan Province is the assamica plant, locally known as Yunnan Da Ye Large Leaf (雲南大叶). These plants have larger leaves than their sinensis cousins and are largely used for pu-erh tea production in the region. When used for black tea production, like for this Dian Hong Da Ye Assamica, they also deliver great results, having the usual Dian Hong sweet malty flavours that are nicely balanced by some mineral notes.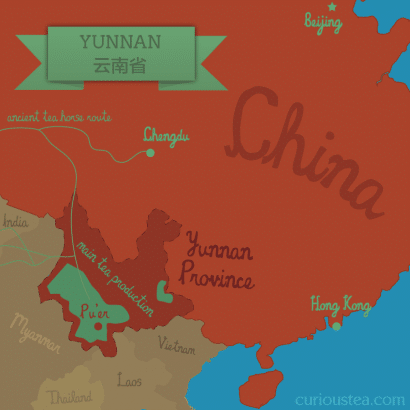 Dian Hong Da Ye Assamica is made exclusively from leaves of assamica plants, consisting of larger leaves as well as buds plus 1-2 leaves. The buds turn a lovely copper gold colour when withered, making for a very attractive dry leaf indeed. This pure assamica Dian Hong makes an interesting comparison to teas from other varietals in the region. Teas made from the Ye Sheng (野生) 'Wild Tree' Camellia sinensis var. dehungensis from Feng Qing and De Hong have particularly fruity profiles. The same applies to our Jing Mai Purple Needle from a purple leaf mutation of assamica, the Zi Ya (紫芽) 'Purple Leaf'. Da Li Cha is made from Camellia sinensis var. taliensis and has an altogether different, complexly sweet flavour. And then there are Yunnan Red teas that are made from developed cultivars, such Jin Zhen Golden Needle made from Feng Qing #17 cultivar and Zi Juan Purple beauty from a recently developed Zi Juan (紫娟) 'Purple Beauty' cultivar. All these Dian Hong teas produce quite different types of flavours, each unique and exciting.
This Dian Hong Da Ye Assamica black tea consists of large leaves with buds that have been formed into long needles. The dry leaf has a very appealing and striking appearance with a lovely copper gold colour of the tips. The aroma of the dry leaf is that of sweet malt. The liquor has a dark, rich amber colour, a malty aroma and hints of cocoa. The flavour profile is dominated by sweet malt flavours, with notes of cocoa and molasses. The sweetness of the flavour is complimented by a secondary taste that is much more mineral and tangy. This lasts into the aftertaste as well, making this tea rather well balanced and satisfying to taste. This is an excellent everyday assamica that delivers brilliant flavours.
It is best brewed at 90°C for 3-4 minutes according to your taste, brewing multiple times.
You can also buy Dian Hong Da Ye Assamica black tea in our online shop.
We really do hope that you enjoy the tea selection for November and are looking forward to the selection in our next box. Our December box will feature a light Yun Wu green tea from Huang Shan, a 'white tea' made from real tea flowers from Latumoni in Assam, an extremely rare Qing Xin black tea from Wen Shan in Taiwan and finally a classic summer Sikkim black tea!
If reading this has made you curious about our teas, but you don't yet subscribe to a monthly tea selection, you can sign up for our tea boxes in just a few clicks. We ship worldwide from London, UK.
We always love to hear from you, so if you have any questions, suggestions or just want to chat about tea, email us at contact@curioustea.com, via our Facebook page or via Twitter.
You can also follow us on Instagram for pretty tea photos.
Happy tea discoveries!