Welcome to the November 2018 edition of the Curious Tea subscription! Let's look at the four exciting new teas we're sharing with our subscribers this month.
The first light tea this month is a rare green tea from Taiwan made from a special Qing Xin sub-varietal that is renowned for a brightly floral aroma and taste.
The next light tea is from Fujian in China and is a classic Bai Mu Dan white tea that has a soft, yet complex and satisfying flavour.
For the dark side of the selection we have another tea from Tumoi Teas in Kenya, this time a mineral and stony oolong.
Finally, the last tea we are featuring this month is a complex Dan Cong oolong from Guangdong in China that is particularly known for a highly sweet and floral profile.
Our Discovery subscription boxes contain 10g taster pouches of all of the above mentioned teas. If you are a subscriber you will benefit from a 10% discount on all teas from our tea shop!
Let's get into further detail on the products featured in our November tea subscription boxes.
Qing Xin Gan Zi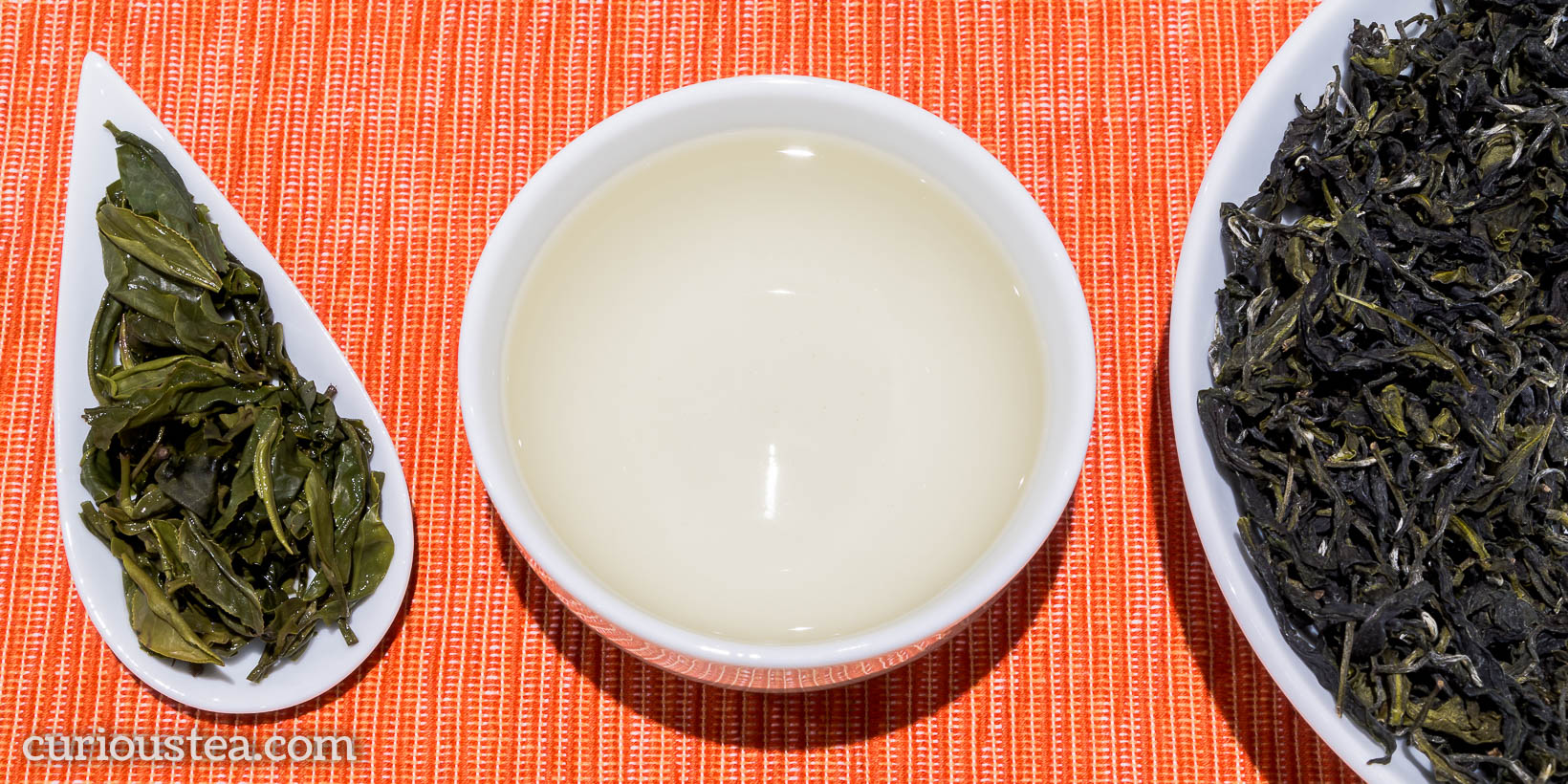 Qing Xin Gan Zi (青心柑仔) is a top grade early spring green tea from Taiwan. Made from the Qing Xin (青心), or Green Heart cultivar that is normally reserved for oolong teas, it has a brilliantly floral profile. It is somewhere between a light green tea and a light, minimally oxidised floral oolong! Qing Xin Gan Zi is grown around Mingjian Township of Nantou County and was hand picked from the fine early spring leaves in April 2018.
The Qing Xin Gan Zi name actually refers to the varietal used for this green tea. This is a sub-varietal of the widespread and popular Qing Xin cultivar known for a particularly floral character. The Gan Zi sub-varietal is extensively used for high grade Oriental Beauty Oolong teas due to large amount of buds that these plants tend to produce. This results in finer and more characterful profiles and translates extremely well to this fine, particularly floral, Taiwanese green tea.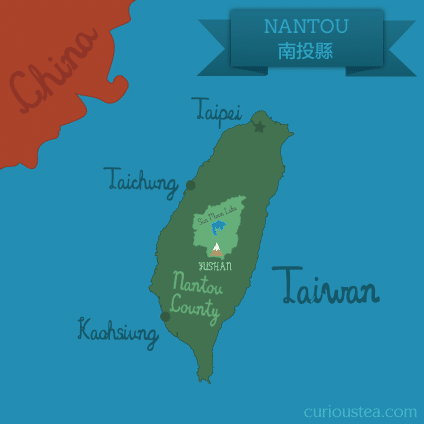 While Qing Xin cultivars are a popular choice for fine floral teas from Taiwan, these plants are not as popular with the farmers. It is generally thought that this particular cultivar naturally evolved and developed over time from ancestor plants from Fujian. Unlike the many scientifically selected and developed cultivars from Taiwan that are hardier, more resistant and featuring increased output, the Qing Xin cultivar does not have such characteristics. As such the farmers are unable to produce as much tea from these plants, leading to higher prices. However the unique character of this cultivar makes the challenge all the more worthwhile for the farmers!
This Qing Xin Gan Zi has a very bright and clear liquor with a yellow-green light colour. The aroma is slightly vegetal and highly floral. This tea features a floral character with smooth and comforting notes that are lightly vegetal. The taste starts on a fruity note, followed by stronger floral middle notes and finishes on a slightly sweet yet drying aftertaste. Overall this is a fine green tea that has a slight vegetal profile typical of green tea while definitely being dominated by the more unusual floral notes.
It is best brewed at 80°C for 2-3 minutes according to your taste and should be brewed multiple times, increasing steeping time with each brew if desired.
You can also buy Qing Xin Gan Zi green tea in our online shop.
Bai Mu Dan White Peony King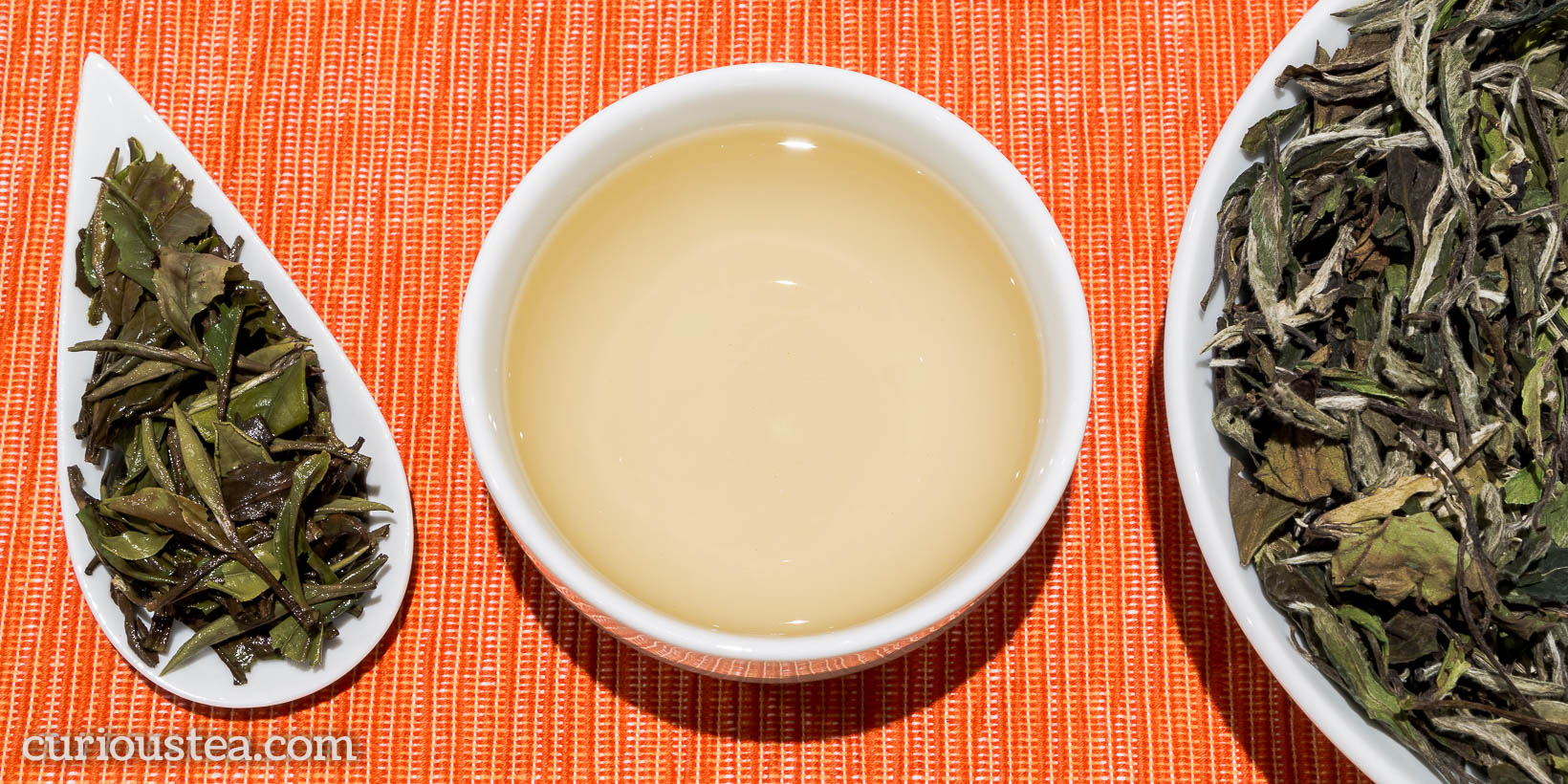 Bai Mu Dan White Peony King (白牡丹) is a classic white tea sourced directly from our producer in Fuding, Fujian Province. It is grown in a fully organic tea garden at an altitude of 800-900m. This tea has a variably-sized and coloured leaf that is plucked using the 'two leaves and one bud' standard of leaf picking. The leaves produce a soft flavour with full, complex notes. This particular batch was picked in April 2017, after which it was matured for 1.5 years to balance and develop the flavours.
Bai Mu Dan White Peony King is made from a Fuding Da Bai (福鼎大白 – Fuding Large White) white tea cultivar. This is the same cultivar that is used to make the famous and highly regarded Yin Zhen Silver Needle white tea from Fuding. Unlike the Yin Zhen, which utilises only the buds or the tips of the tea plant, this Bai Mu Dan White Peony King mostly consists of one bud plus the top two leaves of the plant, hand picked during the picking process. The inclusion of the top leaves in addition to the buds results in a slightly stronger and more pronounced flavour when compared to other pure bud white teas. For many tea drinkers this characteristically stronger taste that is fuller and fruitier is very much an attraction of a Bai Mu Dan style of white tea.
The Bai Mu Dan White Peony King name of this tea refers to Bai Mu Dan (白牡丹), which roughly translates as 'white peony'. The precise reasoning behind this name is not clear, although it is sometimes said that this kind of tea should possess an aroma that is reminiscent of the aroma of a white peony flower. The addition of 'King' in English is used to signify the grade of this tea, which is higher than many standard White Peony teas due to the quality of the leaf used and more careful, laborious processing.
The large mixed leaf of this Bai Mu Dan White Peony King has a mixed colour appearance that results from expert withering and light oxidation of the tea leaves. The leaves are quite tippy, with some silver buds and larger darker leaves. This is the typical appearance of a tea that follows the 'two leaves and one bud' standard of leaf plucking and where a large amount of leaf is preserved intact during processing. The clear liquor produced has a light golden colour and a sweet, almost honey-like aroma with a hint of woodiness. The taste is very soft yet full in flavour. There is definitely a fruity aspect to this tea, which is combined with woody and herbaceous notes to make it a pleasantly complex cup. The aftertaste is long-lasting with honey and sweet fruity notes.
We suggest brewing at 80°C for around 3 minutes according to your taste. Bai Mu Dan White Peony King white tea shoud be brewed multiple times depending on your taste preferences. As with all white teas, you can experiment with brewing times. Try either brewing this at a lower temperature (70°C) for 4-5 minutes or alternatively at 90°C for 60-90 seconds. Different brewing parameters produce quite different results so experimenting with the water temperature and steeping time is the best way of finding the brewing method that works best for you.
You can also buy Bai Mu Dan White Peony King white tea in our online shop.
Tumoi Nandi Hills Oolong
Tumoi Nandi Hills Oolong is a rather unusual oolong that has a profile that is mineral and stony. Grown around Nandi Hills at an altitude of over 2,000 metres by the Tumoi Teas Cooperative without the use of pesticides; it is processed using traditional orthodox tea production methods. This Tumoi Nandi Hills Oolong is from the summer 2017 harvest.
Unlike our Purple Green tea from Tumoi, this one does not come from the new purple cultivar. Instead, a more conventional tea plant (also used for the Tumoi Nandi Hills Green and Tumoi Nandi Hills Black) is used to produce an oolong with a profile that has a prominent mineral aspect. This oolong definitely has more appeal to fans of mineral and stony, lightly oxidised teas from Darjeeling rather than the more floral and fruity oolongs.
Tumoi Teas Cooperative is a relatively new type of tea farmer cooperative in Kenya that focuses on creating beautiful tea while also supporting local farmers and the local community. While a large proportion of tea plantations in Kenya are owned by multinational corporations, Tumoi Teas is completely run and managed by small-scale tea farmers.
Tumoi specifically focuses on producing high-quality orthodox teas. The rationale behind this is that the Kenyan tea industry is dominated by CTC (cut-tear-curl) teas destined for tea bags. The CTC market is very volatile with large corporations buying up the majority of CTC tea and generally trying to drive the prices down. This results in very little return for the farmers. In contrast, farmers that grow small scale but high quality teas are more in control over pricing and enjoy much fairer returns for their labour.
This Tumoi Nandi Hills Oolong has rather neat leaves of mixed size with a dark colour. The liquor produced has an amber colour, very good clarity and a light mineral aroma. The flavours are predominantly mineral and stony, reminiscent of lightly oxidised Darjeeling teas. While this tea lacks some of the complexity that some oolongs can possess, it nevertheless has a pronounced and clearly defined flavour. This tea also displays a degree of astringency that mainly comes from the tannic and drying notes. The aftertaste is most reminiscent of grape skins, displaying a level of fruitiness but also astringency and dryness.
It is best brewed at 90°C for 2-3 minutes and should be brewed around two times depending on your taste. You can reduce the brewing temperature and time to reduce the tannins. While we think that the black version of this tea makes an excellent choice for breakfast tea; this Tumoi Nandi Hills Oolong by contrast is a great companion in the afternoon, paired with cakes and pastries.
You can also buy Tumoi Nandi Hills Oolong tea in our online shop.
Dan Cong Da Wu Ye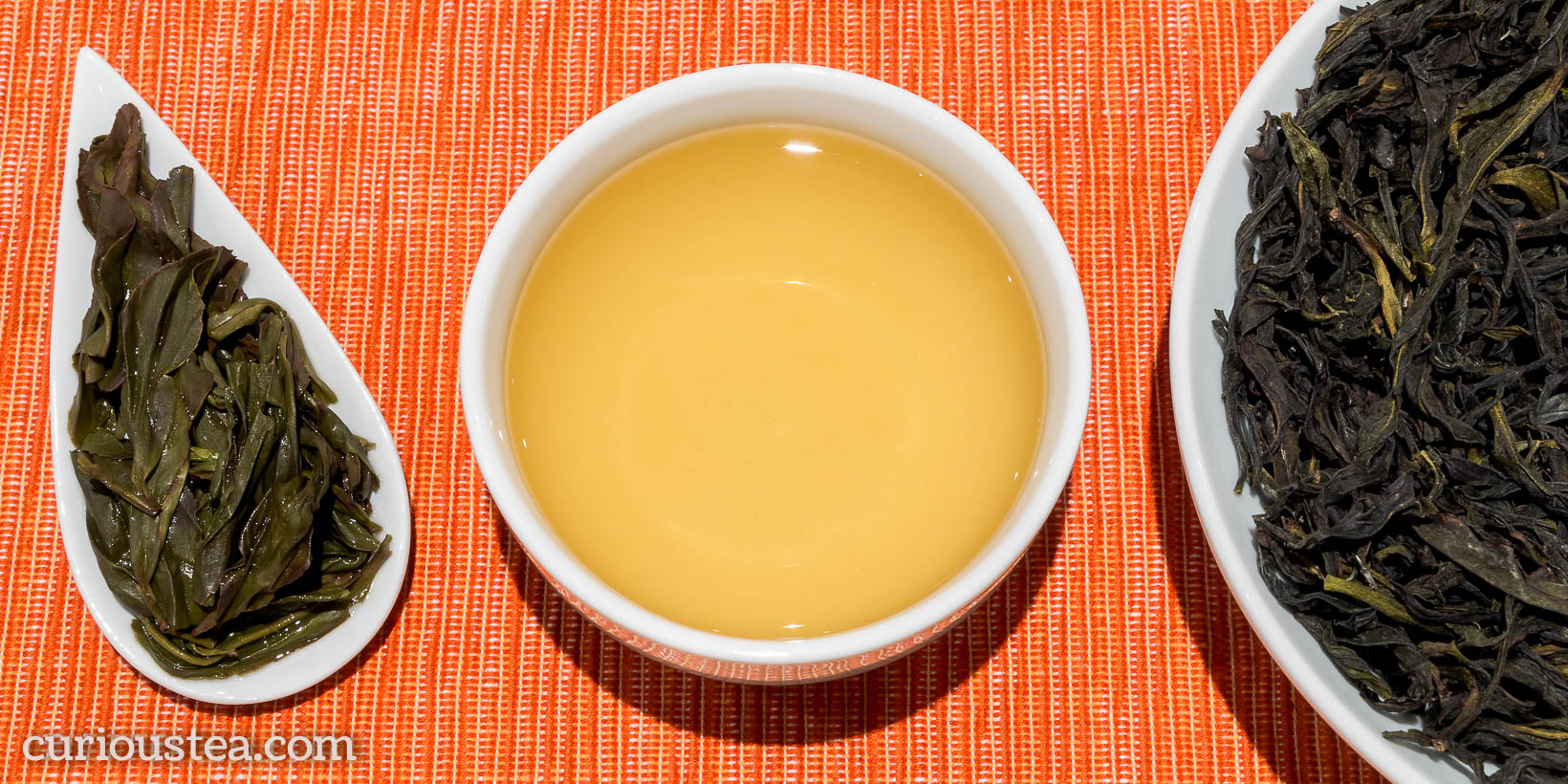 Dan Cong Da Wu Ye (单枞大乌叶) is a complex Phoenix Oolong that is known as 'Big Black Leaf'. This particular Dan Cong type is well-known for a highly aromatic, floral and sweet profile. Grown in Chaozhou, Guangdong Province, it is harvested in early April. This particular batch is from the 2018 harvest.
Dan Cong (单枞) is the general term that is used to refer to oolongs that come from Guangdong and specifically from Phoenix Mountains. Dan Cong literally means 'single bush' as traditionally these oolongs were all plucked only from single semi-wild trees. It has now become the generic term to cover all Phoenix Mountains (Fenghuang Shan 凤凰山) and sometimes other Guangdong Oolongs. This Dan Cong Da Wu Ye comes from Chaozhou and is grown from trees of the Da Wu Ye cultivar on Wu Dong Shan that are approximately 40-50 years old.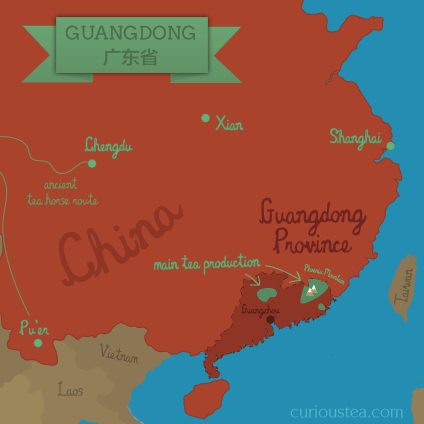 The Da Wu Ye translates as 'Big', or 'Large', 'Black Leaf' and refers to the appearance of the leaves of this particular cultivar. As with many Dan Cong oolong teas, the cultivar plays a crucial role in the flavour profile of each particular tea. Oolong tea made from the Da Wu Ye cultivar is known for a particularly aromatic floral profile as well as quite a sweet and thick character of the liquor.
Dan Cong Da Wu Ye is known among Dan Cong or Phoenix Oolongs for having a pronounced floral and sweet profile. The large leaves of this tea are of mixed appearance, having darker amber and lighter green colour. The liquor produced is of bright golden colour and has high degree of clarity. The aroma has sweet, creamy and floral notes that are rather captivating. The taste has top notes that are floral at the start, progressing to toastier and creamier flavours. The finish is very clean, with no astringency. It has a touch of floral bitterness, akin to an edible flower petal flavour. This tea has a mouth-watering character that is thick with a long-lasting sweet aftertaste and is characteristic of this type of tea.
It is best brewed at 90°C for about 3 minutes according to your taste. As expected, this Dan Cong Da Wu Ye will stand multiple infusions well. Brew gong fu style (5g per 150ml) after initial rinse in short 20-30 second infusions for best results.
You can also buy Dan Cong Da Wu Ye oolong tea in our online shop.
We really do hope that you enjoy the tea selection for November and are looking forward to the next instalment in our December Christmas box!
If reading this has made you curious about our teas, but you don't yet subscribe to a monthly tea selection, you can sign up for our tea boxes in just a few clicks. We ship worldwide from London, UK.
We always love to hear from you, so if you have any questions, suggestions or just want to chat about tea, email us at contact@curioustea.com, via our Facebook page or via Twitter.
You can also follow us on Instagram for pretty tea photos.
Happy tea discoveries!