Welcome to the March 2021 edition of the Curious Tea subscription! Here's a closer look at the four exciting new teas that we are sharing with our subscribers this month.
The first light tea this month is a full-bodied Bi Luo Chun green tea from Yunnan Province of China that comes expertly made in the shape of small coils.
The second light tea is a classic Chinese Huang Ya yellow tea from Huo Shan of Anhui Province that undergoes special processing to mellow the flavours.
For the dark side of the selection we selected a lightly oxidised Darjeeling from Teesta Valley Tea Garden that has a particularly light and smooth flavour.
Finally, the last tea we are featuring this month is a classic black tea from Colombia that delivers a flavoursome fruity liquor.
Our Discovery subscription boxes contain 10g taster pouches of all of the above mentioned teas. If you are a subscriber you will benefit from a 10% discount on all teas from our tea shop!
Let's get into further detail on these teas featured in our March tea subscription boxes.
Yunnan Bi Luo Chun
Yunnan Bi Luo Chun (云南碧螺春) is a full-bodied green tea consisting of one bud and one leaf that are expertly shaped into small coils. It has a smooth vegetal taste with a good degree of complexity and just a touch of dryness. This tea was harvested and processed in March 2020.
It is grown in Ning'er Hani and Yi Autonomous County, located in Pu'er Prefecture and next to city of Pu'er in Yunnan Province. Ning'er Country has a large population of Hani and Yi native people, who also inhabit areas in Vietnam, Laos and Thailand. Tea making traditions go back hundreds of years but it is estimated that tea cultivation in this area started 2,000-2,200 years ago, while the actual tea use predates that period.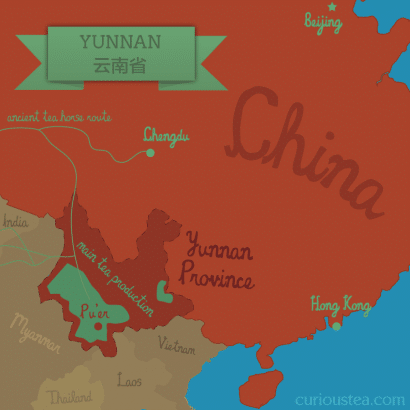 Bi Luo Chun 'Green Snail Spring' is a classic Chinese green tea, with the original type hailing from the Dong Ting tea growing area of Jiangsu Province. Such is the popularity of this tea that the name became a popular name for other green teas made in similar style. Typically they exhibit a tippy leaf with a coiled shape resembling a snail. Sometimes the name is descriptive of the flavour profile rather than the appearance of the leaf. In this case the name is attributed to the plucking standard and the shape of the finished leaf, even being more 'snail'-like in appearance than the original Bi Luo Chun! The flavour here is a bit different as Bi Luo Chun from Dong Ting tends to be on the lighter, more refreshing side.
This Yunnan Bi Luo Chun is made from a Yun Kang #10 (云抗10) varietal that is a popular choice in Yunnan Province both for black (hong cha) and green teas. It is a developed varietal of the large leaf assamica tea plants prevalent in Yunnan. As such the teas produced from this varietal exhibit similar traits to other assamica based teas. When made into a green tea, this translates to a more complex vegetal flavour that is more full-bodied but with diminished fresh grassy notes.
This Yunnan Bi Luo Chun is produced from large buds and leaves shaped into coils, or snails. There is plenty of silver colour, indicating the tender young buds that are hiding in the coils. It produces a light yellow liquor with good clarity and a vegetal, woody aroma. The full-bodied taste is smooth and complex. The dominant vegetal savoury flavours are complimented by light woody and nutty notes. The aftertaste is tangy and vegetal with a light dryness present as expected from the assamica heritage of the plants.
It can be brewed at 90°C for 2-3 minutes according to your taste. If you are finding the flavours too strong, the tempereature can be decreased to 80°C for a lighter cup. It can also stand multiple infusions well.
You can also buy Yunnan Bi Luo Chun green tea in our online shop.
Huo Shan Huang Ya
Huo Shan Huang Ya (霍山黃芽) is a yellow tea from Huo Shan County, located in Anhui Province of China. A balanced and mellow tea, it has smooth vegetal notes with no astringency. Grown from Jin Ji cultivar at an altitude of 800 meters, this particular batch was hand plucked and processed in early April 2020.
The name of this yellow tea translates as Mount Huo Yellow Bud and refers to its origin (Huo Shan 霍山 – Mount Huo) as well as to the fact that tender buds of this tea are processed using the yellow tea production method. Yellow tea production method is distinct from other teas. While some may find this tea similar to other gently processed greens, all yellow teas undergo a special separate procedure called Sealing Yellow (闷黄 – Men Huang). A laborious process that requires great skill on the tea master's part results in yellow teas having a much milder and smoother taste.
The Men Huang process is what distinguishes yellow tea from green tea. After plucking, just like with green tea, the leaves are briefly withered. Also like green tea, yellow tea is then heated (traditionally panned in a wok but also using modern machinery), but at a lower temperature than green tea. Afterwards, while the tea is still hot, it is usually rolled, piled and wrapped in paper or cloth to initiate the Men Huang process. It is all done in a controlled environment with further piling and with the introduction of heat and moisture by spraying or steam. This results in slight oxidation through a process of light non-enzymic fermentation. In some cases this process can be repeated many times over a number of days until the desired outcome is achieved. Finally the tea is fixed and dried by either heating or panning in a wok or in a modern machine equivalent. This processing profoundly affects the flavour of the tea, reducing grassy and dry notes and instead making the tea more mellow, smoother and sweeter.
Huo Shan Huang Ya yellow tea has a beautifully mellow nature that sets it apart from other non-oxidised teas. The dark green leaves have a slightly waxy appearance with plenty of silver hairs evident on the straight tippy leaves. When brewed it produces a liquor that is light in colour and taste. At the same time the flavours are quite full – more so than with similar light green or heavier white teas. The processing of this tea really balances the flavours and mellows it out. While it still has some vegetal flavours similar to other green teas, the profile is very smooth and lacking in any grassy astringency of green tea. This tea has umami vegetal notes that are a little sweet and a little savoury at the same time with just a hint of roasted and nutty notes.
This yellow tea is best brewed at 80°C for 2-3 minutes according to your taste and can be brewed 3-4 times, increasing steeping time with each next brew if desired.
You can also buy Huo Shan Huang Ya yellow tea in our online shop.
Darjeeling Teesta Fist Flush
Darjeeling Teesta Valley First Flush is a lightly oxidised Darjeeling from Teesta Valley Tea Garden. The tippy leaves produce a particularly smooth light liquor with a herbaceous profile and mineral, fruity notes. We source this tea via a specialist UK wholesaler who deals with the garden directly. This crop is the Spring 2020 harvest.
Teesta Valley Tea Garden was first planted by the British with China bushes between 1841 and 1856. Named after the mighty Teesta River flowing nearby, the garden enjoys an enviable position in the Darjeeling region. With elevations between 800 and 2,000 metres, the climate is on the cooler side, especially on the upper slopes. The orientation of the garden slopes ensures plenty of sunshine throughout the day while enjoying a cooling breeze and mists. These growing conditions are perfect for producing some top grade Darjeeling tea.
The garden produces a wide variety of tea grades, with this First Flush being one of the best examples of a classic lightly oxidised 'Champagne of Tea'. Darjeeling Teesta Valley First Flush is perhaps one of the smoothest and lightest First Flush Darjeeling teas that we tried from the 2020 crops. First Flush is always prized for a refined taste. This particular lot is crafted in such a way that the common astringency on the aftertaste associated with Darjeeling is removed. It results in a particularly satisfying cup, one that is more enjoyable to savour on its own; and quite unlike many other Darjeeling teas that are particularly well suited for pairing with sweeter things.
Darjeeling Teesta Valley First Flush has tippy leaves that are very lightly oxidised, exhibiting mostly green and yellow colour on the brewed leaf. It produces a light, bright, clear green-golden liquor with a fruity and mineral aroma. The herbaceous profile has dominant mineral and floral notes which are further complimented by notes of sour red berries and blackcurrant leaf. The aftertaste has no tannins or astringency. Instead it is lightly mineral and tangy with a touch of dryness. This is a supremely smooth and light Darjeeling and one that holds a lot of appeal.
We suggest brewing parameters of 90°C for 3-4 minutes according to your taste, brewing multiple times.
You can also buy Darjeeling Teesta Valley First Flush black tea in our online shop.
Bitaco Wiry Black
Bitaco Colombian Wiry Black tea is a fruity black tea grown high up in the Colombian Andes. It has a classic black tea profile with a nicely tannic aftertaste. This batch is from the spring 2020 harvest.
Bitaco Colombian Wiry Black tea is grown near the town of La Cumbre, situated high up in the West Andes. The altitude of the tea plantation is between 1,800 and 2,050 metres, making the growing conditions perfect for high grade tea. The prevalent weather, consistent rainfall, rich soil and mountainous slopes all combine to make a perfect but unique terroir. The area is also remote and surrounded by unspoilt natural terrain. This tea is certified as organic under USDA, EU and Colombian regulations.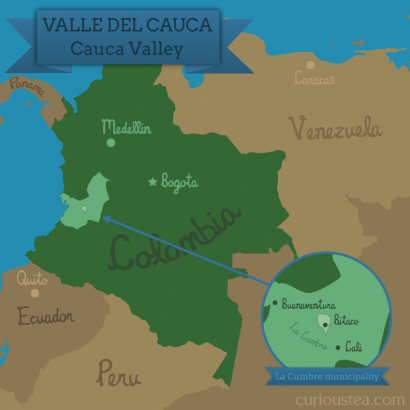 Bitaco Tea Estate is run by Agricola Himalayas S.A. and they have extensive social responsibility programmes run in the area. These focus especially on education of children in the local area but also provide extensive support for other rural projects. You can find some more information (in Spanish) as well as photographs of the plantation on their website.
Bitaco Colombian Wiry Black tea has neat wiry leaves that produce an umber liquor with good clarity and a malty, fruity aroma. The flavoursome fruity profile has lightly sweet, malty notes with a nice mineral counterbalance. The dominant fruit notes are reminiscent of dark stone fruits, prunes and dates. The aftertaste is light but lasting with a pleasant level of tannins. It is a lovely black tea with an appealing flavour profile. This is the sweetest black tea from Bitaco and is excellent both hot and cold!
We suggest brewing parameters of 90°C for around 3 minutes according to your taste, brewing 2 or more times.
You can also buy Bitaco Colombian Wiry Black tea in our online shop.
We really do hope that you enjoy the tea selection for March and are looking forward to the selection in our next box. Our April box will feature a classic Japanese Sencha from Shimada in Shizuoka, an early spring 2021 harvest of a Taiwanese white tea, a high grade Keemun Jin Zhen and an Autumnal Darjeeling from Gopaldhara!
If reading this has made you curious about our teas, but you don't yet subscribe to a monthly tea selection, you can sign up for our tea boxes in just a few clicks. We ship worldwide from London, UK.
We always love to hear from you, so if you have any questions, suggestions or just want to chat about tea, email us at contact@curioustea.com, via our Facebook page or via Twitter.
You can also follow us on Instagram for pretty tea photos.
Happy tea discoveries!