In June 2015 we are featuring the following teas for your enjoyment. A light, refreshing green called Ding Gu Da Fang, a brilliant and light darjeeling from Namring, one of Japan's most prized teas – Gyokuro Asahi, and also a rounded Xiang Luo. We hope you enjoy the variety of teas and happy sipping!
Welcome to another month of Curious Tea subscriptions! We had an exciting time selecting these fantastic teas to share with you. We hope you will enjoy our selection, and to help you along with the tasting, here is some further information on all teas featured in our June Curious Tea boxes.
Gyokuro Asahi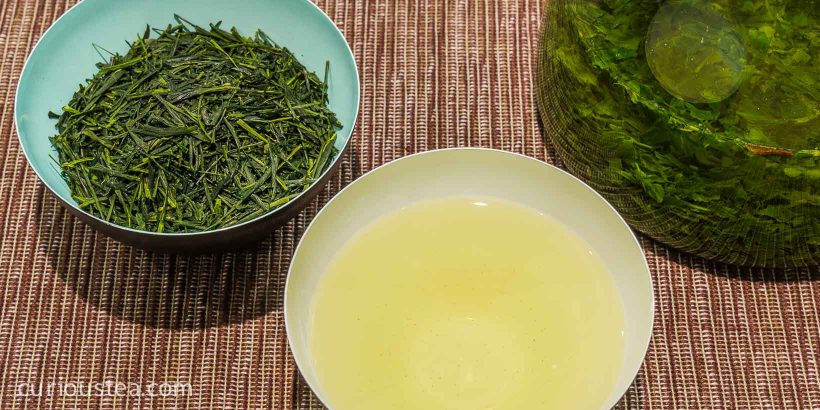 Gyokuro Asahi is a tea that originates from Shizuoka region of Japan. Gyokuro translates as 'Jade Dew' and Asahi describes the type of specialised tea leaf that is used to produce this wonderful tea. It is one of the very top grades of tea to come from Japan.
Gyokuro undergoes a growing process that is quite unique and differs from Sencha growing. During the growing season the tea plants are shaded for at least two to three weeks before harvest that occurs once a year in late May or early June. High quality tea such as this Gyokuro Asahi is normally shaded using traditional shades made out of bamboo that cover the tea plants by up to 90% from the sun.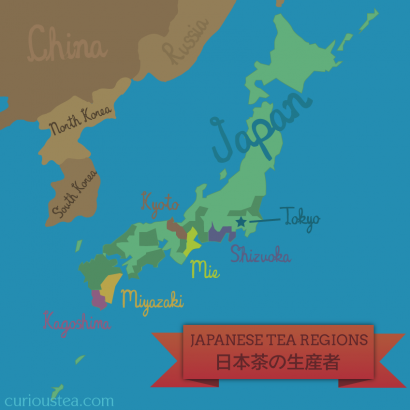 The covering of the tea forces the tea plant to produce more chlorophyll resulting in much darker leaves and adding a unique taste to the tea that is both grassy-fresh and sweet.
We selected this Gyokuro Asahi for our June Light and Mixed boxes. This tea features very dark thin green leaves that are the result of the unique growing techniques. The resulting liquor is really green in colour and very smooth and mild in taste with a grassy aroma. Some liken the flavour to that of fresh green vegetables or freshly cut grass.
The best suggested brewing method for Gyokuro is to use twice as much tea as you would normally use (so about 10g or 2tsp for 500ml or 2 large cups). As the leaves are very delicate it is best to brew this tea at a very low temperature of about 60°C for about 1-2 minutes. As always, using higher water temperature will burn the delicate leaves, releasing the tannins and resulting in a bitter taste.
You can repeat the brewing process a number of times. If you have some tea left over, strain it immediately and refrigerate to make a healthy drink of iced green tea for later!
Ding Gu Da Fang
This Ding Gu Da Fang comes from the Anhui Province of China. The tea is named after its creator, a Buddhist monk – 'Da Fang', who lived at the top of a mountain called Lao Zhu Feng during the late Song Dynasty. According to the legend he personally grew and harvested this tea and served it to visiting scholars.
As the tea quickly gained reputation, many people wanted to come to taste it so the monk shared the tea with the local farmers. As they prospered from this tea, they named the tea in honour of the monk, Ding Gu (Valley Peak) Da Fang. This tea grew so much in popularity that it was once one of the top ten teas of China, and is still considered to be so by some.
In appearance this tea resembles another very popular Chinese tea, Longjing (Dragon Well). In fact it is thought that Ding Gu Da Fang is an ancestor of Dragon Well tea. If you compare the leaves of the two teas side by side, you can certainly see the resemblance in the shape of the leaves.
We selected this Ding Gu Da Fang for our June Light box. This tea has very flat green leaves that open up when brewed. The leaves produce a pale yellow-green liquor with a mild aroma. The taste is very well balanced, smooth and delicate with a sweet aftertaste. The mellowness of this tea results in a taste that is somewhat buttery.
This tea is best brewed at 80°C for 2-3 minutes and can be brewed multiple times.
Darjeeling Namring Upper First Flush 2015
This fantastic First Flush tea comes form the Namring Tea Estate, situated in the Eastern part of Darjeeling district and about an hour's drive from Darjeeling town. This tea is a First Flush (the first spring plucking of the season) and was picked in spring 2015, so it is super fresh! First Flush Darjeelings are very sought after since they are delicate in flavour and exhibit well pronounced floral characteristics that Darjeeling fans looks for in a good tea. And this tea is no exception – well rounded, delicate, floral, slightly fruity and hints of muscatel – all signs of an exceptional quality First Flush Darjeeling.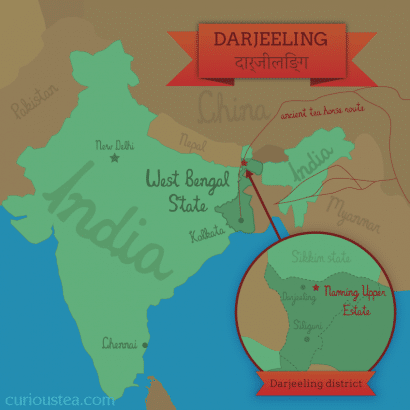 The Namring Tea Estate is split into two parts – the Upper and Lower divisions. The Upper division is where this particular tea is from, which is at an altitude of around 1700 metres. Teas grown on this part of the estate have particularly delicate and pleasant features.
Namring Tea Estate is also famous for its combination of tea bushes grown on the estate. These comprise tea bushes of the following varieties: China (60%), Clonal (30%) and Assam hybrid (10%). This combination results in teas from this estate to have more unique and exotic flavours when compared with other Darjeelings.
We selected this Darjeeling Namring Upper First Flush 2015 for our June Mixed and Dark tea selection box. This tea has very neat almost green leaves in appearance with plenty of silver tips. When brewed these lovely leaves produce a clean, bright yellow-orange liquor with a pleasant floral aroma. This tea tastes stronger than it looks, but the flavour profile is still light and well balanced. This tea is very typical for a First Flush Darjeeling with lovely floral notes, hints of muscatel sweetness and a touch of astringency to balance the flavour.
This tea is best brewed with freshly boiled water for 3-5 minutes.
Like with all Darjeelings and other delicate black teas it is best to let the water cool for a couple of minutes after boiling and before brewing this tea, aiming at a temperature of around 90-95°C. It is even better if you can catch the water just before boiling as that would preserve more oxygen in the water resulting in better flavour of your brewed tea.
Keemun Xiang Luo
Keemun tea is produced exclusively in the Qimen County in Anhui Province of China. This type of tea only dates back to the 19th century, however it became extremely popular in the West almost straight away where it is commonly found in a number of classic blends, such as premium versions of English Breakfast. A lot of different varieties of this tea exist and some of you may have already tried our Keemun Mao Feng from the May Curious Tea boxes.
Keemun Xiang Luo is very rare variety of Keemun tea, translating as Aromatic Snail (or Spiral) tea. This tea is very new, having been invented only about 10 years ago by combining techniques used to produce Keemun tea with those of Biluochun (Green Snail Spring). This Keemun is made using only the whole buds of the tea plant that are first flush, so harvested each spring in early April. It has a smoother and more delicate Keemun fragrance and flavour.
We selected this Keemun Xiang Luo for our June Dark box. This Keemun is top grade and has twisted and curled dark leaves, reflective of its name. When you compare these leaves to a more usual Keemun, you can easily see the difference in how curled these leaves are in appearance. The dry leaves also have a very pleasant fragrant Keemun style aroma that also translates well to the tea when it's brewed. The liquor is bright with a very smooth taste that resembles spiced wood, with stony and chalky notes and floral undertones. A very fragrant cup of tea that will have you coming back for more!
This tea is best brewed with freshly boiled water for 3-5 minutes.
We really hope that you enjoyed the tea club selection for June and are looking forward to what we have in store for your July selection.
Incidentally, if you are reading this but haven't signed up to a monthly tea subscription box and would like to, you can choose your box here and taste along to our future articles. We ship worldwide from the UK.
As always, we want to hear from you, so if you have any questions, suggestions or just want to chat about tea, contact us at contact@curioustea.com, via our Facebook page or via Twitter.
You can also follow us on Instagram for pretty tea photos.
Happy tea tasting!