Welcome to the July 2021 edition of the Curious Tea subscription, which is a China Special! Here's a closer look at the four exciting new teas that we are sharing with our subscribers this month.
The first light tea this month is a light and tangy 'Cloud and Mist' green tea from the famous Huangshan tea growing region of Anhui Province.
The second light tea is an early spring green tea from Enshi in Hubei Province that is unusually steamed rather than pan-fried.
For the dark side of the selection we have a classic Dan Cong Oolong from Guangdong Province, a variety that is known for an aroma and flavour akin to orange blossom.
Finally, the last tea we are featuring this month is a Dian Hong from Yunnan Province that is made closely following an original recipe that established the black tea production in the region.
Our Discovery subscription boxes contain 10g taster pouches of all of the above mentioned teas. If you are a subscriber you will benefit from a 10% discount on all teas from our tea shop!
Let's get into further detail on these teas featured in our July tea subscription boxes.
Huang Shan Yun Wu
Huang Shan Yun Wu (黄山云雾) green tea is a clean and tangy green tea from the Yellow Mountain (Huangshan) tea growing region of Anhui Province. The name translates as 'Yellow Mountain' (Huangshan 黃山) 'Cloud and Mist' (Yun Wu 云雾). It is seen by Chinese tea experts as a kind of predecessor to the famous Huang Shan Mao Feng green tea and is known for its dense flavour, bright look and fragrance as well as a clear liquor. This tea is from 18 April 2021 harvest.
There is an interesting point to note on the origin and meaning of the 'Cloud and Mist' name of this tea. The name comes from the description of the mountainous regions that have a large amount of clouds and mist around and therefore high humidity – areas that are perfect for tea farming. Huangshan not only happens to be a popular tourist destination in China but is also an ideal location for tea growing. The cool and misty climate as well as mineral rich soil combine to produce flavoursome teas that have a high level of theanine and are rich in tannins and vitamins.
In China the name 'Yun Wu' (云雾 / 雲霧) is somewhat common and is often used in many regions throughout the country to describe a green tea that is produced locally but that does not fall under any of the 'famous' tea types or has any other modern branding attached to it. Generally, it is a good quality local green tea that has been hand plucked but then machine processed in order to keep the costs reasonable. These teas do vary in quality and taste depending on the growing region and processing but tend to be somewhere in the middle. So while Huang Shan Mao Feng is firmly in the famous tea category and only specific teas can be sold under that name, Huang Shan Yun Wu can refer to a wider variety of green teas from this region.
A great aspect of well-chosen Yun Wu teas is that they exhibit many of the qualities of their much more expensive famous counterparts from a particular growing region. But the less labour intensive processing as well as not having a famous name attached, results in much more reasonable pricing and a great quality to cost ratio for our customers.
The tightly twisted leaves of this Huang Shan Yun Wu have a bright and fresh green fragrance. The brewed liquor has a very light champagne colour and a clean, slightly grassy and vegetal aroma. The light processing results in a taste that is crisp, tangy and light, with a sweet and slightly fruity aftertaste. There is no astringency and very little dryness in this tea, but there are notes that are reminiscent of blackcurrant leaves, with a fresh and sharp presence. The resulting cup is refreshing and easily drinkable.
We suggest brewing at 80°C for 2-3 minutes according to your taste. It can be brewed 3 or more times depending on your taste preferences.
You can also buy Huang Shan Yun Wu green tea in our online shop.
En Shi Yu Lu Jade Dew
En Shi Yu Lu 'Jade Dew' (恩施玉露) is a an early spring Ming Qian green tea produced in Enshi, Hubei Province. It is unique as this green tea undergoes steaming as part of the fixation process, a technique commonly used in Japan but very rarely in China. This results in a bold verdant profile that is closer to a Japanese green tea while still retaining most of the Chinese green tea characteristics. This current batch is 18 March 2021 pre-Qing Ming harvest harvest.
In a way, this is a heritage tea, even though the modern methods of the production of En Shi Yu Lu only date from the early 1900's. During the Tang Dynasty (618-907) tea in China tea was made through a method of steaming of sorts as a way of fixing it. The finished product would be often compressed into bricks. Around the same time (around the year 800 according to some accounts) tea, alongside other features of Chinese culture and Buddhism made its way to Japan. It was not until about 300 years later that tea gained in popularity in Japan. But the tea production method of steaming was fixed. To date, the vast majority of Japanese green tea undergoes steaming, with the notable and rare exception of kamairicha. Meanwhile the tea production method in China evolved away from steaming and to pan-frying instead. Hence the steaming method as a way of fixing green tea disappeared in China. It was not until 1900's when there was a movement to bring back heritage production methods to tea and this rare Chinese steamed tea from Enshi (re)appeared.
En Shi Yu Lu can be translated as Jade Dew from Enshi. The characters for 'Jade Dew' (玉露) are exactly the same as the characters in Japanese for gyokuro. This has lead to some people to refer to En Shi Yu Lu as a 'Chinese Gyokuro'. This is not correct as gyokuro requires a very specific set of growing conditions, namely plants being shaded for a period of time during growth. En Shi Yu Lu does not undergo any shading, so the flavours are not as concentrated. While the tea is grown in a mountainous area with plenty of clouds and fog that act as natural providers of shade, this does not provide quite the same level of shading. The picking standard and the rest of the processing, such as steaming time, rolling, shaping, etc are also quite different. Also the growing and production methods for gyokuro were developed in Japan in mid 1800's, before the reintroduction En Shi Yu Lu.
This En Shi Yu Lu consists of young small tippy leaves that are neatly rolled into green needles. There is a waxy appearance to the dark green dry leaves that is very similar to a sencha or gyokuro. It produces an opaque green-yellow liquor with a vegetal aroma. The flavours are light and smooth, without pronounced umami flavours or astringency. The bold herbaceous liquor has a verdant flavour with buttery notes reminiscent of a parsley and butter sauce. The aftertaste is mouthwatering, sweet and lightly drying.
It is best brewed at 80°C for 2-3 minutes according to your taste and can be brewed more than 3 times, increasing steeping time with each next brew if desired. Unlike gyokuro, this tea does not require a higher leaf to water ratio or lower brewing temperatures. Brew as you would most Chinese green teas!
You can also buy En Shi Yu Lu Jade Dew tea in our online shop.
Dan Cong Huang Zhi Xiang Oolong
Dan Cong Huang Zhi Xiang (单枞黄枝香), also known in English as Orange Blossom Fragrance or Yellow Gardenia Flower Fragrance, is an excellent example of a Phoenix Oolong from Guangdong Province in Southern China. It comes from the Phoenix Mountain area near Chaozhou City (Phoenix Town) and is made from leaves picked from 30-50 year old Shui Xian cultivar trees. This Huang Zhi Xiang Oolong is noted for its aroma and flavour of orange blossom that is bittersweetly floral and reminiscent of gardenia flowers. This particular batch was picked in 28 March 2021.
Dan Cong (单枞) is the general term that is used to refer to oolongs that come from Guangdong and specifically from Phoenix Mountain. Dan Cong literally means 'single bush' as traditionally these oolongs were all picked only from single semi-wild trees. It has now become the generic term to cover all Phoenix Mountain (Fenghuang Shan 凤凰山) and sometimes other Guangdong oolongs. Dan Cong oolongs are noted for their ability to imitate various flavours, be it flowers or fruits. This is a natural characteristic with no flavouring added. The apparent aroma and taste differences of Dan Cong oolongs are mostly introduced during the finishing process of each tea. The skills of the tea master are therefore paramount in how each batch of tea turns out.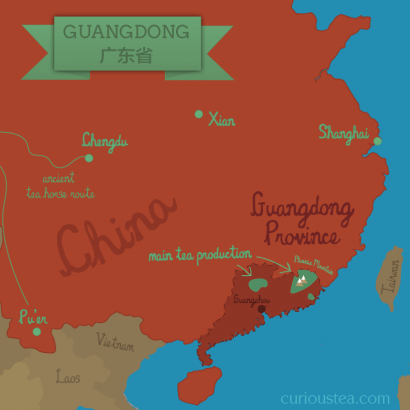 Phoenix Oolong teas are very varied in style and flavour but are often sold just as 'Phoenix Oolong' or 'Phoenix Dan Cong' often not specifying the exact type of Dan Cong that it is or which area there are from. Make sure to look out for which particular Dan Cong you are buying as they all have varying characteristics and styles depending on where and how they are grown and processed.
The trees that are used to produce this tea are the Fenghuang Shuixian cultivar, which is the traditional cultivar used in this area and the common one for Dan Cong oolongs. The 30-50 year old trees are propagated from a single Dan Cong tree that is reputedly over 600 years old. Spring harvest is particularly favoured as it tends to be more floral and less astringent compared to leaves harvested during other times of the year.
The dry leaves of this Dan Cong Huang Zhi Xiang Oolong are dark and twisted producing a medium strength golden liquor. The aroma is floral, a little roasted with a scent of gardenia flowers. The taste of this tea is full of honey and exotic flower notes. The smooth flavours are sweet and floral with particular hints of orange blossom, gardenia flowers and citrus top notes. There is a lightly toasted aspect with a buttery mouthfeel. The aftertaste is long-lasting with a pleasant level of floral astringency that makes these teas particularly interesting.
This Dan Cong Huang Zhi Xiang Oolong can stand many infusions. Infuse it the western way in a tea pot at 90°C for 3 minutes 3+ times. If you are finding that your tea is turning out a little too astringent, you can reduce the brewing time or temperature until you reach your preferred taste. This tea would particularly benefit from traditional Chaozhou Gongfu style brewing.
You can also buy Dan Cong Huang Zhi Xiang Oolong tea in our online shop.
Dian Hong Feng Qing Classic 1938
Dian Hong Feng Qing Classic 1938 (滇红凤庆) is a great example of a smooth Chinese black tea from Fengqing County located in Lincang Prefecture of Yunnan Province. This tea is made by closely following the original recipe created around 1938 that marked the inception of the Yunnan black tea industry. Made exclusively from large leaves of local Fengqing assamica plants, it displays a classic Dian Hong profile that has a fine balance between sweet malty and tangy mineral notes. This current batch is from 29 March 2021 harvest.
Yunnan Province produces some great Dian Hong (滇红), or Yunnan Red (red according to Chinese classification) teas. These are very popular due to their flavour profile, having smooth balanced flavours with plenty of full-bodied sweet malty notes as well as general lack of astringency or bitterness. The low level of tannins is attributed both to production methods as well as the actual raw material used for these teas. The native plant to Yunnan Province is the assamica plant, locally known as Yunnan Da Ye Large Leaf (雲南大叶). These plants have larger leaves than their sinensis cousins and are largely used for pu-erh tea production in the region. When used for black tea production, like for this Dian Hong Feng Qing Classic 1938, they also deliver great results, having the usual Dian Hong sweet malty flavours that are nicely balanced by some tangy mineral notes.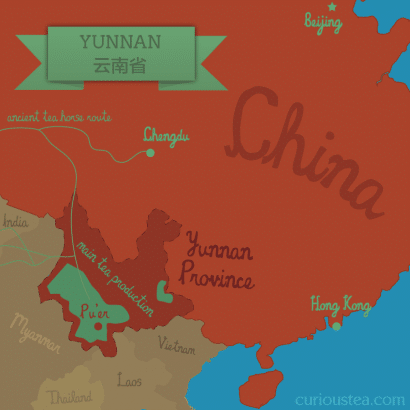 Black tea production started in Yunnan quite recently, the year commonly given being 1938. Historically, this was preceded by the Japanese invasion of China. As the Chinese forces led by Chiang Kai Shek were forced to abandon coastal territories to the Japanese invaders, they had to relocate many of the industries further inland, with many industries being re-established in Sichuan Province. As the occupied territories were also important tea producing regions, a decision was made to start production of black tea in Yunnan Province. Tea was seen as a major export and an opportunity to fund the resistance efforts. The existence of the Burma Road allowed for these exports to leave the country. An experimental station was established and the first black teas were produced in Fengqing County. Although initial output was very small, the tea was judged very highly. In time, black tea production spread throughout Yunnan Province. The rise in popularity was largely attributed to the balanced and smooth flavours of Yunnan Red – full-bodied sweet maltiness without any of the astringency of other black teas.
This Dian Hong Feng Qing Classic 1938 black tea consists of long large leaves with an attractive golden colours on the buds. The liquor produced has a dark red colour and a lovely comforting malty aroma. The overall sweet malty profile has a nice counterbalance by way of more tangy fruity notes. There are also mineral and stony notes, attributed to the Large Leaf assamica plants. The afttertaste is lasting, with a touch of floral dryness and rose notes. This is a nicely balanced tea and is not as sweet as some other Dian Hong teas can get.
It is best brewed at 90°C for 2-3 minutes according to your taste, brewing multiple times.
You can also buy Dian Hong Feng Qing Classic 1938 black tea in our online shop.
We really do hope that you enjoy the tea selection for July and are looking forward to the selection in our next box. Our August box will feature a classic Japanese Sencha green tea from Kirishima, a Snow Bud white tea from Guangxi Province, an exquisite handmade Ceylon from Glenwood Reserve and a 'First Pick' Darjeeling tea from the renowned Gopaldhara Tea Estate!
If reading this has made you curious about our teas, but you don't yet subscribe to a monthly tea selection, you can sign up for our tea boxes in just a few clicks. We ship worldwide from London, UK.
We always love to hear from you, so if you have any questions, suggestions or just want to chat about tea, email us at contact@curioustea.com, via our Facebook page or via Twitter.
You can also follow us on Instagram for pretty tea photos.
Happy tea discoveries!