Welcome to the July 2020 edition of the Curious Tea subscription! Here's a closer look at the four exciting new teas that we are sharing with our subscribers this month.
The first light tea this month is a Yue Guang Bai White Moonlight Cake pressed white tea from Yunnan Province that has a lovely sweet and honey-like character.
The second light tea is a Tamaryokucha green tea from Fukue Island in Japan that has a typical savoury profile with plenty of umami notes.
For the dark side of the selection we have a classic Dian Hong Golden Buds black tea from Yunnan Province made entirely from young buds that produces a complex character.
Finally, the last tea we are featuring this month is a black tea from Thailand that is picked from semi-wild assamica trees, resulting in a fascinating fruity and savoury liquor.
Our Discovery subscription boxes contain 10g taster pouches of all of the above mentioned teas. If you are a subscriber you will benefit from a 10% discount on all teas from our tea shop!
Let's get into further detail on the products featured in our July tea subscription boxes.
Yue Guang Bai White Moonlight Cake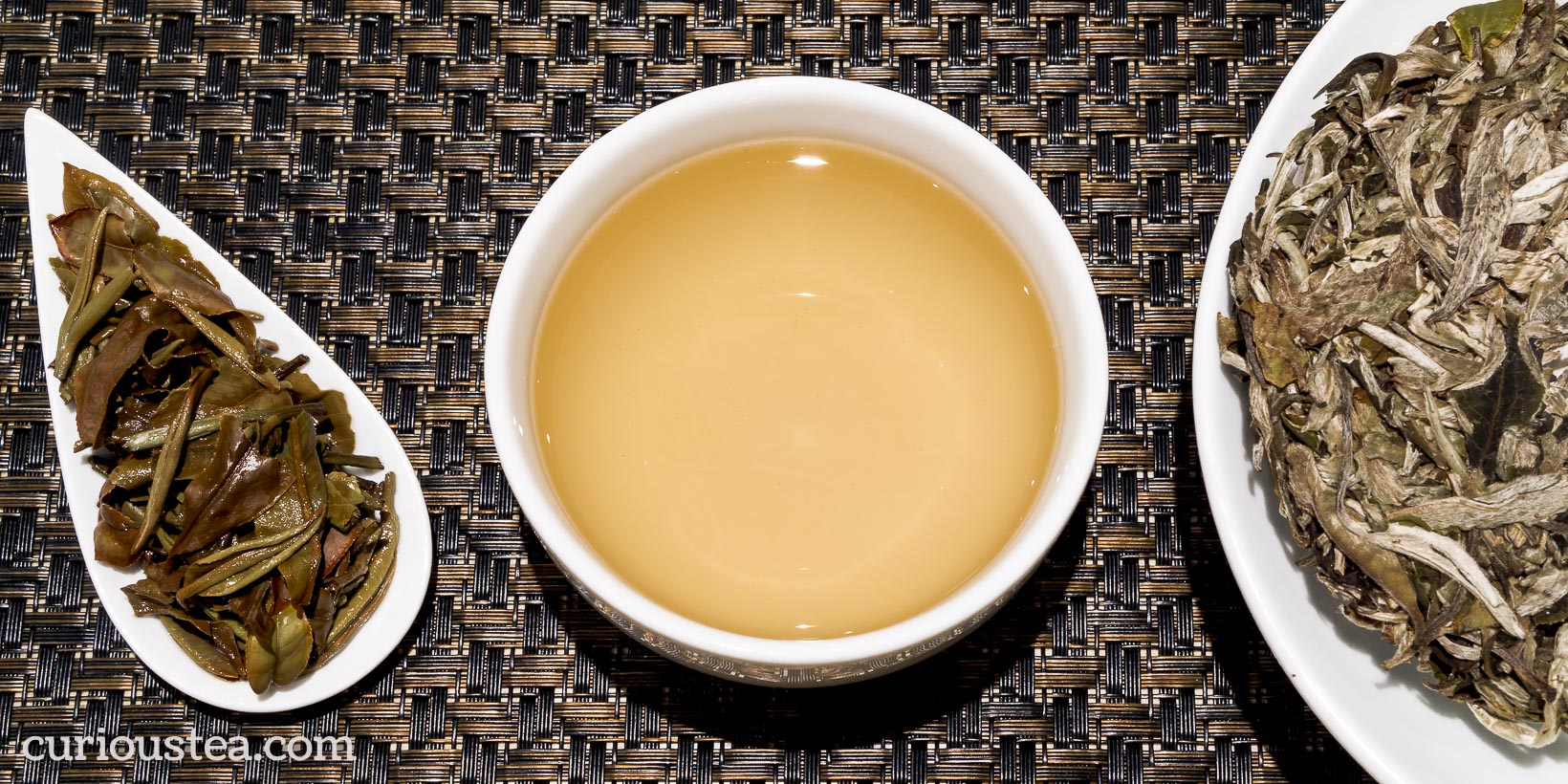 Yue Guang Bai White Moonlight Cake (月光白饼) is a white tea from Ginggu in Yunnan Province that comes compressed in 100g cakes. Made from leaves of old trees grown at high altitude, it has a light, wonderfully captivating, honey profile. The prolonged withering process results in slightly higher oxidation of the leaves and a richer, darker liquor. This tea was picked and pressed in March 2019.
This Yue Guang Bai White Moonlight Cake is made from leaves of old arbor trees growing around Jinggu Dai and Yi Autonomous County at an altitude of approximately 2,000-2,200 metres. The trees used for this tea are between 100 and 300 years old. The plucking is carried out by hand, picking the bud and the one or two youngest leaves in spring. After picking, the tea is withered for a prolonged period of time under the sun. The name for this tea comes from the saying that to carry out a longer withering process, Moonlight White tea is withered under moonlight. The longer withering results in slightly higher oxidation, something that is evident from the much darker larger leaves in this tea. After withering the tea is dried and pressed into small cakes. This tea can be drunk straight away but can also be aged to further develop the flavours.
These Yue Guang Bai White Moonlight cakes have plenty of silver tips and darker leaves, resulting in a visually appealing white tea cake. There is plenty of silver fluff on the buds, while the larger darker leaves show much higher degree of oxidation. The liquor produced has a wonderful champagne-like colour and a light aroma. The dominant flavour is that of light acacia honey with associated light floral, sweet and fruity notes. There is a light woodiness present that is expected of this type of tea. The liquor is mellow and clean, with a full mouthfeel and a thick mouth-coating quality. The aftertaste is clean, with light notes of light dry wood and hay. This is a fantastic tea that can be enjoyed straight away or put aside for ageing to further develop the complexity of the honey profile.
While these cakes are 100g in size, we are providing our classic subscribers 50g and our Discovery subscribers with 10g as usual. The cakes have been separated into smaller chunks. You may have a single chunk in your packet, or multiple chunks or a mixture of chunks and leaves. If you have a full chunk, separate off the required amount and brew as normal.
We suggest brewing at 90°C for around 3-4 minutes according to your taste. Prise off a required amount of leaves with a sharp knife or pu-erh knife and brew multiple times. Best brewed gong fu style, the initial infusion should be a little longer to soften and separate the leaves. Further infusions can be shorter in time. We suggest first trying approximately 3g per 100ml at 90-95°C in a gaiwan with initial infusion of 30-40 seconds. Second infusion 20 seconds, then increasing the time with each subsequent steep.
You can also buy Yue Guang Bai White Moonlight Cake white tea in our online shop.
Fukuejima Mushisei Tamaryokucha
Fukuejima Mushisei Tamaryokucha (福江島蒸し製玉緑茶) is a classic vegetal Japanese green tea grown on Fukuejima, which is the largest of the Gotō Islands that lie just west of Kyūshū. Tamaryokucha is a type of Japanese green tea that is also commonly known as guricha. It has a distinctive curled dry leaf appearance and can be either steamed (mushisei) or pan-fried (kamairi). This version is steamed, which results in a more savoury and grassy profile. This tea is picked from Yabukita cultivar plants and this batch is from spring 2019 harvest.
The name tamaryokucha (玉緑茶) literally translates as ball green tea into English. The alternative name for the steamed version of tamaryokucha is mushiguri (蒸しぐり) or guricha (ぐり茶), meaning (steamed) curly tea. The processing method for tamaryokucha follows that of sencha. The only difference is that the last step in processing, which is shaping, is omitted. The shaping stage gives the straight leaf appearance to the classic sencha leaf. As tamaryokucha is not shaped, the leaf retains the natural curl or coil shape. This also means that fewer leaves are broken during processing, resulting in a larger leaf. In terms of flavour, it also contributes to a smoother, less astringent and less drying flavour.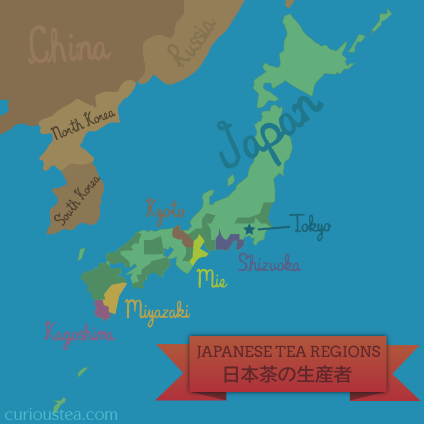 It is said that the rise in popularity and major increase in production of tamaryokucha is attributed to the Taishō Period (1912-1926). During this time there was a rise in demand for tea from countries that formed the Soviet Union. But since there was a preference for Chinese-looking and tasting tea, the Japanese tea export industry had to adapt to meet that demand. And while now not exported on large scale anymore, with time tamaryokucha had become a type of speciality Japanese green tea.
Our Fukuejima Mushisei Tamaryokucha is a mushisei (蒸し製), or steamed version. This is the classic way of producing Japanese green tea. There are also kamairi (釜炒り), or pan-fried, versions of this tea. Since we already feature a number of fantastic kamairicha teas from Ashikita, we opted for this more classic steamed tamaryokucha. When Japanese teas are pan-fried, this greatly alters their character, resulting in a profile that is less grassy and savoury, being closer to vegetal Chinese green teas. While steaming brings out more grassy, savoury and umami flavours that Japanese green teas are famous for. This Mushisei Tamaryokucha in our opinion is best of both worlds. It delivers the classic umami, savoury flavours, while not being too overpowering or astringent when compared to some top sencha teas.
This Fukuejima Mushisei Tamaryokucha green tea has neat, dark curled leaf that is slightly finer when compared to pan-fried teas. Still, the processing results in the leaf remaining more intact when compared to shaped and rolled sencha teas. The liquor has a a vibrant green-yellow colour and a fine savoury and vegetal aroma. The vegetal profile has a mouth-coating quality, with savoury, umami notes of fresh buttered asparagus and nori seaweed. There are also some lightly fruity and zesty notes present. The aftertaste is moreish, with a green and savoury finish and just a touch of dryness to balance the flavours. Overall this is a beautifully balanced tea that has a nuanced interplay between classic Japanese green tea flavours and a more accessible pan-fried green tea profile.
It is best brewed at 80°C for around 2-3 minutes, with multiple infusions.
You can also buy Fukuejima Mushisei Tamaryokucha green tea in our online shop.
Dian Hong Jin Ya Golden Buds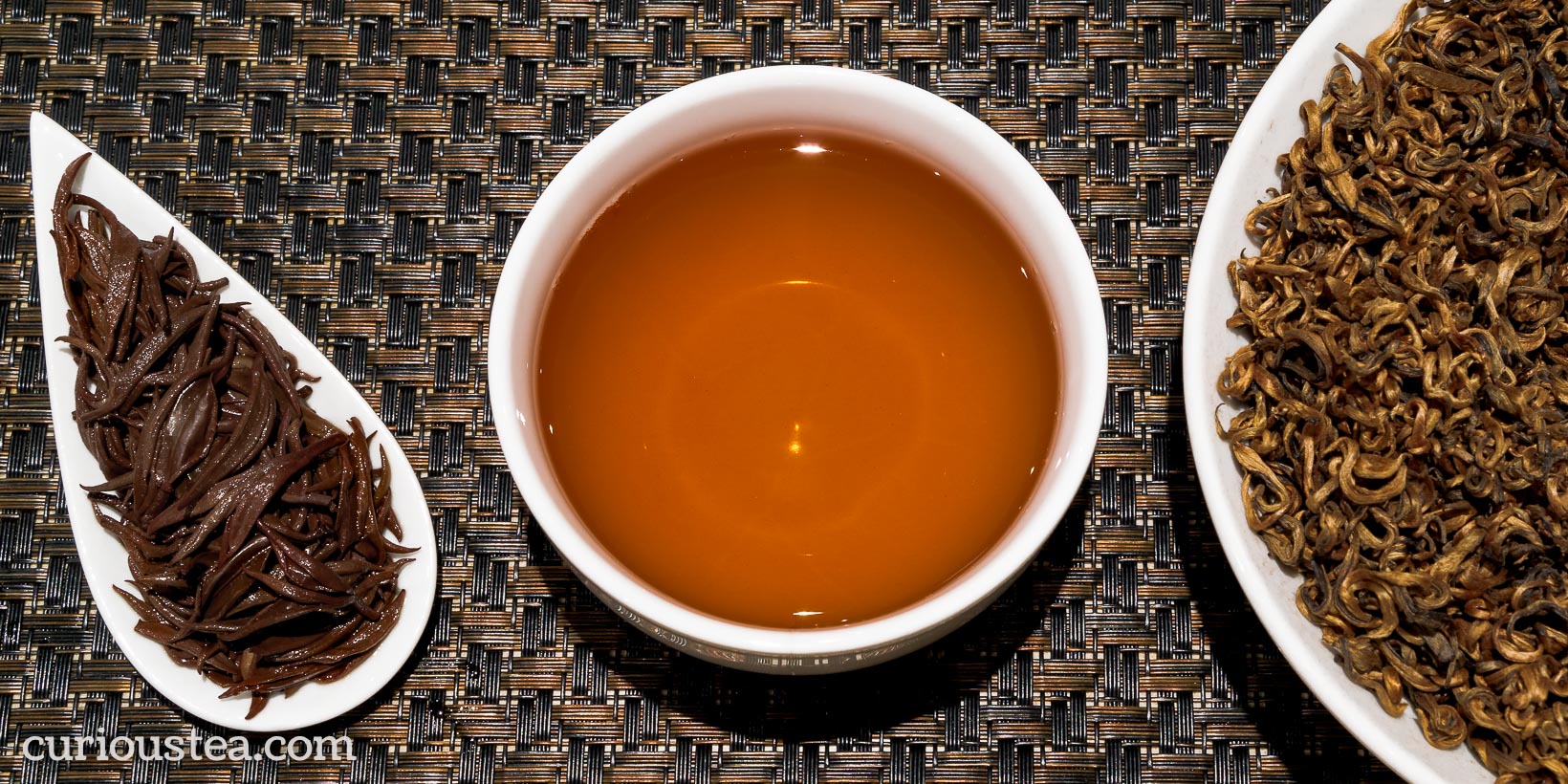 Dian Hong Jin Ya Golden Buds (滇红金芽) is a rare and extraordinary black tea from Mojiang Hani Autonomous County, Pu'er Prefecture, Yunnan Province. Dian Hong, literally Yunnan Red, refers to the origin and type of tea (red according to Chinese tea classification). Jin Ya (金芽), literally Golden Buds, refers to the appearance of this tea and the fact that it is made exclusively from the buds of the tea plant. This unique golden tea is truly one of the best black teas from Yunnan! From a spring 2019 harvest, so this particular lot has been rested for just over a year. The resting has further developed the complexity of flavours.
Mojiang Hani Autonomous County is located in Pu'er Prefecture of Yunnan Province. Mojiang Hani Autonomous County has a large population of Hani native people, who also inhabit areas in Vietnam, Laos and Thailand. While tea making traditions go back hundreds of years (it is estimated that tea cultivation started 2,000-2,200 years ago in this area and tea use predates that period), black tea production is a comparatively new phenomenon in Yunnan. The first commercial black teas were produced in Feng Qing County around 1938. These proved quite popular so the production of black tea quickly spread throughout this part of China. The rise in popularity was largely attributed to the balanced and smooth flavours of Yunnan Red – fully bodied sweet maltiness without any of the astringency of many other black teas.
Dian Hong Jin Ya Golden Buds is processed from hand plucked buds or tips of the Yunnan Da Ye Large Leaf (云南大叶) cultivar that is also used to make the numerous pu-erhs of the region. This is a type of tea that is often marketed as a 'pure gold' black tea – and you can see why from the appearance of the dry leaf. The small tippy leaves consist solely of buds and have a striking and attractive gold colour. Like other Dian Hong teas, this Dian Hong Jin Ya Golden Buds can benefit from short term storage and maturation to further develop the flavours. Or you can enjoy it straight away!
The dry leaves consist solely of buds and have a bright gold colour to them with a lovely malty and sweet aroma. When brewed, you can see the dry leaves turn into most attractive full buds. The bright amber liquor produces a light to medium strength liquor with an attractive fragrance. The smooth taste has a complex profile that is sweet and malty. The complex flavours have notes of cocoa, sour fruits and wheat biscuits with a clean and refreshing aftertaste.
Dian Hong Jin Ya Golden Buds black tea is best brewed at 90°C for 3-4 minutes according to your taste. It should be brewed multiple times to get the best out this rare tea!
You can also buy Dian Hong Jin Ya Golden Buds black tea in our online shop.
Pu Muen Assamica Black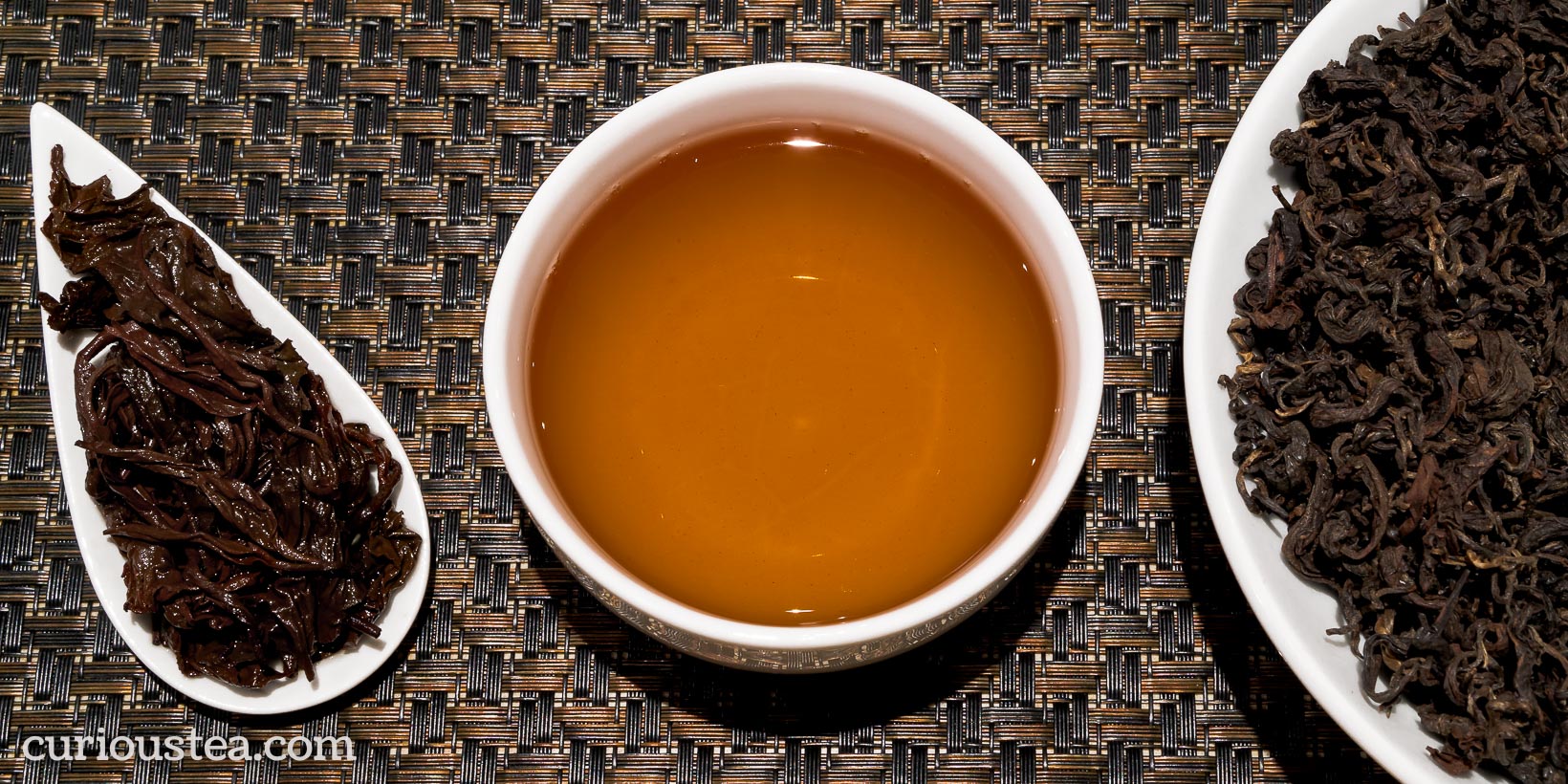 Pu Muen Assamica Black is a fully organic black tea from Pu Muen Mountain in northern Thailand. It is made from plantation-grown endemic assamica tea plants. This yields a complex tea that has a smooth character full of fruity flavours that are nicely balanced with a more savoury and mineral aftertaste. We also refer to this tea as Cha Doi Dam, which means mountain black tea. This current batch is from April 2019 harvest. We also sell a green version of this tea.
This Pu Muen Assamica Black tea is grown at an altitude of approximately 1,100 metres at Doi Pu Muen, near Fang in Chiang Mai Province. The tea plantation is close to the border with Myanmar and is surrounded by Doi Pha Hom Pok National Park. It was planted by King Bhumibol Adulyadej in the 1970's in order to better the lives of hill tribes by providing and supporting sustainable agriculture. The plantation was created to replace poppy fields that previously sustained many hill tribes in northern Thailand.
Many tea growers in Thailand tend to favour imported Taiwanese cultivars. So it is a little more unusual to see a plantation that instead opted to grow endemic assamica tea plants. This choice results in a tea that is quite a bit different to other plantation-grown Thai teas. The noticeably larger assamica leaves produce a character that is closer to teas from Yunnan Province in China or Assam in India. The tea plants are left to grow semi-wild on this plantation, allowing them to grow into larger trees. The plantation also employs organic methods and has full organic certification.
This Pu Muen Assamica Black tea comes in large, twisted and lightly rolled leaves that are dark in colour, with some lighter silver and gold colours on the tips. It produces an amber liquor with a malty and mineral aroma. The main smooth flavours are definitely fruity with notes of prunes, plums, figs and cherries. The flavours are not overly sweet but also lack in tannins and astringency. The aftertaste makes things even more interesting, providing a savoury edge with some salty notes. The flavours remind us of salted sour plums you can find in countries in Asia!
We suggest brewing at 90°C for 3-4 minutes according to your taste. It can be brewed around 2+ times depending on your taste preferences.
You can also buy Pu Muen Assamica Black tea in our online shop.
We really do hope that you enjoy the tea selection for July and are looking forward to the selection in our next box. Our August box will have a sencha green tea made from the unusual Benifuki cultivar, a classic Lu Shan Yun Wu from China, a complex Gopaldhara Red Thunder Oolong from Darjeeling and finally another Japanese Wakocha, this time made from the Koshun cultivar!
If reading this has made you curious about our teas, but you don't yet subscribe to a monthly tea selection, you can sign up for our tea boxes in just a few clicks. We ship worldwide from London, UK.
We always love to hear from you, so if you have any questions, suggestions or just want to chat about tea, email us at contact@curioustea.com, via our Facebook page or via Twitter.
You can also follow us on Instagram for pretty tea photos.
Happy tea discoveries!