Welcome to the July 2019 edition of the Curious Tea subscription! Here's a closer look at the four exciting new teas that we are sharing with our subscribers this month.
The first light tea this month is a lightly oxidised Santikhiri Milk Oolong from Doi Mae Salong in Thailand that has a distinctive creamy mouthfeel.
The second light tea is a rare Red Jade White tea from Taiwan created from a cultivar normally reserved for black teas.
For the dark side of the selection we have an aged 2012 Liu Bao Hei Cha, a traditional dark tea from Guangxi Province in China.
Finally, the last tea we are featuring this month is a classic fragrant Keemun Mao Feng black tea from Qimen in Anhui Province of China.
Our Discovery subscription boxes contain 10g taster pouches of all of the above mentioned teas. If you are a subscriber you will benefit from a 10% discount on all teas from our tea shop!
Let's get into further detail on the products featured in our July tea subscription boxes.
Santikhiri Milk Oolong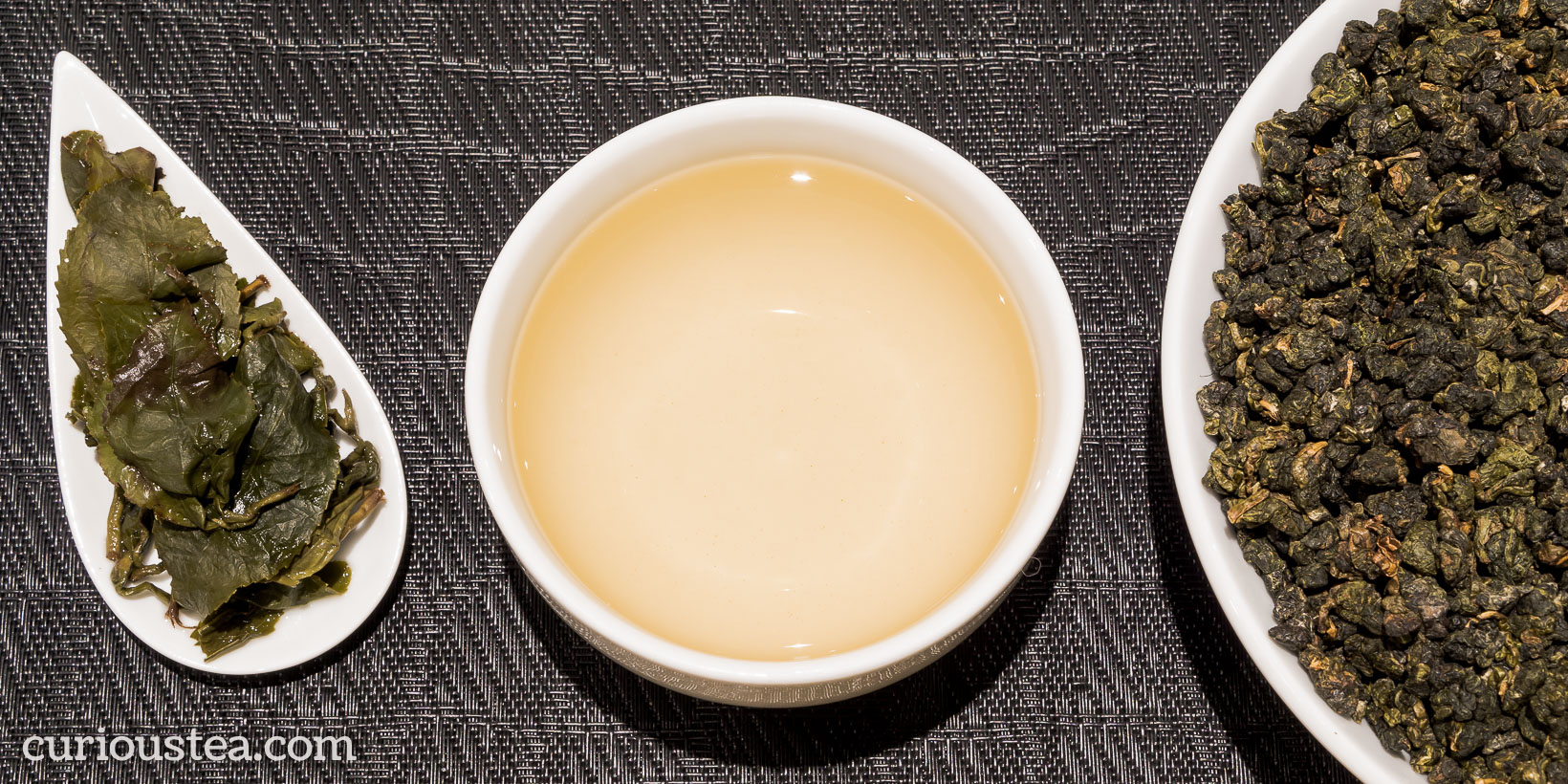 Santikhiri Milk Oolong is a characterfully smooth, lightly oxidised oolong that is produced from a Taiwanese Jin Xuan TRES #12 cultivar. This oolong comes from around Santikhiri village (formerly Mae Salong) located in Mae Fa Luang District around the highlands of Doi Mae Salong mountain, close to the border with Burma and Laos. Santikhiri Milk Ooolong is an organic tea grown at an altitude of around 1,200-1,600 metres and this particular lot was plucked in April 2018. We source this tea directly from the owner of the plantation in Doi Mae Salong.
This Milk Oolong tea is made from a Taiwanese cultivar called Jin Xuan 'Golden Daylily' (金萱) or TRES #12, the number given to it by the Taiwan Research and Extension Station. Milk Oolong is also sometimes known as Nai Xiang (奶香) 'Milk Fragrance' in Chinese. The Jin Xuan cultivar is very popular with farmers since the plants are more hardy and produce a higher yield. From a tea lover's point of view, Jin Xuan is an attractive aromatic drink with a lovely sweet and creamy character.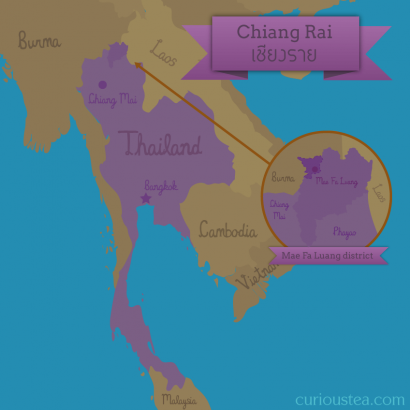 Unfortunately there are plenty of Milk Oolong teas (whether from Jin Xuan cultivar or others) that are flavoured either with milk or vanilla in order to imitate or enhance the natural taste that the leaves of Jin Xuan develop. Any genuine Milk Oolong, such as this one, is always produced from the Jin Xuan cultivar and should not be flavoured or enhanced with additional flavours in any way.
Santikhiri Milk Oolong comes in tightly rolled dark green leaves that produce a brisk yellow-green clear liquor with a lightly verdant and creamy aroma. This tea produces a light cup that is smooth and refreshing. The taste is vegetal, lightly 'green' tasting, with a tangy edge. There is distinctive creaminess that this type of tea is famous for, which mostly comes in at the very top notes and on the aftertaste. The creaminess and milkiness is manifested mostly in a mouthfeel rather than a distinctive milky taste. The aftertaste is long-lasting and has a lovely nutty top note. When compared to other Milk Oolong teas that have a more pronounced milky and creamy flavour and mouthfeel, especially our award-winning Organic Milk Oolong, this tea has a more lightly-oxidised fresh green flavour with a light, characteristic Jin Xuan creamy mouthfeel.
We suggest brewing at 90°C for 3-4 minutes according to your taste. It can be brewed 3+ times.
You can also buy Santikhiri Milk Oolong tea in our online shop.
Red Jade White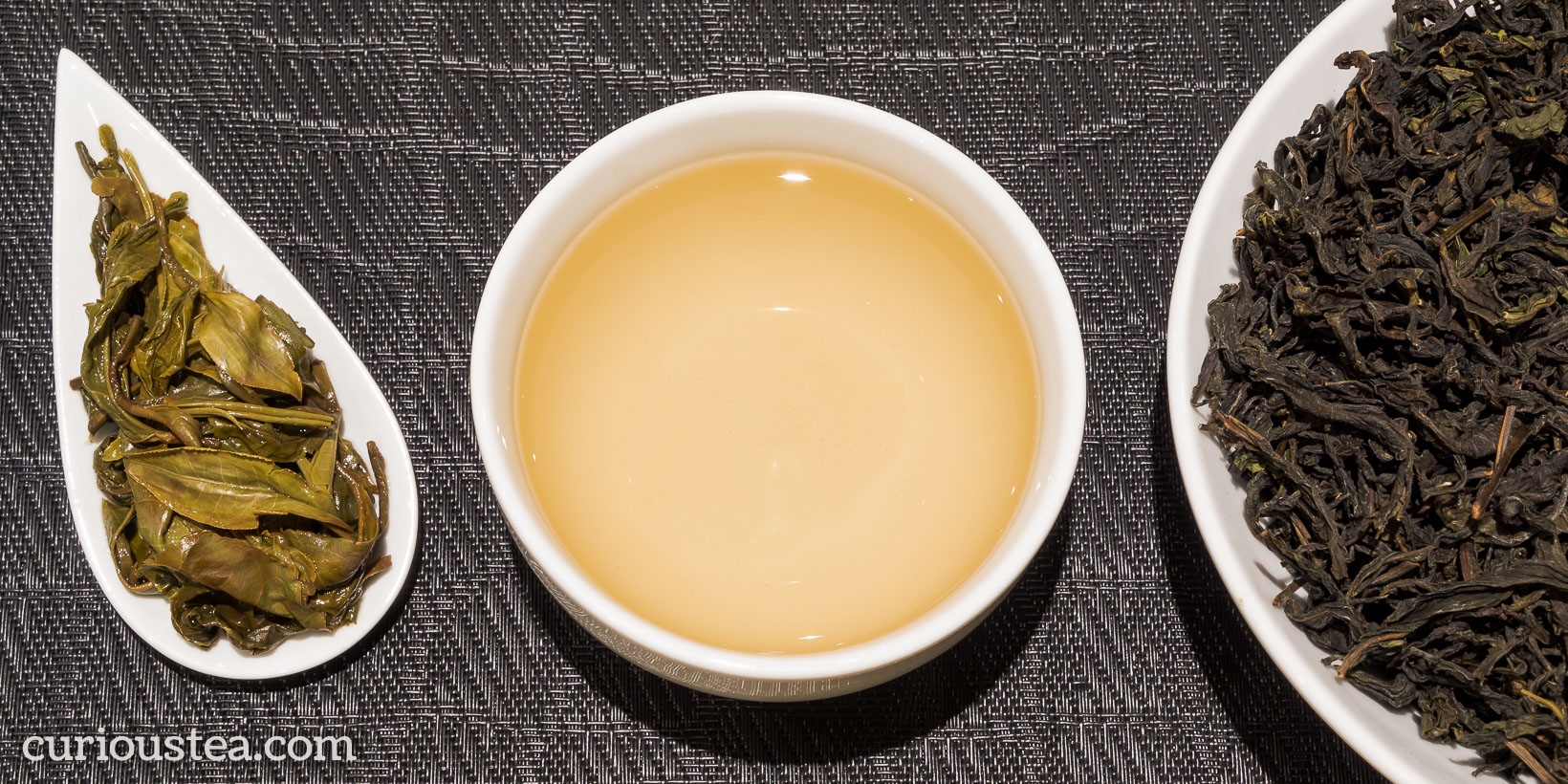 Red Jade White (紅玉白茶) is a rare Taiwanese white tea handcrafted from the Hong Yu TRES #18 cultivar. Expertly withered and very lightly naturally oxidised it produces a light cup that is supremely complex. This tea is grown to organic standards in Mingjian Township of Nantou Province and was picked in January 2019.
The picking time for this Red Jade White is slightly unusual as it was picked and processed outside the normal seasons for low-grown Taiwanese teas. This particular lot was harvested in the middle of January 2019 when the tea plants are normally dormant. However a spell of warm weather stimulated new plant growth so the farmer on this occasion decided to pluck the tea plants at this unusual time. After picking, the leaves were withered and lightly rolled, stimulating minimal oxidation and producing an unusual Taiwanese white tea!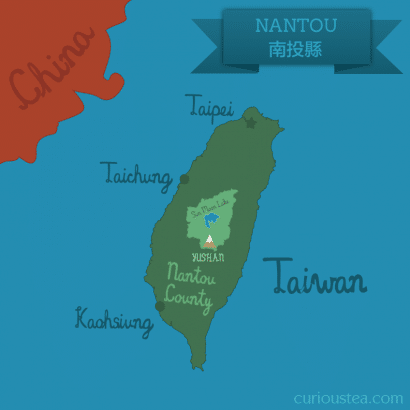 Red Jade White tea is produced from a Hong Yu TRES #18 cultivar that is usually reserved for black tea, like our Red Jade GABA or Yuchi Red Jade. Hong Yu translates as Red Jade or Ruby, hence the name chosen for this tea. The Hong Yu cultivar was developed in Taiwan in a recent attempt to reinvigorate black tea production in the country. It was developed from an Assamica strain from Burma and the local wild tea from Taiwan.
The Hong Yu cultivar has a unique flavour profile that is very distinctive; it produces complex black teas with a smooth savoury character and pronounced menthol and eucalyptus notes that make for a pleasantly medicinal edge. This Red Jade White tea draws on the characteristics of the cultivar, producing a complex liquor with interesting flavour references to the black counterparts of this white tea.
The twisted leaves of this Red Jade Taiwanese White tea are dark in appearance. The produced cup is light, pale yellow in colour with woody and eucalyptus aromatics. The taste is particularly smooth and light. The sweetly spicy profile has floral and creamy notes. The flavours start on the woody, spicy eucalyptus and menthol side, developing into lightly floral notes and exotic fruit flavours. There are some pleasantly mineral top notes that complete the intriguing taste profile. This is a supremely crafted tea with a wide complexity of flavours.
Red Jade White tea is best brewed at 80°C for 2-3 minutes according to your taste and should be brewed multiple times to savour the flavours of each infusion.
You can also buy Red Jade White tea in our online shop.
Liu Bao Hei Cha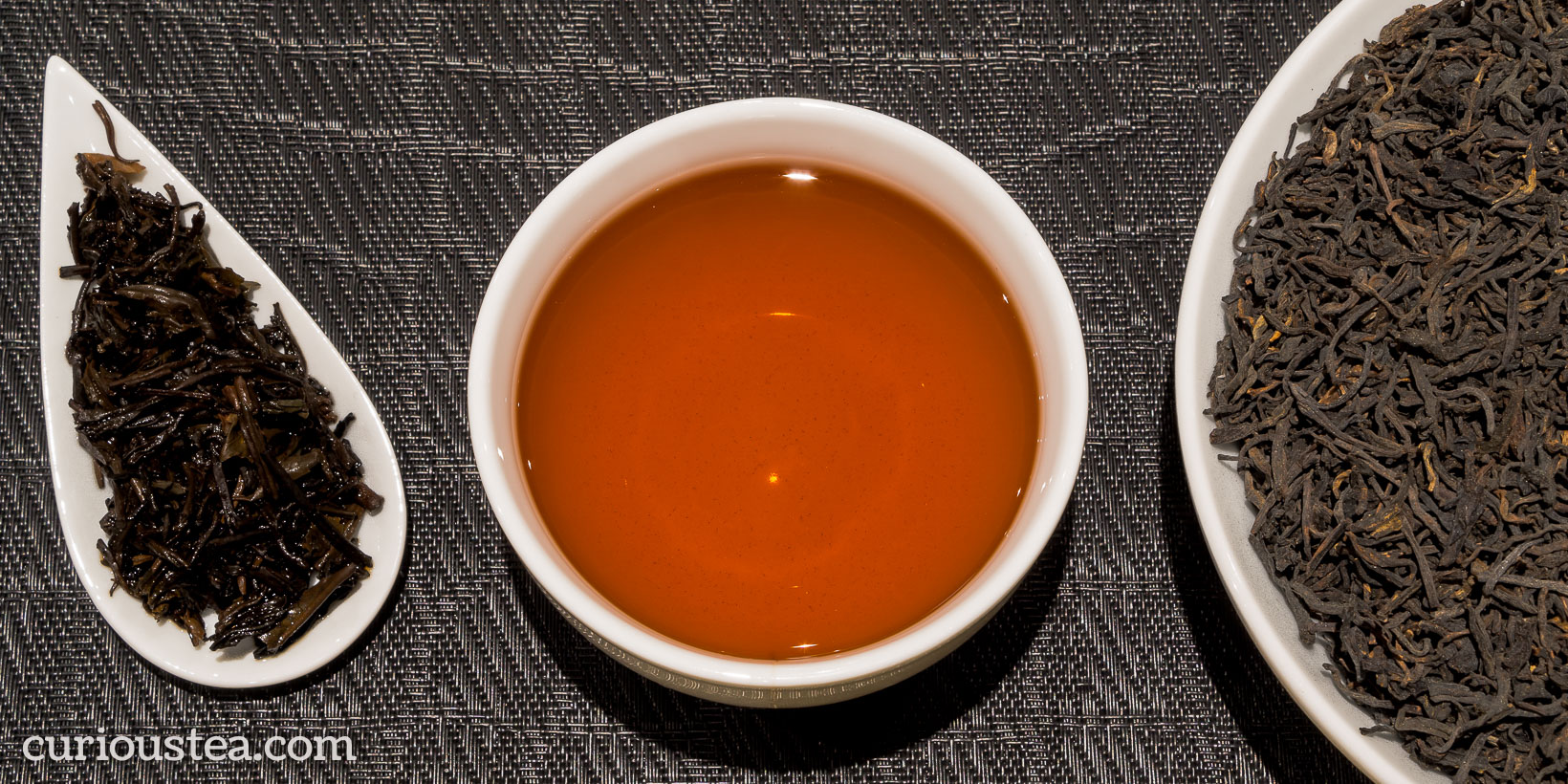 Liu Bao Hei Cha (六堡黑茶) is a traditional aged dark tea from Guangxi Province in China. This tea undergoes a fermentation process that is similar to that of ripe (shu) pu-erh from Yunnan. After being fermented it was aged in large bamboo caskets. The resulting tea has a distinctive woody and mossy flavour profile and a very easy, drinkable character. This particular Liu Bao is from 2012 and was produced in Cangwu County of Guangxi Province.
Liu Bao Hei Cha, similarly to pu-erh tea, falls within the dark tea category known as Hei Cha (黑茶). In China the tea nomenclature differs from that of the West. Hong Cha (紅茶), literally 'red tea', is used to describe what in the West is known as 'black tea'. Hei Cha (黑茶), literally 'black tea', is used to describe what in the West is known as 'dark tea' or 'post-fermented' tea. For ease of reference and to avoid unnecessary confusion we always refer to Hei Cha as 'dark tea'. Liu Bao translates as 'Six Forts' and most likely refers to ancient fortifications in this tea-producing area of Guangxi Province.
While Liu Bao has an ancient history dating back over 1,000 years, the processing techniques have much evolved. Liu Bao Hei Cha, like shu pu-erh, undergoes an accelerated fermentation process during which the tea leaves are exposed to a high level of humidity in a warm environment. Raw harvested leaves are piled, covered by blankets and are exposed to high level of moisture until the desired level of fermentation is achieved. The environment is controlled by addition of water when necessary. This controlled process is known as Wo Dui (渥堆) in Chinese. This process uses heat and moisture to speed up the chemical changes within the leaves, reducing astringency and deepening the flavours. There is evidence that this particular modern processing was in use as early as 1957 in Guangxi Province and the ripening process developed in Yunnan Province in 1970's for shu pu-erh was influenced by Liu Bao processing techniques.
Liu Bao Hei Cha also has a particularly important place in Traditional Chinese Medicine as having a rare dual quality: both cooling and warming. It is said to eliminate excess dampness while having a warming quality when necessary. Like most dark teas, it is a particularly excellent digestion aid, suitable for consumption before, after and during meals.
This Liu Bao Hei Cha has mixed dark leaves that have a woody, mossy aroma of autumnal forest undergrowth. The dark red liquor produced has a light aroma that is similar to that of the dry leaves. The taste is woody, mossy, and somewhat damp. There are notes of buckwheat, making it reminiscent of barley tea. The flavours start woody, tasting of bark, autumn and moss, becoming fresher and brisker. The aftertaste is lingering, yet clean and stony. It is a very drinkable, smooth tea that is pleasurable on its own or would be a great companion to a meal.
We suggest brewing parameters of 90°C for 3-4 minutes according to your taste, brewing multiple times. This tea is forgiving when it comes to brewing so can brewed for longer or with boiling water for a fuller taste. When brewed Gong Fu style we suggest briefly washing the leaves. Traditionally this type of tea is prepared by boiling the tea leaves in a pot of water!
You can also buy Liu Bao Hei Cha dark tea in our online shop.
Keemun Mao Feng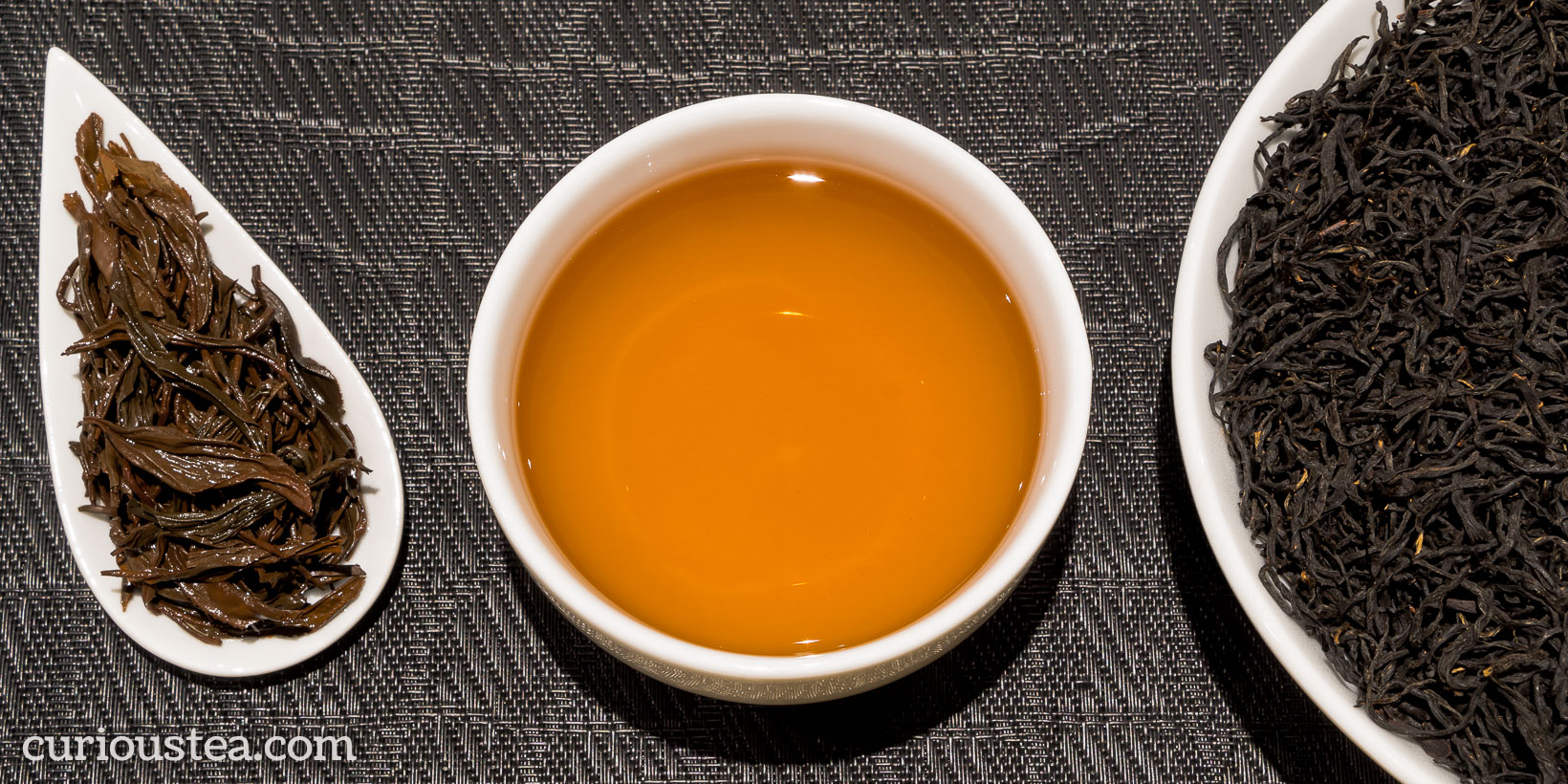 Keemun Mao Feng (祁門毛峰) is produced in Qimen County of Anhui Province, China. This tea is a high grade 'Mao Feng' type that has a classic aromatic Keemun profile that is fruity and smooth. This particular lot is from the spring 2018 harvest.
The origin of Qimen Hong Cha (祁門紅茶) or 'Keemun Red Tea' only dates back to the late 19th century. The Keemun name comes from an older Western spelling of the town of Qimen. Keemun, or Qimen, tea has quickly become a popular and famous Chinese black tea due to an appealing, fragrantly sweet and fruity character that this tea develops. Many other sub-types of this tea exist: Mao Feng, Hao Ya and Congou being the most common and popular ones. Lower grade Keemun black teas are also commonly used in tea blends.
Keemun Mao Feng is one of the better known and higher grade varieties of Keemun black tea. It is said to be the favourite tea of Queen Elizabeth II. Mao Feng refers to the type of tea and literally means 'fur peak'. Similarly to the famous Huang Shan Mao Feng green tea, this refers to the hairs found on buds when it is harvested. As Keemun Mao Feng consists of full unbroken buds and young tender leaves, it is much lighter and sweeter than other types of Keemun black tea. By comparison, Keemun Congou tends to be made up of broken leaves, thus producing a fuller and heavier cup.
This Keemun Mao Feng has long dark thin leaves that are lightly twisted, which is a typical appearance for this type of tea. When the leaves are brewed you can clearly see that this Keemun Mao Feng consists of buds and small tender leaves. The liquor produced has a dark amber colour with a spicy, lightly woody and fruity aroma. The smooth fruity profile has mineral notes with a lightly woody edge. There is a deep flavour of stewed red stone fruits. Lightly tangy, stony aftertaste completes the tasting on a particularly satisfying note.
We suggest brewing at 90°C for 3-4 minutes according to your taste, brewing multiple times.
You can also buy Keemun Mao Feng black tea in our online shop.
We really do hope that you enjoy the tea selection for July and are looking forward to the next selection in our next box! Our August box will feature a Huang Shan Tunxi Chinese green, a Taiwanese Bao Zhong oolong, a classic Second Flush Assam from Latumoni and a characterful Mount Kenya black tea!
If reading this has made you curious about our teas, but you don't yet subscribe to a monthly tea selection, you can sign up for our tea boxes in just a few clicks. We ship worldwide from London, UK.
We always love to hear from you, so if you have any questions, suggestions or just want to chat about tea, email us at contact@curioustea.com, via our Facebook page or via Twitter.
You can also follow us on Instagram for pretty tea photos.
Happy tea discoveries!