Welcome to July 2017 Curious Tea subscriptions! As always we have some new and exciting teas to share with our subscribers this month.
The first tea is a one-off Mi Xian 'Honey' GABA Oolong, an unusual find from Taiwan that acquired a lovely honey character from unique weather patterns in spring 2017. The second light tea, Dong Ting Bi Luo Chun from Jiangsu Province, is one of the classic Chinese teas and comes from the famous Dong Ting Mountain tea growing region. For the darker side of the selection, we opted for a fine First Flush Darjeeling from Namring Tea Estate that has a nicely balanced first flush character. And finally we have a Dan Cong Huang Zhi Xiang, a wonderfully characterful oolong from Guangdong that has a profile reminiscent of orange blossom.
Our Discovery tea taster subscription boxes contain 10g taster pouches of all of the above mentioned teas. As always, if you are a subscriber you will benefit from a 10% discount on all teas from our tea shop!
To help you along with the tasting, here is some further information on all teas featured in our July tea subscription boxes.
Honey GABA Oolong
Our Mi Xian 'Honey' GABA Oolong (蜜香佳葉烏龍茶) is a fully organic tea grown in Nantou County of Taiwan that has quite a unique flavour. This flavour is known as 'Mi Xian' and is most similar to the taste of wild mountain honey with lovely sweet floral notes. The flavour occurred in this tea due to highly unusual weather patterns of spring 2017. As such this tea is a complete one-off, think of it as a particularly good vintage of fine wine. It is a unique experience and the taste is somewhere between our GABA Oolong and our Gui Fei Oolong. It was picked in spring 2017 from trees of a Jin Xuan (TRES #12) cultivar and processed in the style of a GABA Oolong in an oxygen deprived environment.
To demystify the acronym in the name, GABA stands for Gamma-Aminobutyric Acid. This molecule, which in mammals is mostly found in the nervous system, purportedly can reduce stress and anxiety. This Honey GABA Oolong undergoes a complicated manufacturing process, which involves vacuum tanks and oxidation by way of exposure to nitrogen rather than oxygen. The very high GABA content is the direct result of this processing, which was developed by Japanese scientists over 20 years ago.
There are differing opinions on how well our bodies can actually absorb GABA from our food and drink and while some people report feeling particularly relaxed and calm after drinking GABA tea, others do not see any significant difference. So while the effects of this tea are a very personal experience, most will appreciate this tea for the unusual and distinctive taste.
The 'Mi Xian' or 'Honey' flavour of this oolong is normally attributed to 'beauty teas' that have a unique growing story. Beauty teas are unique for their honey-like flavour that occurs due to presence of little green leaf hoppers that nibble the tea leaves during growth. The tea plants react to this attack by producing more polyphenols, which during processing give the unique 'beauty tea' flavour. This type of flavour can be referred to as 'honey', 'Mi Xian' or 'bug bitten' flavour. Once you've tried a good tea that has a prominent 'Mi Xian' flavour, you will be able to easily spot other teas with similar flavours as it is rather distinctive and highly addictive!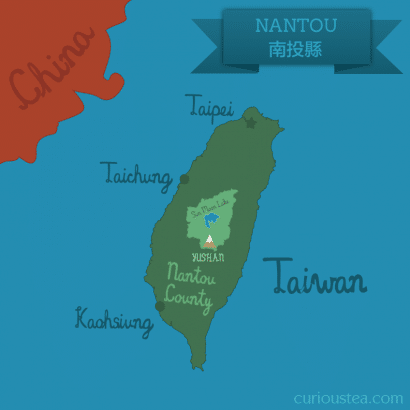 This Honey GABA Oolong has very tightly rolled dark leaves that are typical of oolong teas of this type. When brewed it produces a bronze coloured liquor with a very complex taste. Flavour wise, you can see similarities to both our standard GABA Oolong and our Gui Fei Oolong. There is fruitiness and tartness that is normally associated with GABA Oolong teas. However there is also a distinct 'bug bitten' honey flavour that resulted from the unusual weather patterns of this spring. Normally 'bug bitten' teas are at their best during the summer months, so it is extremely unusual to come across such flavours in a spring crop. The fruity and wild honey flavours dominate the taste of this tea but there are also unusual notes of eucalyptus, citrus fruit and cinnamon present that make it a pleasantly complex experience!
We suggest brewing at 90°C for 4-5 minutes according to your taste. It can be brewed more than 3 times depending on your preference.
You can also buy Mi Xian Honey GABA Oolong tea in our online shop.
Dong Ting Bi Luo Chun
Dong Ting Bi Luo Chun (洞庭碧螺春) is a light green tea from the famous Dong Ting Mountain tea growing area of Jiangsu Province. The name of this tea translates as 'Green Snail Spring' and refers to the colour, the shape and the plucking time for this tea. Classic Bi Luo Chun originates from Dong Ting Mountain area of Jiangsu Province in China next to lake Taihu and this region still produces some of the best Bi Luo Chun tea.
Bi Luo Chun is one of China's 10 famous teas and is regarded by some as one of the best green teas from China. This particular type from Dong Ting is particularly renowned for having a more tippy, uniform appearance of the tea leaves and for having a fresher, cleaner taste with floral and fruity notes.
The original name for this tea was Xia Sha Ren Xiang, which can be translated as 'Astounding Fragrance' or 'Scary Fragrance'. The legend tells the story of a girl, who discovered this tea. Whilst plucking the tea leaves, she ran out of space in her basket, so she put the tea leaves between her breasts instead. The tea, which got warmed by her body heat produced a strong fragrance, which greatly surprised the girl, hence the name Astounding (or Scary) Fragrance. The Astounding or Scary Fragrance name stuck well due to the wonderful aroma that is characteristic of this tea. This name was changed later by one of the Chinese emperors, who thought that a more elegant Bi Luo Chun or 'Green Snail Spring' is a more fitting description for this special tea.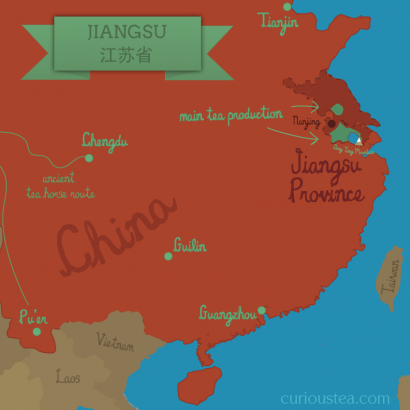 The green and silver tippy leaves of this Dong Ting Bi Luo Chun green tea have a distinctive twisted shape, resembling a small snail. The dry leaves have a characteristic strong yet pleasant aroma. The liquor is pale and very delicate with a floral and vegetal fragrance. This tea has a refreshing taste with a lovely light profile. There is a delicate vegetal and floral taste that has notes of green vegetables and flowers, such as courgettes and dandelions. This tea has a delicate sweetness to it that gives way to a slightly savoury aftertaste.
We suggest brewing at 80°C for 2-3 minutes according to your taste. It can be brewed around 2-3 times depending on your preference.
You can buy Dong Ting Bi Luo Chun green tea in our online shop.
Darjeeling Namring First Flush 2017
Darjeeling Namring Upper First Flush 2017 is a fantastic First Flush tea form the Namring Tea Estate, situated in the Eastern part of Darjeeling district and about an hour's drive from Darjeeling town. This tea is a First Flush (the first spring plucking of the season) and was picked in spring 2017. First Flush Darjeelings are very sought after since they are delicate in flavour and exhibit well pronounced floral characteristics that Darjeeling fans looks for in a good tea. And this tea is no exception – well rounded, delicate, floral, fruity and with hints of muscatel – all signs of a great First Flush Darjeeling.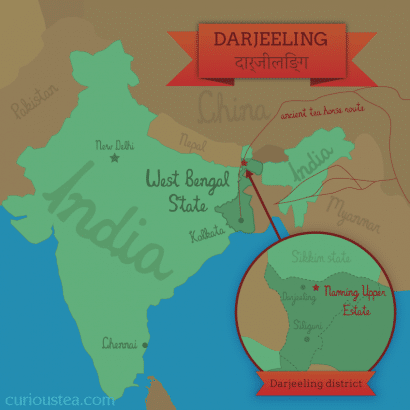 The Namring Tea Estate is split into two parts – the Upper and Lower divisions. The Upper division is where this particular tea is from, which is at an altitude of around 1700 metres. Teas grown on this part of the estate have more delicate and smooth features. The Estate is also famous for its combination of tea bushes grown here. These comprise tea bushes of the following varieties: China (60%), Clonal (30%) and Assam hybrid (10%). The combination results in teas from Namring Tea Estate having more unique and exotic flavours when compared with other Darjeelings.
Darjeeling Namring Upper First Flush 2017 has very neat, almost green leaves in appearance with plenty of silver tips. When brewed these lovely leaves produce a clean, bright yellow-orange liquor with a pleasant floral aroma. This tea has a light and well balanced flavour profile with minimum dryness and astringency. It is very typical for a First Flush Darjeeling with a lovely floral character, hints of muscatel sweetness and exciting top notes of exotic fruits. It is a perfect selection for a traditional afternoon tea.
We suggest brewing at 90°C for 3-4 minutes according to your taste. It can be brewed around 2 times depending on your preference.
You can also buy Darjeeling Namring Upper First Flush 2017 black tea in our online shop.
Dan Cong Huang Zhi Xiang Oolong
Dan Cong Huang Zhi Xiang (单枞黄枝香), also known in English as Orange Blossom Fragrance Phoenix Oolong, is an excellent example of an oolong from an area that unfortunately does not get enough attention – Guangdong Province in Southern China. Dan Cong (单枞) is the general term that is used to refer to oolongs that come from Guangdong and specifically from Phoenix Mountain. Dan Cong literally means 'single bush' as traditionally these oolongs were all plucked only from single semi-wild trees. It has now become the generic term to cover all Phoenix Mountain (Feng Huang Shan 凤凰山) and sometimes other Guangdong Oolongs.
Dan Cong Oolongs are noted for their ability to imitate various flavours, be it flowers or fruits. This is a natural characteristic of these oolongs and no flavouring is added at all. The apparent aroma and taste differences of Dan Cong Oolongs are mostly introduced during the finishing process of each tea. The skills of the tea master are therefore paramount in how each batch of tea turns out. This Dan Cong Huang Zhi Xiang Oolong is noted for its Orange Blossom aroma and flavour that is sweet and highly floral, reminiscent or gardenia flowers.
Phoenix oolongs are very varied in style and flavour but are often sold just as 'Phoenix Mountain Oolong' or 'Phoenix Dan Cong' often not specifying the exact type of Dan Cong that it is or which area there are from. Make sure to look out for which particular Dan Cong you are buying as they all have varying characteristics and styles depending on where and how they are grown and processed.
This particular Dan Cong Huang Zhi Xiang Oolong comes from the Phoenix Mountain area near Chaozhou City (Phoenix Town) in Guangdong Province. The trees that are used to produce this tea are the Feng Huang Shui Xian cultivar, which is the traditional cultivar used in this area and the usual one for Dan Cong Oolongs. The 30-50 year old trees are propagated from a single Dan Cong tree that is over 600 years old. Plucking occurs in mid April and this Dan Cong Huang Zhi Xiang Oolong is from the 2016 harvest. Spring harvest is particularly favoured as it tends to be more floral and less astringent compared to leaves harvested during other times of the year. We have also allowed this tea to mellow for an additional year before making it available for purchase and sending it out to our subscribers. This has allowed the roasted flavours to dissipate a little, bringing out more of the sweet floral notes.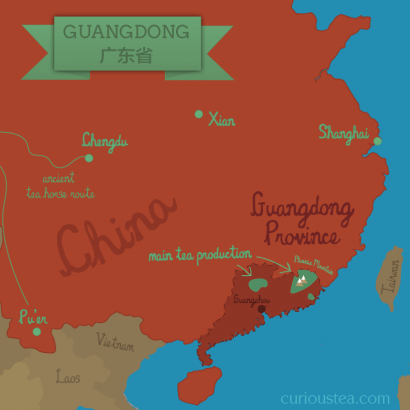 The dry leaves of this Dan Cong Huang Zhi Xiang Oolong are dark and twisted producing a medium strength golden liquor. The aroma is floral, a little roasted with a scent of gardenia flowers. The taste of this tea is fantastic, it is full of honey and exotic flower notes. The smooth flavours are sweet and floral with particular hints of orange blossom, gardenia flowers and citrus top notes.
The high quality of this Dan Cong Huang Zhi Xiang Oolong means that this tea can stand many infusions. Infuse it the western way in a tea pot at 90°C for 3 minutes 3+ times. If you are finding that your tea is turning out a little too astringent, you can reduce the brewing time or temperature until you reach your preferred taste. This tea would particularly benefit from traditional Gong Fu style brewing, yielding a lot more infusions, each bursting with flavour.
You can also buy Dan Cong Huang Zhi Xiang Oolong tea in our online shop.
We really hope that you enjoy the tea club selection for July and are looking forward to our selection in August!
If reading this has piqued your interest, but you don't yet subscribe to our monthly tea selections and would like to receive them in the future, you can set up your tea subscription in just a few clicks. We ship worldwide from London, UK.
We always love to hear from you, so if you have any questions, suggestions or just want to chat about tea, email us at contact@curioustea.com, via our Facebook page or via Twitter.
You can also follow us on Instagram for pretty tea photos.
Happy tea tasting!