It's time for another month of Curious Tea subscriptions! We have a great selection for July for you to try. We have selected the following four teas for you this month: a real champagne of teas, a 2016 First Flush Darjeeling from Castleton Tea Estate; a delicate and floral Wen Shan Bao Zhong oolong from Taiwan; a tea from an unlikely tea growing country, Bitaco Green tea from Colombia and finally a Yunnan pu-erh, 2015 ripe Mengku Pearls.
To help you along with the tasting, here is some further information on all teas featured in our July boxes!
Bitaco Colombian Green
We start off this month with a most unusual tea. First, the country of origin, Colombia, is not really known to be a tea producing region. Colombian coffee is well known and regarded around the world but this unique tea is a perfect example of what can be achieved in terms of tea production in the mountainous regions of Colombia. Second, this is perhaps one of the most unique tasting teas due to the completely unexpected fennel and aniseed notes which we have not seen in any other teas to date!
Bitaco Colombian Green tea is grown near the town of La Cumbre, situated high up in the West Andes. The altitude of the tea plantation is between 1,800 and 2,050 metres, making the growing conditions perfect for high grade tea. The prevalent weather, consistent rainfall, rich soil and mountainous slopes all combine to make a perfect but unique terroir. The area is also remote and surrounded by unspoilt natural terrain. This tea is certified as organic under USDA, EU and Colombian regulations.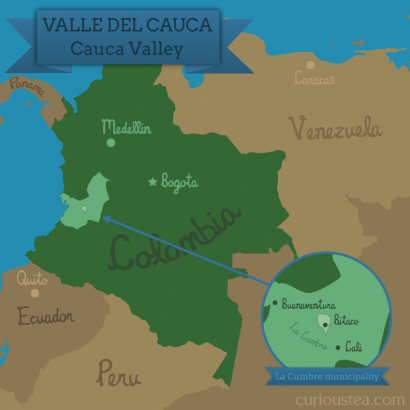 Bitaco Tea Estate is run by Agricola Himalayas S.A. and they have extensive social responsibility programmes run in the area. These focus especially on education of children in the local area but also provide extensive support for other rural projects.
We chose this Bitaco Colombian Green tea for our July Mixed and Light subscription boxes. This tea is from the February 2016 harvest. The neat dark green leaves of this tea have a lovely floral and fruity scent. There is a fair amount of silver tips that are dotted throughout the darker dry leaves. The liquor produced is a light yellow colour and has a slight floral scent. The flavour is quite multilayered and exciting! While being light and somewhat floral, it has a certain depth to it. There are most unusual but extremely pleasing notes of fennel and aniseed on the aftertaste. We have not tasted any other tea quite like this one, so we had to include it in our boxes for the simply unique flavours of this Colombian Green tea.
We suggest brewing parameters of 80°C for 2-3 minutes according to your taste, brewing 3 or more times.
You can also buy Bitaco Colombian Green tea in our online shop.
Wen Shan Bao Zhong
The second light tea to feature this month is a green-style oolong from Taiwan. Wen Shan Bao Zhong (文山包種茶) is a rather famous light oolong that is popular both in Taiwan and the West. It undergoes very slight oxidation and is sometimes classed as a green tea. It is often mistaken for a green tea due to its light flavour as well as the long shape of the leaves, which is not very common in lighter style of oolongs. As Wen Shan Bao Zhong does undergo some oxidation, however minimal, it would be incorrect to label it as a green tea and it does fall in the oolong category.
Wen Shan Bao Zhong is named after the tea producing region of Wen Shan, which is located in the New Taipei City Municipality in the north of Taiwan. This terroir produces some of the most popular and highly regarded Bao Zhong oolongs in Taiwan. The Bao Zhong name itself translates from Chinese as 'wrapped kind' and derives from the old practise of wrapping tea leaves into paper during processing. Although, thanks to modern tea processing this is no longer the case, the name has been preserved. The English name that is also used for Bao Zhong oolong is pouchong.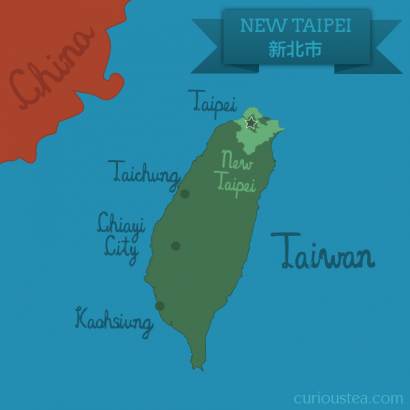 This Wen Shan Bao Zhong pouchong uses the Qing Xin (Green Heart) cultivar. The altitude of the garden where it is grown is 800m and it is completely hand processed in order to preserve the long delicate leaves. The level of leaf oxidation is ony around 10%.
We selected this pouchong for our July 2016 Light box. It was plucked in May 2016, so it is very fresh and the grower assures us that the weather conditions this year have made this crop quite special. We certainly agree with him! The leaves of this oolong are very long, dark green with a blue tint. You can see where oolongs get their 'blue tea' moniker from. The dry leaves have a slight floral scent with a hint of melon. The liquor produced is a light green colour with a gentle floral aroma. The flavours are of wild pasture flowers with some fruity notes. This tea is exceedingly smooth and gentle, keeping a great balance between freshness and lightness of a green tea and creaminess and mellowness of a classic Taiwanese oolong.
Wen Shan Bao Zhong oolong tea is best brewed at 90°C for 2-4 minutes according to your taste. It should definitely be brewed multiple times, slowly increasing the steeping time with each next brew if desired.
You can buy Wen Shan Bao Zhong Pouchong oolong tea in our online shop.
Darjeeling Castleton First Flush 2016
We've been eagerly awaiting the new first flush Darjeelings of the year, especially from Castleton Tea Estate as we were so happy with the previous crops we've had from them. This is the first 2016 First Flush Darjeeling to go into our boxes this year and it surely doesn't disappoint! Darjeeling Castleton First Flush 2016 is a high grade (FTGFOP1) tea that delivers all the best traits that First Flush Darjeelings are famous for with an extra special muscatel twist.
Castleton Tea Estate is located next to the town of Kurseong, which translates as the "Land of the White Orchids". The estate is very well known for its muscatel teas while also producing very fine first and second flush teas. Most of the tea plants here are from China and the Estate employs orthodox tea processing methods where the leaves are hand plucked and then carefully processed using mechanised equipment to ensure uniformity of leaves. The altitude of the tea estate ranges from 1,000 to 2,300 metres so there is a wide variety of growing conditions for different tea types and grades.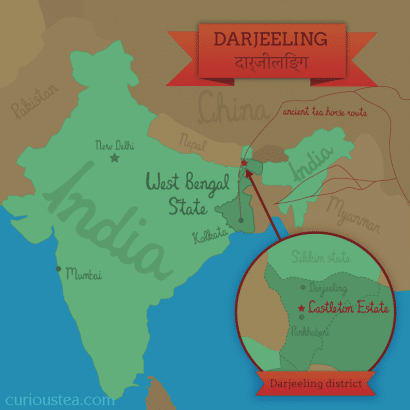 We selected this Darjeeling Castleton First Flush, plucked in spring 2016, for our July Mixed and Dark boxes. It has neat small leaves with plenty of black and green colour as well as silver tips. Once brewed, this tea produces a bright golden liquor with a pronounced mineral and muscatel character. These characteristics are most welcome in this Darjeeling Castelton First Flush, as coupled with the floral lightness of a spring tea they make for a superb marriage of flavours. Champagne-like style is certainly an apt way of describing this fine tea. The balanced flavours are predominantly mineral, chalky and muscatel-like with floral and elderberry notes.
Darjeeling Castleton First Flush black tea is best brewed at 90°C for 3-5 minutes according to your taste. It can also stand at least one more infusion. Best taken without milk to fully enjoy the muscatel character and complexity of flavours of this fine tea.
It is also great paired with food, such as seafood and fish, very much like champagne. The champagne-like character of this tea makes it one of our all time favourites for us here at Curious Tea!
You can buy Darjeeling Castleton First Flush 2016 black tea in our online shop.
Mengku Ripe Pu-erh Pearls
Our last tea for July is an special pu-erh tea from Yunnan – Mengku Ripe Pu-erh Pearls (勐库普洱熟龙珠). This is a pearl-shaped pu-erh that is ripe (shu) and comes from Mengku, Lincang City of Yunnan Province. These pearls were produced in 2015, each pearl weighing approximately 4-6 grams. This makes them very convenient to use – one pearl per one 1/2 litre tea pot if you are brewing this Western style.
Pu-erh is a type of tea which has undergone unique processing distinct from black tea, and is also referred to as 'dark' tea in the West. Many varieties of pu-erh are produced and it is a particular speciality of Yunnan Province. The name Pu-erh comes from Pu'er, which was an important place for tea trading in ancient China.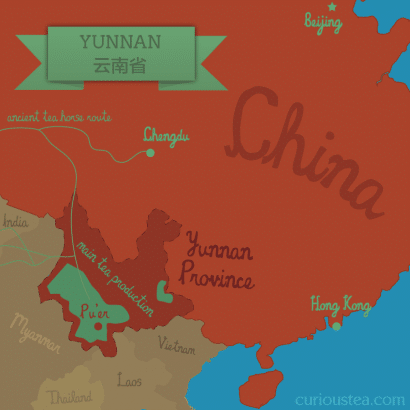 Pu-erh tea undergoes a unique production process, during which the tea leaves are dried and rolled after which they undergo secondary microbial fermentation and oxidation. This unique processing sets it apart from black tea and means that pu-erh fits within the separate dark teas category. The tea is most commonly pressed into various shapes (domes, disks, bricks, etc) or can be left loose and the gradual fermentation and maturation process continues further during storage. These Mengku Ripe Pu-erh Pearls have been pressed into small round shapes, which are like large pearls. As this is a ripe (shu) pu-erh, the ageing process has been effectively sped up during the production. This means that this tea can be either drunk straight away or, if desired, can be left to mature for longer to mellow out even more.
These Mengku Ripe Pu-erh Pearls have been selected by us for our Dark July Curious Tea subscription boxes. The tea has been shaped into pearls, then wrapped in paper for storage. When you remove the paper wrapping, you can see rather large leaves with plenty of golden tips. The pearls break apart when brewed, producing a deep dark liquor that is almost black. The flavours produced are satisfying, rich and warming. The deep and complex character of this tea is woody, a little mineral and with pronounced peppery notes of molasses and walnuts. A very satisfying drink that is balanced in flavour; it goes especially well with Asian styles of food.
This tea is best brewed with water at 95°C for 3-5 minutes and can be brewed multiple times.
You can buy Mengku Ripe Pu-erh Pearls in our online shop.
We really hope that you enjoy the tea club selection for July and are looking forward to what we have in store for your selections in August!
If reading this has piqued your interest, but you don't yet subscribe to our monthly tea selections and would like to receive them in the future, you can set up your tea subscription in just a few clicks. We ship worldwide from London, UK.
We always love to hear from you, so if you have any questions, suggestions or just want to chat about tea, email us at contact@curioustea.com, via our Facebook page or via Twitter.
You can also follow us on Instagram for pretty tea photos.
Happy tea tasting!