Welcome to the January 2023 edition of the Curious Tea subscription! Here's a closer look at the four exciting new teas that we are sharing with our subscribers this month.
The first light tea this month is a high end Cloud & Mist green tea from Fujian Province in China that is crafted from semi-wild plants grown on rocky soil.
The second light tea is our popular award-winning Kukicha 'twig tea' from Makinohara in Japan that consists of a mixture of sencha tea leaves combined with tea leaf stalks.
For the dark side of the selection we have an unusual Darjeeling from Rohini tea estate that is made from wild tea plants of unknown origin that produces a spiced and peppery profile.
Finally, the last tea we are featuring this month is a classic high-grown Ceylon Orange Pekoe from Blackwood Tea Estate that has a soft and balanced flavour profile.
Our Discovery subscription boxes contain 10g taster pouches of all of the above mentioned teas. If you are a subscriber you will benefit from a 10% discount on all teas from our tea shop!
Let's get into further detail on these teas featured in our December tea subscription boxes.
Yun Wu Ming Qian Cloud Mist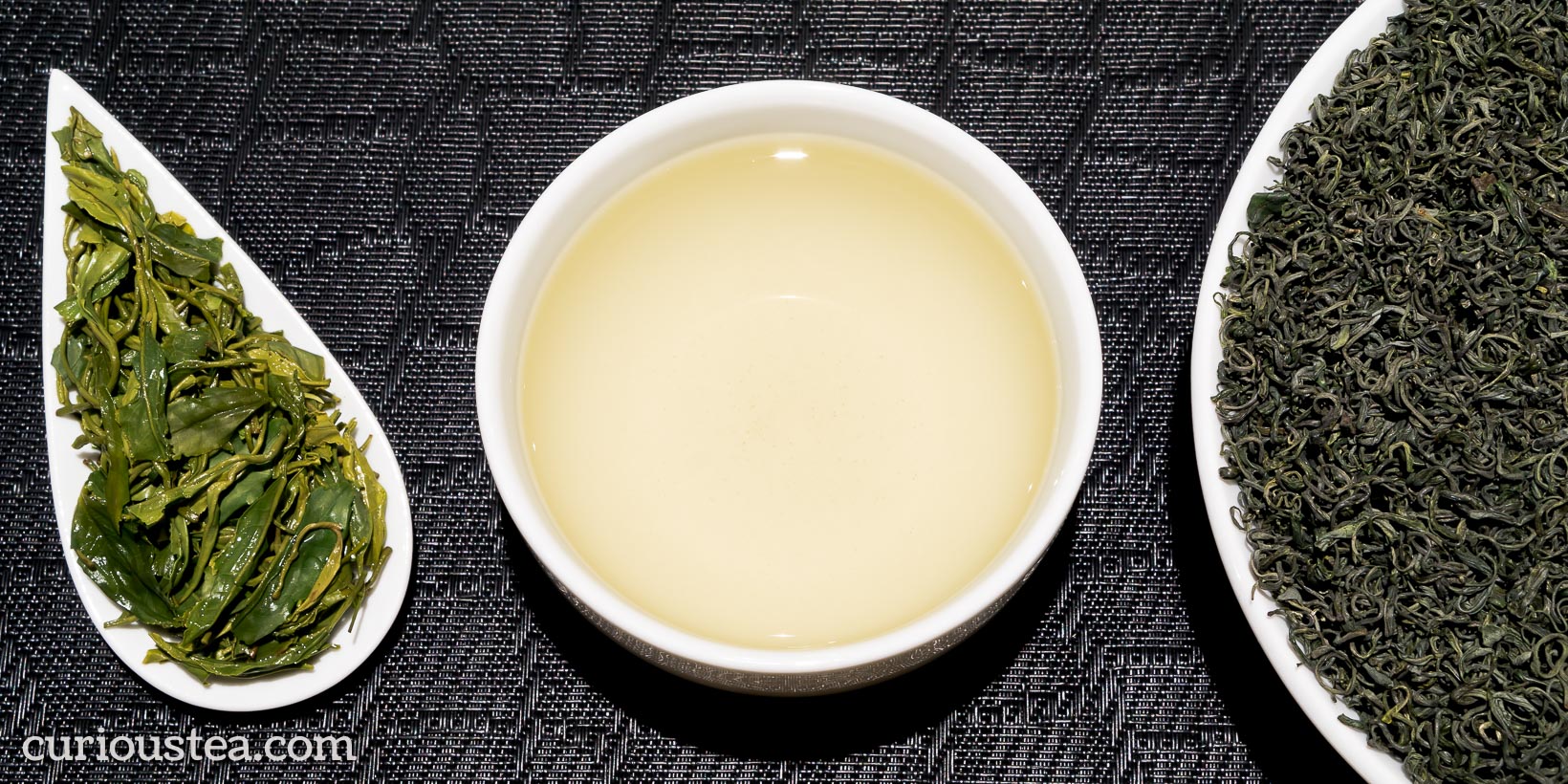 Yun Wu Ming Qian Cloud Mist green tea (云雾明前绿茶) is an expertly made early spring green tea from Nankeng Village (南坑村) in Zhenghe County of Fujian Province, China. Made by hand from tender young leaves of the local Cai Cha plants grown at high altitude, it has a thick taste with a balanced flavour and a long aftertaste. Sourced by us direct from one of the Chen & Zhou family tea gardens, this batch was harvested on 23 March 2022.
This Yun Wu Cloud Mist green tea comes from a garden with tea trees that are approximately 40 years old. It is a wild garden, with the trees having minimal human interference. The tea plants are grown on rocky soil, and are of the local Xiao Cai Cha cultivar. This is a native plant of the area and is similar to other local native plants found throughout various regions in China. The combination of the tea plants, higher altitude, cloudy spring conditions and soil results in a more complex, but balanced flavour profile.
We have recently partnered with a wife and husband team who represent Chen and Zhou tea master families respectively to bring their traditional teas to our shop. The family has gardens in Wuyi Shan and in Zhenghe County of Fujian Province, as well as having gardens in Guangdong Province. They specialise in producing hand crafted artisanal teas. Compared to larger gardens and factory productions, these are made in small batches and are still made according to traditional methods passed down the generations in their families. You can find the selection of teas from the Chen & Zhou family gardens in our shop. This includes some fantastic hongcha and yancha!
In China the name Yun Wu (云雾) is somewhat common and is often also used in many other regions throughout the country to describe a green tea that is produced locally but that does not fall under any of the 'famous' tea types or has any other modern branding attached to it. Generally, it is a good quality local green tea that was hand plucked but then more machine processed in order to keep the costs reasonable. These teas do vary in quality and taste depending on the growing region and processing but tend to be somewhere in the middle. Perhaps the reason for the popularity of the Yun Wu name is a Chinese saying 高山云雾出好茶 (gāoshān yúnwù chū hǎo chá), which can be roughly translated as 'high mountain, cloud and mist leads to good tea'! Living up to the 'Cloud and Mist' name, this tea is harvested in spring when the area at this elevation experiences plenty of clouds and morning mists. And unlike some of the other Yun Wu teas from our shop, this one is entirely hand crafted.
This Yun Wu Ming Qian Cloud Mist has a neat dark curled leaf with a verdant aroma. It produces a light green-yellow liquor with a fresh, vegetal and lightly toasty aroma. The taste achieves a fine balance between savoury umami and sweet creamy flavours. It has buttery, vegetal and nutty notes with a delicate creamy mouthfeel. It delivers a lasting but clean aftertaste that has a mineral edge. The overall impression is of a balanced, clean and refreshing green tea.
We suggest brewing at 90°C for 2-3 minutes according to your taste. It should be brewed multiple times depending on your taste preferences. This tea works really well for gongfu brewing using a porcelain or glass gaiwan.
You can also buy this Yun Wu Ming Qian Cloud Mist green tea in our online shop.
Location of Nankeng Village:
Makinohara Kukicha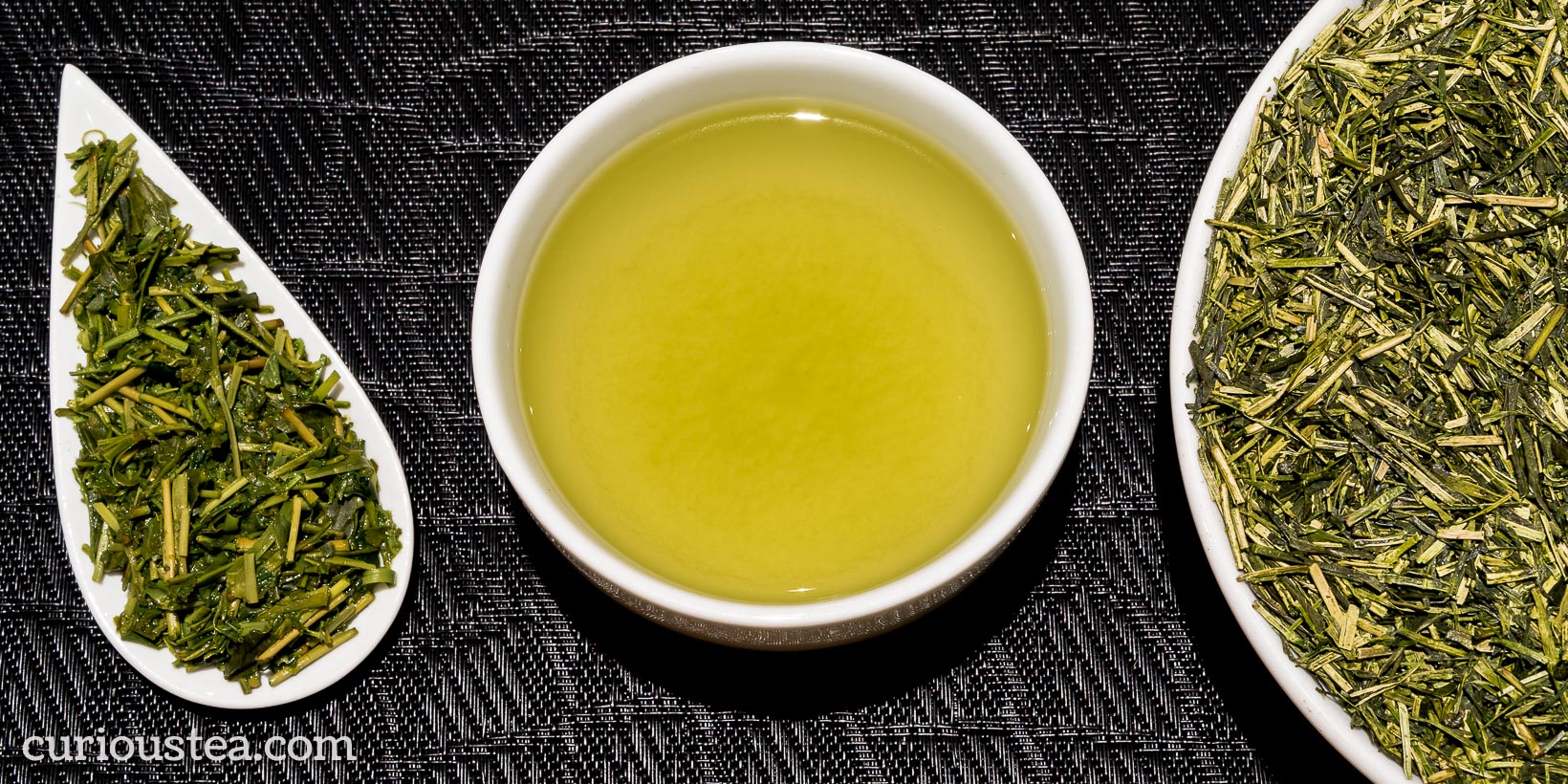 Kukicha (茎茶) is an award-winning green tea from Japan that is made from sencha tea leaves as well as leaf stems that are removed during the production of sencha. As it is made with the stems, it's also known as 'twig tea'. The inclusion of the parts of a tea plant that are normally excluded from sencha tea production results in a unique sweet yet grassy flavour that you are bound to love!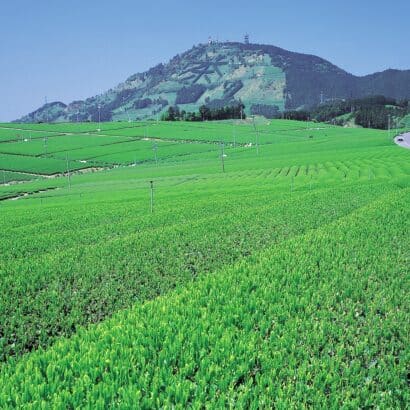 This tea comes from Makinohara in Shizuoka Prefecture and is made from Yabukita cultivar. It is a second flush tea, this particular batch was harvested in May 2022.
This Kukicha is a mixture of dark green sencha leaves and yellow stems. The liquor is a pale yellow-green colour with a toasted grass fragrance. This tea has a smooth and balanced taste that is toasty and grassy. It has sweet juicy middle notes and a slightly savoury aftertaste. The sweetness comes from the higher sugar content of the stems and is completely natural.
Kukicha green tea is best brewed at 70°C for 1-2 minutes, with multiple infusions. Kukicha can also stand longer infusions well, resulting in a sweeter and more intense flavour.
You can also buy this Makinohara Kukicha green tea in our online shop.
Darjeeling Rohini Spicy Black
Darjeeling Rohini Spicy Black is an unusual black tea from Rohini Tea Estate made from clones of an unknown wild tea plant. This is a rare opportunity to try this unique tea as a very minimal quantity is produced every year. The plants are carefully picked and the leaves are processed by hand to bring out a spiced and peppery profile. This particular lot is a Second Flush harvest from June 2022.
You may also be interested in our other 2022 harvest teas from Gopaldhara and Rohini Tea Estates as well as a Spicy White tea from the 2021 harvest that is made from the same plants.
Like all our Rohini and Gopaldhara teas, we source it directly from Rishi Saria, the owner and director of Gopaldhara and Rohini Tea Estates. Rohini Tea Estate is located along the route that connects the towns of Siliguri and Kurseong. Surrounded by a beautiful natural environment, this estate produces tea from relatively young trees. The estate has had a chequered past, not actually producing any tea for about 30 years after it was shut in 1962. Recently it has been replanted with young tea trees, so sometimes it is referred to as the youngest tea estate in Darjeeling. It is now going from strength to strength and is producing more and more interesting and higher quality teas. Most recently Rohini have been elevating the quality and flavours by focusing on smaller hand processed batches and more unusual types of tea.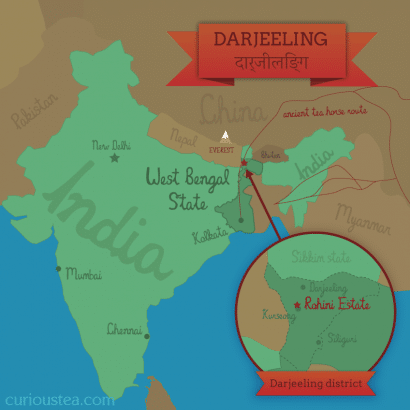 This Rohini Spicy Black tea is a prime example of an unusual and small batch hand processed tea from this estate. The plants that are used for this tea are clones of a wild tea plant of unknown origin. When the tea replanting at Rohini was done around the turn of the century, a wild tea tree was found growing nearby that provided the cuttings for these new clonal trees. The history or the type of this original wild plant is unknown. As the newly planted trees were particularly hardy and strong, they have become known locally by the name Bhime after Bhim, a mythological character from the Mahabharata epic who was considered to be very strong.
While the plants are strong, unfortunately the leaves also produce a very rough flavour when made into a fully oxidised tea. As there is a limited amount of plants, there is also not enough output to produce a green tea. Hence a white tea was the first type that was developed to be made from these plants. Due to continued experimentation with black tea batches, this limited 2022 batch was successfully developed due to vastly improved flavours as well as the newly found ability to keep the unique peppery profile when fully oxidised.
This Darjeeling Rohini Spicy Black has neat wiry and tippy leaves that have been carefully processed. It produces a dark liquor with good clarity and brightness. The liquor has a malty and spicy aroma. The flavours are smooth and balanced with mineral, spicy black pepper and capsicum notes. It has a mouthwatering aftertaste that has minimal tannins but delivers a degree of spiced dryness. It is definitely one of the more unique flavour profiles of any black tea that we've sampled recently!
This tea is best brewed at 90°C for 3-4 minutes and can be brewed 2+ times. Like all top grade teas from Gopaldhara and Rohini, we can highly recommend experimenting with gongfu brewing.
You can also buy this Darjeeling Rohini Spicy Black tea in our online shop.
Ceylon Blackwood Orange Pekoe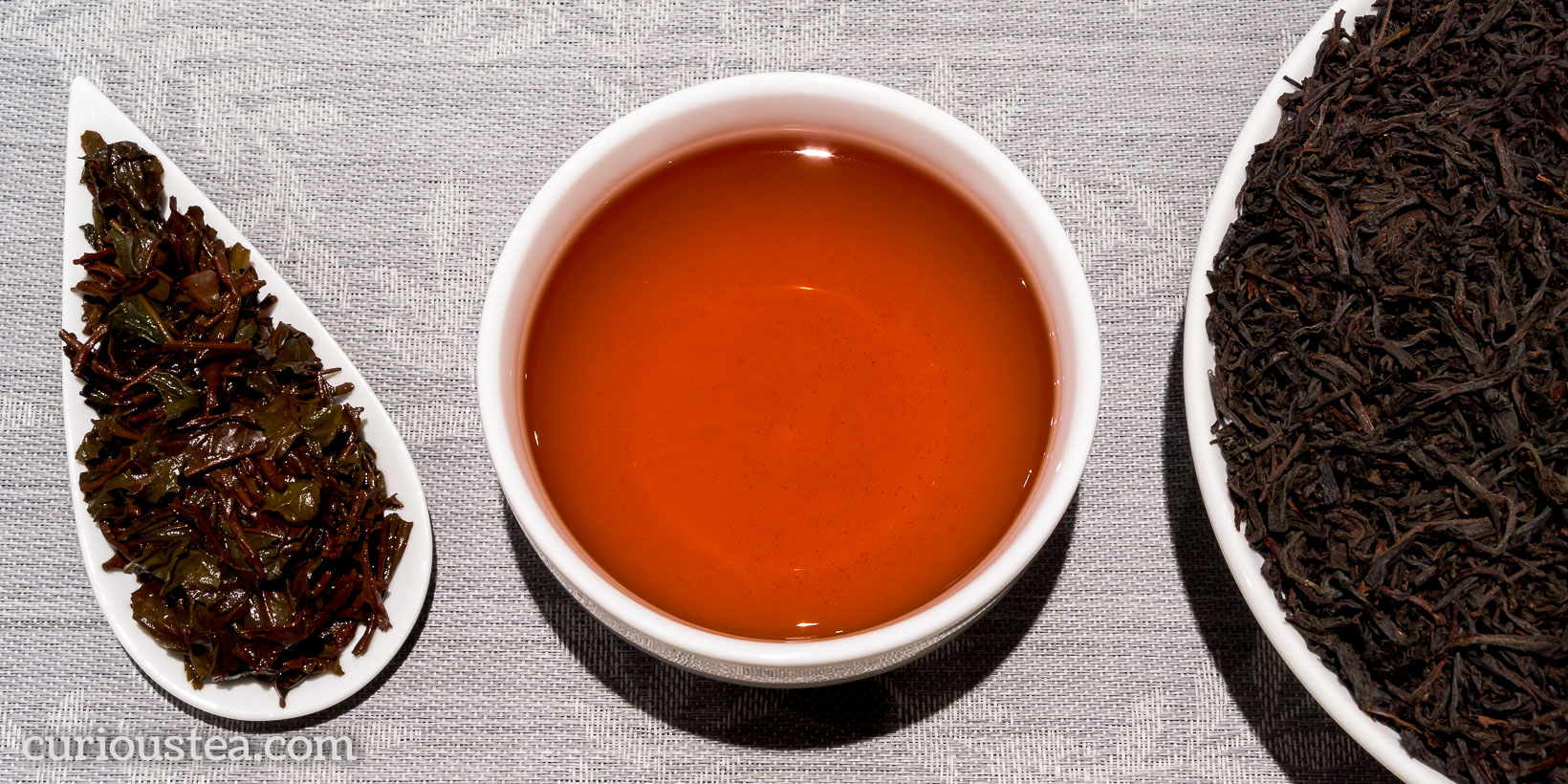 Ceylon Blackwood Orange Pekoe is a classic black tea that comes from the Blackwood Tea Estate located next to Idalgashinna of Uva Province, Sri Lanka. It is a high-grown Sri Lankan OP (Orange Pekoe) grade organic Ceylon black tea. You can find out what Orange Pekoe is in our article here. Higher altitude teas are highly prized in Sri Lanka, producing more elegant versions compared to their low-grown varieties. This tea is produced to EU organic standards. The current batch is from the spring 2022 harvest.
Blackwood Tea Estate is located at an altitude of between 1,000 and 1,300 metres next to the famous Idalgashinna tea area of Uva Province. The estate is purportedly one of the first organic tea plantations in the country. At the same time the estate has an extensive social support programme for their tea pickers and their extended families.
The tea farmers in Sri Lanka have had a difficult recent past, with the government encouraging more farmers to switch to CTC (crush, tear, curl) methods of tea production in the 1990's, trying to capture the huge CTC market. CTC tea is normally used to fill tea bags, so the move was away from quality and onto quantity. This switch from orthodox methods was a big failure as Sri Lankan teas could not compete with cheaper CTC teas from other large and the then up-and-coming CTC tea growing countries, such as India, Kenya and Malawi. This move also damaged the reputation and quality of Sri Lankan tea, resulting in many farmers choosing to eventually abandon CTC production in favour of orthodox methods of tea production. Now Sri Lanka is rightly regaining its status as a major exporter of high quality orthodox teas and there are more and more interesting and exciting producers of these Ceylon teas, such as this Ceylon Orange Pekoe from Blackwood tea estate.
This Orange Pekoe black tea from Blackwood Tea Estate has a mixed sized wiry leaf. There is a lovely malty aroma from the wet leaves. The liquor produced has a dark ruby colour with a light mineral and malty aroma. The overall taste of this tea is soft and balanced, attributable to the high-grown nature of it. The fruity profile has woody and sweet malty notes that progress to a mouthwatering aftertaste that features just a touch of tannins. There is a general citrus note present that becomes more prominent as the tea cools, akin in flavour to the classic combination of black tea with lemon. This tea is quite sweet for a Ceylon black tea, meaning it is perfect for enjoying without adding anything extra to it.
It is best brewed with water at 90°C for 3-4 minutes and the leaves can be brewed around 2 times.
You can also buy this Ceylon Blackwood Orange Pekoe black tea in our online shop.
We really do hope that you enjoy this tea selection and are looking forward to the selection in our next box. Our February 2023 subscription boxes will feature an unusual GABA green tea from Japan and the famous Iron Goddess of Mercy light oolong from China. For the darker side of the selection we chose a black tea from Ashikita in Japan that is crafted from the 'zairai' native tea plants and a classic, expertly roasted Dong Ding Oolong from Taiwan.
If reading this has made you curious about our teas, but you don't yet subscribe to a monthly tea selection, you can sign up for our tea boxes in just a few clicks. We ship worldwide from London, UK.
We always love to hear from you, so if you have any questions, suggestions or just want to chat about tea, email us at contact@curioustea.com, via our Facebook page or via Twitter.
You can also follow us on Instagram for pretty tea photos.
Happy tea discoveries!