Welcome to another month of Curious Tea subscriptions! This month we have very interesting teas for you to taste and hopefully these will help along with any healthy New Year's resolutions! For the opening month of 2016 we have a very tasty and fun genmaicha (mixed with matcha) tea from Japan; the wonderfully named Dong Ding, a light and fragrant Taiwanese oolong; a sophisticated and fulfilling Darjeeling oolong named Red Thunder Gold and finally a super smooth and balanced Chinese black tea – Zhenyuan Gold.
January is a detox month for many so with that in mind we have incorporated a super healthy green tea with extra added matcha and a wonderful dark oolong that can easily replace red wine in certain food pairings. Hopefully these teas will help along with any healthy goals you may have set yourselves! We had a great time finding these fantastic teas to share with you and to help you along with the tasting, here is some further information on everything featured in our January boxes.
Kirishima Matcha Genmaicha
This is a very special tea that comes from Japan. Matcha Genmaicha is, as the name suggests, a mixture of matcha (whole green tea leaves ground down to a fine powder) and Japanese Genmaicha tea (which in turn is a combination of Sencha tea leaves with toasted brown rice). This particular Matcha Genmaicha is certified fully organic by the Japanese Ministry of Agriculture, Forestry and Fisheries.
Genmaicha, literally 'brown rice tea' is a very popular tea in Japan. Historically speaking, this type of tea started life as a tea aimed at poor Japanese, hence the moniker 'people's tea'. The addition of rice served the purpose of bulking out the precious tea leaves so this type of tea was more affordable. As the addition of toasted rice creates such a unique flavour, the tea has gained popularity both in Japan and in the West. Some people refer to it as 'popcorn tea' due to this flavour as well as some popped rice present in some teas, which looks like popcorn.
We selected this Matcha Genmaicha for our light and mixed Curious Tea club boxes this January. We think its flavour makes the perfect cup on a cold winter's day and the matcha in it gives it a bit of a kick. The inclusion of matcha also has additional health benefits, such as an increased content of antioxidants – perfect for those with healthy New Year's resolutions to keep!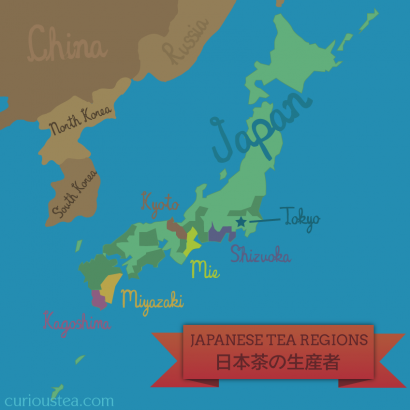 To produce it, the tea master has combined three ingredients in precise amounts to create a tea that has a very distinctive toasted rice flavour, but thanks to the addition of matcha has a taste that is more creamy, full and well rounded. The organic Sencha leaves used as part of this Matcha Genmaicha are grown in the foothills of Kirishima, Kagoshima Prefecture at an altitude of around 400m above sea level. The organic matcha comes from the Aichi Prefecture while the organic rice is from Niigata Prefecture. As you can see the tea master has found the best organic ingredients from across Japan to make this Matcha Genmaicha truly special.
The dry leaves and rice have a green dusty appearance, which is the fine matcha powder. When brewed this powder is washed off and ends up being part of the drinking liquor. The colour of the liquor is bright pale green, largely thanks to that matcha content and it has a lovely toasted fragrance. The taste is a little creamy, with a distinctive toasted corn (popcorn) and vegetal profile. A lovely and unique cup of tea that is sure to give you a healthy boost this winter!
This tea is best brewed at 80°C for 1-2 minutes according to your taste. It can be brewed 2+ times depending on your taste preferences. Since the matcha content is mostly washed off in the first steeping, any subsequent steeping will be much lower in caffeine content. This tea is also delicious cold.
Dong Ding Oolong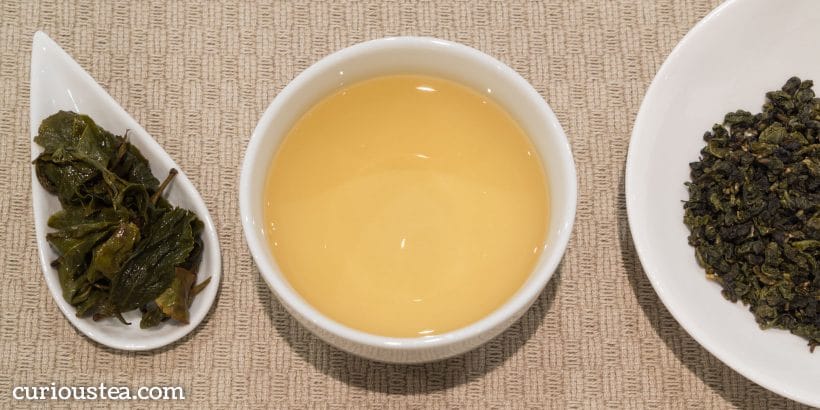 This Dong Ding Oolong is another organic product from our tea master in Taiwan and we are very excited to feature such a great example of this popular tea. The name Dong Ding means 'Frozen Peak' and is named after a mountain in the area where this tea originally comes from.
Originally Dong Ding (sometimes Tung-Ting) Oolong came from Lugu Township in Nantou County where a particular tea cultivar called Qing Xin is grown. Due to the huge rise in popularity of Dong Ding Oolong, that area could no longer cope with the demand and other areas around Taiwan started growing and producing Dong Ding style oolongs. It is now accepted by many that Dong Ding not only refers to the original tea made from Qing Xin cultivar grown in Lugu but has now become the name to describe a particular style of tea that is very similar to that original Dong Ding Oolong. Some tea purists will not necessarily agree with that, but that should not stop you from trying this fantastic organic Dong Ding Oolong.
In trying to replicate this particular style of tea, many tea farmers have also switched from the Qing Xin cultivar to other tea cultivars to make their takes on Dong Ding Oolong. While many will not admit it, often different cultivars are mixed together in order to achieve the desired flavour.
Our tea master has done exactly that and will not shy away from this fact – at the end of the day it is a great showcase of her skills! She has taken two cultivars and expertly blended them to produce this Dong Ding Oolong, which we selected for our January Light Curious Tea subscription box.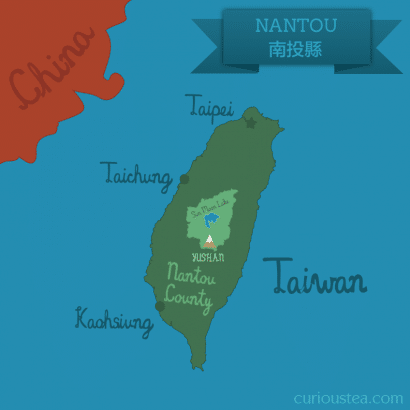 The cultivars used in this tea production are mostly Jin Xuan and some Cui Yu. Jin Xuan cultivar is normally used to make Milk Oolong (our Milk Oolong and Alishan Milk Oolong are exclusively Jin Xuan based teas) and is favoured for its creaminess and sweetness. Cui Yu is the cultivar that is most often used to make Jade and other floral style oolongs and is prized for its highly aromatic and floral profile. As you will taste, by combining these two cultivars the tea master is able to achieve a very well balanced tea that takes the best of both cultivars!
The leaves of this organic Dong Ding Oolong are tightly rolled and unfurl in your tea pot when you brew them. This oolong is lightly oxidised and lightly baked so it produces a very light gold coloured liquor with a lovely floral aroma. The baking process for this tea involves low temperatures and slow bakes over many hours resulting in a tea that has a mellow sweetness to it but that still retains the floral character. There is definitely a creamy edge to this tea with notes of exotic flowers, citrus fruits and wild honey. A very nice cup to warm you up on a cold January afternoon.
This tea is best brewed at 90°C for 3-5 minutes according to your taste. It should be brewed multiple times (3+) depending on your taste preferences.
Gopaldhara Red Thunder Gold Oolong
Gopaldhara Red Thunder Gold Oolong is a very unique and rare tea that comes from the Gopaldhara Tea Estate in Darjeeling. This tea is similar to the Gopaldhara Red Thunder Oolong we had in our subscription boxes back in July 2015. That particular tea in our July boxes was from the autumn 2014 crop. This however, is just in from Darjeeling, and is from the autumn 2015 crop. It is also the rarer 'Gold' variety, which signifies the higher, choicest grade. A higher amount of golden tips imparts a sweeter and smoother flavour to this gourmet tea.
Gopaldhara Tea Estate is nestled in the Mirik Valley, in the Himalayan foothills, and is one of the highest tea estates in Darjeeling with elevations of between 1,700m and 2,100m. It is renowned for producing teas of exceptional quality and very often quite unusual character.
In late autumn, when this tea is plucked, the weather turns cold quite quickly due to the high altitude of Gopaldhara Tea Estate so the tea leaves start to get slightly frosted. The leaves begin to wither on the tea plants, effectively starting a very slow fermentation process, which is then combined with a very long oxidation process to produce this special tea. It is a very laborious method that has to be carefully controlled so that the leaves are plucked at just the right time. This means that the yield is very low, making the tea a very rare one indeed, and especially so for this unique Gold variety.
We were extremely excited when we got the opportunity to source some of this rare tea for our subscribers so we selected this Gopaldhara Red Thunder Gold Oolong tea for our January Mixed and Dark subscription boxes. The large leaves of this tea are somewhat mixed in appearance and produce a golden red liquor with a lovely, slightly fruity aroma. When brewed the character is Darjeeling-like yet very distinctive. The frosting of the tea leaves that occurs due to high altitude as well as late picking results in a very distinctive taste. The flavour is very smooth and complex, with typical Darjeeling floral notes combining with the more unusual warm, chalky and sweet ones to create a truly captivating tea experience.
It is best brewed at 90°C for 2-3 minutes and can be brewed multiple (3+) times. Savour this special tea on its own, or try combining it with your favourite dishes that normally call for a glass of red wine – a very tasty and healthy substitute!
Dian Hong Zhenyuan Gold
Dian Hong Zhenyuan Gold is a special tea from Yunnan Province of China. Dian Hong, literally Yunnan Red, refers to the origin and type of tea (red according to Chinese classification) and Zhenyuan Gold refers to the origin of this tea within Yunnan (Zhenyuan County) and the quality of this tea (Gold to signify a large amount of golden tips in this tea).
Yunnan is famed for its production of pu-erh, a fermented type of tea. There is also a rather large production of black teas in this province, which are gaining particular popularity due to their smooth and sweet characters with almost no astringency and only a touch of maltiness. Dian Hong types of tea are favoured due to their gentle aroma and flavour, which lacks any astringency. In fact, this is a second Dian Hong tea in a row for us – we had the Black Pagoda in our December 2015 boxes. Black Pagoda is a much lighter tea when compared to Zhenyuan but one can certainly see a lot of similarities in the flavour profiles of both teas.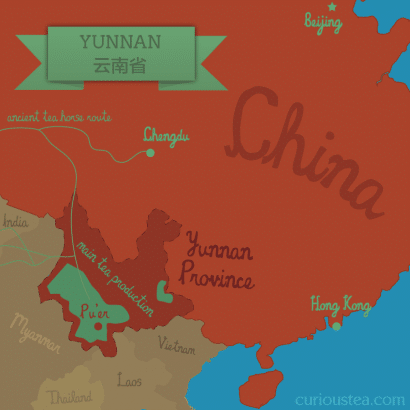 Dian Hong Zhenyuan Gold is a tea that can serve as a typical example of the high quality black teas that are produced in Yunnan alongside the famous pu-erh. This particular one has long wiry leaves that open up into quite large full leaves in your tea pot when brewed. The short steeping time allows for a few brews of this tea so you can experiment with numerous steepings and the flavours each ones produces.
This tea was selected by us for our January Dark tea club box following the great response we received for our previous Yunnan black teas. This Dian Hong Zhenyuan Gold produces an amber liquor with a lovely fragrance. The taste is extremely smooth and sweet and well balanced. There is no astringency but plenty of sweet, malty and mineral flavours with notes of raw chocolate.
This tea is best brewed with water at 90°C for 3-4 minutes. It can also be brewed twice or more depending on your tea taste preference. Best taken without milk or sugar.
We really hope that you enjoyed the tea club selection for January and are looking forward to what we have in store for your selections in February!
Incidentally, if you are reading this but do not subscribe to our monthly tea selections and would like to receive them in the future, you can sign up to a tea subscription in just a few clicks. We ship worldwide from the UK.
We would love to hear from you, so if you have any questions, suggestions or just want to chat about tea, email us at contact@curioustea.com, via our Facebook page or via Twitter.
You can also follow us on Instagram for pretty tea photos.
Happy tea tasting!