Our January boxes should be with all our UK subscribers by now and our international customers should be receiving them very soon. We hope you enjoy what we have selected for you in January. They are Sencha Fukujyu, Snow Bud, Assam Doomni Second Flush and Jun Chiyabari First Flush. Whether you are already tasting our selection or still looking forward to it, below is our handy guide.
Now let's explore these teas in more detail:
Sencha Fukujyu
Sencha is the most popular tea in Japan. Unlike the Chinese green tea counterparts, which are pan fried after plucking, Japanese Sencha is steamed to prevent oxidisation. Only after the oxidisation process has been stopped by steaming are the leaves rolled, shaped and dried. This steaming process gives Japanese green tea its unique flavour that is so different from other non-steamed green teas.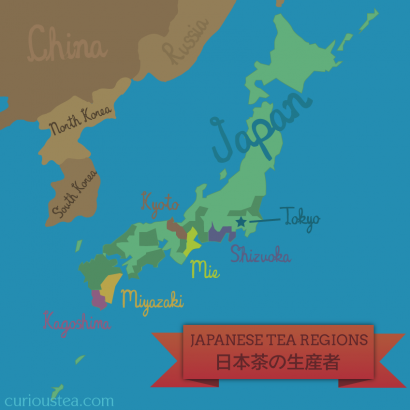 This is a later harvest Sencha, the flavour of which is enhanced by partially covering the tea bushes with blankets as they are grown. This slows the growing process, allowing the bushes to draw more nutrients from the soil, thus producing a tea with a stronger flavour. Fukujyu Asahi is a typical Sencha in appearance and smell. The dark green leaves produce a rich yellow-green liquor that has a full vegetal and slightly toasty flavour. It strongly evokes green vegetables, such as spinach or greens with a nori undertone and a distinct dryness in the aftertaste. The flavour develops significantly on the second infusion.
It is best brewed at 70°C for 1-3 minutes in multiple infusions. As with most Japanese teas, it can suffer from developing astringency if brewed at a temperature that is too high (it can scald the gentle tea leaves) or for too long.
Interestingly, cold green tea is extremely popular in Japan and numerous brands of green tea are sold in shops and vending machines, which seem to be on virtually every street corner. Most of these cold green teas are natural and unsweetened. Try this Fukujyu cold by brewing it first to your liking, then letting it cool and storing it in the fridge. Makes a great and healthy alternative to that bottled iced tea sold in the UK!
Snow Bud
Snow Bud (Xue Ya) is a very delicate white tea that is plucked over a few days of spring every year. The name is said to originate from the appearance of the silvery buds when plucked – they look as if covered by snow. This is also reflected in the dry leaf appearance, with the leaves displaying plenty of the silvery down.
This particular Snow Bud, selected for only our January 2015 Light Box, comes from the highlands of South West Zhejiang Province in China. The leaves are large, silver and green in appearance with a somewhat straw like fragrance, which is the result of the leaves being dried out naturally rather than pan-fried or steamed (as is common in green tea processing). When brewed, this Snow Bud produces a slightly pale liquor with a pronounced pinkish brightness. The flavour is complex, quite sweet and floral with nutty and peachy undertones – think sugared almonds! Overall the flavour is very light and airy but will change and develop with longer and repeated steeping.
As Snow Bud is a white tea, it is best brewed at 80°C for at least 4-5 minutes. Following infusions can take longer steeping times. Be sure to weigh it out, to make sure you are not putting too little in your infuser as it is very light. We found that 5g per 400-500ml is a good proportion to start tasting with.
You can buy Xue Ya Snow Bud from our online shop.
Assam Doomni Second Flush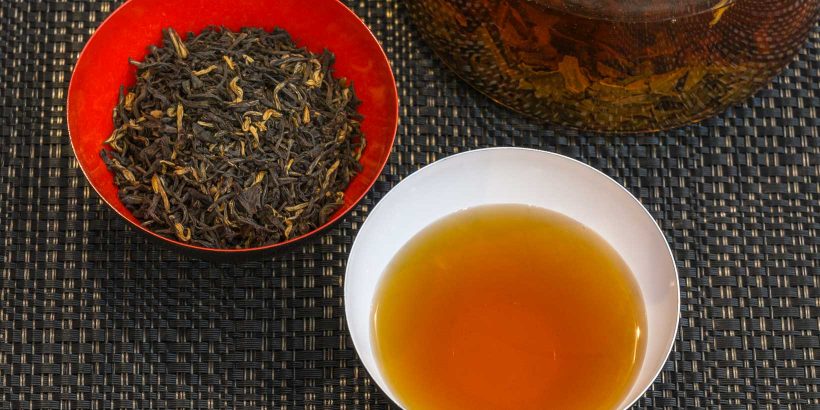 Here we have a typical high grade Assam in the form of Assam Doomni Second Flush. This tea comes from the Doomni tea estate in Nalbari District of Assam in India. Like with most teas from Assam, this is quite malty and mineral in flavour. This malty flavour is often described as the 'British taste'.
Assam Doomni Second Flush is featured in our January 2015 Dark boxes. Second flush teas from Assam harvested in June-July tend to be more prized than other flushes due to the more distinguished full flavour profile with strong malty characteristics that many look for in a good Assam tea. And this Assam is no exception. The dry appearance of the leaf is very neat and it has plenty of gold tip. The resulting liquor is a bright dark red brown and the flavour is Assam's typical mineral maltiness with fruity overtones. Very rich and distinct flavour that represents the best in Assam style teas – a great tea for that early morning drink!
Brew this Assam Doomni Second Flush with freshly boiled water for 3-5 minutes. This tea can be enjoyed with a little bit of milk if that's your preferred way of taking Assam but also be sure to taste it without any additions first to fully appreciate the complex flavour profile of this great example of a Second Flush Assam.
You can now re-order this Assam Doomni Second Flush in our tea shop.
Jun Chiyabari First Flush
This is a rare SFTGFOP1 (Special Finest Tippy Golden Flowery Orange Pekoe top grade) grown at the Jun Chiyabari high altitude tea estate in Dhankuta District in Nepal. The estate is located in the foothills of the Himalayas at an altitude of around 1800 metres not far from the border with India's Darjeeling. Although the character of teas grown in this region of Nepal is not that dissimilar to Darjeeling, they possess certain qualities that set these apart from the tea grown across the border in India.
We selected this rare example of a Nepalese tea for our January 2015 Dark and Mixed boxes. It is a fantastic first flush tea plucked in spring that exhibits the best qualities of Darjeeling while being distinctly different. The dry leaf has a slightly mixed dark and green leaf appearance with good tip. The brewed tea leaves produce a light amber liquor. The flavour is slightly full and floral. There are some toasty notes present with pleasant orange blossom undertones. A complex but at the same time a hugely enjoyable tea.
This tea is best brewed with freshly boiled water for 3-5 minutes.
There are some great teas produced in Nepal, however they are not very well known, in part due to supply levels not meeting the global demand for these rare and unique teas. We are very happy to be able to feature this Nepalese tea in our January boxes and Jun Chiyabari First Flush has been voted January's favourite tea here at Curious Tea.
We really hope that you enjoyed the tea selection for January and are looking forward to what we have in store for your February selection.
Incidentally, if you are reading this but do not receive our monthly boxes and would like to get our future selections, you can sign up to a monthly box of teas in just a few clicks. We ship worldwide from the UK.
As always, we want to hear from you, so if you have any questions, suggestions or just want to chat about tea, contact us at contact@curioustea.com, via our Facebook page or via Twitter.
Happy tea tasting!