Welcome to the February 2021 edition of the Curious Tea subscription! Here's a closer look at the four exciting new teas that we are sharing with our subscribers this month.
The first light tea this month is a Darjeeling green tea that is made from specially selected clonal plants for minimum astringency.
The second light tea is a classic Yabukita Sencha from the historic Honyama terroir that offers a typical Japanese green tea profile.
For the dark side of the selection we selected an experimental Assam Oolong from Latumoni that undergoes roasting to create a balanced flavour.
Finally, the last tea we are featuring this month is a Liu Bao dark tea from Guangxi Province that is picked from semi-wild tea trees.
Our Discovery subscription boxes contain 10g taster pouches of all of the above mentioned teas. If you are a subscriber you will benefit from a 10% discount on all teas from our tea shop!
Let's get into further detail on these teas featured in our February tea subscription boxes.
Darjeeling Gopaldhara Green Gold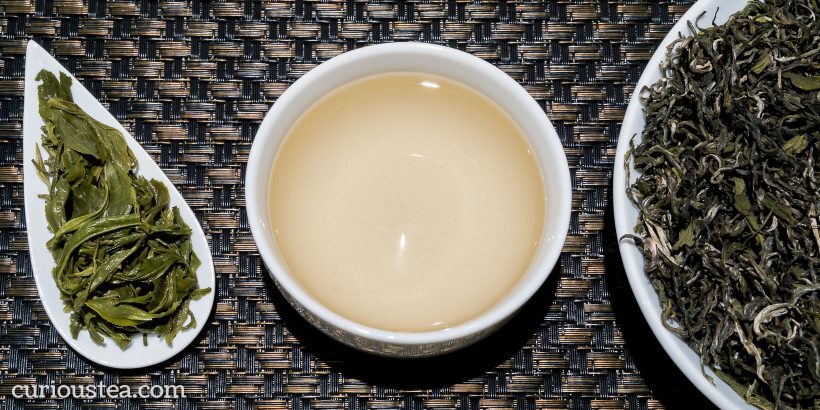 Darjeeling Gopaldhara Green Gold is a lovely First Flush green tea with minimal astringency from the Gopaldhara Tea Estate. Made from specially selected tea plants, it has a smooth character with a vegetal and floral profile. It consists of select fine leaves, mostly comprising of the top two leaves and a bud grown at an altitude of approximately 1,100 metres. This FTGFOP1 'Gold' lot is from the April 2020 harvest.
Like all our Gopaldhara teas, we source this tea directly from Rishi Saria, the owner and director of Gopaldhara and Rohini Tea Estates. Gopaldhara Tea Estate is nestled in the Mirik Valley, in the Himalayan foothills, and is one of the highest tea estates in Darjeeling with elevations of up to 2,100m. It is renowned for producing teas of exceptional quality and very often quite unusual character.
It is worth noting that this tea is made from green tea clonal plants that have been specifically selected to have much lower tannin content. This is evident when comparing it to other Darjeeling green teas. Most of these green teas tend to exhibit a character that has a degree of astringency present and often have a savoury, smoky edge. By contrast this tea has very little astringency and instead features a light yet complex character full of floral and lightly vegetal notes. The lower tannin content makes this a very pleasant cup indeed!
This Darjeeling Gopaldhara Green Gold consists of neat wiry leaves that have been carefully plucked and processed. The cup produced has a light golden colour and a savoury vegetal aroma. The strength of the aroma does not fully translate to taste as it has a lighter taste that is very smooth, balanced and without any harshness. The dominant notes are floral, vegetal and creamy with a light aftertaste that is floral and mineral. There is definitely a degree of dryness at the end of the palate, however this can be easily controlled by adjusting brewing time. This is a great, easy green tea that highlights the importance of utilising the best plants to achieve a better tea.
Darjeeling Gopaldhara Green Gold tea is best brewed at 80°C for 2-3 minutes according to your taste and can be brewed multiple times, increasing steeping time with each next brew if desired.
You can also buy Darjeeling Gopaldhara Green Gold tea in our online shop.
Honyama Yabukita Sencha
Honyama Yabukita Sencha (本山やぶきた煎茶) is a high grade sencha green tea made from the popular Yabukita (やぶきた) cultivar. It is grown in the historic Honyama (本山) terroir that is located in the upper reaches of Warashina and Abe Rivers in Shizuoka at an altitude of 200-300 metres. This tea is crafted to create a classic Japanese tea profile with a complex interplay between grassy and vegetal sweetness and salty and savoury umami notes. It was harvested between 6 and 15 May 2020 and it is sourced by us via a specialist tea merchant in Tokyo.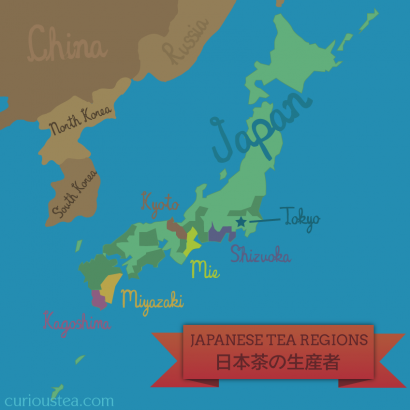 Honyama is a terroir famous in Japan for producing particularly fine teas that has a tea growing history of over 800 years. The fields are located on steep slopes surrounding the Warashina and Abe Rivers that often produce foggy conditions. This fog and less exposure to the sun acts as a natural way to slow down the growth of the tea plants, resulting in richer and more fully flavoured teas. Additionally, the earlier pickings such as this First Flush picked in early May are more prized. The reason is that with the cooler spring climate the growth of leaves is slower, again allowing for more complex flavours to develop. Once the first picking has been done in the season and the weather is warming up, the plants grow much faster, resulting in less concentration of nutrients in the leaves and thus a weaker tea.
This Honyama Yabukita Sencha is made from the leaves of Yabukita cultivar plants. This cultivar is the most popular and widespread tea plant in Japan and Yabukita plants cover about 75% of Japanese tea fields. It was developed by a tea breeder from Shizuoka in the early 1900's called Hikosaburo Sugiyama, but it was officially registered only in 1956. The well-performing Yabukita plants quickly proved popular due to their hardiness, ease of cultivation and tea flavours; with time becoming the mainstay of Japanese green tea production. One of the main factors for the popularity of the Yabukita cultivar has been the flavours that they are known for. These plants produce teas with typical savoury and umami grassy flavours and strong aromas that are particularly sought after in Japanese green teas.
This Honyama Yabukita Sencha has neat, long and thin dark green leaves that are neatly rolled. The green liquor has good clarity and a fragrant savoury aroma. The taste is savoury, with a vegetal profile and smooth grassy umami notes. The taste continues with a creamy mouthfeel and further notes of nori, spinach and sea water. The aftertaste is clean, not astringent, with zesty yuzu notes. This Honyama Sencha has all the classic Japanese green tea aspects with a complex yet refreshing taste.
We suggest brewing at 70°C for 2 minutes according to your taste. It can be brewed around 3+ times depending on your taste preferences. This tea will perform at its best if brewed using a good traditional side-handled kyūsu (急須) tea pot specifically designed for brewing sencha tea. In such case, adjust the amount of leaves to 2.5g per 100ml of 70°C water, brewing 40-60 seconds per infusion, repeatedly increasing brewing time until there is no flavour left.
You can also buy Honyama Yabukita Sencha green tea in our online shop.
Assam Latumoni Bohagi Oolong
Assam Latumoni Bohagi Oolong is a very fine completely handmade First Flush Assam Oolong from Latumoni, a very small family-run tea garden located in Tingkhong, Upper Assam. The careful hand processing in small individual batches results in stunning looking leaves. This tea is then processed as an oolong with medium oxidation as well as roasting to create a balanced tea. It was harvested in late Spring 2020 from plants grown naturally and without use of chemical fertilisers or pesticides. Only 23kg of this tea was made!
The small tea garden only measures approximately 2 acres. It was planted by Sailen and his late father. Originally the leaves from this small plantation like those of many others were bought by the larger factories of Assam to increase their capacity. However with large corporate gardens having full control over the purchasing of the leaves from small scale farmers and little competition this has lead to a significant decrease in the price offered to the farmers. This essentially has created a situation where the small scale farmers were exploited by the large corporate estates. Sailen decided to change the way he was running the plantation, to switch to organic growing methods and to start producing his own artisanal teas.
We work together with a specialist wholesaler in Assam who only works with small scale farmers like Sailen. They do not just resell the farmers' teas but also provide support and financial help to small scale farmers to enable them to produce great quality tea – such as investing into machinery and providing them with knowhow. This guarantees small scale farmers like Sailen a fair price for their tea and provides investment into their farm to support their family's future. This is in complete contrast with teas from many large Assam estates where most of the price paid for the tea ends up with the estate and little trickles down to the farmers.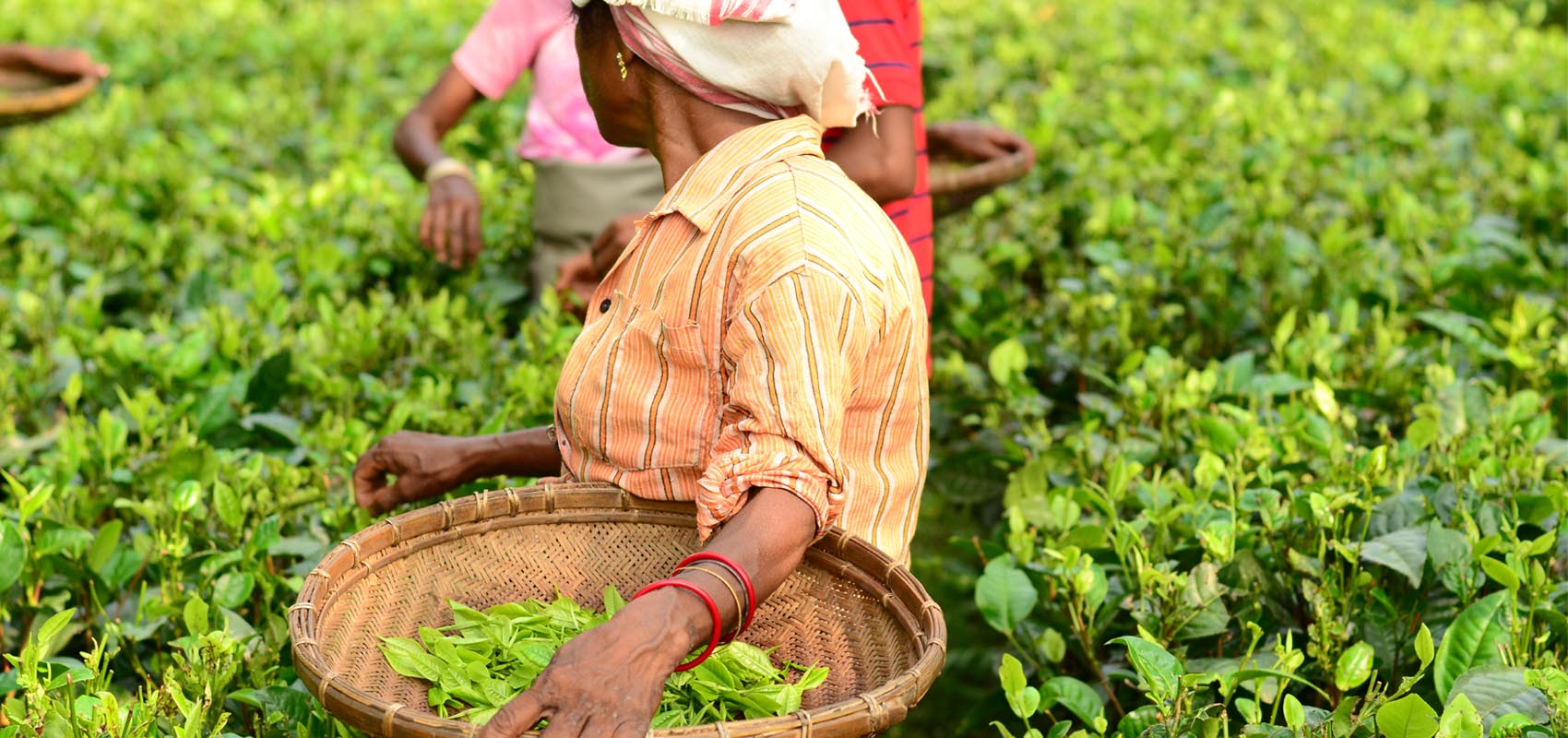 Generally Second Flush Assam harvests are the most prized as they have richer and more full-bodied profiles that are popular with fans of Assam-style strong black teas. However this lot is from the spring harvest, and as the leaves are finer and have a more nuanced profile, evidently are better suited for this experimental style of oolong. The leaves of this tea are carefully handpicked from demarcated sections of the plantation over a 3-5 day picking period. This means that each batch of this tea tastes different to the next (this is batch #001). After picking the leaves are hand-rolled in small batches to avoid breakage and to preserve unique flavour profiles of each picking. This tea is only partially oxidised to preserve it as an oolong-style and it has been roasted to create a tea that is a little more similar to a Chinese medium oxidation lightly roasted oolong.
The dry leaves of Assam Latumoni Bohagi Oolong are large and have a mixed colour. When brewed it is possible to see that they are very neat, consisting or smaller leaves and buds. The mixed colour of the leaves also become more evident, pointing to the medium oxidation. The flavours are complex, with a mineral profile and a balanced character. The liquor gives off an inviting lightly floral and baked aroma. The taste is light, with mineral, floral and baked wheat notes. The mineral aftertaste has a light fruity citrus edge. This is definitely not a standard Assam tea!
We suggest brewing at 90°C for 3-4 minutes according to your taste. It can be brewed a couple of times depending on your taste preferences.
You can also buy Assam Latumoni Bohagi Oolong tea in our online shop.
Liu Bao Wild Hei Cha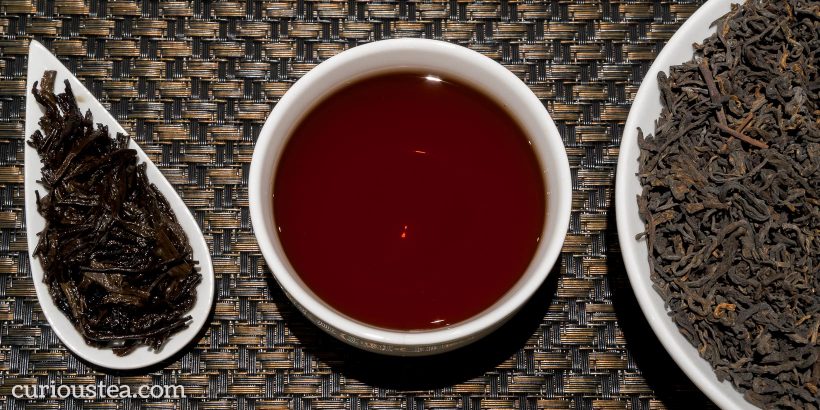 Liu Bao 'Ye Sheng' Hei Cha (六堡野生黑茶) is a traditional semi-wild aged dark tea from Guangxi Province in China. This tea undergoes a fermentation process that is similar to that of ripe (shu) pu-erh from Yunnan. After being fermented it was aged in large bamboo caskets. The resulting tea has a distinctive woody profile and an easy, drinkable character with a nice medicinal edge. This particular Liu Bao is from 2014 and was produced in Cangwu County of Guangxi Province.
Liu Bao Wild Hei Cha, similarly to pu-erh tea, falls within the dark tea category known as Hei Cha (黑茶). In China the tea nomenclature differs from that of the West. Hong Cha (红茶), literally 'red tea', is used to describe what in the West is known as 'black tea'. Hei Cha (黑茶), literally 'black tea', is used to describe what in the West is known as 'dark tea' or 'post-fermented' tea. For ease of reference and to avoid unnecessary confusion we always refer to Hei Cha as 'dark tea'. Liu Bao translates as 'Six Forts' and most likely refers to ancient fortifications in this tea-producing area of Guangxi Province.
While Liu Bao has an ancient history dating back over 1,000 years, the processing techniques have much evolved. Liu Bao Hei Cha, like shu pu-erh, undergoes an accelerated fermentation process during which the tea leaves are exposed to a high level of humidity in a warm environment. Raw harvested leaves are piled, covered by blankets and are exposed to a high level of moisture until the desired level of fermentation is achieved. The environment is controlled by addition of water when necessary. This controlled process is known as Wo Dui (渥堆) in Chinese. This process uses heat and moisture to speed up the chemical changes within the leaves, reducing astringency and deepening the flavours. There is evidence that this particular modern processing was in use as early as 1957 in Guangxi Province and the ripening process developed in Yunnan Province in 1970's for shu pu-erh was influenced by Liu Bao processing techniques.
When compared to our standard version of Liu Bao Hei Cha, this tea is semi-wild, being picked from trees found on abandoned tea plantations. Hence our classification of this as a semi-wild tea – while the original plants have been planted by humans rather than the type you find growing in the wild, they have since been left to grow without human interference. This can often be referred to by the general Ye Sheng (野生) term in China that encompasses both completely wild and semi-wild teas. Also this version has undergone slightly less fermentation compared to our standard Liu Bao, resulting in a changed character and great potential for further ageing of this tea.
Liu Bao also has a particularly important place in Traditional Chinese Medicine as having a rare dual quality: both cooling and warming. It is said to eliminate excess dampness while having a warming quality when necessary. Like most dark teas, it is a particularly excellent digestion aid, suitable for consumption before, after and during meals.
This Liu Bao Wild Hei Cha has mixed dark leaves that have quite a mild woody and earthy aroma. The dark red liquor produced has a complex flavour with a thick mouthfeel. The taste starts on a woody and earthy note, giving way to a cooling menthol sensation. This progresses onto a more medicinal note of earthy root spices (such as turmeric) finally leading to a lasting sweet aftertaste. This is a complex dark tea that is excellent now but can also be aged further.
We suggest brewing parameters of 95-98°C for 3-4 minutes according to your taste, brewing multiple times. This tea is forgiving when it comes to brewing so can brewed for longer or with boiling water for a fuller taste. When brewed Gong Fu style we suggest briefly washing the leaves. Traditionally this type of tea is prepared by boiling the tea leaves in a pot of water!
You can also buy Liu Bao Wild Hei Cha dark tea in our online shop.
We really do hope that you enjoy the tea selection for February and are looking forward to the selection in our next box. Our March box will feature a Bi Luo Chun from Yunnan Province, a Huang Ya yellow tea from Huo Shan, a first flush Darjeeling from Teesta Valley and a Colombian Black tea!
If reading this has made you curious about our teas, but you don't yet subscribe to a monthly tea selection, you can sign up for our tea boxes in just a few clicks. We ship worldwide from London, UK.
We always love to hear from you, so if you have any questions, suggestions or just want to chat about tea, email us at contact@curioustea.com, via our Facebook page or via Twitter.
You can also follow us on Instagram for pretty tea photos.
Happy tea discoveries!