Welcome to another month of Curious Tea subscriptions! This month we have some contrasting teas for you to taste, some of which are very much at different ends of the tea spectrum in terms of processing and flavours. For February 2016 we have an exquisite and light Xue Ya Snow Bud white tea from China; a smooth and classic-tasting Chinese Hunan Mao Jian green tea; a complex and rich aged King Pu-erh tea, naturally from Yunnan Province in China and finally an unusual but delicious Kenyan black tea – the Emrok Nandi Royal.
We had a great time sourcing these fantastic and rare teas to share with you and to help you along with the tasting, here is some further information on the teas featured in our February boxes.
Xue Ya Snow Bud
Xue Ya (雪芽), literally Snow Bud, is an exquisite and delicate white tea that comes from China. The name comes from the appearance of the silver buds when plucked – they look as if covered by snow. In fact you can still see plenty of this silvery downy 'fur' on the dried leaves of this tea.
True white teas in general undergo minimum processing, with the leaves being plucked and then simply withered. This results in rather bulky teas as the leaves are not rolled or processed in any other way, which is common for other tea varieties. Make sure to take this into consideration when measuring out how much white tea to brew – it is very light indeed! White teas, such as this Xue Ya Snow Bud are also purported to have great health benefits due to this minimum processing of the leaves as well as using only the choicest tips and buds of the tea plant. Aside from that, they also make great tasting cups of tea!
This particular Xue Ya Snow Bud, selected for our February light and mixed Curious Tea club boxes, comes from the highlands of Zhejiang Province in China. The leaves are large, silver and green in appearance with a somewhat peachy and straw like fragrance, which is the result of the leaves being withered naturally. When brewed, this tea produces a bright liquor with a light sweet fragrance. The complex but delicate flavour has exquisite floral, peachy and nutty notes. Overall this Xue Ya Snow Bud white tea is light and airy but the flavour will further change and develop with repeated steeping.
Generally there are two brewing parameters that can both work well for white teas. One is a hotter temperature (around 80°C+) followed by short infusion time of 1-2 minutes. Second way to make white tea is to use lower temperature (around 70°C) but also longer infusion time of 3-5 minutes. Short infusion at a high temperature works great for some white teas but can result in a harsher taste. Longer infusion times at a lower temperature tend to bring out more sweetness from white tea. We generally suggest the latter as the best way of making your white tea. You can experiment with both ways to see which one works better for you with a given tea.
This Xue Ya Snow Bud is best brewed at 70°C for 4-5 minutes. It can be brewed 3+ times depending on your taste preferences. As often with high quality Chinese teas, many find that the second or even third infusions can be the best ones!
You can buy Xue Ya Snow Bud from our online shop.
Hunan Mao Jian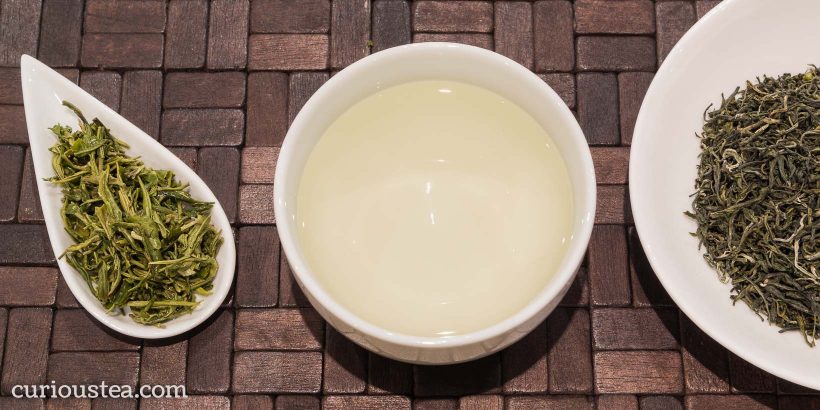 Mao Jian (毛尖) is a type of green tea that comes from China. It can be grown and produced in different regions of China, with this particular version coming from Hunan Province. The classic version of this tea has been recorded as one of Chinese famous teas. Originating from Henan Province, this particular version is grown in the more southerly Hunan Province of China.
This tea is a really great example of a Chinese green tea both in terms of looks and taste. This tea is hand plucked using the best tippy leaves in spring. The name 'Mao Jian' can translate as 'fur tips' and it refers to the appearance of small tea leaves when they are plucked; they are young so are covered with tiny 'hairs' or 'fur'. After plucking, the leaves of this Mao Jian are tightly rolled and pan fried during processing, resulting in quite compact and curly dry leaves.
We selected this Hunan Mao Jian for our Curious Tea February light subscription boxes. This tea has a very neat appearance of dry leaves, which are wiry, dark green in colour and have an eyebrow-like shape. When brewed this green tea produces a light green liquor with a fresh, slightly grassy aroma. The flavour of this Hunan Mao Jian is a little on the sweet side, slightly vegetal and grassy. It makes for a very refreshing and light cup of tea.
This tea is best brewed at 80°C for 2-3 minutes according to your taste. It is a very versatile green tea and can be brewed at a lower temperature or for a shorter period for an even lighter tasting cup. If you like your green tea very strong, try increasing the steeping time. This tea should be brewed multiple times (3+) depending on your taste preferences.
You can buy Hunan Mao Jian from our online shop.
King Pu-erh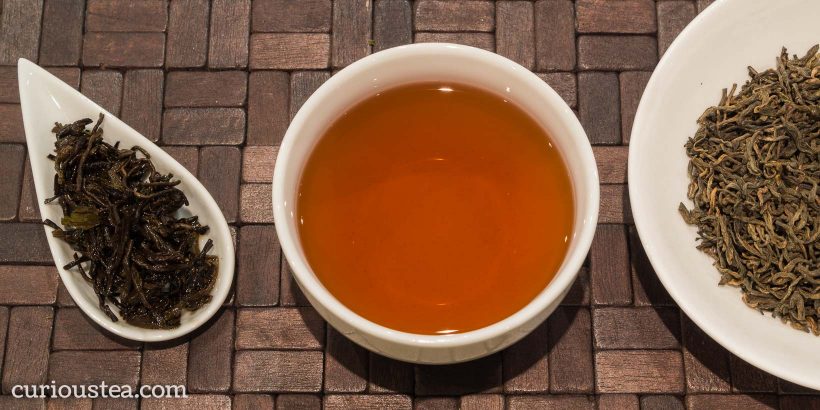 King Pu-erh (王普洱) is another pu-erh we have carefully chosen to make an appearance in our Curious Tea subscription boxes. Pu-erh is a type of tea which undergoes unique processing distinct from black tea, and is most commonly referred to as 'dark' tea in the West. Many varieties of pu-erh are produced and it is a particular speciality of Yunnan Province, which is where this King Pu-erh comes from. The name Pu-erh comes from Pu'er, which was an important place for tea trading in ancient China.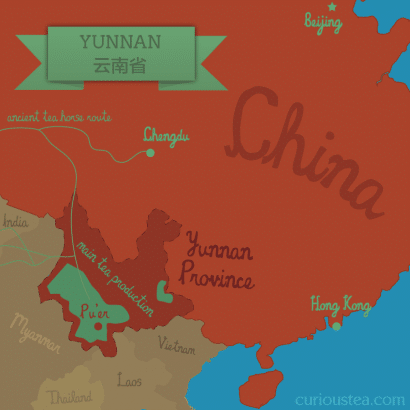 Pu-erh tea undergoes a unique production process, during which the tea leaves are dried and rolled after which they undergo secondary microbial fermentation and oxidation. This unique processing sets it apart from black tea and means that pu-erh fits within the separate dark teas category. The tea is most commonly pressed into various shapes (domes, disks, bricks, etc) or can be left loose and the gradual fermentation and maturation process continues further during storage. This King Pu-erh has been left in loose leaf form, which has enabled it to age much faster and consequently become much mellower than a compressed pu-erh of similar age. It is also a very high quality select grade of loose pu-erh, hence deserving of the 'King' title.
We selected the King Pu-erh dark tea for our February dark and mixed tea selection boxes. As this is a loose pu-erh, the leaves have a dark brown and golden appearance with a rusty kind of colouration to them. The brewed liquor is a very dark umber colour with a distinctive slightly earthy aroma. Unlike some other pu-erhs, it does not possesses an overwhelming earthy or marine character, making it an ideal introduction to the world of pu-erh tea. The soothing deep, rich flavour of this King Pu-erh lacks astringency, is earthy and woody in character with pleasant notes of eucalyptus and walnuts.
It is best brewed with water at 100°C for around 3-5 minutes, but feel free to experiment with re-brewing the tea leaves more than once. It is best taken without milk or sugar.
You can buy King Pu-erh from our online shop.
Emrok Nandi Royal
Emrok Nandi Royal is a fantastic orthodox tea to come from Ogirgir Tea Estate in Nandi County, Kenya. Located on the edge of the Great Rift Valley, this tea is grown around Nandi Hills at an altitude of 2000-2100 metres above sea level. The tea estate was planted around 1962 and has recently started focusing on producing some very high grade orthodox teas.
The Emrok Nandi Royal is a FTGFOP1 grade tea (Finest Tippy Golden Flowery Orange Pekoe). You can read more about the real meaning of FTGFOP1 on our blog article discussing tea leaf grades in a lot more detail.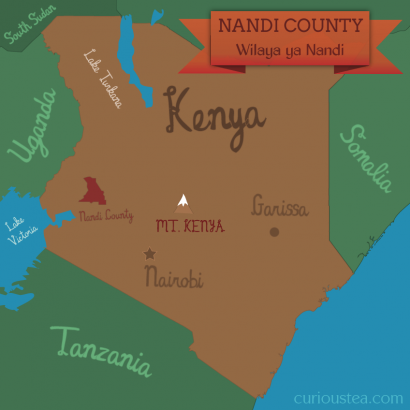 This Emrok Nandi Royal is a fantastic example of a black tea with a difference. It was selected by us to feature in our February dark boxes. It possesses light coloured leaves and produces a liquor that looks deceivingly light, with a delicate and balanced aroma. But don't be tricked into thinking that this is an airy and floral Darjeeling that sits somewhere between a black and a green tea. This tea is truly a black tea with a strongly flavoured liquor. It is still on the mellow side and has a complex character full of muscatel and citrus notes.
This tea is best brewed with water at 90°C for 3-4 minutes. If you like your teas stronger and more astringent, you can increase the water temperature and brewing time. However this will result in a very strong and mouth drying liquor. If it is your preferred way, this tea can definitely take some milk and/or sugar and makes a great tea to pair with cakes and other sweets.
You can buy Emrok Nandi Royal from our online shop.
We really hope that you enjoyed the tea club selection for February and are looking forward to what we have in store for your selections in March!
Incidentally, if you are reading this but do not subscribe to our monthly tea selections and would like to receive them in the future, you can sign up to a tea subscription in just a few clicks. We ship worldwide from the UK.
We would love to hear from you, so if you have any questions, suggestions or just want to chat about tea, email us at contact@curioustea.com, via our Facebook page or via Twitter.
You can also follow us on Instagram for pretty tea photos.
Happy tea tasting!