Welcome to the December 2019 edition of the Curious Tea subscription! Here's a closer look at the four exciting new teas that we are sharing with our subscribers this month.
The first light tea this month is a light and crisp Cloud and Mist green tea from Huang Shan in Anhui Province of China.
The second light tea is a unique 'white tea' from Latumoni Tea Estate in Assam that is made exclusively from whole tea plant flowers.
For the dark side of the selection we have a Taiwanese Qing Xin black tea that comes from Wen Shan, an area normally known for oolong tea production.
Finally, the last tea we are featuring this month is a classic Sikkim black tea that combines the best flavours of Darjeeling and Assam black teas.
Our Discovery subscription boxes contain 10g taster pouches of all of the above mentioned teas. If you are a subscriber you will benefit from a 10% discount on all teas from our tea shop!
Let's get into further detail on the products featured in our December tea subscription boxes.
Huang Shan Yun Wu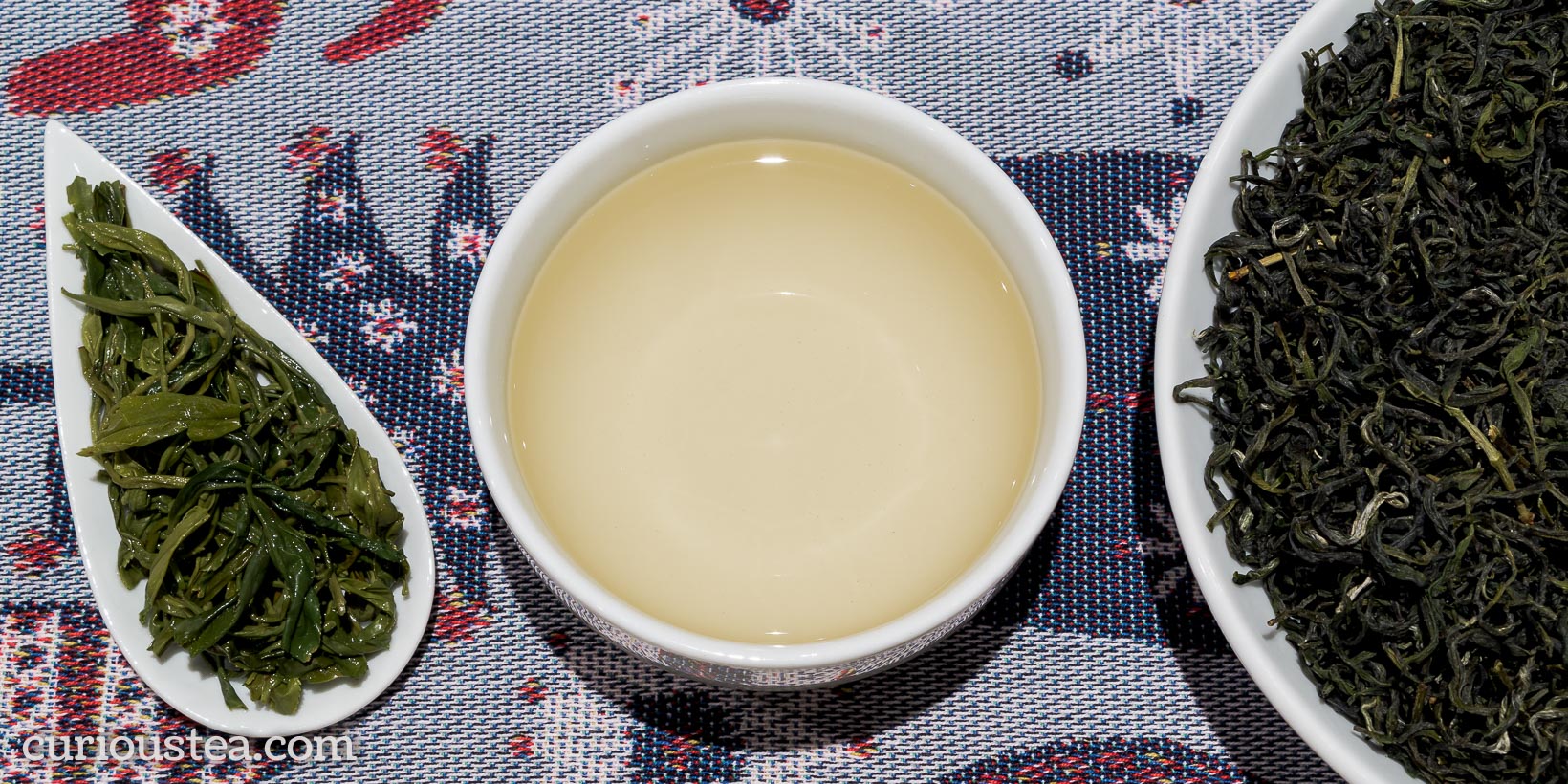 Huang Shan Yun Wu (黄山云雾) green tea is a clean and tangy green tea from the Yellow Mountain (Huang Shan) tea growing region of Anhui Province. The name translates as 'Yellow Mountain' (Huang Shan 黃山) 'Cloud and Mist' (Yun Wu 云雾). It is seen by Chinese tea experts as a kind of predecessor to the famous Huang Shan Mao Feng green tea and is known for its dense flavour, bright look, fragrance and clear liquor. Huang Shan not only happens to be a popular tourist destination in China but is also an ideal location for tea growing. The cool and misty climate as well as mineral rich soil combine to produce flavoursome teas that have a high level of theanine and are rich in tannins and vitamins. This tea is from April 2019 harvest.
There is an interesting point to note on the origin and meaning of the 'Cloud and Mist' name of this tea. The name comes from the description of the mountainous regions that have a large amount of clouds and mist around and therefore high humidity – areas that are perfect for tea farming.
In China the name 'Yun Wu' (云雾 / 雲霧) is somewhat common and is often used in many regions throughout the country to describe a green tea that is produced locally but that does not fall under any of the 'famous' tea types or has any other modern branding attached to it. Generally, it is a good quality local green tea that has been hand plucked but then machine processed in order to keep the costs reasonable. These teas do vary in quality and taste depending on the growing region and processing but tend to be somewhere in the middle. So while Huang Shan Mao Feng is firmly in the famous tea category and only specific teas can be sold under that name, Huang Shan Yun Wu can refer to a wider variety of green teas from this region.
A great aspect of well-chosen Yun Wu teas is that they exhibit many of the qualities of their much more expensive famous counterparts from a particular growing region. But the less labour intensive processing as well as not having a famous name attached, results in much more reasonable pricing and a great quality to cost ratio for our customers.
The small, tightly twisted buds of this Huang Shan Yun Wu have a gentle fresh green and almost candy-like fragrance. The brewed liquor has a very light champagne colour and a clean, slightly grassy and vegetal aroma. The light processing results in a taste that is crisp, tangy and light, with a sweet and slightly corny aftertaste. There is no astringency and very little dryness in this tea, but there are notes that are reminiscent of blackcurrant leaves, with a fresh and sharp presence. The resulting cup is refreshing and easily drinkable.
We suggest brewing at 80°C for 2-3 minutes according to your taste. It can be brewed 3 or more times depending on your taste preferences.
You can also buy Huang Shan Yun Wu green tea in our online shop.
Assam Latumoni Tea Flowers
Assam Latumoni Tea Flowers is a special white tea that is made exclusively from whole tea flowers. Hand picked on an organic Latumoni Tea Estate in winter when the plants are flowering, the flowers are simply dried in the winter sun. The resulting brew is fantastically different, while still resembling a floral white tea. This tea was harvested in the winter months 2018-2019 from plants grown naturally and without use of chemical fertilisers or pesticides.
This unique tea comes from Latumoni Tea Estate, a small family-run estate located in Tingkhong in Upper Assam. The small plantation measures approximately 2 acres and specialises in organically-grown and hand-processed teas. We work together with a specialist wholesaler in Assam, who works only with small scale farmers. They do not just resell the farmers' teas but also provide support and financial help to small scale farmers to enable them to produce great quality tea – such as investing into machinery and providing them with knowhow. This guarantees small scale farmers a fair price for their tea and provides investment into their farm to support their family's future.
This is really the least processed type of tea as there is absolutely no control over the oxidation process. We class Assam Latumoni Tea Flowers as a white tea since we need to classify it somewhere, however it probably should be in its own special product category. Not only does the processing not make it a true white tea, the material itself is questionable for tea classification. In our shop and subscriptions we only focus on true tea, that is a drink made from the leaves of various varieties of camellia sinensis plants. We do have occasional traditionally scented teas, however all of these are still based on leaves of tea plants. Now here we have a product that is from the tea plant, specifically camellia sinensis var. assamica plants, but that is not a leaf. Strictly speaking we would be inclined to include this type of tea in a tisanes category, yet we feel that this still is much closer to 'real tea' than to a flower-based tisane.
Assam Latumoni Tea Flowers white tea consists solely of hand picked whole tea flowers. The dry flowers have a most unusual appearance as it is very uncommon to see the tea flower being used as a material for tea production. The flowers are a mixture of orange, yellow and light green colours, are mostly fully open with some unopened buds. The liquor produced has a golden colour and a light chalky aroma. There is some fine sediment that is formed by the pollen at the bottom of the cup. The texture of this tea is unusual, quite viscous and thick with a mouth coating quality. Yet the character is very smooth, without any astringency or bitterness. There are interesting woody notes of light birch wood and a herbaceous floral profile reminiscent of linden blossom. There are also scented notes of honey and ginseng that make this even more unusual. This is unique tea experience that is really quite different!
It is best brewed at 90°C for 3-4 minutes and can be brewed 3+ times.
You can also buy Assam Latumoni Tea Flowers white tea in our online shop.
Wen Shan Qing Xin Black
Wen Shan Qing Xin Black (文山青心紅茶) is a unique and rare black tea that originates from the famous Ping Lin District of New Taipei City Municipality in northern Taiwan. It is an intriguing tea that utilises a Qing Xin 'Green Heart' cultivar to produce a complex yet light liquor with a flavour that is sweet, spicy and fruity. It is grown around the famous Wen Shan tea growing area at an altitude of around 400m and it was hand picked and processed in May 2019. It is sourced by us from the farmer Mr Wong via our Taiwanese tea master.
Ping Lin District (坪林區) and Wen Shan District (文山區) represent mountainous areas around Taipei that are well-known for production of lightly oxidised oolong teas, like the famous Wen Shan Bao Zhong Oolong. The vast majority of the tea grown in this region will be reserved for oolong production so it is extremely rare to find a black tea from this terroir. Furthermore, this tea utilises a Qing Xin (青心) cultivar, also known as Green Heart, that is favoured for light floral oolongs. It is not common to find a black tea made from this cultivar as most black teas produced in Taiwan are crafted from cultivars specifically developed and favoured for black tea production. Hence the trademark Taiwanese black tea taste that is evident in teas like our Yuchi Assamica and Yuchi Red Jade is not presented in this particular Qing Xin Black. While there is still an aspect that is familiar, such as a light savoury edge, the overall flavour really is a wholly different experience.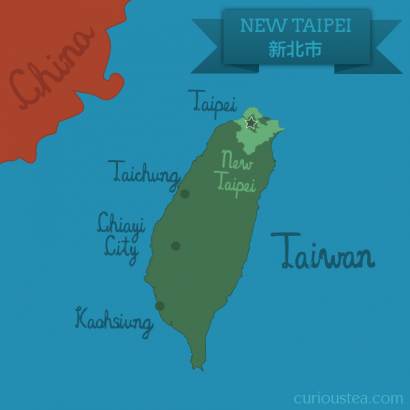 While we do class this as a black tea in the western style, including the addition of the word black in the name, in reality this Wen Shan Qing Xin Black tea is a 'red' tea according to Chinese classification. In China and Taiwan black teas are generally referred to as hong cha (红茶 / 紅茶), or red tea. This classification can sometimes get slightly confusing as hei cha (黑茶), literally black tea, is used to refer to post-fermented tea that we normally class as dark tea in the West. So while some purists would prefer the correct classification of this type of tea as 'red tea' or hong cha, we prefer to stick to Western nomenclature to avoid further confusion. But if you see a reference to a Wen Shan Hong Cha, it would refer to a black tea from this area.
In the case of this Wen Shan Qing Xin Black the farmer desired to achieve something completely different with this cultivar and processing method and we believe he came up with some fantastic results. The wiry dark twisted leaf has a nice fruity aroma. The leaves produce a bronze coloured liquor with a fruity aroma and sweet, savoury and mineral hints of molasses and spices. The flavours are particularly smooth, without any astringency, having a fresh, light character and a clean taste. The notes are fruity, mineral, spicy and sweet with a tangy aftertaste. The combination of flavours reminds us of rhubarb compote, stewed spiced plums and fig jam. Overall this is a very light black tea that delivers exciting and complex flavours that are rather unusual for a Taiwanese black tea.
It is best to brew this Wen Shan Qing Xin Black tea for 3-4 minutes in 90c temperature, reusing the leaves multiple times. For best results, we suggest gong fu brewing: 5g per 100ml at 90c: 1st infusion 15s with additional 5s to each further infusion.
You can also buy Wen Shan Qing Xin Black tea in our online shop.
Sikkim Bermiok Second Flush
Sikkim Bermiok Summer Second Flush is a classic Sikkim black tea from an organic plantation located in Bermiok Village in South Sikkim. Grown at an altitude of around 750m using Darjeeling clonal plants, it produces a tea that strikes a fine balance between the lightness of a chalky mineral flavour of Darjeeling and the boldness of a malty Assam taste. This particular batch is the summer Second Flush harvest of 2019 and is sourced by us from the farmer via a specialist wholesaler dealing in teas from small-scale tea productions.
The tea production in Sikkim State is very much dominated by Temi Tea Garden, which is world-famous for producing fantastic quality teas. However there are still small-holders present in the State who grow their own teas, albeit in much smaller quantity. This particular tea comes from a small tea garden located near Bermiok Village. The estate was founded by Bermiok Rinpoche a scion of the distinguished Bermiok Densapa family, who though of an idea of running an organic tea garden back in 2000. In 2003 a small plantation was started that consisted solely of Darjeeling clonal plants. After the plants were given time to grow over a period of around 5 years, small scale tea production only started in 2010-2011 in a micro tea factory at the garden. The garden is fully organic and is managed according to principles of biodiversity. It also employs people from local indigenous tribes to hand pick and hand process these teas.
We work together with a specialist wholesaler from Assam who only works with small scale farmers like this Bermiok Tea Garden. They do not just resell the farmers' teas but also provide support and financial help to small scale farmers to enable them to produce great quality tea – such as investing into machinery and providing them with knowhow. This guarantees small scale farmers a fair price for their tea and provides investment into their farm to support their family's future. It also gives local people an opportunity to start their own businesses rather than rely on working for multinational corporations that run the large tea estates in Northern India.
Sikkim Bermiok Second Flush has a smaller tippy leaf that produces a dark amber liquor with a lightly malty and stony aroma. The resulting brew has quite a juicy feel to it, with nicely balanced notes of fruits (prunes) and malt. The flavours have a mineral and stony edge to them with a nice peppery touch. The aftertaste is lightly mineral and a little drying. There is a nice interplay on this tea between characteristic Darjeeling flavours (mineral and stone) with more typically Assam flavours (fruit and malt) showing quite a balanced profile. In this case, however, these flavours do not overpower each other, making for an approachable and drinkable cup. This nod to both styles of the more famous Indian black tea counterparts make this tea from Sikkim rather intriguing and delightful to drink.
It is best brewed at 90°C for 3-4 minutes and can be brewed 2+ times.
You can also buy Sikkim Bermiok Second Flush black tea in our online shop.
We really do hope that you enjoy the tea selection for December and are looking forward to the selection in our next box. Our January box will feature two Yabukita teas from Ashikita in Japan, a green Kamairicha and black Wakocha; a classic Chinese Bi Luo Chun and finally another handmade Assam black tea.
If reading this has made you curious about our teas, but you don't yet subscribe to a monthly tea selection, you can sign up for our tea boxes in just a few clicks. We ship worldwide from London, UK.
We always love to hear from you, so if you have any questions, suggestions or just want to chat about tea, email us at contact@curioustea.com, via our Facebook page or via Twitter.
You can also follow us on Instagram for pretty tea photos.
Happy tea discoveries!