Merry Christmas to all our friends and subscribers! It's been another fantastic year here at Curious Tea. We have featured some fantastic teas this year but we have saved a couple of particularly special ones until Christmas! So welcome to the December 2018 edition of the Curious Tea subscription and let's take a look at the four new teas we're sharing with our subscribers this month.
The first light tea this month is a fun, yet classic, grassy Kukicha or 'twig tea' from Japan that is made from sencha leaves and stalks.
The next light tea is a unique 'dehumidified' Dan Cong Chou Shi from Guangdong in China that is a modern, highly floral take on a traditional oolong.
For the dark side of the selection we have a rare and extremely precious 2001 Vintage Aged Oolong from the family reserve of our Tea Master in Taiwan.
Finally, the last tea we are featuring this month is a classic Second Flush Darjeeling from Gopaldhara Tea Estate that has a balanced and satisfying taste, perfect on a cold winter's day.
Our Discovery subscription boxes contain 10g taster pouches of all of the above mentioned teas. If you are a subscriber you will benefit from a 10% discount on all teas from our tea shop!
Let's get into further detail on the products featured in our December tea subscription boxes.
Makinohara Kukicha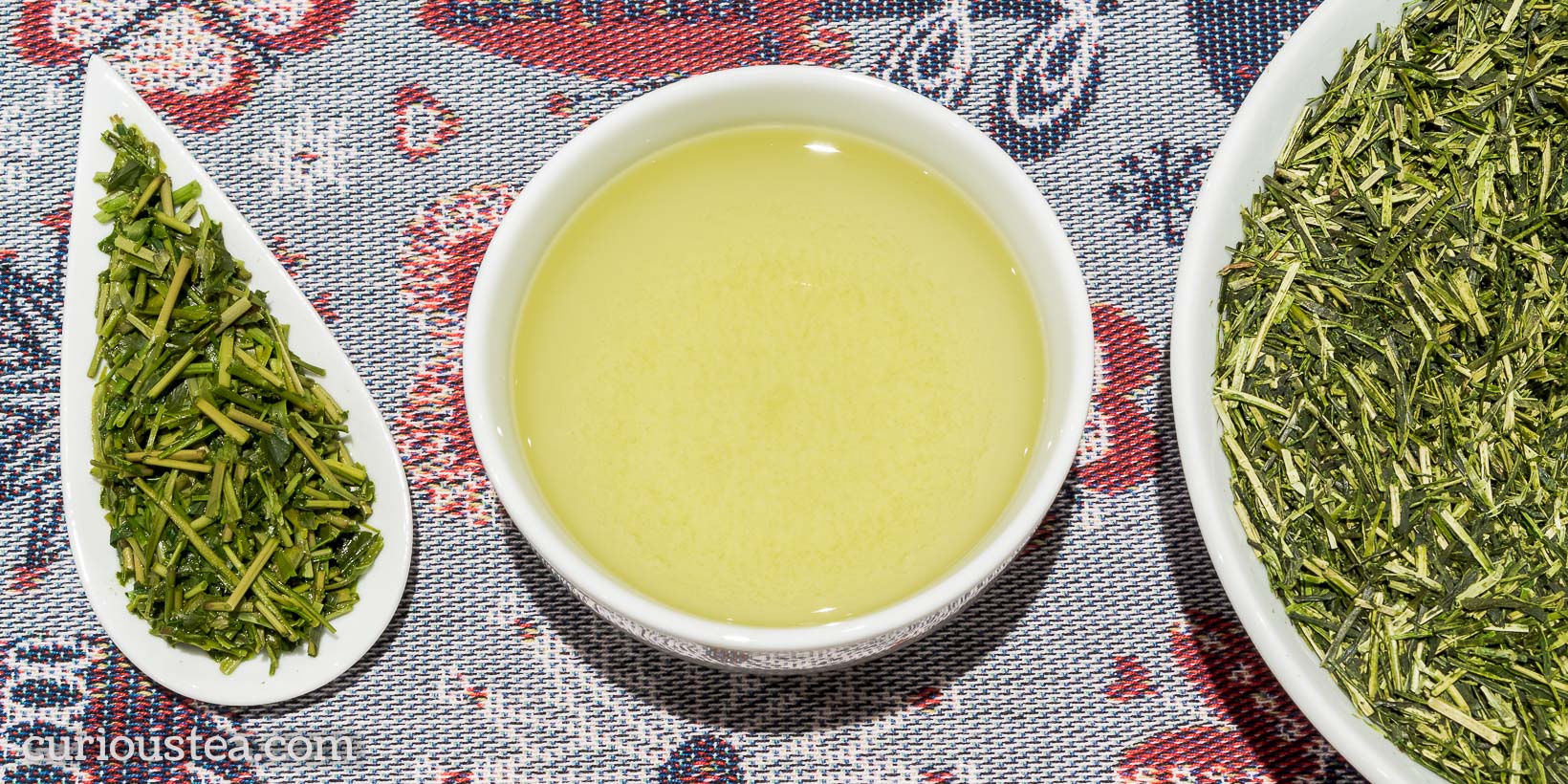 Kukicha (茎茶) is an unusual green tea from Japan that is made from sencha tea leaves as well as leaf stems that are removed during the production of sencha. As it is made with the stems, it's also known as 'twig tea'. The inclusion of the parts of a tea plant that are normally excluded from sencha tea production results in a unique sweet yet grassy flavour that you are bound to love!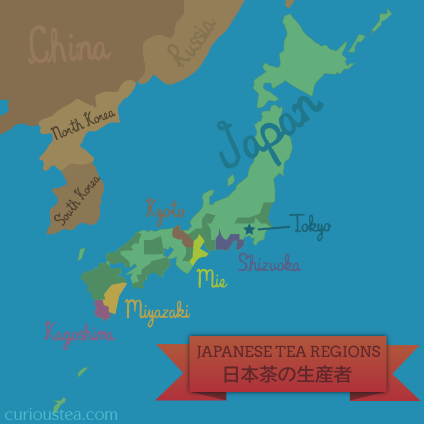 This tea comes from Makinohara in Shizuoka Prefecture and is made from Yabukita cultivar.
It is a second flush tea, this particular batch was harvested in May 2018.
This Kukicha is a mixture of dark green sencha leaves and yellow stems. The liquor is a pale yellow-green colour with a toasted grass fragrance. This tea has a smooth and balanced taste that is toasty and grassy. It has sweet juicy middle notes and a slightly savoury aftertaste. The sweetness comes from the higher sugar content of the stems and is completely natural.
Kukicha green tea is best brewed at 70°C for 1-2 minutes, with multiple infusions. Kukicha can also stand longer infusions well, resulting in a sweeter and more intense flavour.
You can also buy Makinohara Kukicha green tea in our online shop.
Dan Cong Chou Shi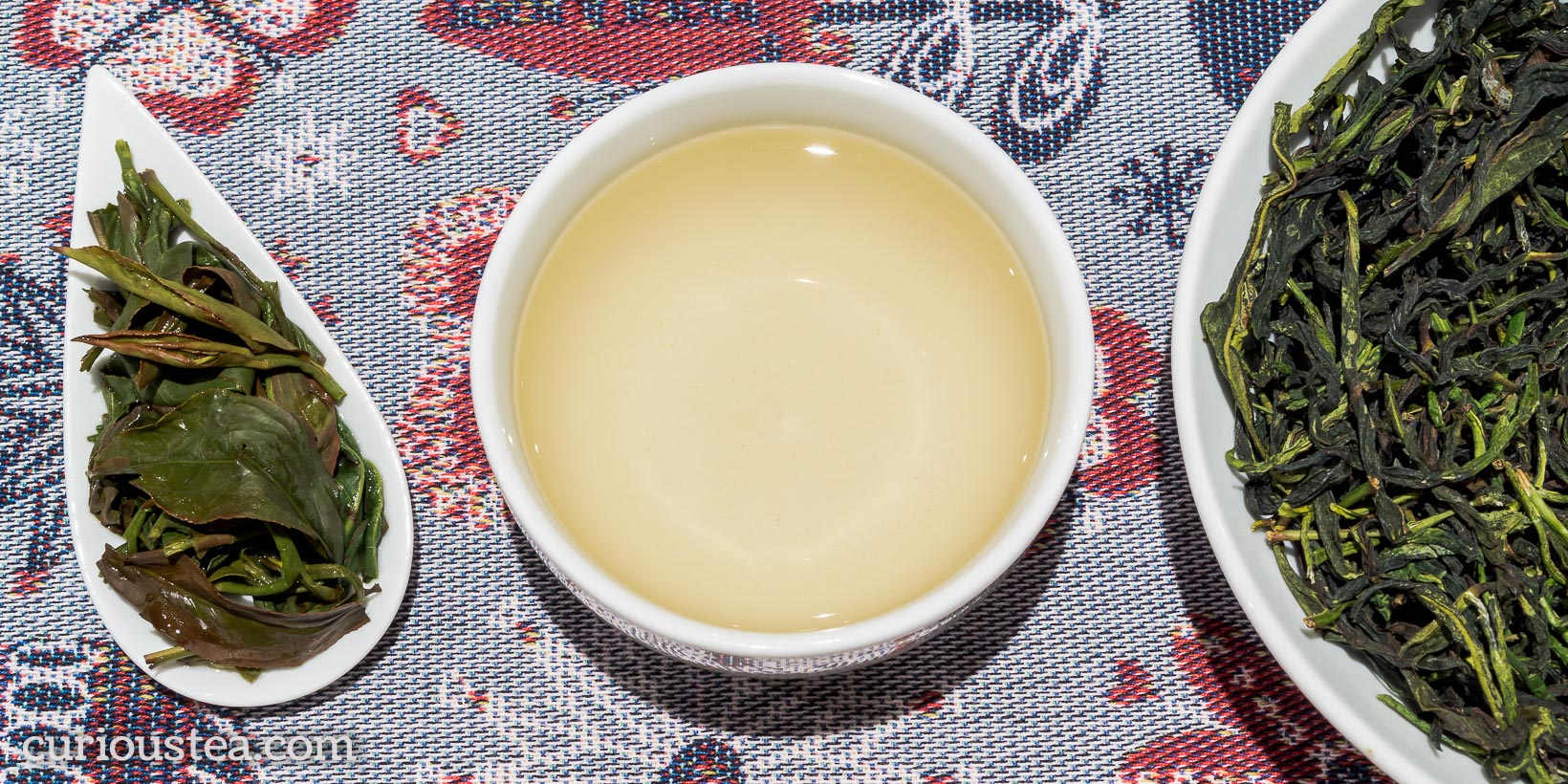 Dan Cong Chou Shi (单枞抽湿) is an unusual, lightly oxidised, Phoenix oolong. This is a modern type of oolong from Phoenix Mountain that undergoes very light oxidation and cool temperature baking to preserve the natural highly floral aroma and taste of the fresh tea leaves. It is a most unusual Dan Cong oolong and a must-try for any fans of complex teas from Guangdong. This particular batch is from the April 2018 harvest.
Dan Cong (单枞) is the general term that is used to refer to oolongs that come from Guangdong and specifically from Phoenix Mountain. Dan Cong literally means 'single bush' as traditionally these oolongs were all plucked only from single semi-wild trees. It has now become the generic term to cover all Phoenix Mountains (Fenghuang Shan 凤凰山) and sometimes other Guangdong oolongs.
This Dan Cong Chou Shi comes from Fenghuang Shan near Chaozhou in Guangdong Province and is from the trees of the Shui Xian cultivar. The Shui Xian cultivar is traditionally a popular choice for Phoenix oolong tea since it has a particularly pronounced floral character. This tea undergoes a modern crafting method that is referred to as 'Chou Shi', which literally means 'dehumidification'. This refers to the minimal processing it undergoes, especially when it comes to baking; one can think of the leaves as just being 'dehumidified' rather than thoroughly processed. This modern-style processing involves baking, not just at high temperature, but by using alternating hot and cold temperatures. This prevents the leaves from heating too much thus reducing the level of roasted flavours common in Dan Cong teas, while also preserving the green floral aspect of the fresh leaves.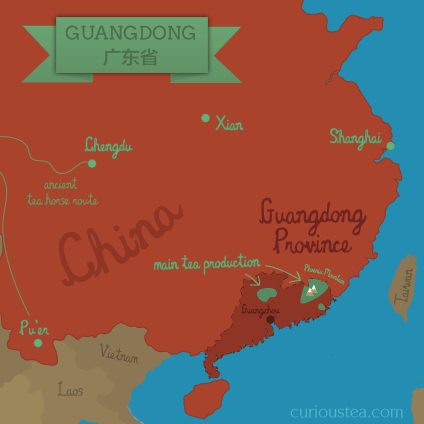 The creation of this Dan Cong Chou Shi is largely driven by market demand for highly floral, lightly oxidised oolong teas. When we first tried it, we were instantly reminded of our award-winning Wen Shan Bao Zhong pouchong from Taiwan; there is similarity in the refined floral and slightly baked aspects of both of these teas. The very large leaves of Dan Cong Chou Shi have a dark and bright green appearance and a lovely fresh aroma. The lightly golden liquor produced has a slightly baked osmanthus flower aroma that is exceedingly pleasant. The taste is highly floral with a lovely lightly baked edge to it. The character is fresh and bright with creamy and nutty notes. The long-lasting aftertaste has a light mineral aspect (this is where you can definitely see the parallels to traditional Dan Cong teas) that is combined with an aromatic floral quality.
This tea is bound to appeal to fans of Dan Cong oolongs as it provides a fascinating comparison to those traditional teas. But it would also appeal greatly to fans of modern, lightly oxidised, floral oolongs, of which it is a stellar example!
It is best brewed at 80°C for about 3-4 minutes according to your taste. As expected, it will stand multiple infusions well.
You can also buy Dan Cong Chou Shi oolong tea in our online shop.
Vintage Oolong
Vintage Oolong is a unique aged tea from Taiwan. It has a complex profile that is fruity, with intriguing notes of leather and tobacco. This tea is a collection of leaves of different cultivars and from different growers, mixed and expertly aged by our Tea Master in Taiwan. This batch is from 2001 harvests, purchased by us in 2018 direct from the Tea Master.
Aged oolong teas are somewhat rare as they are not fashionable and not many farmers produce these. However it is common practice in some tea producing families to save some batches of tea from each year's harvest for ageing. This forms a kind of saving for the family that can be realised in times of need. In many cases, these teas do pass on as inheritance. This batch is an example of the latter. It was initially mixed and left to age by our Tea Master's father and was passed as part of inheritance.
Aged oolong teas are also different to other aged teas, such as pu-erh and other dark teas. Other dark and pu-erh kind of teas are generally produced in a specific way from the outset to enable future ageing process. They are then left to age on their own, without any other labour input required. As long as the storage conditions are correct, this ageing process greatly improves the flavours and the value of these teas. Aged oolong teas however are initially produced the same way any other oolong tea would be. They are then left to age for a number of years. However in order to prevent the tea from spoiling, the teas have to undergo mixing and baking at least once a year. This can be a laborious process requiring great skill on part of the tea master. It is up to the tea master to judge correctly how the tea is developing and the required input to facilitate the ageing process correctly.
This particular Vintage Oolong was made from lightly oxidised leaves of various cultivars collected from different tea growers. It has been mixed by Mr Chen in 2001, the father of our Tea Master, and he was looking after the initial ageing process of this tea. As with many aged oolongs due to mixed nature of the batch and the passing of time, we do not know the exact cultivars used as well as exact growing locations. This batch was taken over by Mr Chen's daughter who has been looking after and ageing it. As with any aged oolong tea, a Tea Master has to make a decision at which point to offer it for sale – the optimum condition of a particular batch in terms of flavour.
When we first tried this Vintage Oolong, we were completely blown away by the wonderfully complex flavours of this aged tea. The dry leaves are tightly rolled and have a dark appearance, the result of prolonged ageing and numerous baking procedures. The dry leaves have a dry tobacco and leather aroma. The clear amber liquor produced has a lightly floral, fruity and leathery aroma. The flavours are superbly smooth. Even though this tea was roasted multiple times, it does not have an overtly roasted or toasted flavour. Instead the notes are slightly tart and are predominantly of tobacco, fruits and leather. We can also detect woody notes that are lightly earthy and wine-like. The lightly tart, fruity and woody flavours are most unusual and remind us of a good well-aged calvados!
We suggest brewing at 90°C for 3-4 minutes according to your taste. It should be brewed multiple times as each infusion brings out new exciting flavours!
You can also buy Vintage Oolong tea in our online shop.
Darjeeling Gopaldhara Second Flush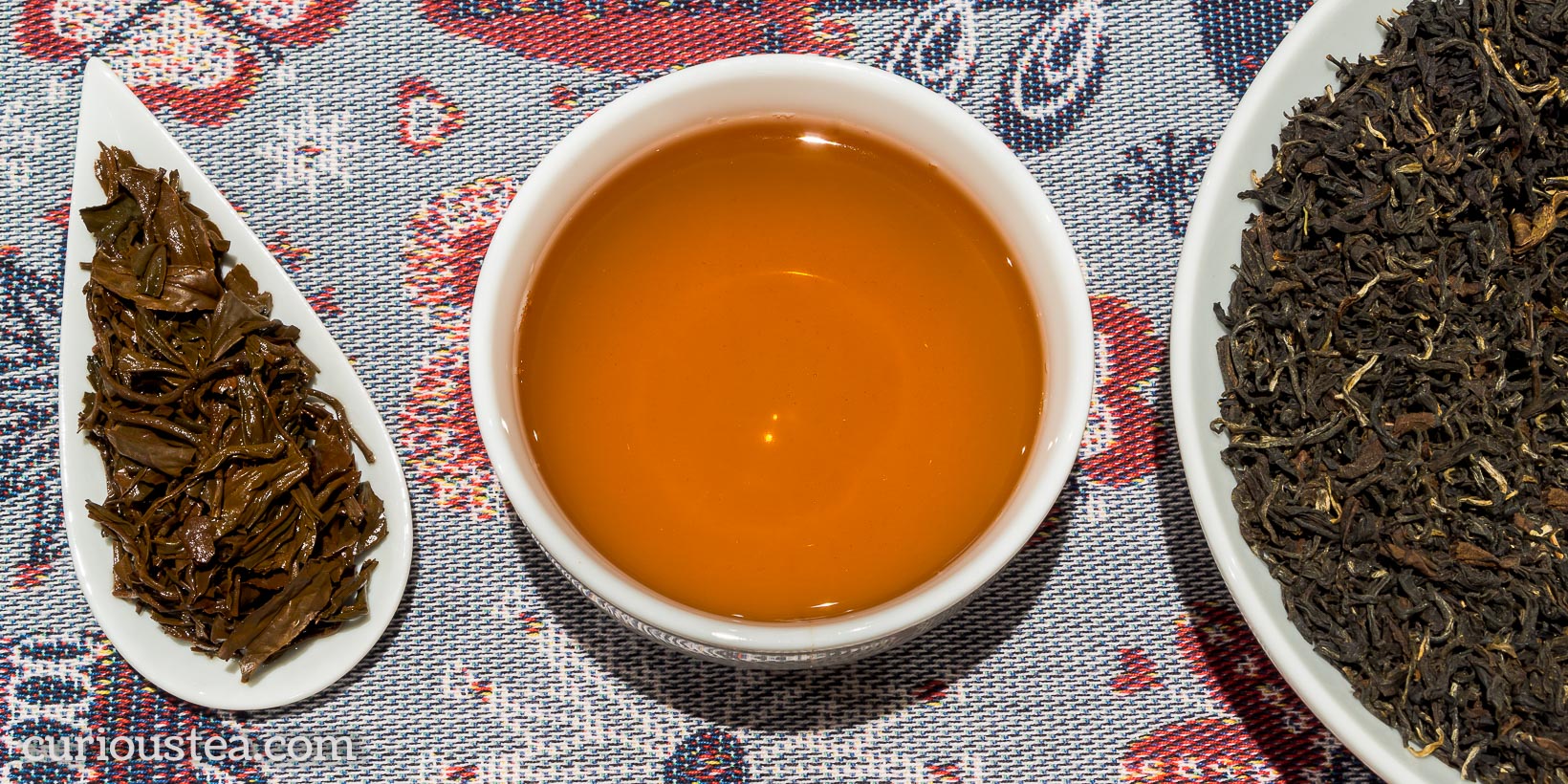 Darjeeling Gopaldhara Second Flush is a brisk Darjeeling from Gopaldhara Tea Estate. Made from leaves harvested from China bushes in early summer, it has a typical Second Flush Darjeeling character. Somewhat more robust than the best First Flushes from Gopaldhara, it has an exquisite muscatel profile with smooth flavours and a comforting aftertaste. This batch is FTGFOP1 'China Muscatel' grade from the second flush crop picked in June 2018.
Like all our Gopaldhara teas, we source this tea directly from Rishi Saria, the owner and director of Gopaldhara and Rohini Tea Estates. Gopaldhara Tea Estate is nestled in the Mirik Valley, in the Himalayan foothills, and is one of the highest tea estates in Darjeeling with elevations of between 1,700m and 2,100m. It is renowned for producing teas of exceptional quality and very often quite unusual character.
Second Flush Darjeeling teas are generally not as sought after or as well regarded as their earlier spring First Flush counterparts. The flavours are quite different and many have a preference for the finer, more pronounced mineral and muscatel characters of the best First Flush teas. However Second Flush Darjeeling teas have many fans, who are drawn to them by the more complex and robust profiles. A good Second Flush Darjeeling certainly should exhibit a character that is more rounded, having a stronger overall flavour. But these stronger flavours should be well balanced – just like in this particularly traditional Second Flush example from Gopaldhara. This balanced profile is particularly attractive to those who find First Flush teas to be a little on the lighter and more mineral side!
Darjeeling Gopaldhara Second Flush black tea has dark mixed leaves with some tips. The liquor produced has a dark amber liquor with a slight mineral aroma. The refined taste is very smooth and satisfying. It has a great muscatel quality that is balanced by some stony, fruity and mineral notes. There is just a touch of maltiness and very light astringency on the aftertaste. This is a fantastic tea to have without milk as a lighter alternative to an English Breakfast blend.
We suggest brewing parameters of 90°C for 3-4 minutes according to your taste, brewing multiple times.
You can also buy Darjeeling Gopaldhara Second Flush black tea in our online shop.
We really do hope that you enjoy the tea selection for December and are looking forward to the next instalment in our first 2019 box!
If reading this has made you curious about our teas, but you don't yet subscribe to a monthly tea selection, you can sign up for our tea boxes in just a few clicks. We ship worldwide from London, UK.
We always love to hear from you, so if you have any questions, suggestions or just want to chat about tea, email us at contact@curioustea.com, via our Facebook page or via Twitter.
You can also follow us on Instagram for pretty tea photos.
Happy tea discoveries!