Welcome to the December 2017 edition of the Curious Tea subscription! As usual we have four exciting new teas to share with our subscribers this month. We also would like to take this opportunity to wish all of our subscribers a Merry Christmas and a very happy New Year ahead!
The first light tea this December is Meishan Hong Shui Oolong, a complex floral high mountain oolong from Meishan in Taiwan. The second light tea is a classic Long Jing Dragon Well from China; a green tea with a characteristically nutty and vegetal profile. For the darker side of the selection this month, we opted for Baan Mae Sae Wild Forest black tea from the forests of northern Thailand, a semi-wild tea that has a deep earthy and cocoa flavour. And finally we chose an uncommon black tea from Taiwan, Beishan Wu Yi; made using a Chinese cultivar, it yields rather surprising and pleasant results!
Our Discovery subscription boxes contain 10g taster pouches of all of the above mentioned teas. As always, if you are a subscriber you will benefit from a 10% discount on all teas from our tea shop!
Let's get into further detail on all the teas featured in our December tea subscription boxes.
Meishan Hong Shui Oolong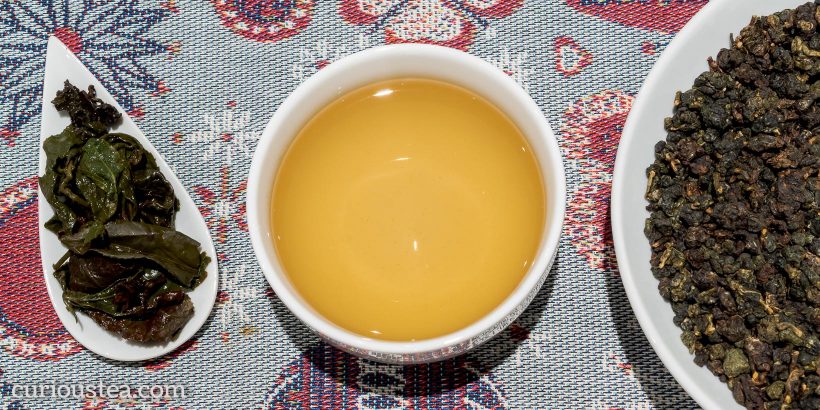 Meishan Hong Shui Oolong (梅山紅水烏龍) is a rather lovely high mountain floral oolong that has a captivating character and a complex floral profile. It hails from Lugu Township and is grown at an altitude of 1000m. This Meishan Hong Shui Oolong is from winter (November-December) 2016 harvest and was baked in May 2017. It has been allowed 6 months of rest prior to being made available for sale to further balance out the flavours of this tea post baking.
Unlike the famous modern light Dong Ding Oolong that also comes from Lugu Township, this Meishan Hong Shui Oolong undergoes multiple baking or roasting stages. The resulting tea is completely in the middle of the oolong spectrum. Some consider Hong Shui Oolong to be the original Dong Ding Oolong as they also used to be more heavily roasted. However, with changing tastes over time, lighter and more floral oolongs became fashionable. It seems that the original Dong Ding Oolong recipe changed to adapt to tea drinkers' new preferences. Whether Hong Shui Oolong really is the old style Dong Ding, it is not entirely clear, but it is certainly closer to it than to the modern light floral oolongs that are dominant in Lugu and most other parts of Taiwan. After all, a lighter green style of oolong is a popular choice amongst producers, as it is a lot less skill intensive and time consuming to produce while being popular with tea drinkers.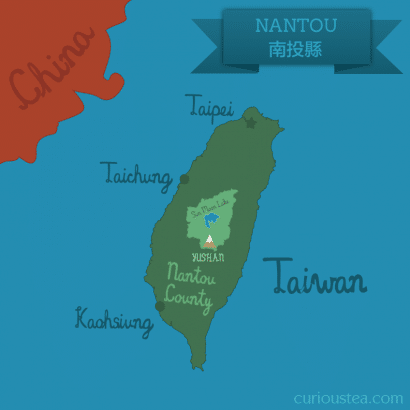 Meishan Hong Shui Oolong is made from a Green Heart or Qing Xin (青心) tea plant varietal that is the cultivar of choice for teas that have a pronounced floral fragrance and taste. As this oolong undergoes extensive baking, it also exhibits some of the darker oolong qualities, such as comforting roasted flavours, while retaining the dominant floral notes. To achieve this balance, the tea has to undergo multiple baking sessions with time of rest in between. The skill of the tea master is paramount in achieving a fine balance between the floral and the roasted aspects of this tea, as neither should overpower.
This Meishan Hong Shui Oolong comes in tightly rolled dark leaves. These open up when brewed to produce a fragrant amber liquor with a pronounced floral aroma that is slightly toasty and spicy. The baking of this tea results in a very comforting profile, with a character that is floral, yet toasty. The complex flavours develop and change with each steep. The taste has notes of caramel and sugared fruits, while the aftertaste is a little savoury and tangy. This beautifully crafted tea should be enjoyed over repeated steeps, taking time to appreciate the changing and developing complex taste.
It is best brewed at 90°C for 3-4 minutes and should be brewed multiple times.
You can also buy Meishan Hong Shui Oolong tea in our online shop.
Long Jing Dragon Well
Long Jing (龍井) Dragon Well is an absolutely classic Chinese green tea. Combining both vegetal and nutty flavours, it is a sure crowd pleaser! Grown in Hangzhou of Zhejiang Province, the core growing area of Long Jing Dragon Well tea, this tea was picked in April 2017. Unlike our Long Jing Ming Qian Dragon Well, this tea is from a slightly later harvest time, which results in a fuller profile and a more attractive price point.
Long Jing Dragon Well is perhaps the most famous and popular tea in China. There are many legends and versions that try to explain the name of this tea. In our favourite legend of the origin of the name, a monk wanted to come to the aid of villagers of an area that has been suffering from a drought. The monk implored a dragon that lived in a well to help the villagers. After that the monk persuaded the villagers to pray and, with the dragon helping out, it miraculously started to rain. To celebrate this, the tea was named after the event – Dragon Well.
Long Jing Dragon Well is also considered to be one of the Famous Teas of China. As with all green tea, the oxidation process has to be stopped by heating the tea, and in the case of Dragon Well this is achieved by frying the freshly plucked tea leaves in a wok for about 20 minutes. If the oxidation process is not halted, the enzymes naturally present in the tea will oxidise it, resulting in oolong (partially oxidised) and black (fully oxidised) styles of tea. This tea is still mostly produced by hand as the wok frying requires great skill.
This particular Long Jing Dragon Well has green flat leaves, which is the classic appearance for this tea. When brewed it produces a bright light golden liquor with a slight vegetal aroma. The balanced flavours are a little vegetal, nutty and creamy with a mouth watering liquor that has a pleasant clean finish and minimum astringency. There are also notes of peppery capsicum and dandelions, leading to the overall impression of a fresh vegetal character.
This tea is best brewed with at 80c for 2-3 minutes and can be brewed multiple times.
You can buy Long Jing Dragon Well green tea in our online shop.
Baan Mae Sae Wild Forest
Baan Mae Sae Wild Forest is a semi-wild tea that hails from a small plantation located in the jungle of northern Thailand. It has a unique flavour that is earthy and characteristically chocolaty. Grown at an altitude of around 1,600 metres, it was picked in spring 2017.
Baan Mae Sae Wild Forest black tea gets its name from Baan Mae Sae village, located about 90km north of the city of Chiang Mai in the north of Thailand. The tea trees here are scattered amongst other jungle trees. We class this type of tea as semi-wild. In this case it means that the trees were planted by the farmers from tea trees that are native to the local forest. The leaves are picked off the trees, but they are left to grow wild on their own, with no extensive care or cutting taking place. These trees tend to and do grow rather large, up to 5 metres, if not taller, depending on the surrounding environment. This is in complete contrast to the fully planted and managed tea estates where the trees are kept as small bushes in order to facilitate leaf picking.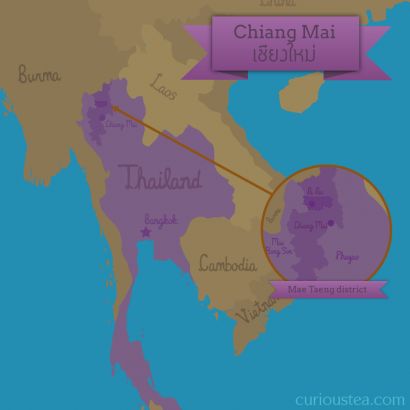 The trees that this Baan Mae Sae Wild Forest tea is picked from are of local stock, which is an assamica varietal. It is a native tree to this part of Thailand and has been growing here for millions of years. Some of the older trees found in the jungles here are very tall and ancient. It is thought that this type of tree is the first type of tea plant to come into existence and it is found in northern Thailand but also in Yunnan Province in China, northern Laos, eastern Myanmar and western Vietnam. The trees of this assamica varietal are very robust and don't require much care and definitely are happy to grow in this part of the world on their own without human interference of fertilisers or pesticides. While this tea has no organic certification, it is grown to organic standards as it is essentially left to grow on its own.
This jungle plantation is very small and specialises in a very traditional way of processing tea. There are only a couple of woks for roasting tea and one oven, which is coal fired, that is used for baking. This traditional method of production leads to Baan Mae Sae Wild Forest tea having quite a unique and unusual flavour profile. The dark red and brown dry leaves are rather mixed in appearance with some very large leaves in the mix. The liquor is a dark red colour with a slightly woody and earthy aroma. The wok roasting of this tea brings out the dominant deep chocolate and cocoa flavours. The woody and earthy taste is nicely balanced by the sweet notes of dark chocolate and fruits. There is no astringency or bitterness on the mouthwatering finish. Overall a delightful tea that has gained a degree of complexity due to traditional growing and processing methods.
We suggest brewing at 90°C for 3-4 minutes according to your taste. It can be brewed around 3 times depending on your taste preferences.
You can also buy Baan Mae Sae Wild Forest black tea in our online shop.
Beishan Wu Yi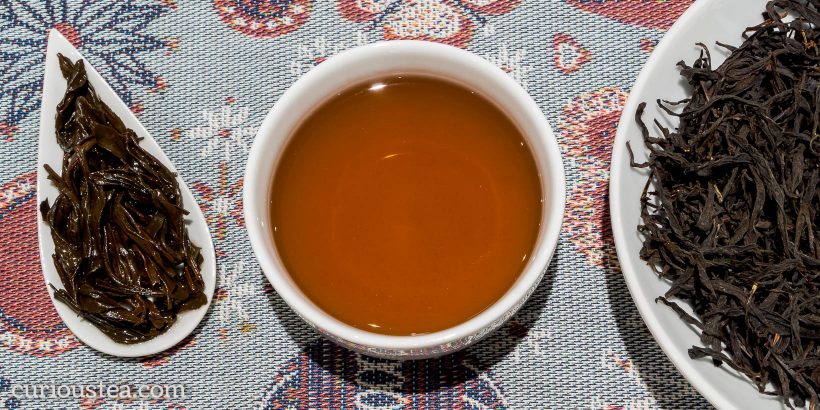 Beishan Wu Yi (北山武夷红茶) is an unusual tea from Nantou County of central Taiwan. It makes for an interesting cup that is complex yet refreshing, achieving both qualities of fine Taiwanese black teas and Wu Yi Shan oolongs. It is grown at a high altitude garden on Beishan at an altitude of around 1,100 meters and was picked in April 2017.
This Beishan Wu Yi is carefully crafted by a skilled tea farmer and then processed by a tea master from plants that are descendants of a Wu Yi cultivar (referred to as Wu Yi Zhong, 武夷種). This cultivar was brought to Taiwan over 100 years ago from Wu Yi Shan where it is used for producing both oolong and black teas. With the Japanese rule over Taiwan, the tea landscape was much altered and a lot of the traditional cultivars that were brought from China were lost or simply replaced. Interestingly, the Japanese sought to develop a black tea industry in Taiwan in order to rival the British black tea industry! The reinvigorating of the Taiwanese tea industry in the last century also meant that new cultivars were developed locally that have supplanted some of the older varieties. So it is very rare to see a cultivar such as this being used in Taiwanese tea production. While the cultivar originated from Wu Yi Shan, of course it has since undergone natural changes that make it unique and different in its own right. However you cannot escape noticing some similarities to traditional Wu Yi Rock teas, such as the distinctive mineral aspect of this tea.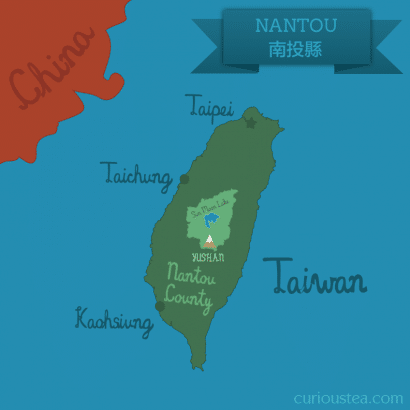 The tea garden that this Beishan Wu Yi is grown at is at high altitude on Beishan in Nantou County. It is a lovely setting, a secluded eastern slope that is a perfect location for a tea garden. It is quite rare to see such an unusual cultivar being grown at this altitude when the garden could quite easily switch to the more manageable, easy to grow, hardy and profitable modern cultivars. However the Zhubin family feel very passionate about this type of tea as it both represents Taiwanese tea heritage but also looks to the future. Their garden utilises organic methods, and while still not certified organic, they are aiming to achieve full certification in the next few years.
The aromatic leaves of this Beishan Wu Yi black tea are rather long, thin and wiry in appearance. The liquor produced is a dark red colour with a lovely fruity aroma. The taste is light yet complex. The heritage of the cultivar results in a profile that is rather mineral. Still there are unmistakably Taiwanese black tea characteristics present, much like in our Yuchi Red Jade and Yuchi Wild Shan Cha, although they are not as prominent. The stony mineral notes are nicely balanced by the more sweet and fruity honey and malt flavours. Overall it is a lighter kind of black tea, yet it still presents quite a complex flavour that should be savoured over multiple infusions.
This tea is best brewed with water at 90°C for 3-4 minutes and the leaves can be brewed around 3 times.
You can also buy Beishan Wu Yi black tea in our online shop.
We really do hope that you enjoy the tea selection for December and are looking forward to the next instalment in January, which will be a special 'Purple Tea' edition!
If reading this has made you curious about our teas, but you don't subscribe to a monthly tea selection, you can sign up for future tea boxes in just a few clicks. We ship worldwide from London, UK.
We always love to hear from you, so if you have any questions, suggestions or just want to chat about tea, email us at contact@curioustea.com, via our Facebook page or via Twitter.
You can also follow us on Instagram for pretty tea photos.
Happy tea discoveries!